Before scrolling down to the list of English Bulldog breeders in Florida, let's find out why so many people love this breed. The Bulldog is a native of England and is also known as the English Bulldog or British Bulldog. This muscular dog has a wrinkled face and a nose that looks like it was pushed against something. Bulldogs are the fifth most popular purebred dog in the United States according to the American Kennel Club. English Bulldogs have a round head and wide shoulders with a short to medium height. Additionally, they have a wide stance for a dog with facial skin that folds over their brows and the nose. They do not have a thick coat of fur, and their coats are generally found in white, black, brown, red, and fawn colors.
If this sounds like the perfect dog for you, you'll need to look for English Bulldog breeders in Florida. Luckily, we've done tons of research to help you find your next Bulldog puppy!
Before scrolling down this list, check out these other recommendations: Labrador Breeders in Florida and Best English Bulldog Breeders in the United States!
English Bulldog Puppies For Sale in Florida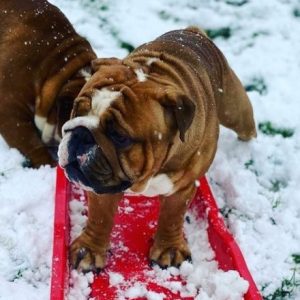 Since English Bulldogs have become so popular throughout the state of Florida, there are tons of puppy mills looking to make a quick profit off their puppies. These puppy mills don't focus on the health of their puppies, but instead, just try to produce as many English Bulldogs as they can in the shortest amount of time. These puppies oftentimes inherit genetic diseases which drastically shorten their life spans. We highly suggest that you purchase your English Bulldog puppy in Florida from a reputable breeder. This is one of the main reasons that we put together this list to help people find their next puppy.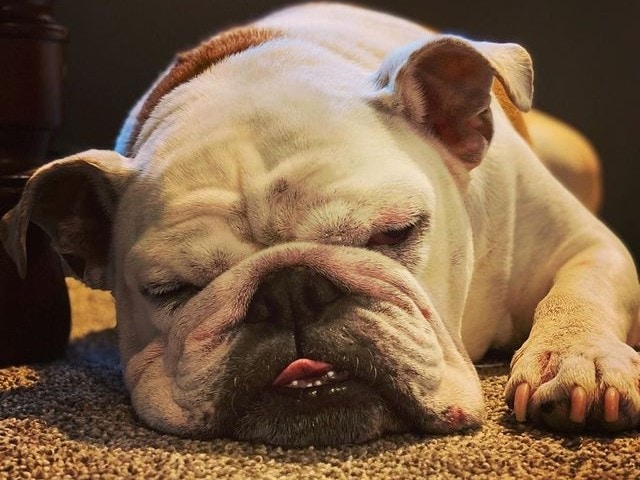 PuppySpot is fundamentally changing the way that puppies are bred. We bought one of our dogs from this reputable network of breeders because we didn't want to wait on a long waitlist, and they screened all the breeders for us. This saved us tons of time and we didn't have to wait for our next puppy.
The reason that PuppySpot can source so many English Bulldogs for sale is that they are located throughout the United States and they have their own private airline that can safely fly English Bulldog puppies to Florida. They also have one of the strictest policies for a breeder to list a puppy on their platform. A breeder has to first pass a 100 point inspection, be state-licensed, be state-registered, and pass USDA criteria. This selection process is backed by the American Kennel Club so you can ensure that you are getting a healthy and happy puppy. PuppySpot has also sold over 220,000+ puppies throughout the United States so you know they are a reputable company.
If you purchase an English Bulldog puppy from them, then you will get a 10-year health guarantee which is the longest that we have ever seen from any breeder. Additionally, before you get your puppy they come with a head-to-tail health inspection from a veterinarian. We highly suggest that you check them out since we have had such a great experience thus far!
English Bulldog Breeder Details
2. Enjoy a Bull Florida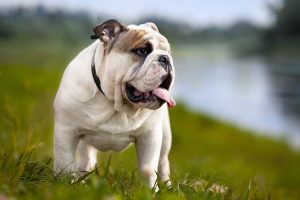 Enjoy A Bull is located in Brevard County, Florida. In addition to English Bulldog puppies, they also breed French Bulldogs. Overall, this Bulldog breeder is most known to produce healthy puppies with a stable temperament. Additionally, their dogs meet the AKC breed standard and come with a certification of proof.
They also make sure to feed chicken-free food to the dogs as some English Bulldog puppies are known to have allergic reactions to chicken. All their English Bulldog puppies for sale in Florida have a price tag starting at $3,500. Prices may vary depending on the coat color and the size. Enjoy A Bull requires you to put in a deposit of $500 before you can book your Bulldog puppy. This also confirms the final price for you. You can pay by cash, card, Venmo, or PayPal.
All of their English Bulldog puppies come with a health guarantee against genetic defects. You also get 30 days of health insurance for free in case anything goes wrong. Additionally, the puppies come to your home with a microchip. They are also vaccinated, de-wormed, and get a health certificate from a veterinarian before leaving for your home. The delivery package includes AKC papers, potty pads, food bags, health records, and a pedigree. To make the journey easier for the puppy, they also include a toy and a blanket that smells like their littermates.
Enjoy a Bull Details
3. Love That Bulldog FL
Love That Bulldog is located in Lakeland, Florida. The owner's Gayle and Danny Thompson raise the English Bulldog puppies in their own home with their own children. Thus, the puppies are socialized right from the very beginning, which helps them easily transition later on to your home. Gayle and Thompson raised Pugs for over 25 years and started breeding English Bulldogs a few years ago. All their puppies for sale come with a one-year health guarantee. Additionally, they are checked by a local vet and get a health certificate before coming to your home.
Their English Bulldog puppies in Florida are given the required vaccinations, are dewormed, and are free of any genetic defects. Their puppies are available at $3,500 each, and you may have to wait on the waitlist. If paying via PayPal, there is an additional 3% surcharge. The buyer has to put in a $500 deposit to book the dog that they like in order to reserve it. 
There is a contract that the buyer has to sign to confirm that the English Bulldog puppies will be cared for and will be given good food, health checkups, periodic deworming. Love That Bulldog also offers stud services starting at $700. They are proud of their stud dogs, Norman, Niklaus, Drogo, and Hashtag, which are free of genetic diseases and make perfect puppies.
Love That Bulldog Details
4. Bulldog Country
Bulldog Country is located in Parrish, Florida. They are known for their healthy English Bulldog puppies. They describe their dogs as calm, courageous, and friendly. Additionally, all of their puppies get daily exercise and walk.
The puppies also get checked by a veterinarian before being shipped, picked up, or delivered. All their English Bulldogs are also AKC-registered to ensure that they are purebred. They also adhere to all the policies and regulations required by AKC.
Bulldog Country has, over the years, been actively working towards the rescue of dogs. They have helped these dogs find new homes and also kept a few with them. In case a buyer is not able to care for their English Bulldog puppy in the future, Bulldog Country will help find a suitable home for the dogs. You can view pictures of the puppies available for sale in Florida on their Facebook page. You can message them on Facebook or call them if you like any of the puppies.
Bulldog Country Details
5. Florida Bullies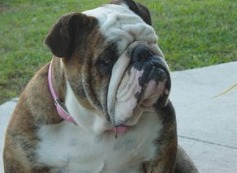 Florida Bullies is located in Lehigh, Florida. They are specialist breeders of bulldogs, and they do not consider their dogs as kennels but their own pets. They have both male and female Egnlish Bulldog puppies for sale. There are lots of pictures of happy customers with their new puppies and raving reviews. Unfortunately, they have not disclosed any prices on their website, so you will have to call them for prices. However, they do mention that there is a $500 deposit to reserve an English Bulldog puppy. They also accept PayPal payments. Lastly, Florida Bullies also offers stud services at $500 if you're interested in breeding English Bulldogs in the future.
Florida Bullies Details
6. Whimsical Bullys Florida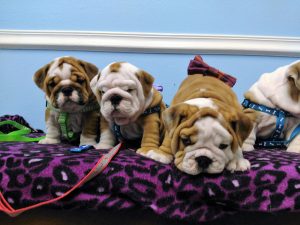 Whimsical Bullies are located in New Port Richey, Florida. It is a family-owned pet service and breeding center. They consider themselves responsible for finding loving homes for their English Bulldog puppies. All their puppies are AKC-registered and they give a lifetime of support to make sure all the needs of their pets are met.
Each English Bulldog puppy in Florida is priced at $6,500. Whimsical Bullys requires the buyer to put in a deposit of $500 to reserve a puppy of their choice. The remaining amount can be paid when the owner picks up the puppy. Along with the AKC papers, the bulldog puppy comes with a vet certificate, microchip, vaccination, a gift basket, and some equipment for training.
All English Bulldog puppies get some basic training before being sent to their new homes. They are used to human contact and are sociable. Additionally, they have pedigree and health certificates. Customers willing to buy the pups may have to arrange for finance on their own.
Whimsical Bullys Details
7. DanShi's Bullies
DanShi's Bullies is located in Fort Lauderdale, Florida. They offer AKC-registered English and French bulldogs puppies for sale. Currently, to avoid contamination, they do not allow visitors in the breeding areas but are willing to video call you to show you their puppies. Interested buyers can reserve their puppy after putting down a deposit of $1,000 within 72 hours of selecting the puppy. For the price of the English Bulldog puppies, customers will have to contact DanShi's directly. You can also buy puppy food supplements and puppy car carriers directly on their website.
Every puppy that this breeder sells goes through deworming and vet health checkups. In addition, you get a health guarantee card, AKC papers, vaccinations records, microchip, 30 days of free Trupanion Insurance form, Purina Pro plan focus puppy food sample, collar, and leash, toys, fecal screening report, and support for a lifetime. DanShi's offers an amazing three-year health contract and guarantee on all their English Bulldog puppies sold in Florida. Interested buyers also get attractive payment and finance options. Customers can pay using cash, credit cards, direct transfers, or via the Cash-Me payment app. Pet financing is offered through Terrace Financing.
DanShi's Bullies Details
8. Legends of Denmark
Legends of Denmark is located in Jacksonville, Florida. It is an experienced family of breeders and aims to raise friendly puppies. The puppies have bloodlines from the best English Bulldog that are champions in the dog show world. Interested customers can have a look at their Facebook page, where you can get updates about the puppies. Stud services are also offered if you're interested in breeding in the future. Their stud dogs have proven pedigrees. Interested customers can call for further details.
Pet owners can purchase supplements for their Bulldogs on the Legends of Denmark website. Prices will be up to 50% less than what a vet would charge for the same product. In addition, customers can save an additional 15% on shipping by using the automatic shipping option.
Legends of Denmark Details
More Information About English Bulldog Puppies
The English Bulldog is originally an aggressive breed; however, breeders have learned to tame them and make them docile over the years. They are friendly but stubborn pets. However, they generally get along with kids and other animals, too. Due to their facial structure, they are not able to bite easily which makes them safe for kids. English bulldogs have a lifespan of about 6–10+ years, depending on their health. Cardiac issues and cancer are common among this breed. Proper exercise, timely shots, and a good diet can help to keep them healthier for longer.
Conclusion For The Best English Bulldog Breeders in Florida
These are some of the reputable English Bulldog breeders in Florida. You can call your nearest breeding center and bring home your new English Bulldog now. Remember to do your research if you're purchasing your English Bulldog from unknown breeders. There are many puppy mills out there and you should do your best to avoid them if possible. Hopefully, this guide will help you meet your new companion!
If traveling to these English Bulldog breeders in Florida is a distance for you, you can check out our recommendations from other states:
For an informative review of the English Bulldog breed, check out this video down below:
Garrett loves animals and is a huge advocate for all Doodle dog breeds. He owns his own Goldendoodle named Kona. In addition, he volunteers at the Humane Society of Silicon Valley, where he fosters dogs and helps animals. Garrett enjoys writing about Doodles and believes that dogs can teach humans more about how to live than humans can teach a dog.
Why Trust We Love Doodles?
At We Love Doodles, we're a team of writers, veterinarians, and puppy trainers that love dogs. Our team of qualified experts researches and provides reliable information on a wide range of dog topics. Our reviews are based on customer feedback, hands-on testing, and in-depth analysis. We are fully transparent and honest to our community of dog owners and future owners.