Labradors are the most popular dog breed in the United States according to the American Kennel Club. This loyal, friendly, and easygoing dog breed makes for the perfect companion pet to add to your family. It's no surprise that Labrador puppies in Florida are growing in popularity.
However, one of the hardest things when buying a new puppy is finding reputable breeders. You'll want to make sure that they conduct health tests, socialize their puppies, and care of them the first 8 weeks of their life. That's why it's important to find the best Labrador breeders in Florida. We've done our own research and created a list to help you find your next puppy.
Other articles you will like: Boxer Breeders in Florida and Cane Corso Breeders in Florida.
Labrador Puppies For Sale in Florida
If you live in Florida, there are some great Labrador breeders in the state. It is important to purchase these dogs from only the best breeders because where they are purchased and how they are bred can go a long way in determining whether they'll be the right fit for a family. Let's look at some of the best Labrador breeders in Florida.
1. Stone Haven Labs
These guys have been breeding English Labradors since 1980. They take health and temperament tests quite seriously and pick only the strongest, most solid parent stock for their puppies. Puppies are fed in addition to the breast milk they get from their mothers. These people are quite hands-on with their Labrador puppies in Florida and hope that owners continue with that tradition. That is why each puppy goes away with a copy of their training and nurturing book – to guide their new owners.
Stone Haven Labs Details
2. Show Den Labradors FL
The puppies from Show Den Labradors are pedigrees from champion bloodlines. These Labrador Retriever breeders in Brooksville, Florida, leave no stone unturned in making sure the dogs are all properly tested and given all the recommended health clearances. Their primary aim is to raise truly born Labrador Retriever puppies that meet the standard AKC requirements and will make their new owners truly pleased to have them in their homes. As its name suggests, Show Den Labradors specializes in show and performance Labradors and have many accolades and championships.
Show Den Labradors Details
3. Tru-Heart Labradors FL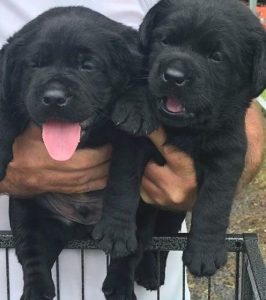 Situated between Jacksonville and Gainesville, Tru-Heart Labradors breeds different colors of Labrador Retrievers including chocolate, black, and yellow. These breeders are very passionate about the dogs they breed and do not give them out to just anybody. Just as they provide you with background information on the Lab puppies you are about to purchase, they also require a little background information on you as well.
Thus, you need to fill out an application form to help them ascertain that you have what it takes to take care of their well-bred and thoroughly nurtured babies. Tru-Heart Labradors absolutely do not inbreed. They source their puppies from non-related stocks with all of the desirable qualities they want to see in the pups.
Tru-Heart Labradors Details
4. Horne's Labradors Florida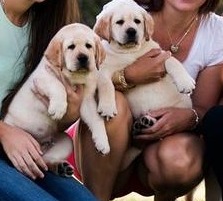 Located just outside of Jacksonville, Horne's Labradors prides itself on breeding only AKC-standard Labradors fit for competition, shows, and family companionship. It insists on being very thorough in its breeding practices. You can see the result of this breeder's meticulousness in the very healthy bred Labrador puppies it produces.
Horne's Labradors Details
5. Quail Meadow Labs Florida
All Quail Meadow Labs are of strong pedigrees with proven champion bloodlines. They are very particular about meeting the AKC breeding standards and so assert that they are doing a very good job of it. They socialize their Labrador puppies for sale in Florida from a young age. They come with early vaccinations, deworming, and are all veterinarian checked.
Quail Meadow Labs Details
6. Seminole Labradors Florida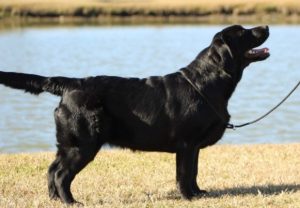 The focus of these breeders is to preserve the integrity of the Labrador and sustain every feature and trait that makes the Labrador the unique dog that it is. This breeder is located in northern Florida, not far from the Florida-to-Georgia line. If you're looking for a darker colored Labrador puppy in Florida, then you can contact these breeders. They enjoy answering all the questions that you have about their puppies.
Seminole Labradors Details
7. Blue Cypress Kennels Florida
This British Labrador breeder located in Vero Beach, Florida has been in the game for ten years now. It continues to pursue standard service and provision of top-grade hunting and sports Labrador puppies.
Blue Cypress Kennels Details
8. Duck River Labradors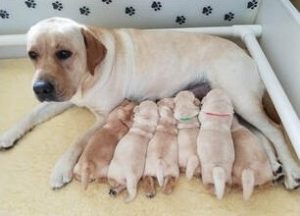 Duck River Labradors abhors any form of inbreeding and sticks to keeping their bloodlines clean and untainted by any form of genetic or hereditary problems. The breeder maintains that it only delivers beautiful and lively puppies with the best dispositions and temperaments. You can also ask to verify all their health checks. This ensures that you are getting a healthy Lab in Florida.
Duck River Labradors Details
9. SeaWorthy Labradors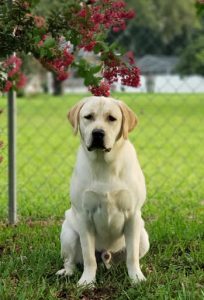 This family of lobbyist breeders in Florida is committed to giving the very best of the Labrador breed—a friend, companion, service dog, and entertainer, all in one. They are detailed about the puppies they produce, down to the dogs' physiology and home structure. Feel free to contact them if you're looking for a puppy!
SeaWorthy Labradors Details
Phone: 352-346-3342
Location: Spring Hill, Florida. 1 hour north of Tampa.
Website: SeaWorthy Labradors
10. Chambray Labradors
Chambray Labradors breed show and performance dogs and have a lot of accolades to its name. These breeders are famous for being one of Florida's topmost Labrador breeders which is not an easy feat. One visit to their website and you will see just why.
Chambray Labradors Details
11. VJL Silver Labradors
VJL Silver Labradors is a small family kennel based in Osteen, Florida, that is very passionate about this breed of dogs. Its program includes being very detailed about health, socialization, and training to give the dogs the best head start in their new homes.
VJL Silver Labradors Details
More Information About Labrador Retriever Puppies in Florida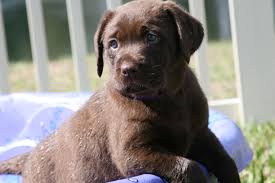 The Labrador Retriever, more commonly known as Labrador, is one of the most popular breeds of dogs in the western world. Below we will talk about some of their most popular characteristics.
Related: Best Labrador Retriever Recues
General Appearance
The Labrador is known for having a broad head and drooping ears. It also has short, straight hair that comes in three main colors, which are white or cream, black, and brown. It is a very good swimmer because of its webbed toes and interwoven coat. The average height of a Labrador retriever is about 22 inches, while its average height is between 65 and 70 pounds.
History
The Labrador breed is believed to have originated in the 1830s, when imported fishing dogs from Newfoundland, Canada, were bred with British hunting dogs in Britain. The Labrador was initially bred as a gun dog – a dog that is trained to assist hunters in finding and retrieving game, hence the name Labrador retriever. These dogs are especially good at this kind of hunting because they were bred to have a soft mouth.
Although hunting was the main reason why the Labrador was bred, it has been known to serve other purposes over the years. The Labrador is especially used as a disability assistance pet in many countries. They are frequently trained to assist people with blindness and autism spectrum disorder. The Labrador can also act as a therapy dog and work in law enforcement. They are easy to train, very intelligent, and eager to please. They are also very loyal and playful- all the qualities of a great pet and companion.
Health
The Labrador retriever suffers from relatively few major ailments. It is somewhat prone to hip and elbow dysplasia, although not as much as some other breeds. It can also suffer from hip problems. However, obesity is the main ailment that Labradors suffer from. They are the most likely breed of dogs to become obese. They like to eat a lot and this can lead to obesity if they don't get regular exercise. The Labrador has an average life span of 12 years. It usually sheds hair twice a year or regularly throughout the year in temperate climates. Labradors are widely considered to be the most popular breed of dogs in the world.
What Makes the Labrador Retriever Special?
Intelligence: The Labrador is truly one of the most intelligent dog breeds in the world. It is very good at tracking down scents and sensing danger. This is why it is very good as a detection dog and rescue dog.
Loyalty: Labradors are very loyal pets. They are also very brave and will protect their owners when in danger.
Temperament: Labradors are very playful and friendly pets and this is the main reason for their worldwide appeal. As stated earlier, they are the most popular breed of dogs in most countries, including the United States. This is because of their lovable and playful demeanor, especially around children.
Active: Labrador retrievers are a very active breed of dogs. If you are planning on starting a physically active life, you should get a Labrador by your side. Since they require regular exercise, they can come along with you on jogs, walks, and even swimming.
Trainable: The Labrador is a very easy-to-train dog. It listens to instructions and can be taught to perform both basic and advanced tasks. It is always eager to learn and eager to please. You can also teach these dogs some tricks.
Friendly: Labradors are also very friendly to other pets and they do well in a multi-pet household. Therefore, you don't have to worry about them constantly fighting with your cat or bird.
Conclusion For Labrador Breeders in Florida
Hopefully this guide "Best Labrador Breeders in Florida" helped you find a reputable breeder or at least narrow down your choices! If you're planning to purchase from unknown Labrador breeders in Florida, we recommend that you do your due diligence before making any financial decisions. There are many unethical breeding practices out there and supporting them will lead to the continuation of this behavior.
For many people, traveling to these Labrador breeders in Florida can sometimes be far. Fortunately, WeLoveDoodles have compiled a list of the Labrador breeders from other states:
To learn more about the Labrador dog breed, watch this informative video down below:
Garrett loves animals and is a huge advocate for all Doodle dog breeds. He owns his own Goldendoodle named Kona. In addition, he volunteers at the Humane Society of Silicon Valley, where he fosters dogs and helps animals. Garrett enjoys writing about Doodles and believes that dogs can teach humans more about how to live than humans can teach a dog.
Why Trust We Love Doodles?
At We Love Doodles, we're a team of writers, veterinarians, and puppy trainers that love dogs. Our team of qualified experts researches and provides reliable information on a wide range of dog topics. Our reviews are based on customer feedback, hands-on testing, and in-depth analysis. We are fully transparent and honest to our community of dog owners and future owners.