The Welsh Corgi will be a great addition to your home, especially when you get one from a reliable and reputable breeder. After extensive research and consultation, we have compiled a list of the best Corgi breeders in Victoria, Australia.
Choosing the right breeder is very important for any dog owner. Buying a puppy from the wrong breeder can be detrimental, as not all breeders conduct proper health tests and use the right sires and dams for the process.
The Pembroke Welsh Corgi was originally a herding dog. Loyal, friendly, and outgoing, the Welsh Corgi is instinctively a lovely dog with exceptional traits. It was the pet dog of Queen Elizabeth II, a gift she received from her father in 1933. Since then, Corgis have become the ideal family companion because of their good nature and desire to please.
You want to ensure you choose a breeder who places great importance on their dog's health and well-being. Health guarantee is another vital thing to consider, as only a good breeder can guarantee the health of their puppies.
We chose these breeders based on their experience and high breeding standards. You can also do your little research about Corgi breeders in Victoria to find the best fit. Here are our top recommendations:
Before scrolling down this list of Corgi breeders in Victoria, Australia, check out these articles: 6 Best Corgi Breeders in Queensland! (2023) and 4 Best Corgi Breeders in the United States! (2023).
1. Puppies Australia
Puppies Australia has been breeding the perfect companion pets with care and love for more than two decades. The breeding team consists of many professionals with several years of experience in this field. They have gained a wealth of knowledge and experience caring for these wonderful pets.
This breeding program is located in East Gippsland, Victoria, on a spacious, beautiful property with fields and rolling hills for their dogs and puppies to play and explore. The dogs have enough space to exercise, which helps to keep them fit and in good shape.
Above all, their mission is to provide happy and healthy puppies from their home to yours, ethically and professionally. The breeding team is highly knowledgeable about dog behavior, genetics, and health, ensuring the puppies are socialized, healthy, and adaptable to all families, including those with special needs.
Puppies Australia operates under the current Code of Practice for Operation of Breeding and Rearing Businesses 2018. The breeding operation is also approved by the Minister of Agriculture and Animal Welfare Victoria's Chief Veterinary Officer, thanks to their high breeding standards and ethics.
The breeders encourage all interested adopters to book an appointment to meet the dogs before filling out the adoption form. You can visit the kennel to see the puppies, dogs, and their environment. However, visits are by appointment only.
In addition to caring for the dogs and puppies, the dedicated team also socializes the puppies with adults, kids, and other pets. They introduce them to various surfaces, sights, and sounds, allowing for a smooth and seamless transition to their new homes.
All their breeding dogs are DNA tested to ensure they breed out genetic health concerns commonly associated with purebred dogs. In addition, all their puppies go home with a three-year health guarantee to protect against genetic defects.
Their Puppy Promise to all their customers includes:
DNA-tested sires and dams
C7 vaccinations
Microchipping
Comprehensive vet checks
Two months of free pet insurance with Orivet
A complete parasite protection
They also offer lifetime support, so you will get all the support and guidance you need to raise a healthy and happy puppy.
Puppies Australia Details:
2. Nireno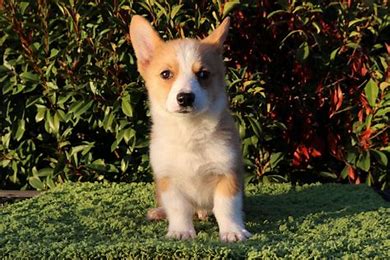 Nireno is a partnership between a mother and son team, Andrew Morrison and Caron McGregor. However, they are not the only ones running the breeding program. Nireno is a success because of the support of a fantastic group of people in Australia and overseas.
In Australia, Ian and Linda Olsen support the mother-and-son team when they need to meet up with customers in Sydney and Victoria. Denise Bonwick also helps train and show the dogs with great care and success.
They breed and ship their puppies to various states in Australia. Pet Carriers International is their sole transport agency; they've been working with them for over 20 years. They also have a dedicated team at Stewart Street Veterinary Hospital that conducts health checks for the breeding dogs and ensures the puppies are always in perfect health and shape.
The team at the vet hospital tests the sires and dams for every possible health issue common with the breed. They ensure the pets are 100 percent healthy and perfect for the breeding program in order to produce the healthiest puppies possible.
Caron and Andrew live with their dogs and puppies on their 340-acre property outside Oberon, NSW. The pets have plenty of room to play, run, and exercise daily. Another amazing thing about these breeders is that they go the extra mile to prepare the puppies for their new homes.
Lastly, all puppies undergo socialization and training exercises to equip them emotionally and physically for their new families. They get daily interaction and exposure to people and other pets. Your new puppy will come home happy, healthy, emotionally secure, and well-socialized.
Nireno Details:
3. Trehilyn Welsh Corgis
Next up, we have Trehilyn Welsh Corgis — home to some of the best Corgi dogs in Australia and surrounding countries. Owned and managed by Lois Evans, Trehilyn Welsh Corgis have high breeding standards that produce puppies with exceptional qualities.
All her litters are carefully planned and bred in order to obtain excellent show dogs and family companions. Whether you are looking for that perfect family pet or you want a show dog, you can rely on this breeder.
Lois runs the breeding program with her family, and accordingly, they all play key roles in its success. The family does not promise any puppy for sale until they are old enough and have been assessed for temperament and confirmation. With that in mind, they should start to be ready by the time they turn eight weeks old.
She also ensures the puppies are DNA and vet-checked for soundness and health before entrusting them to a family. Their individual personalities are considered prior to their release, as Lois ensures the puppies are paired with families that can meet their emotional, health, and physical needs.
They are located in Perth, WA, but deliver their puppies nationwide. If you're only interested in the best breeders, regardless of location, you can have your Corgi puppy delivered to you in Victoria for a fee.
Trehilyn Welsh Corgis Details:
4. Banksia Park Puppies
Banksia Park Puppies is one of the oldest dog breeders in Australia. This family-owned and operated breeding program has raised puppies for over 50 years. The family has amassed a lot of experience with various dog breeds and has an excellent reputation in this field.
This family also breeds Groodles, Cavoodles, Cavadors, Spoodles, and Schnoodles.
Their ultimate goal is to breed the most vibrant, healthiest puppies possible with lovely nature, placid temperament, and the instinctive ability to become faithful, loyal family pets and companions.
The family wishes for their puppies to be the perfect addition to families, particularly those with kids. They do everything possible to ensure the puppies are healthy and happy, including conducting thorough health exams for the breeding stocks.
Banksia DNA tests all their sires and dams as part of their diligent surveillance to ensure the puppies are born without any chances of inheriting any genetic defects from their parents.
Temperament is one of their criteria for choosing breeding stocks. All their male and female adult dogs were temperament-evaluated to ensure they could produce puppies that are not only healthy but also well-tempered.
Banksia allows potential customers to organize tours to visit the farm and confirm their high standards, well-equipped facilities, and beautiful dogs. They allow for tours of up to two hours, giving you all the time you need to see the facility, play with the dogs, and make your final decision.
This family breeder is transparent, honest, and willing to share any information you seek. They are also regulated and annually inspected by their local shire to receive their ongoing license. In addition, Banksia Park Puppies are fully approved members of the Pet Industry Association Australia (PIAA), the Australian Association of Pet Dog Breeding (AAPDB), and Pets Australia.
They have one of the most equipped nurseries in Victoria. The nursery keeps the moms and their babies safe, healthy, and comfortable with heaters and wooden floors. Accordingly, all the puppies from this breeder are fully vet-checked, dewormed, microchipped, and flea treated. They also employ staff solely to socialize and play with the puppies, so they are well-socialized.
Banksia Park Puppies Details:
Frequently Asked Questions
How much does a Corgi puppy cost in Australia?
You can expect to pay between $2,000 to $4,000 for a healthy Corgi puppy.
What are the different types of Corgis?
The American Kennel Club recognizes two different breeds: the Pembroke Welsh Corgi and the Cardigan Welsh Corgi. The former has a docked tail, while the latter does not. There are also weight and bone structure differences between the two breeds.
How long do Corgis live?
The life expectancy of a Pembroke Welsh Corgi is 12 to 13 years.
Conclusion for "Best Corgi Breeders in Victoria, Australia"
All things considered, Welsh Corgis are generally healthy dogs. Like other dog breeds, Corgis might suffer from eye conditions like glaucoma and progressive retinal atrophy.
Fortunately, these conditions are avoidable when the breeder conducts thorough health tests before breeding. So, be sure to ask for the parent's health results and ensure the breeder offers at least a one-year health guarantee before making any financial commitment.
For more guides similar to this list of Corgi breeders in Victoria, Australia, check out:
Before you purchase a Corgi from a breeder in Victoria, Australia, you can learn more about the breed by watching "10 Reasons Why You Should NOT Get a CORGI Puppy || Extra After College" down below:
Garrett loves animals and is a huge advocate for all Doodle dog breeds. He owns his own Goldendoodle named Kona. In addition, he volunteers at the Humane Society of Silicon Valley, where he fosters dogs and helps animals. Garrett enjoys writing about Doodles and believes that dogs can teach humans more about how to live than humans can teach a dog.
Why Trust We Love Doodles?
At We Love Doodles, we're a team of writers, veterinarians, and puppy trainers that love dogs. Our team of qualified experts researches and provides reliable information on a wide range of dog topics. Our reviews are based on customer feedback, hands-on testing, and in-depth analysis. We are fully transparent and honest to our community of dog owners and future owners.