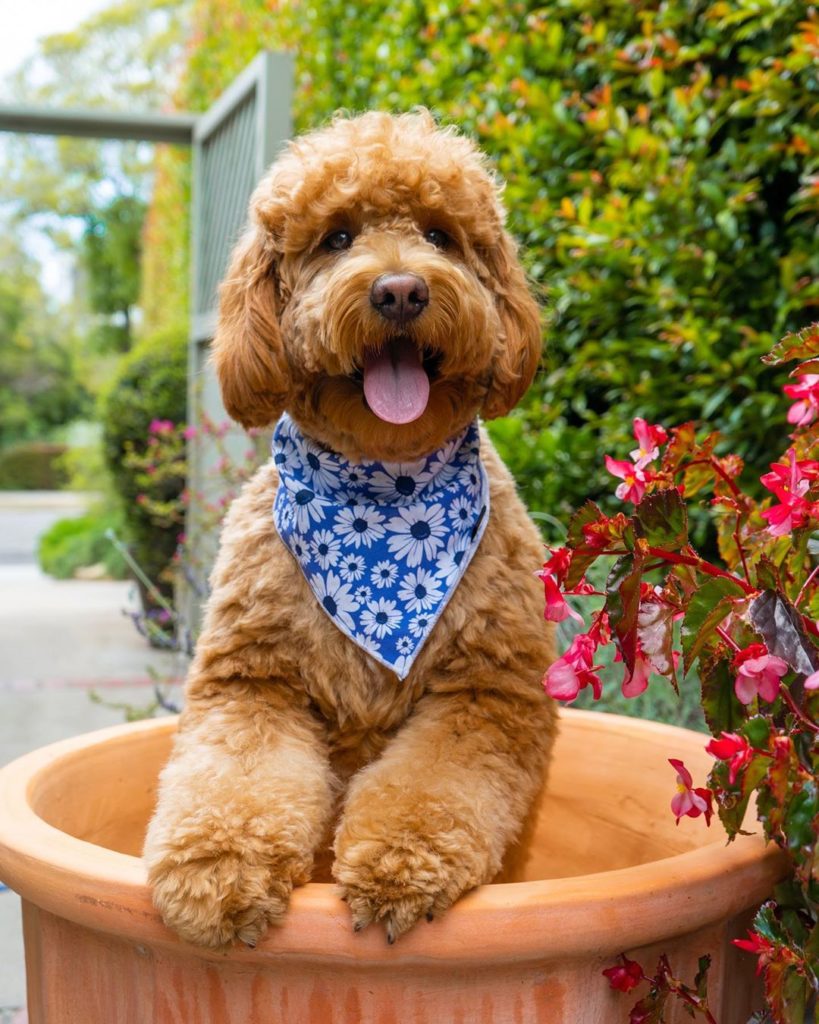 A Groodle is simply another name for a Goldendoodle and is commonly used in the country of Australia.  A Groodle is a mix between the Golden Retriever and the Poodle is one of the most popular doodle dog breeds throughout the world.  Not only are Groodle's great for pet owners with animal allergies, but they are also nonshedding so you won't have to vacuum your floor and clothes every day.  However, the main reason that people buy the Groodle is that they look like a fluffy teddy bear.
The Groodle can range in several different sizes, but it most commonly is seen as a medium-sized dog with an athletic, intelligent, and loving personality.  In addition, the Groodle has an obedient temperament which makes it easy to train, great service animals, and family-friendly.  In this guide, we will give you all the information you need to know about the Groodle dog.
What is a Groodle dog?
The Groodle dog is certainly not a purebred breed, but rather a mix between two very popular dogs: the Poodle and the Golden Retriever.  These two dog breeds have very different personalities, but they mix together to create one of the cutest, friendly, and easy-going dogs in the world.
Since this is a crossbred dog, the Groodle dog will have over 15 different colors, many different sizes, and various coat types.  Since the Groodle varies so much, you need to be certain that you can take care of both the Poodle and Golden Retriever dog breeds because you never know what you are going to get.
Groodle History
The idea of the Groodle dates back to the 1990s when a guy named Wally Conron coined the term Labradoodle.  He was attempting to breed a dog for pet owners who were visually impaired as well as suffered from pet allergies.  After breeding around 31 of these doodles, about 29 of them passed the guide dog test which was an extraordinary high percent.  Thus, the concept of the Groodle was created because these dogs are hypoallergenic and don't shed.  Today, Groodles are one of the most popular dogs in the world.
So let's take a look at the history of the two individual dog breeds that make up the Groodle: the Poodle and Golden Retriever.
Poodle History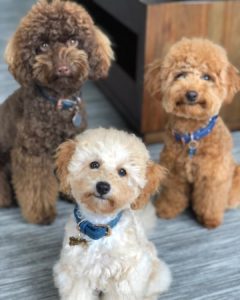 The Poodle is the 7th most popular dog in the world according to the AKC.  This is mostly because the Poodle doesn't shed fur and is considered hypoallergenic.  The origin of the Poodle dates back to the 17th century and came from Europe.  Back in the day, the Poodle was used as a working dog that retrieved various birds out of the water.  The Poodle has become so popular that there are 10 different standard colors and many different sizes.
Golden Retriever History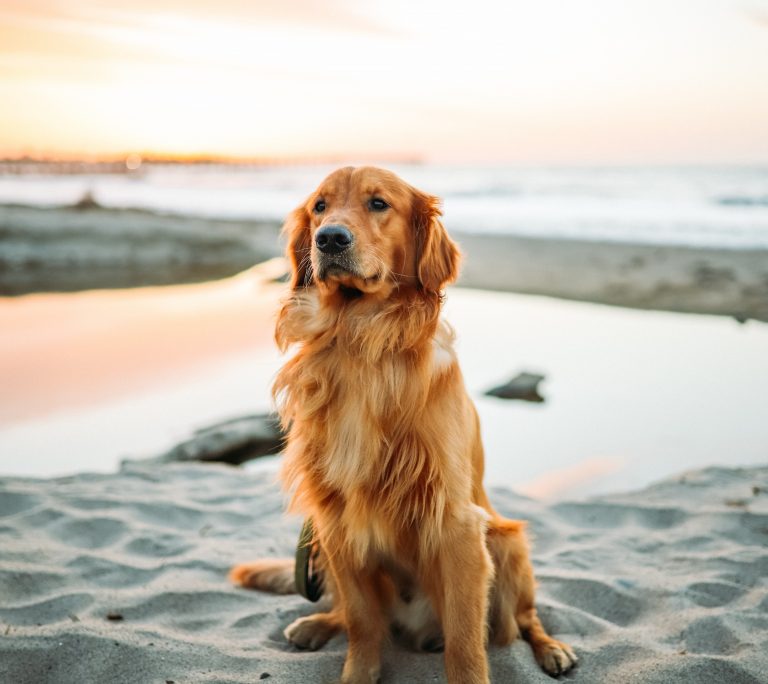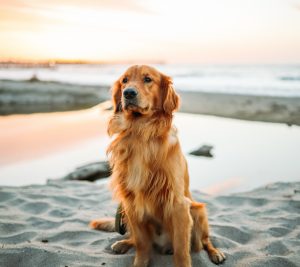 The Golden Retriever is the 3rd most popular dog breed in the world.  The breed was originally bred in Scotland around the 19th century and was used to retrieve waterfowl, ducks, and other game birds for hunters.  This breed is extremely loving, caring, and loyal.
The Groodle Breed
Groodles have become so popular that there are three standard sizes and multiple different colors.  We will explain the most common sizes and colors below.
Miniature Groodle Size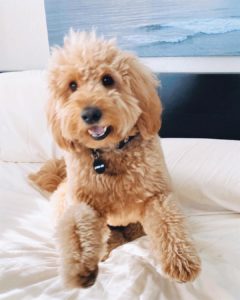 Miniature Groodles weigh up to 30 pounds and stand around 16 inches tall.  these are great for people who live in an RV, condo, or smaller living spaces.
Medium Groodle Size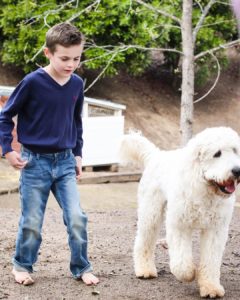 Medium-sized Groodles are 30 to 45 pounds and stand around 20 inches tall.  This is the most common size of the Groodle and you can find this size at many different breeders.  The medium-sized Groodle won't be too big as to scare strangers, but won't be too small either.
Standard Groodle Size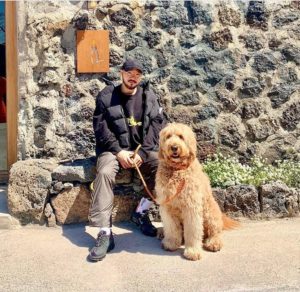 The Standard Groodle size is any dog over 45 pounds.  This dog can get big, and you'll often see Standard Groodles around 75 pounds.  In addition, Standard Groodle's have extremely high energy so be prepared to live an active lifestyle if you get a big sized dog.
Common Groodle Colors
There are virtually infinitely many colors of the Groodle since the Poodle has 10 different standard colors and the Golden Retriever has 3 standard colors.  The most common Groodle colors are listed below.
Golden Groodle / Apricot Groodle
The golden Groodle, or apricot Groodle, is a very popular color because they resemble a lighter colored teddy bear.  The AKC officially recognizes the color "Apricot" but it is often mistaken for Golden.  Apricot Groodles will typically have black eyes, black noses, and black toenails along with their gold-colored coat.
Black Groodle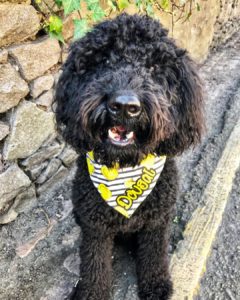 The black Groodle is a unique color because it is considered a recessive gene that is typically masked by other colors.  Typically, if you see a black Groodle their entire body will be black.  The color usually comes from a black colored Poodle and a black Groodle is quite rare compared to the other colors.
Red Groodle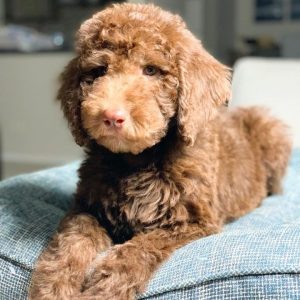 Red is the most popular Groodle color because it is the closest looking color to a teddy bear.  The red Groodle isn't exactly traditional red, but more described as a darker mahogany color.  It is much brighter in color than a golden Groodle.
Cream Groodle / White Groodle
A cream Groodle or white Groodle is a relatively common color because it is typically a dominant gene.  You will see cream Groodles and white Groodles in multi-colored Groodles like the parti Groodle, merle Groodle, or phantom Groodle.
Groodle Grooming
Since the Groodle has nonshedding hair, you will need to groom this dog every 8 to 12 weeks.  We wrote a really in-depth Goldendoodle Grooming Guide that will answer all the questions you have.  If your Groodle is extra matted, you may have to Shave your Goldendoodle in which we also wrote an in-depth article.
Groodle Generations
There are several common generations of Groodle dogs that are commonly bred.  The letter "F" stands for filial which means the dog is a crossbred and not a purebred.  The number (i.e. 1, 2) is the generation of the Groodle.  The letter "B" means that it was backcrossed, typically to the Poodle.  The genetic percentage of each Groodle Generation is below:
F1 Groodle:

50% Poodle / 50% Golden Retriever

F1B Groodle:

75% Poodle / 25% Golden Retriever

F1BB Groodle

: 87.5% Poodle / 12.5% Golden Retriever

F2 Groodle:

50% Poodle / 50% Golden Retriever

F2B Groodle:

 62.5% Poodle / 37.5% Golden Retriever

F2BB Groodle:

81.25% Poodle / 18.75% Golden Retriever

F3 Groodle or Multi-generation Groodle:

Several generations of Groodle breeding typically backcross breeding to the Poodle.
For more information, please reference our Best Goldendoodle Generations article.
Should I get a Groodle dog?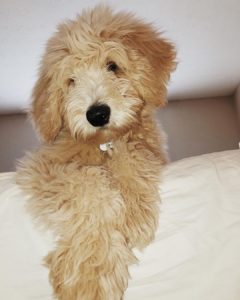 Groodles are a great dog to get because they are friendly, intelligent, and very easy to train.  In addition, they inherit some really good genetic traits like being nonshedding, hypoallergic, and sometimes multi-colored.
However, there are some downsides to the Groodle.  First, you will need to regularly groom your Groodle every 8 to 12 weeks.  This includes regular brushing, haircuts, and nail trimmings.  This helps to prevent mattes and tangles of their hair.  Second, Groodles are very high energy dogs.  If you don't live an active lifestyle and don't want to live an active lifestyle then a Groodle won't be the right dog for you.  Without physical or mental stimulation, the Groodle dog gets bored and will have destructive behavior.
If you think that you can accommodate the active lifestyle of the Groodle, have time to groom them, and don't need a purebred dog then this dog may be right for you.  
Conclusion for The Best Groodle Guide (Goldendoodle)
Groodles do not only look like teddy bears, but they also are loving like them.  The nonaggressive personalities of the Groodle make it great for families and children.  In addition, this dog type is great for people with pet allergies and want a nonshedding dog.  However, since this isn't a purebred dog, it's virtually impossible to predict the coat color, size, temperament, and personality of the Groodle.  We do know that Groodles will be extremely high energy and need to be regularly groomed.  
Other articles to read:
Frequently Asked Questions
Can Groodles be left alone?
It's not recommended that you leave your Groodle lone for more than 6 to 8 hours.  Groodles are known to suffer from separation anxiety and need regular attention.
Are Groodles smart?
Groodles inherit genetic traits from two extremely smart dog breeds: the Poodle and Golden Retriever.  Thus, they are incredibly smart dogs and easy to train.
Garrett loves animals and is a huge advocate for all Doodle dog breeds. He owns his own Goldendoodle named Kona. In addition, he volunteers at the Humane Society of Silicon Valley, where he fosters dogs and helps animals. Garrett enjoys writing about Doodles and believes that dogs can teach humans more about how to live than humans can teach a dog.
Why Trust We Love Doodles?
At We Love Doodles, we're a team of writers, veterinarians, and puppy trainers that love dogs. Our team of qualified experts researches and provides reliable information on a wide range of dog topics. Our reviews are based on customer feedback, hands-on testing, and in-depth analysis. We are fully transparent and honest to our community of dog owners and future owners.