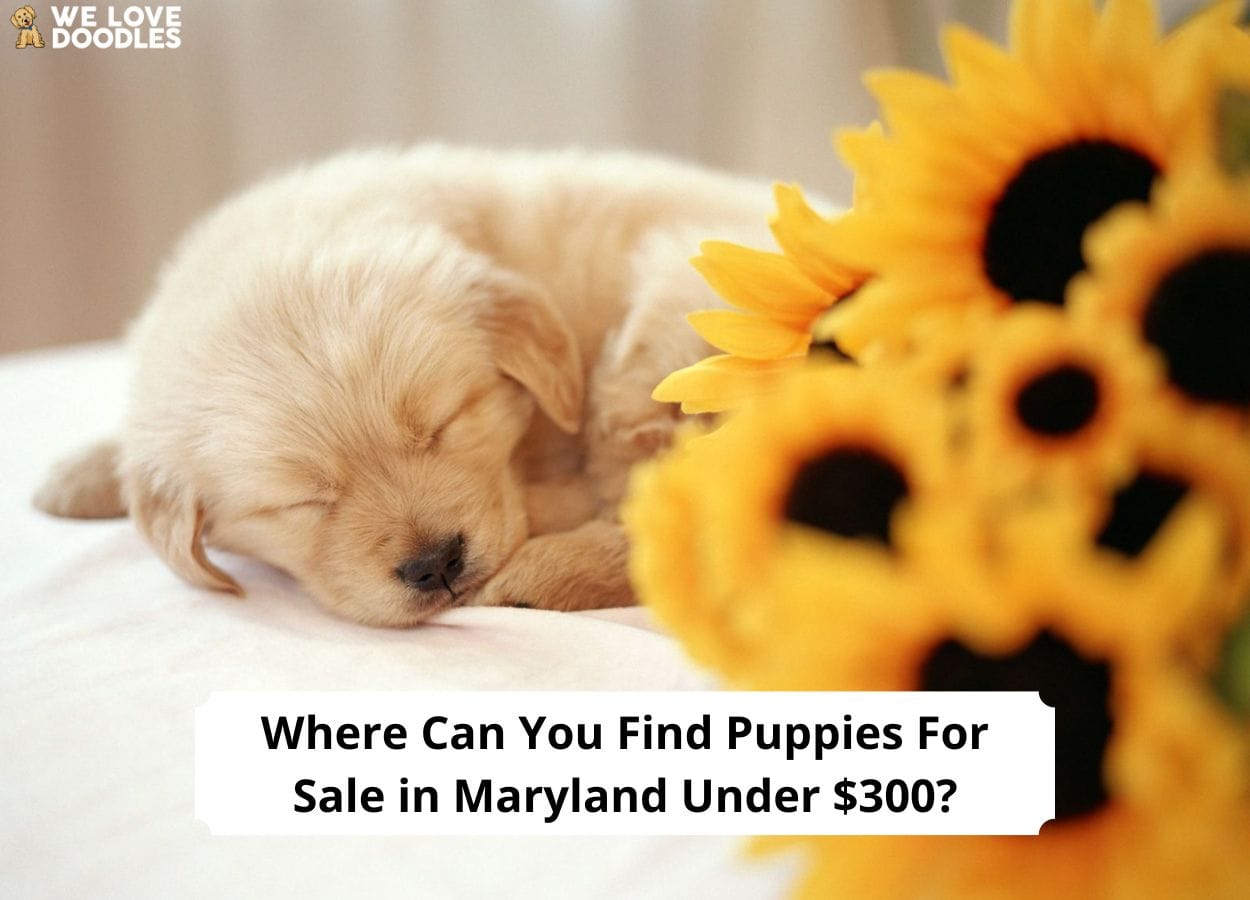 Dogs are a huge responsibility, and it costs a lot to care for them. Looking for an affordable puppy is a strategy many potential pet owners use to cut the costs of owning a dog.
By spending less on acquiring a puppy, pet owners can channel more funds to provide their basic needs, including food, toys, and vet care.
However, looking for an affordable puppy does not mean you have to settle for any puppy that comes your way. Not all puppies are suitable for everyone, and you need to pay close attention to the source from which you get your puppy.
After thorough research, we've compiled a list of reliable places to get a puppy for under $300 in Maryland. You can explore one or more of the options here to find your new family friend. Keep reading to see our top recommendations.
Before you scroll further down this guide, check out these other dog-related articles: Labradoodle Breeders in Maryland and Chihuahua Rescues in Maryland.
Where to Find Puppies for Sale in Maryland for Under $300
1. Marketplaces
Online marketplaces are one of the best places to search for puppies and dogs for sale or adoption. These platforms feature dogs of various sizes, breeds, and ages. If you're looking for puppies in Maryland for under $300, you should check marketplaces available in the state.
Most marketplaces are global, but they often have listings from various states. Searching for puppies under $300 will leave you with hundreds of results from which to choose. Some platforms allow users to filter the results by price, so you can set the price range you want.
Marketplaces are not only for selling clothes, home appliances, furniture, gadgets, or house listings. You can buy or adopt various types of pets on these platforms, including puppies. You can search for a breed you want or do a general puppy search.
However, you want to ensure your search is limited to Maryland, as you would be spending more money if you travel to another state or ship the puppy down. Another advantage of limiting your search to Maryland is that you can visit the seller to see and evaluate the puppy before buying.
Here are some top marketplaces to find puppies under $300:
2. Social Media
Gone are the days when social media was only used to chat and keep up with the latest trends. Today, we use social media for many things, including learning, advertising, and buying/selling.
Social media is one of the best options to explore when looking for cheap puppies in Maryland. Many pet owners relocating, divorced, or unable to care for their dogs and puppies often post and find suitable homes for them on social media.
Pet owners with unexpected or unplanned litter also use social media platforms to find responsible families for their pets. Some pet owners might sell their puppies for a small fee, while others might give them out for free.
You can leverage the power of hashtags to find cheap puppies on Facebook, Twitter, Instagram, and other social media platforms.
3. Craigslist
Craigslist is an online platform for listing jobs, services, houses, and more. Breeders, rescue organizations, and individuals also use the platform to list pets for adoption. The platform has many postings for puppies of various breeds and sizes.
These postings usually come with different price tags, but you might be lucky to find some that require zero dollars. However, many posts on this platform might be a scam, so you should be cautious when dealing with sellers.
Ask the seller many questions about the puppy before showing interest in it. Do not send money or personal information (like your location) before meeting the seller. Make sure you meet in a neutral location before completing the transaction.
4. Dog Rescues
Dog rescues are one of the best options for finding affordable puppies. Here are some rescues in Maryland you can get a puppy for under $300:
Baltimore Animal Rescue and Care Shelter (BARCS)
Many dogs get lost, run away from their homes, are being abandoned, and left to care for themselves on the street. Some dogs are also neglected and abused. Baltimore Animal Rescue is one of the few rescue organizations in this state that has decided to change the narrative of these puppies and dogs and give them a second chance at life.
BARCS is a non-profit rescue organization dedicated to helping homeless, abused, neglected, sick, and abandoned dogs, puppies, cats, and kittens. Being one of the largest animal rescues in Maryland, BARCS saves and rehomes more than 2,000 animals yearly.
Every rescued dog is returned to society in good health and with better behavior. All their dogs undergo various socialization and training exercises, including crate, potty, and behavioral training. Hence, rest assured you will adopt a healthy, socialized, and all-rounded puppy.
Another thing we love about them is their matching process. This rescue organization has a simple yet strict adoption process to avoid a wrong pairing and ensure no dog returns to the streets or shelter again. They screen all potential adopters to ensure they are a good fit for the puppies and vice versa.
Baltimore Animal Rescue and Care Shelter Details:
Small Miracles Rescue
Small Miracles Rescue started in 2006 by rescuing cats and kittens. However, after a few years, the organization grew and expanded its helping hands to save dogs and puppies. Today, SMR is one of the most popular dog rescues in MD, and the team has saved and placed more than 7,000 dogs and puppies in loving homes across the state.
SMR is a non-profit rescue organization with a network of volunteers who will go to any length to save stray, abused, neglected, abandoned, and sick pets in Maryland. They are committed to finding the best possible care for their pets and placing them in loving homes where they will be treated as family members for the rest of their lives.
You would be asked to complete an online questionnaire when applying to adopt from them. The information in your application will enable them to find the right pet for you and your household. Phone interviews and a home visit are also part of the adoption process, and they all help to ensure that you go home with the most suitable pet possible.
Small Miracles Rescue Details:
Last Chance Animal Rescue
Last Chance Animal Rescue (LCAR) operates in Maryland, Washington D.C., and Virginia. The rescue group consists of volunteers who will go the extra mile to ensure needy pets get the love, care, and attention they deserve and need.
They rescue puppies, dogs, and cats from over 50 high-kill shelters in 12 states and provide disaster-relief services to pets. Sick, injured, pregnant, and nursing dogs are not left behind in the program. They all rescue treatable and adoptable pets and take care of them until they find their forever homes.
Last Chance Animal Rescue has many beautiful puppies available for adoption. All their available puppies are listed on their adoptable dog album on Petfinder, Facebook, and Adopt a Pet. If you see a puppy you like on the list, the first step to adoption is filling out the online application form.
The rescue team also brings many puppies and dogs looking for homes to adoption events every Saturday from 11 AM to 3 PM. The dog lists and locations are often posted on their Facebook page on Fridays and Saturdays (morning).
Last Chance Animal Rescue Details:
Maryland Animal Sanctuary and Rescue
Since it was founded in 2005, Maryland Animal Sanctuary and Rescue has saved and rehomed thousands of animals, including puppies, dogs, cats, kittens, and other domestic pets. This non-profit organization was founded by Mary, an avid dog-lover committed to helping animals in need.
She started the rescue program to save animals from being euthanized in shelters and pounds. Mary and her team have been able to help more than 5,000 dogs and placed them in caring, loving forever homes.
With the after-adoption support they provide, you can always reach out to them if you have questions or need help with raising your new family member. In addition to offering puppies for under $300, their adoption process is straightforward.
Maryland Animal Sanctuary and Rescue Details:
Conclusion For "Where Can You Find Puppies For Sale in Maryland Under $300"
Once you get a puppy, regardless of the source, we recommend you visit the vet first for a proper health check. The puppy should be thoroughly vet-checked, dewormed, and up-to-date on vaccinations. The next thing to do is make your home as comfortable and safe as possible for your new family member. All its supplies, including food, toys, and bed, should be in place before arrival.
If you find this guide, "Where Can You Find Puppies For Sale in Maryland Under $300," informative and helpful, you can check out these other dog-related articles from our team:
Before you find a puppy for sale in Maryland under $300, you can learn more about puppy care by watching "How to Take Care of Puppies" down below:
Garrett loves animals and is a huge advocate for all Doodle dog breeds. He owns his own Goldendoodle named Kona. In addition, he volunteers at the Humane Society of Silicon Valley, where he fosters dogs and helps animals. Garrett enjoys writing about Doodles and believes that dogs can teach humans more about how to live than humans can teach a dog.
Why Trust We Love Doodles?
At We Love Doodles, we're a team of writers, veterinarians, and puppy trainers that love dogs. Our team of qualified experts researches and provides reliable information on a wide range of dog topics. Our reviews are based on customer feedback, hands-on testing, and in-depth analysis. We are fully transparent and honest to our community of dog owners and future owners.