Are you looking for free puppies in North Carolina (NC)? If yes, then you have come to the right place. Getting a new puppy is one of the best feelings, but spending a few thousand dollars on a puppy is not possible for everyone.
Free puppies may be difficult to find, but with enough effort and luck, you can find them. There are several ways to get a puppy without spending any money.
As with most things, you need to be creative and patient. Some people may find a puppy through minimal effort, and some may require prolonged research and action. But the wait is always worth it.
Before you scroll further down this guide, "Where Can You Get Free Puppies in North Carolina," you can check out these other dog-related recommendations from our team at We Love Doodles: Best Dog Parks in Greensboro, North Carolina, and Best Dog Rescues in North Carolina For Adoption.
Find Free Puppies in North Carolina
We will gladly tell you where to look and what to do to find a free puppy quickly, as we have listed some reliable sources for finding free puppies in North Carolina. So let's get started.
Puppy Product Recommendations: Best Dog Steps For Cars and Best Plaque Removers For Dogs.
Find a Free Puppy in North Carolina Through Social Media
Search social media sites like Facebook and Instagram for free puppies in North Carolina (NC). Because of the abundance of adoption-related groups and postings, this is a great way to find your new furry best friend for free.
Search terms such as "free puppies in XYZ," "free puppy," and "adopt a puppy" will help you quickly find a new puppy or dog to adopt. Even though there are many phony accounts, you can vet each post by asking the opinion of other group members and getting in touch with the person directly.
Moreover, if you publicly comment on someone's post looking for a new pet owner, someone will always respond with their experience with that person (positive or negative).
Puppies for adoption are constantly being advertised online, so keep an eye on your favorite social media sites for the most up-to-date information. Some of the authentic Facebook groups are listed below:
Dogs and Puppies For Adoption Near Charlotte, North Carolina
This is a Facebook page made especially for puppy adoption. They have excellent service and provide every breed of puppy. You should check with them to see if your desired breed is available. The admins regularly update the Facebook page to allow posts of available puppies, with their pictures and details.
Dogs and Puppies for Adoption near Charlotte, NC Details
Visit Local Animal Shelters in North Carolina
The United States has a large number of government-run animal shelters. Hundreds of dogs are brought to shelters across the country every day, and those who aren't adopted are eventually put down. The shelter may provide rescued dogs and puppies for free to avoid untimely euthanization and encourage adoption.
While most of the time, shelters offer dogs with health or behavioral issues for adoption, you can also find young dogs and puppies. There is always a risk when adopting a dog from a shelter because you may spend a lot of money on medical care.
However, you can take certain precautions, such as getting the dog checked by a vet before adoption, getting as much history as possible from the shelter, etc. Here are a few animal shelters where you can get free puppies in North Carolina.
1. Animal Shelter Davidson County, North Carolina
The Davidson County Animal Shelter is a no-kill facility funded by grants and contributions from the county government and the general public. They are a refuge for this county's stray, wounded, mistreated, or unwanted animals, providing them shelter, food, and medical care.
The shelter's mission is to find new homes for lost animals and to give unwanted or abandoned pets a second chance at a happy, healthy life. Applicants must acknowledge and accept the shelter's adoption policies before they may go on with the process.
However, adopting a pet is not entirely free here. You will have to pay a small amount as an adoption fee that will cover the cost of necessary veterinary care, including annual checkups, vaccinations, preventatives for fleas, ticks, and heartworm, and any other treatments the animal needs during its stay at the shelter.
Animal Shelter Davidson County, NC Details
2. Wake County Animal Shelter
The Wake County Animal Shelter is a division of a publicly funded organization that has long advocated on behalf of both humans and animals. Adopting a puppy from this group will be simple if you follow the instructions.
The shelter is open daily from 12 p.m. to 6 p.m. (closed on certain holidays and in bad weather). The shelter is NOT a place for animals in foster care. For more information, see Fostering a Pet for Adoption Procedures.
The animals in the gallery are only available for adoption sometimes because owners also use the space to search for their lost pets. Therefore, not all of these animals are available for adoption.
Adopting this shelter requires that you be at least 18 years old and have a valid form of government-issued identification.
Spending time with any animal you are considering adopting would be best. This may help you decide whether or not you want them to live with you.
Bring their name and ID to the front desk once you've found the one. They will then walk you through the rest of the process.
You may adopt no stray animal from this shelter until the required Stray Hold time has passed.
Wake County Animal Shelter Details
Search North Carolina's Craigslist For Dog Adoption Listings
Most of you have probably heard of Craigslist, an online marketplace where you can buy and sell almost anything. However, you may not know that this website also has dog adoption listings.
Craigslist may be an excellent place to look for free puppies through online classifieds. Craigslist has advertisements from owners who are looking to rehome a puppy.
It could be for the following reasons:
Owners have had a litter, giving away the puppies because they cannot keep them.
Owners can no longer care for their puppies for financial or other reasons.
You may even see an ad from rescue organizations and breeders looking to give away a puppy for free because they have been on the adoption list for a long time without luck. Getting a puppy for free from Craigslist can be risky; therefore, be thorough and cautious when adopting through Craigslist.
You can do that by asking a series of questions that can determine whether the individual is genuine.  These questions can be about the breed's care, the puppy's medical history, the parent's medical history, vaccination record, etc.
Inquire Within Your North Carolina Social Circle
You might be surprised how many people in your social circle are looking for a new home for their dogs or cats. Your next-door neighbor or second cousin may have a litter of puppies they're looking to give away, or they may know someone who has one.
This is an excellent way to obtain pure-breed puppies for free such as Poodles, Australian Shepherds, German Shepherds, and so on, as well as special hybrid breeds such as Yorkiepoos, Goldendoodles, Labradoodles, and so on.
Ask a few people close to you. You'll find someone with free puppies in North Carolina (NC) that are ideal for you and your family if you look hard enough.
How to Tell If Your Source For Free Puppies in North Carolina is Trustworthy?
Regarding Facebook groups, you can check out their reviews for authentication. Moreover, many people comment on the posts about their experiences. So make sure to check those out as well.
While platforms like Facebook and Craigslist are popularly used for online classifieds, there is always a chance that you may get scammed. To differentiate between genuine posts and fake profiles, visit the advertiser and see the puppy for yourself before adopting it.
You can also ask them a set of questions that can tell you a lot about them, such as:
What is the reason for giving up a pet for adoption?
Is it vaccinated?
Does it have any record of violent behavior
Does it have health issues?
Is it AKC registered?
What Are The Risks of Getting a Free Puppy in North Carolina?
It's difficult to say no to a cute puppy, especially if it's free. Nonetheless, it is prudent to consider the potential drawbacks of such a decision. Some examples are as follows:
You May Get An Unhealthy Puppy
There is a chance that you may get a puppy with serious health issues and may end up spending a lot of money on treatment and related medical expenses. If your adopted dog becomes ill after adoption, you will be responsible for its medical care. In some cases, the cost of veterinary care may exceed the price of a new puppy, so weighing both options is critical.
You May Become a Victim of Online Crime
There is a chance that you may become a victim of online fraud or deception. Unfortunately, cybercrime is commonplace; criminals may pose as dog owners to get private information. Therefore, do not provide anyone with private information such as bank account details or addresses.
Despite the legitimacy of a social networking site like Facebook, you should never provide personal information to an unknown person. Ask for authentic payment transfer methods like credit card or PayPal; similarly, don't pay before seeing the puppy yourself.
It's best if you draw a contract and both parties sign it. Unfortunately, free puppy options are scarce. Finding free puppies is difficult if you have a few places to look. Adoption centers, rescue organizations, and shelters often have a waiting list for pets needing a new home. Therefore, explore all avenues, but proceed with caution.
The Financial Costs of Free Puppies From NC
It is said that there is no such thing as a free puppy, and it's true. Even if you find a puppy for free, you'll still have to feed it, groom it, take it to the vet for regular checkups, spaying or neuter it, etc.
Canine annual expenditures can range from $480 to $3,470 depending on your location, the size, breed, and age of your dog(s), and the cost of veterinary care.
Conclusion For "Where Can You Get Free Puppies in North Carolina"
Many people dream of becoming pet parents but cannot afford to pay the hefty prices quoted by dog breeders. They don't know that they can get puppies for free in North Carolina (NC) and anywhere else in the US if they look hard enough.
The sources we listed above are some avenues to explore for free puppies. However, there is no guarantee; some get a puppy within days, while others have to wait months. So be patient, and keep searching. We hope you find your free puppy soon.
If you find this guide, "Where Can You Get Free Puppies in North Carolina," helpful, you can check out these other dog-related recommendations from our team:
Before you bring home a puppy companion in North Carolina, you can learn more about raising your future companion by watching "Everything You Need to Know About Raising a Puppy" down below: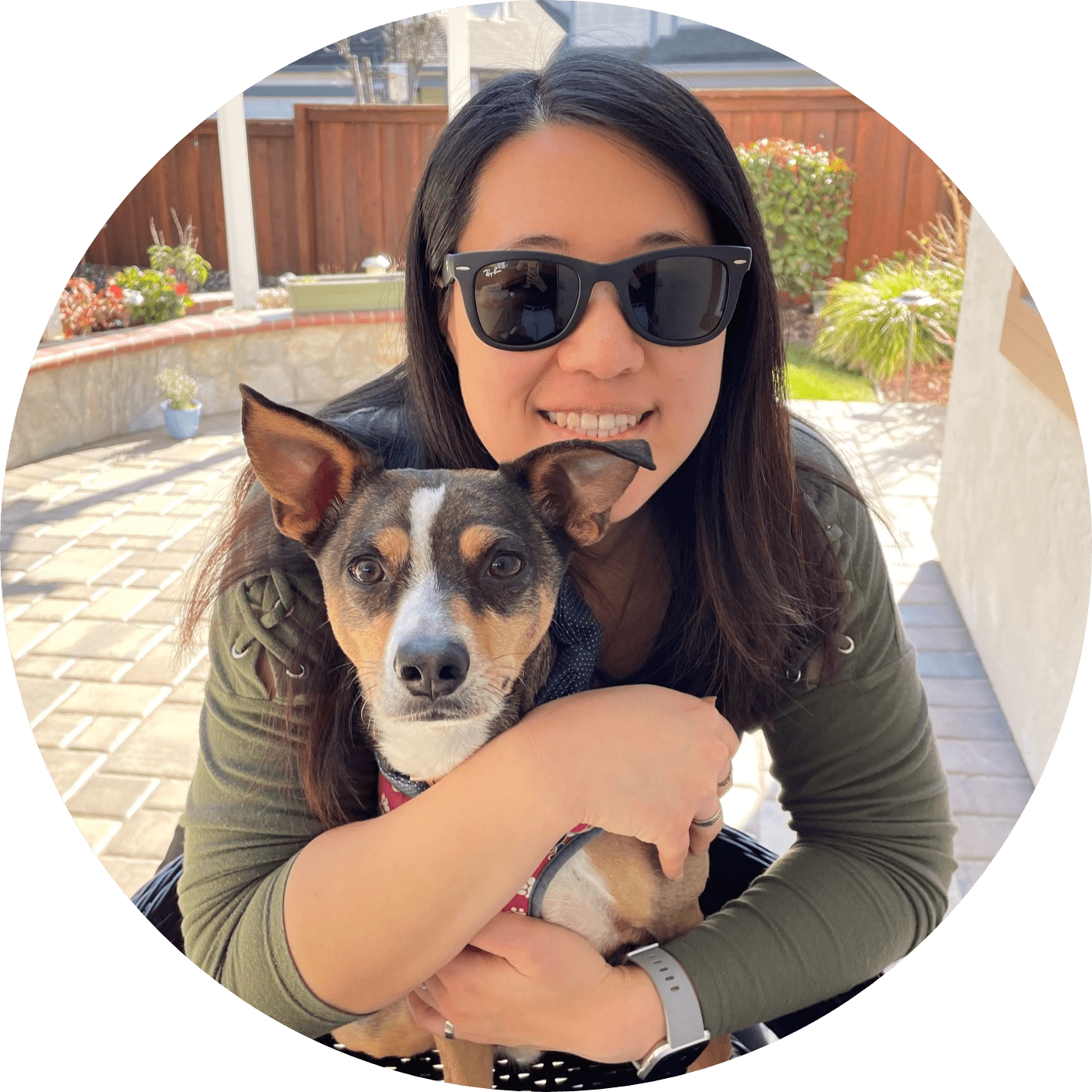 Dr. Sabrina Kong graduated from the Royal Veterinary College in England in 2016 and has been working at a small animal clinic in Northern California since then. She grew up in the Bay Area and got her bachelor's degree from Cal Poly San Luis Obispo. She also became a Certified Canine Rehabilitation Practitioner through a program at the University of Tennessee.
When she isn't in the clinic taking care of her four-legged patients, she enjoys traveling and trying new foods with her friends and her three-legged dog, Apollo. She adopted Apollo from her clinic when he was a puppy with numerous health issues. Dr. Kong truly cares about taking care of animals.