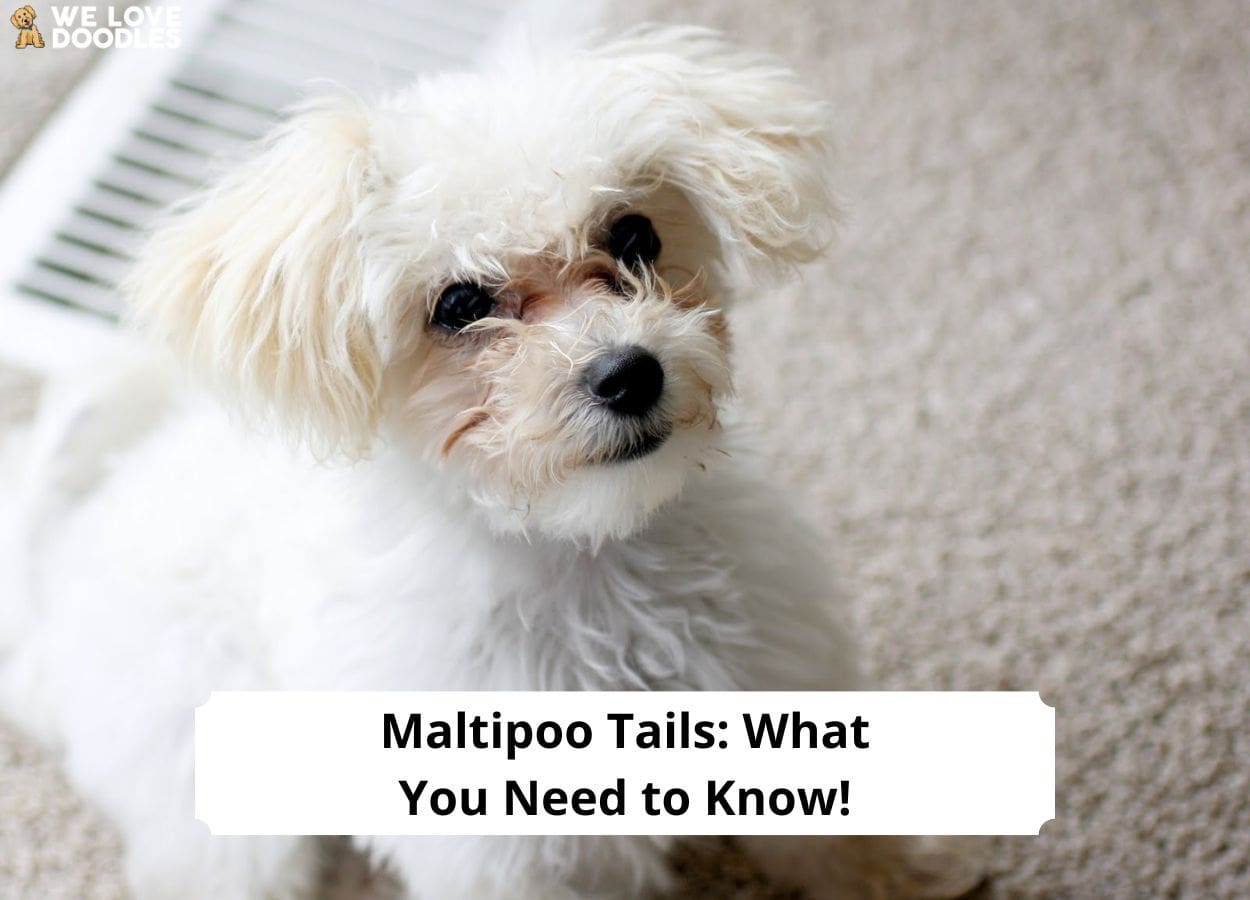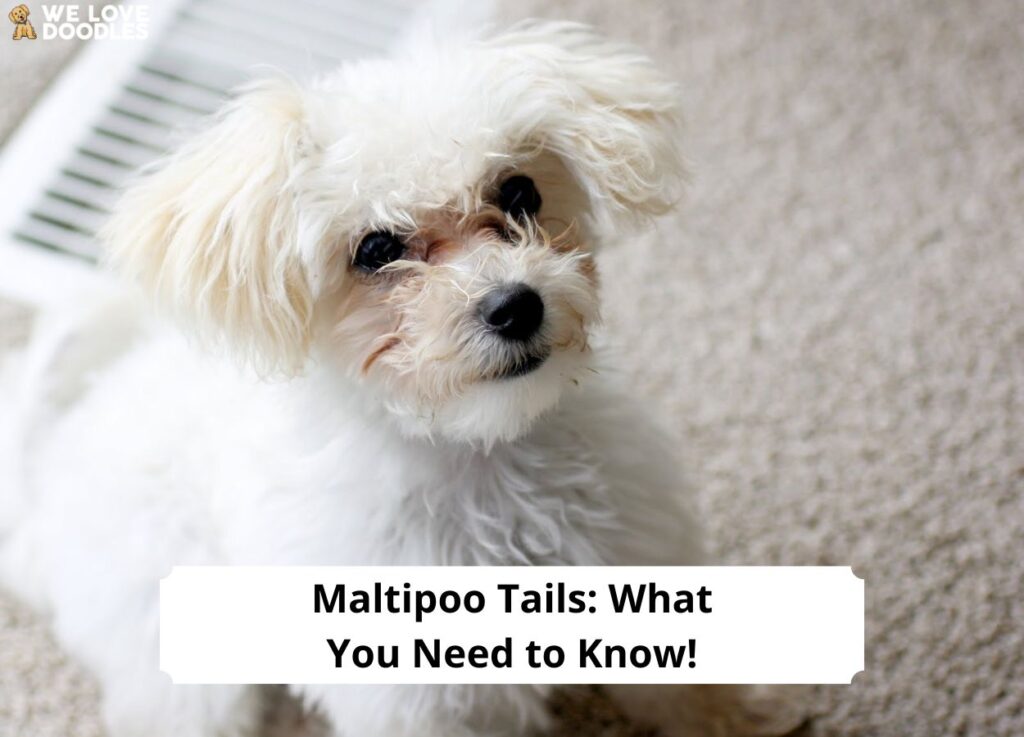 A Maltipoo's tail reveals a lot about them. Since Maltipoos have some of the most adorable tails of any breed of dog, we're here to help you understand all there is to learn about Maltipoo tails.
Maltipoos have tails that are usually long and slender. It's not as curved as sickle-tailed dog breeds, but if your Maltipoo's tail is curly, this is not always a cause for concern. Maltipoos, like all dogs, use their tails to communicate important feelings to their owners. Therefore, it is advised not to dock their tails.
Keep reading below as we take you through important information about your Maltipoo's tail.
Before scrolling through this guide, "Maltipoo Tails," check out these Maltipoo guides from our team at We Love Doodles: How Long Do Maltipoos Live? and Do Maltipoos Bark a Lot?.
Do Maltipoos have Tails?
Indeed, Maltipoos have tails. They have long, slender tails that resemble that of a Maltese dog by nature. Maltipoo tails are often curved and fuzzy, which is a favorite feature among Maltipoo owners.
How Long are Maltipoo Tails?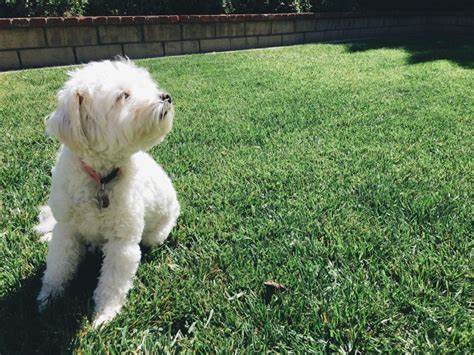 The typical length of a Maltipoo's tail is between 3 and 7 inches. Consider the size and shape of a tiny banana. If docked, their tail will be 1–4 inches long.
What is Tail Docking?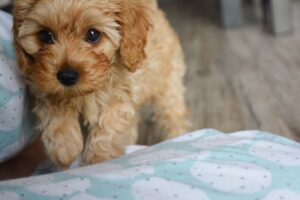 An animal's tail is docked when part of it is removed. The terms "docking" and "bobbing" are more frequently used to describe the process of tail removal. There are two methods of tail docking. The first way to dock a puppy's tail is to wrap a rubber ligature around the tail at the place it will be docked. This restricts the blood flow to the tail for several days until the tail breaks off.
The second method is to cut the tail with a scalpel or a pair of medical scissors. Breed-specific standards usually indicate the length at which tails are to be docked. Many nations regulate or outright ban tail docking.
Do Maltipoos Have Docked Tails?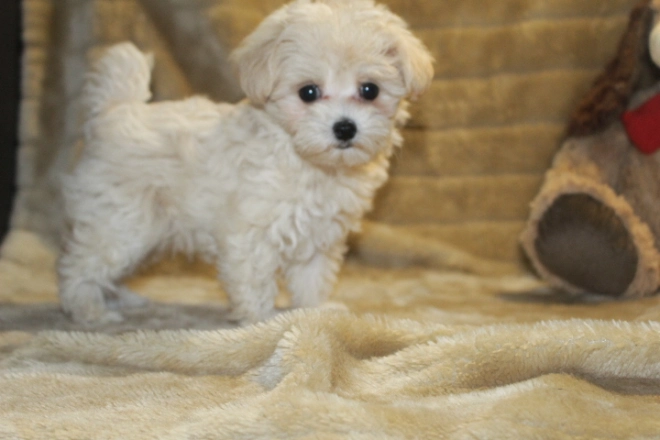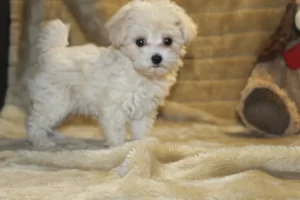 Generally, Maltipoos do not have docked tails. If the breeders adhere to the AKC poodle breed standard, then they will dock the puppies' tails. The majority of owners prefer that they do not have docked tails since there is no justification for doing so.
Poodle and Maltese hybrids, known as "Maltipoos," are bred to be lap dogs. Tail docking was originally used to prevent working breed dogs from hurting their tails while performing their jobs. That is why it used to be a regular practice to dock dog tails.
Since Maltipoos are not working dogs, there is no justification for ever docking these adorable little dogs' tails. A Maltipoo's tail is such an integral part of how they communicate with humans. The majority of owners think that one of their favorite features about Malitpoos is their dogs' beautiful, billowy tails.
Nowadays, Poodles' tails are frequently docked for cosmetic reasons. Poodles were historically used as working dogs, so docking is still considered to be the breed standard in the United States by the AKC. However, because it is an archaic and cruel practice, it is forbidden in the UK.
Given that Maltipoos are not historically recognized by the AKC and will not need to adhere to any conforming appearance requirements, there is no need for having a Maltipoo puppy's tail docked. Maltipoos can enroll in the AKC Canine Partners Program, but they are not required to adhere to specific aesthetic standards.
Do Maltipoos Have Curly Tails?
Typically, Maltipoos don't have curling tails. A Maltipoo's tail will arc from the base of the tail up and over their backs, but they typically don't curl. Any tail curling tighter than that might be regarded as a hereditary or breeding defect.
Some Maltipoo owners have observed that their dogs' tails curl more than usual, somewhat resembling the tail of a pig. Do not be alarmed if this is the case with your Maltipoo since it is not known to cause any health problems; nevertheless, you might want to check with your veterinarian at your next visit to be sure.
Additionally, breeding a Maltipoo with a curled tail is not advised because this defect can be passed down to the puppies and become more troublesome with each succeeding generation. One drawback that some owners may experience with their Maltipoo's curly tail is that it might make grooming more challenging. More matting at the base of the tail might result from a curled tail.
Maltipoo Tails and Communication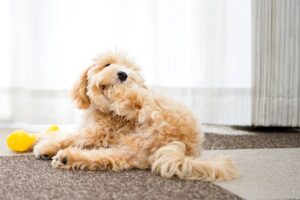 A Maltipoo may wag its tail for a variety of reasons. It plays a significant role in their communication with you. Not all animals that wag their tails are joyful. They can also be expressing other feelings like anxiety or fear.
When dogs combine their tail wags with other contextual cues, they are providing you with the key to understanding them. For example, it's important to consider what their eyes, ears, and posture say about how they are feeling. You'll be able to understand why your Maltipoo is wagging its tail if you can take note of these signals.
Maltipoo Relaxed Tail
A tail in its natural, resting state means that your Maltipoo is calm and relaxed. He may be sleeping, taking a nap, or simply strolling around.
Carefree Tail Wagging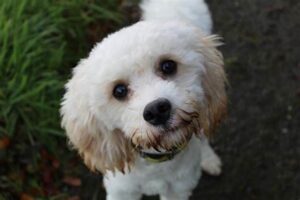 If your Maltipoo runs up to you and jumps on you or attempts to capture your attention while making eye contact with a huge, careless wag, it means that he is greeting you or expressing his love.
Light Wagging
Backward and light tail wagging may be accompanied by some light sniffing or intense, inquisitive gaze. Your Maltipoo is essentially saying, "I'm looking to you for comfort."
Maltipoo Tail Slightly Moving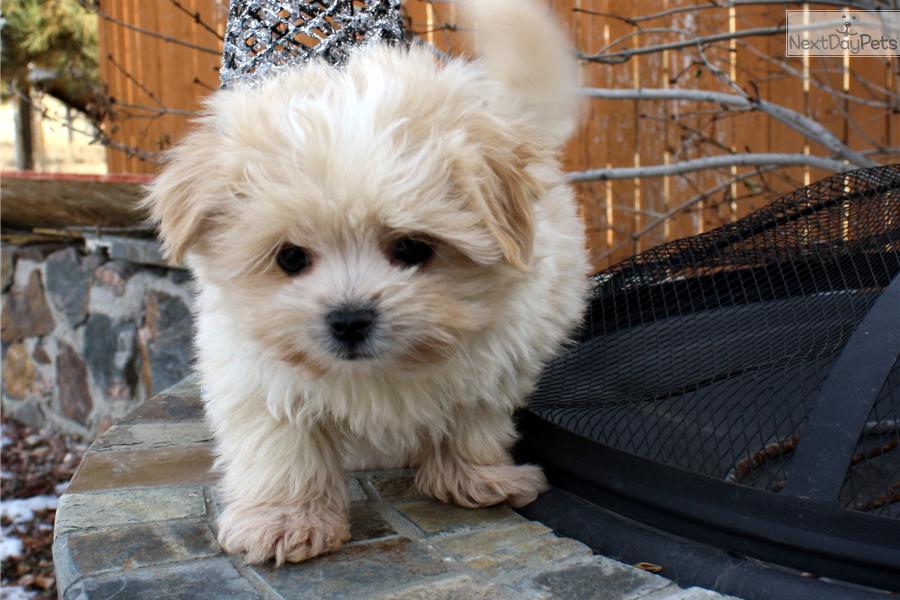 If your Maltipoo is worried or anxious, its tail should be between its legs, potentially even wiggling a little bit. Their eyes will be down, ears back, and body tight. They are likely attempting to convey a stance of submission.
Maltipoo Tail is Stiff
A stiff, high-flying tail indicates aggressiveness. Your dog may also be trying to establish eye contact while being stiff and poised. He could also be snarling and growling.
Fast Wagging
Fast, carefree wagging occurs when your Maltipoo is happy or excited. It is accompanied by body wriggling and joyful facial emotions. You'll also find a loose stance, maybe circling the excitation-inducing object, such as a reward or toy.
Research has also shown that the direction in which your dog wags its tail might indicate whether it is feeling happy or sad. More positive feelings, such as relaxation and happiness, can be indicated by a dog waving its tail to the right of its body. Wagging their tails on the left side of their bodies indicates more negative feelings such as anxiousness or fear.
The majority of Maltipoos wag their tails to communicate, which comes naturally to them. Certain Maltipoos don't wag their tails at all. Do not be alarmed; your Maltipoo is not alone. If your Maltipoo doesn't wag its tail, it's probably just not in its genes or disposition.
Another possibility is that their tail is more curled than usual, which makes it harder for them to wag. However, this might also be a sign of a medical concern, so you should take them to the vet to rule out any more serious problems.
There could be other things at play if your Maltipoo has lately stopped waving its tail. They could just be anxious and require some time to get used to their new surroundings if you have relocated or if they are new to your house.
Some dogs wag their tails more vigorously than others. You will need to learn to recognize other body language clues if your Maltipoo doesn't wag its tail at all to grasp what it is trying to communicate.
How to Groom and Trim Maltipoo tails
A Maltipoo's tail is often kept long and untrimmed. They have a beautiful plume that emanates from their back, which adds to their beauty. Daily or at the very least twice a week brushing is necessary to keep it clean. If the tail of your Maltipoo develops mats, it can be essential to clip it or somewhat thin it out.
Another alternative is to style or clip your Maltipoo's tail fur in a style known as a bottle brush cut for dogs that frequently develop mats in their tails or for owners who prefer a little less upkeep. The entire tail hair is clipped up to the last 2-3 inches, giving it the appearance of a brush for cleaning bottles. It looks exactly as it sounds.
Other Tips for Maltipoo Tail Problems
Maltipoo Luxating Patella
A condition known as luxating patella may be present if your Maltipoo holds his tail down all the time or appears to do so more frequently than the typical resting posture. This is only a fancy way of saying that your dog's kneecap is misplaced. If your Maltipoo has knee problems, you may also see your dog stretching out their hind limbs, wandering in circles, or maybe yelping or howling in discomfort.
Small breeds frequently suffer from luxated patellas, which frequently resolve on their own after a few days of rest and stretching. It's recommended to take your dog to the veterinarian if it looks to be giving them a lot of discomfort or if the issue is not going away.
They will examine the situation and, if your dog continues to have this issue, they could suggest getting treatment to address it. Surgery is a long-term solution for a luxating patella in dogs.
How to Prevent Poop From Sticking to Your Maltipoo's Tail
This is a typical issue with long-haired canines. If it occurs frequently and is not dealt with, it can lead to major health problems.
Here are some suggestions for keeping your Maltipoo's tail clean.
Maintaining neat, clipped hair on the rear is important.
Have wipes on hand so you can quickly clean them up.
Test for parasites or diseases, such as worms.
Maltipoo Tail Infection (Tail Tip Necrosis)
Though luckily fairly rare in Maltipoos, this is a very major problem. It can be crucial to have the ability to spot it quickly so that the problem can be resolved before it results in long-term damage.
A tail infection is caused by the tail's continuous rubbing against anything that contains bacteria. If the tail develops an open wound and germs are allowed to enter, the infection might spread and harm or kill the tissue.
Keep an eye out for hair loss at the tail's end. Biting, foul-smelling, bleeding, or brittle skin, and extreme itching of the tail are some other signs you should look out for.
If you observe any of these in your dog, consult a veterinarian immediately. The affected portion of the tail will likely need to be amputated after the veterinarian examines it. Although dealing with this situation may be very upsetting, if the illness spreads, your dog's life could be at risk.
Frequently Asked Questions
What kind of tails do Maltipoos have?
Maltipoos have long, curved tails that are usually not docked. They have long hair on their tails and don't have a tight tail curl.
Do Maltipoos have tails?
Maltipoos usually have long tails with long hair. Maltipoos usually don't have docked tails. Many Multipoo breeders and owners believe docking a Maltipoo puppy's tail is unnecessary because their tails are cute and expressive.
Do Maltipoos have docked tails?
Typically, Maltipoos don't have docked tails. Although docked tails are the breed standard for poodles, Maltese tails are left long. Tail docking is considered unnecessary by many, and Maltipoos have adorable tails so they are most often left long.
Conclusion For "Maltipoo Tails: What You Need to Know"
It is important to pay attention to your Maltipoo's tail for many reasons. Dogs are expressive and their tails are a major sign of how they are feeling. Most Maltipoos don't have docked tails because it is unnecessary and reduces their ability to communicate.
Maltipoos also have adorable tails that take after their Maltese genetics. They are long and slightly curved, but not usually curled. Maltipoos typically have long hair on their tails that should be groomed regularly to avoid matting and gathering bacteria.
Check out more guides about Maltipoos from our team at We Love Doodles:
You can learn more about this dog breed by watching "5 Reasons NOT to Get a Maltipoo | Is the Maltipoo the Right Dog for You?" down below:
Garrett loves animals and is a huge advocate for all Doodle dog breeds. He owns his own Goldendoodle named Kona. In addition, he volunteers at the Humane Society of Silicon Valley, where he fosters dogs and helps animals. Garrett enjoys writing about Doodles and believes that dogs can teach humans more about how to live than humans can teach a dog.
Why Trust We Love Doodles?
At We Love Doodles, we're a team of writers, veterinarians, and puppy trainers that love dogs. Our team of qualified experts researches and provides reliable information on a wide range of dog topics. Our reviews are based on customer feedback, hands-on testing, and in-depth analysis. We are fully transparent and honest to our community of dog owners and future owners.