In this review, we want to show you the best thinning scissors for dogs. Nowadays, there is a wide variety of dog grooming scissors, from the basic and cheapest to those that offer a professional touch. In this review, we have analyzed dozens of products from the most successful brands on the market so that you find what you need at the best price possible. We want to help you choose based on our expertise and experience in this field.
Have you ever wondered precisely what they are and how you can use them? As their name suggests, thinning shears provide a way for you to thin your pet's coat so that it has a more natural look. Unlike regular scissors, thinning shears have a textured blade that helps separate fur as you cut so that it looks less choppy and doesn't require as much finishing work after your grooming session is complete. 
You will find many uses for these types of shears in the salon or at home! Depending on the need, they can make your pet's hair fluffier or sleek. They truly become essential when you start styling fur like a pro or doing background touches before applying paint on your pet.
Thinning scissors for dogs are excellent for dog grooming; they are irreplaceable in the process of creating an elegant hairstyle, providing hair thinning and texture at the same time. You have probably heard the term "thinning shears" before. They are also often called thinning scissors or even hair thinning scissors. 
The Pet Magasin Pet Thinning Shears and many other pet thinning shears do not require the same sharpening that regular scissors need. They also retain their edge much longer than traditional crafting or grooming shears, which is why they are becoming so popular among groomers.
Forget about using dog hair clippers to achieve a more natural finish – thinning shears have a blade that curves at a 45-degree angle, which allows you to create "feathered" edges on your pet's fur. By simply turning the blade upside down and using the point of the scissors, you can easily trim around your eyes, ears, and other sensitive areas without causing any panic or pain for your pet.
In a rush? Here are the top picks!
Product
Best Overall
We Love Doodles Dog Grooming Scissors
Runner Up
Sharf Gold Touch Pet Shears
Budget Pick
Andis Thinning Shears
Jason Thinning Blending Scissor
Image
After 1 year of research and development, We Love Doodles recently launched their dog grooming scissors kit, which includes a 7-inch thinning shear. This thinning has 34 razor-sharp teeth that are great for blending your dog's thick coat and making it look more natural. It's made of solid professional-grade stainless steel.
Not only do you get a thinning scissor for your dog, but you also get a straight scissor, curved scissor, and comb for one low price. If you don't like their thinning scissors kit, then you can return it for a full refund with their 100% satisfaction guarantee policy.
The thinning scissors also come with an easy-to-carry case. You can carry them anywhere or simply use them in-between grooming sessions. At 7 inches long and with 34 teeth, it's perfect to use on your dog's body or blend their paw hair after your trim it. We highly suggest that you check this product out.
Features
Aesthetically pleasing with a carrying case

One of the lowest-priced dog thinning shears on our list

Long thinning shear compared to other products, which saves time grooming

Heavy-duty stainless steel 

Money back guarantee
The Andis thinning shear has been the preferred choice of professional groomers for more than 50 years. Blades are high carbon steel hardened to Rockwell C-4 for long-lasting sharpness and corrosion resistance. "V" shaped blades create a feathered look. We like these pet thinning shears for grooming because they are sturdy and sharp, making them an excellent value for the price. 
They're also great for fine-tuning the clipping of wire coats and can be used for shortening, texturizing, and blending. Pet parents and professional dog groomers use these pet thinning scissors around the face and the inside corners of the eyes. They also feature ergonomic handles designed for all-day use and superior control. Here's the takeaway:
Features
Professional grade for heavy use

Precision crafted

Crafted with ergonomic handles

Cryogenically tempered Japanese stainless steel 

Most reputable company

Right-handed or left-handed options
Jason's thinning scissors for cats and dogs feature a curved scissor blade with an offset handle to eliminate wrist tension while cutting hair. The scissors are perfect for thinning and blending, creating layers, and texturizing.
The non-stick coating provides smooth gliding while cutting through wet or dry hair and prevents rusting. The scissors feature a jeweled screw to adjust the tension easily and quickly. The kit includes a pair of scissors, a plastic case, and 100 grit sandpaper for sharpening the blades. 
We like these dog thinning shears because they're great for animals with sensitive skin, and the non-stick coating helps cut down on hair pulls and snagged fur. The curved blade shape makes it easier to follow your pet's body lines when cutting, and the offset handle is a nice feature that decreases wrist fatigue during grooming sessions. This product features over 1,000 positive reviews. They're also priced affordably and have a 1-year warranty.
Features
Affordable

Features significantly hardened Japanese 440C steel

Over 1,000 positive reviews

Lightweight and easy to control

7-inch blending shears for all dog breeds

Suitable for everyday cutting

Easy to use for beginners

Hand-forged 

The reputable company since 1995

Suitable for F1 B Golden doodles

Good for blending fur
The Sharf Gold Touch pet shears feature 6.5-inch blades and 440C Japanese stainless steel. The shears come in your choice of left or right-hand models, an assortment of finger rest inserts to fit most hand sizes, and include a black storage case.
We like these pet thinning shears because they're great for dogs with allergies, sensitive skin and for creating a clean finish on your dog grooming cuts. They're designed to glide in and cut through dense fur easily, and the 42 offset teeth help minimize hair pulls and snagging when you're thinning and texturizing. 
The shears come with interchangeable finger rests to accommodate any size hand, which is perfect for pet owners with arthritis or other ailments that affect the strength and agility of your hands.
These dog thinning shears are made with 440C Japanese stainless steel, making them a high-quality option for dog groomers that work on various coats. The blades have an offset design that reduces wrist fatigue during grooming sessions and helps minimize snags and hair pulls. The shears come with different finger rests that help accommodates pet owners with varying sizes of hands and arthritis/other ailments that limit strength and agility in the hands.
We like these thinning scissors for dogs because they're designed to resist rusting and corrosion, which is essential if your grooming sessions take place close to water or outdoors. They're also great for dogs with allergies, sensitive skin, and for thinning coats that are difficult to manage. The thinning shears have a curved blade shape that quickly follows the contour of your pet's body while cutting through dense fur, and they have offset handles to reduce wrist fatigue.
Features
6.5 Inch Thinning Shear for all dog breed coats

Crafted with top quality 440c Japanese stainless steel

Affordable

Removable rubber comfort rings

Snap close case included

Gold accent screw & plate 
The Tijeras 7″ thinning pet scissors can be used on all dog breeds.
These are worth mentioning because they are very popular with professional dog groomers. They are sharp, have an excellent balance, and have perfect tension. The blades are made of Japanese steel, considered one of the best types of steel for scissors or shears. They come in various sizes to suit different breeds and coat types. 
We like these thinning shears for dogs because the grip is excellent, and the blades are very sharp, so they cut through mats easily. These thinning dog coat scissors also feature an adjustable screw tight or separate blades for sharpening and cleaning. This works as an ultra-durable ball-bearing tension system and allows for ease of use with these grooming pet scissors.
Features
Affordable

Fashionable & adjustable

Rubber circle ring reduces hand grooming fatigue

Crafted with 100%hand made of 440C Japanese stainless steel

Hand-sharpened thinning edges to evenly trim pet's hair with ease 

Blunt tipped for optimal safety 

Only for right-handed grooming

Allows for better grooming angles
The Purple Dragon grooming scissors are made of 440C Japanese stainless steel. The blades are sharp, durable, and will stay sharper longer than most other grooming scissors on the market. They offer Onyx black titanium coating for excellent rust resistance. 
These purple dragon pet grooming shears are 6.5 inches long with 46 teeth that enable you to get into tight places that many groomers cannot reach. They are lightweight, ergonomically designed, and include a free plastic sheath for storage. 
These pet grooming scissors also have curved blades that allow you to cut in the proper direction to reduce pulling on your dog's hair. We like these because they are very sharp, durable and affordable.
Features
Affordable

Japan 440C Grade stainless steel

Best cutting angle of 45 degrees

Delicate screw and silencer design
Pet Magasin premium quality thinning shears can be used for thinning out your dog's fur and blending shorter and longer fur areas. These thinning scissors provide a professional finishing touch to grooming, leaving your dog's coat looking smooth and natural. 
We like these because they are high-grade, lightweight grooming shears. They can even out the "choppy" look left behind by regular scissors. They allow for the perfect finish.
We appreciate the sharp blades on these thinning scissors. They cut through dogs' fur quickly and with very little pulling or snagging of hair. They also stay sharp enough to last long periods without replacement.
 These pet thinning shears feature 28 teeth on the serrated comb blade and make this an excellent general-purpose thinning shear for all dog breeds, small and large. The takeaway with Pet Magasin is that they're priced reasonably and are high-quality. This product has over 5,900 positive reviews.
Features
Crafted with Japanese stainless steel

Affordable price for good quality

Good general-purpose thinning shear for all dog breeds

Ergonomic & comfortable handles

Grips on these shears are molded to fit either right- or left-handed use

Priced well

Crafted for precise control needed for good results

Strong ABS plastic grip

Golden screw

2-year warranty

100% money-back guarantee

Over 5,900 positive reviews

Optimum size & design to suit all pet grooming needs

Features serrated comb tooth blade
How To Choose Thinning Shears For Dogs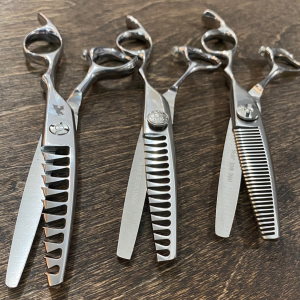 They resemble ordinary dog grooming scissors, but instead of sharp edges, they have teeth that look like a comb. This is their advantage and disadvantage at the same time: the teeth provide texture and volume to your animal's hair and can make him look more fluffy and healthy, but, on the other hand, they cut very little, and it is not always possible to get a clean line with them.
So what should we look for when buying thinning scissors?
The blade: It should be made of stainless steel and sharpened not to crush or damage the hair while doing the job.
The handle: It should be comfortable in your hand; some people prefer straight handles, while others are used to curved ones; there are also ergonomic models for those who have wrist problems.
The construction of the scissors: This is almost more important than the other two points. Good quality blades should not be loose, and the handle should not wiggle.
The size: It has to fit your hand and feel comfortable.
The price: Without a doubt, we will always choose the cheapest ones (and there are many on the market), but we must keep in mind that they will be more expensive in the end if we have to change them often because they only give us a poor result. It is better to invest in good quality items from the beginning and get top-notch performance.
How do you use thinning scissors on a dog?
The process is similar to using regular scissors, but you have to go over the same area multiple times instead of just once. It is an excellent tool for breeders and exhibitors who want a more dramatic look at their show dogs. Always use thinning shears with safety tips on the end to prevent mishaps. 
You can use a fine-tooth comb between the shears and your pup's body both as a guide and a safety barrier between his skin and the shears. You can create many different effects with thinning scissors.
Dog thinning scissors can be a great tool: they give you an accurate and straightforward result, more than razors and clippers do. It is a good option for those who like to make their dog look as cool as possible without worrying about people staring at their dog because of his not-so-perfect appearance.
Scissors can be a great help for sculpting your dog's fur and creating the perfect finish you want – if you know what you're doing: there are many things to keep in mind when clipping, like: where and how much to cut and how to approach each different type of coat (for example; Wooly coats are a lot more challenging than straight ones). 
Grooming scissors for dogs
Any professional groomer will advise you to learn how to use proper grooming tools. The market offers a wide range of thinning scissors, but it is important not to confuse quality with price: you don't necessarily need designer products to get a great result. 
Instead, we've compared all the items in our review for their usability and keeping in mind what you will be able to afford at a given price. If you already have a certain amount to invest in a product, we will help you find the best suits your needs and budget.
We've done our research and created a comprehensive guide with all the information you need to make the right choice when buying thinning scissors for dogs. We've analyzed dozens of products from the best brands on the market, so you can find what you need at the best price. Keep scrolling to find out more information!
Thinning scissors for dog grooming
If you want your pup to look his best, you will need a pair of thinning scissors for dogs. Thinning shears are designed to thin out the excess hair on your dog, giving it a neater appearance. However, when choosing thinning shears for your canine friend, there are several factors that you have to take into consideration if you want good value for money and a decent grooming experience.
We have summarized for our readers a list of the best thinning shears out there on the market, helping you make an informed choice and ensure that your dog is looking its best. So let's get started!
Frequently Asked Questions
What Is the Difference Between Thinning Shears and Regular Scissors?
Thinning shears are a type of scissors designed to thin or remove excess hair from a pet's coat, leaving behind a more uniform appearance. They come in assorted shapes and sizes, depending on their intended use. When deciding whether they need to be purchased, it is imperative to look at the type of dog you own.
What Is the Best Way to Use Thinning Shears On My Canine?
Using thinning shears on your dog requires patience and lots of practice. Remember that dogs are not used to having their hair trimmed or cut so they might feel a bit scared at first. However, it is essential to create a bond and spend time with them to get used to the sound of your scissors and begin to cooperate with you.
How Often Will I Need to Sharpen My Scissors?
The rule of thumb is that if you feel your thinning shears don't cut as smoothly as they used to, it is time for a good sharpening session. Most importantly, try to keep your scissors dry at all times to prevent rusting or damage due to humidity.
What Is the Difference Between Cheap And Expensive Thinning Shears?
The main difference between cheap and expensive thinning shears is the build quality and the material they are made from. Expensive thinning shears, such as those produced by Andis, tend to be durable and last longer thanks to their thicker blades and better build quality.
Do you still want to learn more about thinning scissors for dog? Check out the video below:

Claudia Bensimoun is a writer who specializes in dog content and veterinary topics! Aside from writing for We Love Doodles, Claudia also writes for other major dog blogs like Fido Friendly, Animal Wellness Magazine, and the United States Dog Agility Association (USDAA). She has a ghostwritten over 50 different dog e-books. Her passions include animal welfare, veterinary research, and wildlife conservation.
Why Trust We Love Doodles?
At We Love Doodles, we're a team of writers, veterinarians, and puppy trainers that love dogs. Our team of qualified experts researches and provides reliable information on a wide range of dog topics. Our reviews are based on customer feedback, hands-on testing, and in-depth analysis. We are fully transparent and honest to our community of dog owners and future owners.