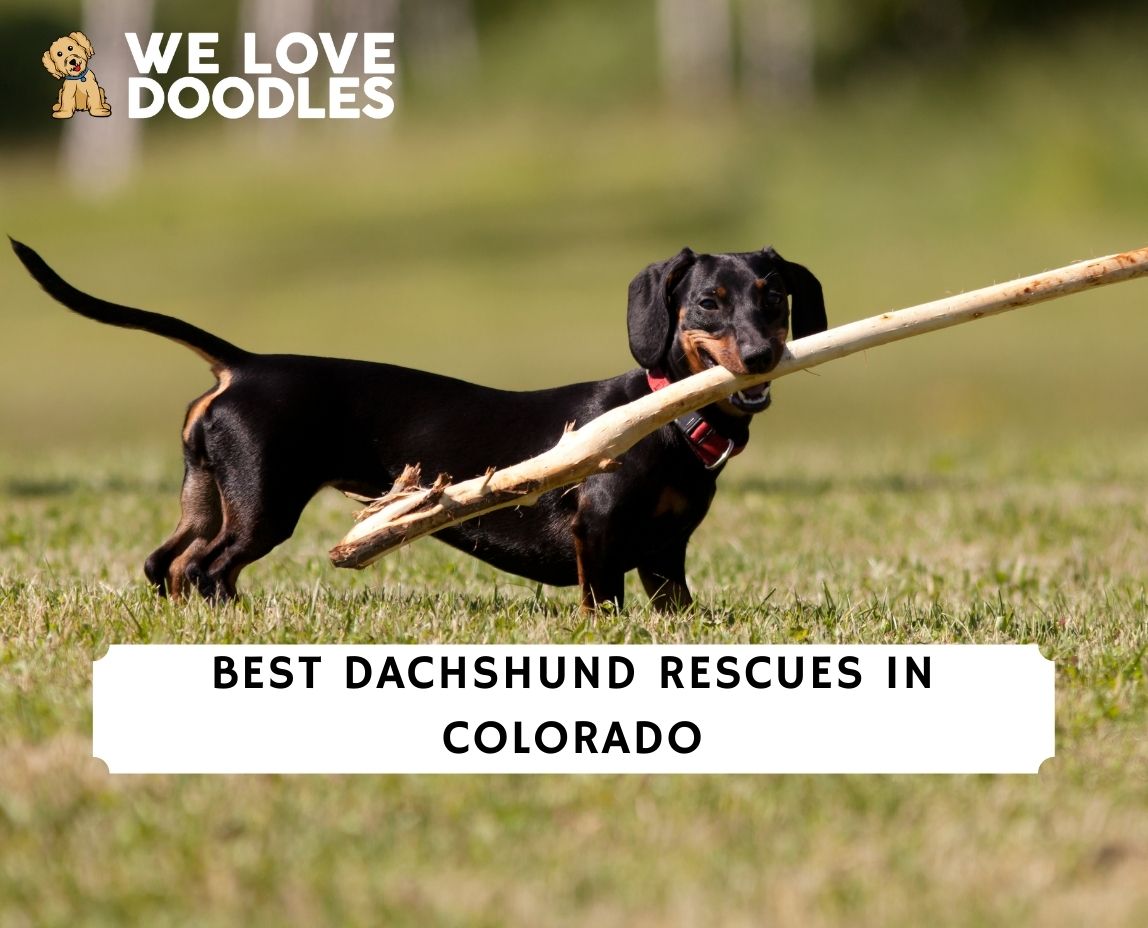 When you're looking for a new Doxie, you'll need to find the best Dachshund rescues in Colorado. With their long bodies and stubby legs, Dachshunds are a family favorite.
Adopting one may be an excellent option if you would like a Dachshund, or Doxie, as they are affectionately known. In addition to saving a ton of money, you would also be helping a furry friend in need.
Before scrolling down this list of Dachshund rescues in Colorado, check out these other recommendations from our team at We Love Doodles: Best Australian Shepherd Rescues in Colorado and Best German Shepherd Rescues in Colorado.
Find a Dachshund Rescue Near Me in Colorado
To help you in your search, we've compiled a list of some of the leading Dachshund rescues in Colorado. Hopefully, this will assist you in your search and better understand the rewarding journey of adopting a Doxie.
Australian Shepherd Product Recommendations: Best Dog Bowls Made in the United States and Best Bone Broth For Dogs.
1. Colorado Puppy Rescue
Located in Aurora, Colorado Puppy Rescue is a licensed pet community and adoption center. To make adoption as fair as possible, they open their Weekly Sign-Up List the day before the adoption event from 2 pm-8 pm MST.
Check the website to determine when the next adoption event will be held, and make sure you check in with a greeter when you arrive. They will move to the next person in line if you aren't there when they call your name. If all goes well, you can take your puppy home that day, provided you have an application on file.
​​Before the adoption event, adoption applications will be reviewed and approved or rejected. Adoption applications remain active for six months after they are completed.
Colorado Puppy Rescue Details
2. Foothills Animal Shelter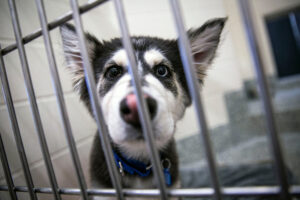 The Foothills Animal Shelter is an open admission facility serving Jefferson County in Colorado. Their mission is to make life better for animals and people in the community. All available animals are healthy and are approved for life in a new, family home. healthy and safe animals are available for adoption. Assuring that homeless animals have their medical and behavioral needs met is one of their responsibilities.
As a Fear Free Shelter, their team is trained to care for a pet's physical and emotional health. They also alleviate suffering through thoughtful euthanasia. Their Adoption Centers are open daily from 10 am until 5 pm Animals may only be placed on hold in-person and during regular business hours for a $20 fee.
The hold expires after 24 hours, is non-refundable, and cannot be applied towards the adoption fee. Despite hoping an animal is a right fit when it goes to a new home, they know this is not always the case. Therefore, if an animal is returned within 30 days of adoption, they will refund 100% of the adoption fee.
Foothills Animal Shelter Details
3. Denver Dumb Friends League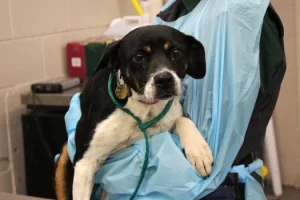 Dumb Friends League is an independent, local nonprofit organization. They are not affiliated with any national animal welfare organizations. Animals that arrive at their shelters every day require medical care, behavior training, foster care, and the chance to find loving homes. You can view their adoptable dogs, cats, and small pets online.
Then, when you're ready to adopt or have found a pet you want to meet, go to the shelter's virtual queue when you're ready. To meet your new best friend, they'll add you to the line on a first-come, first-served basis. What is included when you adopt a pet from them?
In addition to a lifetime of love and companionship, you'll also enjoy:
An animal that has undergone a general health examination and has been well-cared for by its staff and volunteers
All dogs, cats, and rabbits before adoption are spayed or neutered, so there will be no pet overpopulation
Microchip identification is implanted and registered to the adopter
Temporary collar and ID tag
Set up resources to help you and your new pet succeed
As part of the Connect for Care program, your Dachshund will receive a complimentary wellness exam. You must schedule the exam within 14 working days of adoption.
Preliminary vaccinations, including rabies vaccination. They will discuss a vaccination schedule during your complimentary wellness visit.
Have we mentioned a lifetime of love and companionship?
Denver Dumb Friends League Details
4. RezDawg Rescue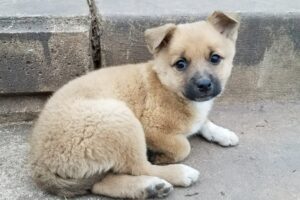 Through a sense of community formed with indigenous people and their commitment to achieving a balance between modern technology and millennia-old traditions, RezDawg Rescue strives to meet the needs of stray companion animals.
To ensure their animals are adopted to the right family, they ask you to answer all questions carefully and honestly on their adoption application. They reserve the right to reject any adoption they deem unsatisfactory.
Refusal does not reflect on you. If the pet does not fit the conditions you provide, it simply means that it is not the right pet for your situation. It's fulfilling to save a Dachshund with RezDawg and bring them into your home.
In addition to adding to your family and saving a Dachshund who needs a home, you contribute to a broader effort to improve animal conditions. When you adopt a rescue animal, you may find that it will also rescue you. See how a furry friend can change your life by viewing their adoptable pets online.
RezDawg Rescue Details
5. MaxFund Animal Adoption Center
Last on the list of the best Dachshund rescues in Colorado is MaxFund Animal Adoption Center. MaxFund is a Colorado-based No-Kill animal shelter and adoption center that challenges traditional methods of animal sheltering by leading the No Kill movement.
The organization gives injured, abandoned, and abused animals a "second chance at life." Before adoption, all animals have been spayed or neutered, vaccinated against rabies, and microchipped.
Depending on how long it takes them to contact your references, landlord, and veterinarian, the application can take several days.
After your application has been approved, they will contact you to arrange an approximate pick-up time and date. Please be patient, as this process can take several days. If your application is denied, they will not contact you.
MaxFund Animal Adoption Center Details
Dachshund Rescue Shelters in Colorado
Choosing to adopt a rescue Dachshund is a big decision. Although it is a challenge to consider everything you will need to prepare for (both expected and unexpected), adopting a four-legged friend far outweighs most of the concerns and fears many people have about adoption. Not convinced yet? Here are the top 3 reasons to adopt:
Interact more with others
It is also possible to make new human friends when you go out with your pet. For example, it's possible to meet other pet owners, or even someone special, at your local dog park or dog-friendly café.
You'll Always Have a BFF
An everlasting friendship is the best thing in the world. You will have a friend, a confidant, and ultimately a beloved family member in your rescue Dachshund. Your shelter dog will never feel lonely, and you will never feel lonely either.
You'll Never Be Bored Again
Life with a rescue Dachshund brings significant changes in the best way. Say goodbye to your monotonous routine and predictable nights and hello to a new lease on life. You'll never get bored with your new pet.
How to Choose a Dachshund Rescue Dog in Colorado
Giving a Dachshund a second chance at life is extremely rewarding, but what factors influence choosing a rescue dog? Before searching for and choosing a rescue dog, consider what kind of environment and care you can provide. For example, will you exercise your dog daily?
Can you provide medical care? Can you train it regularly? Do not compromise on these things. Generally, it would be best to choose a breed type that matches your energy level. It is most likely that your new dog will adapt to your home if their lifestyle matches yours.
Related: Best Dog Car Seats For Dachshunds.
Where Do You Find a Dachshund Rescue in Colorado?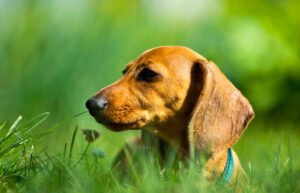 The best way to find a Dachshund is to search shelters in your area. Your local city or county likely has a municipal shelter that rehomes strays and abandoned dogs. Nonprofit rescue organizations are also an option.
Check out the available pets and think about how they would fit into your life based on their descriptions. Shelter descriptions are beneficial at the beginning of this process, as you will not know a dog's complete personality until you spend a little time with them.
Here are some tips to help you with your search:
Keep an eye on pet rescues' social media pages for pictures of incoming dogs and details on upcoming events.
Attend adoption drives to get a discount on adoption fees. You can also adopt a Dachshund during National Dog Day or Adopt a Dog Month. Many

rescues

celebrate these nationwide events by reducing or eliminating adoption fees.
Frequently Asked Questions
If you're looking for a Doxie in Colorado, you probably have questions! Here are some answer to the questions our readers have asked.
Why are there so many Dachshunds in shelters?
The short answer to this question is that those who purchase Doxies aren't prepared for them. They're stubborn little pups, and while they're smart, they can be extremely difficult to train. Furthermore, the dogs are prone to certain health conditions that make them spendy to care for.
Professionals can be your best friends when you adopt one of these dogs. While the shelter staff may help train and medically care for your dog, hiring a professional trainer and bringing your dog to the vet on a regular basis will keep your Dachshund more "manageable" and easy to love with.
What health concerns are Dachshunds known for?
Obesity is a huge killer of Dachshunds, due to the secondary health conditions it can cause. In addition, your Dachshund may be prone to bloating, patellar luxation, skin issues, dental issues, and certain types of cancer.
Regularly scheduled vet visits can help keep your dog healthy and happy, ready to live a long and fulfilling life once you adopt him.
Are Dachshunds in high demand?
Yes! Doxies are in high demand, which makes purchasing a puppy from a breeder quite pricey at times. Shelters offer a low-cost alternative, and you'll be saving the life of two dogs when you adopt.
Plenty of Dachshunds of all ages are in shelter care through no fault of their own. They're loyal, sweet, smart dogs but are stubborn and can be mischievous! Be sure you're ready to care for this breed so you're not faced with the decision to bring your dog to a shelter, too.
Conclusion For The "Best Dachshund Rescues in Colorado"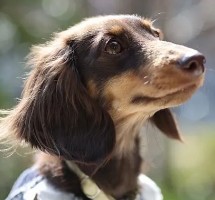 Congratulations on beginning your search for your new Dachshund companion. Dogs are wonderful companions, and they greatly enhance the lives of their owners.
There are many ways to adopt a Dachshund, and they highly recommend checking out the rescues on this list when looking for a Dachshund in Colorado.
For more guides similar to this list of Dachshund rescues in Colorado, you can check out:
Before you adopt a Dachshund from a rescue shelter in Colorado, you can learn more about the breed by watching "The Pros and Cons of Owning a Dachshund" down below: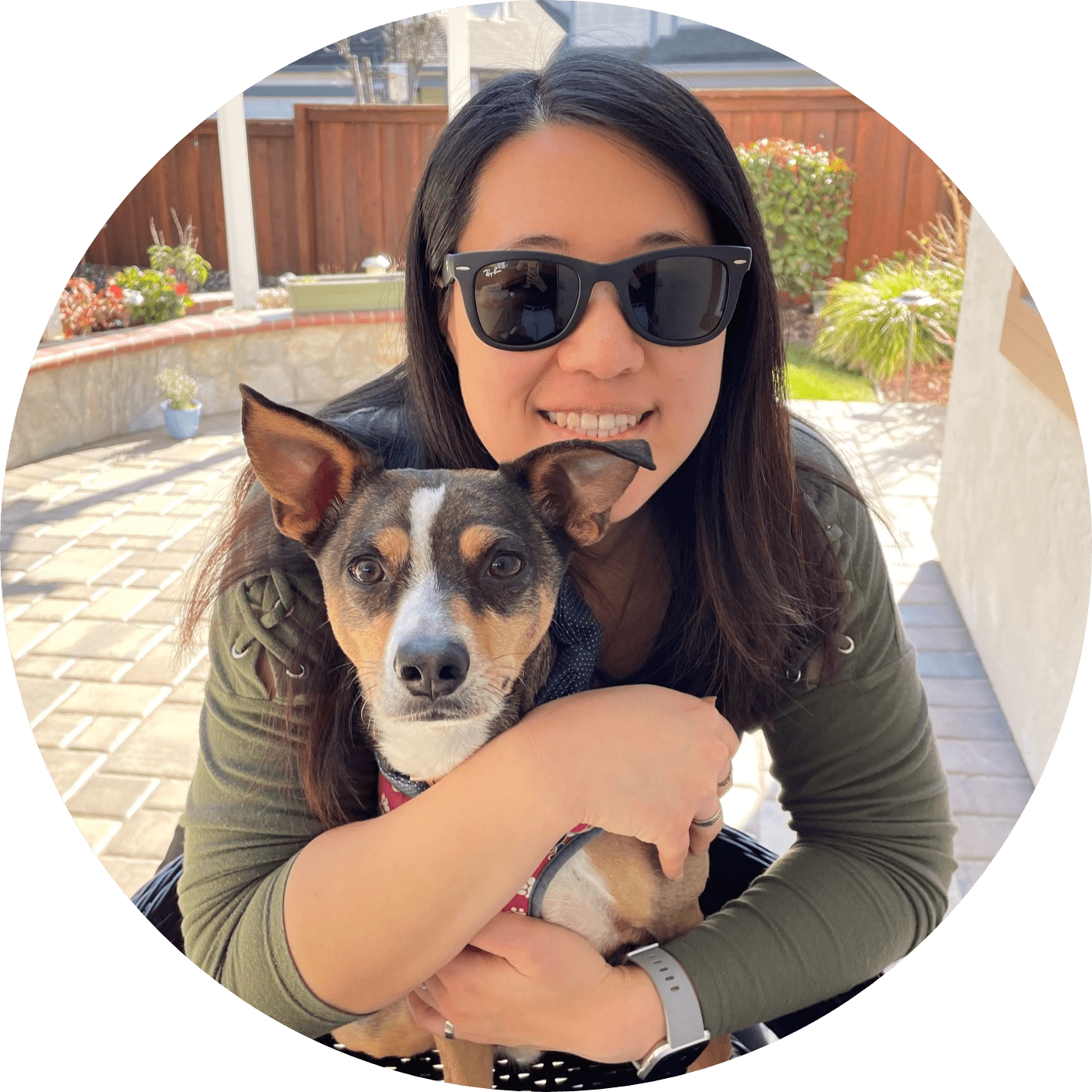 Dr. Sabrina Kong graduated from the Royal Veterinary College in England in 2016 and has been working at a small animal clinic in Northern California since then. She grew up in the Bay Area and got her bachelor's degree from Cal Poly San Luis Obispo. She also became a Certified Canine Rehabilitation Practitioner through a program at the University of Tennessee.
When she isn't in the clinic taking care of her four-legged patients, she enjoys traveling and trying new foods with her friends and her three-legged dog, Apollo. She adopted Apollo from her clinic when he was a puppy with numerous health issues. Dr. Kong truly cares about taking care of animals.