Reputable rescues in Scotland will provide you with the excellent opportunity to adopt a Cockapoo, a mixed breed of the Cocker Spaniel and Poodle. The hybrid inherits excellent traits from both parents — the excellent nature of the Cocker Spaniel and the trainability and hypoallergenic coat of the Poodle.
Cockapoos are outgoing and friendly, have a great temperament, and are very active. They are cuddly dogs that are well known for their ability to adjust wherever they are placed and get along with other animals. If you have children, this is an excellent breed of dog to introduce to your family.
Check out the five best rescues in Scotland below to find your Cockapoo today.
Before you scroll down this list of Cockapoo rescues in Scotland, check out: 5 Best Springer Rescues in Scotland! (2022) and Best German Shepherd Rescues in Scotland! (2022).
1. Scottish SPCA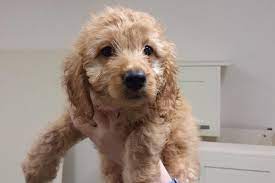 Scottish SPCA is located in Millview and believes in the mission of Here for Animals Always. The Scottish SPCA rehabilitated and rehomed 5,987 animals in 2021. The organization is a charity and runs on the generous donations of its patrons.
In addition to dogs, they also take in other farm animals who have been abandoned. If you are interested in rehoming dogs like Cockapoos, then you should know the following:
Browse through the animals that are available for rehoming.
If any of them interest you, then fill out an application form. The rehoming team will contact you within five days.
If you cannot complete an online form, then the SPCA team can help you apply if you call them between 1:00 pm to 4:00 pm.
If your application is successful, the SPCA team will contact you to do a video home visit.
SPCA then may call you for a meet and greet with the animal at the rescue. But due to the limited time slots available, it will only be conducted for animals that require it.
There is no information about the cost of adopting a dog on their website, so contact them via email or phone for more details.
Scottish SPCA Details:
2. DogTrust
DogTrust is another all-breed dog rescue in Scotland that rehabilitates all dog breeds, some of which may be Cockapoos. It has been working since 1891 to improve the future of dogs. The nonprofit not only rehomes dogs but also works to enhance and change local laws for the welfare of dogs.
DogTrust is UK's leading dog charity and even has a dog school. With over 130 years under their belt, they are probably one of the oldest dog rescues in the world.
To adopt from DogTrust, you will need to do the following:
To adopt, you must first fill out an application form online.
The application form can be found on the rescue's website next to dog profiles.
The team will review the form and then request you come to the facility to meet the dog.
You will even be allowed to take the dog for a walk.
A house visit will be arranged so the team can view your premises. A house visit is not required if you have adopted from DogTrust previously.
They will arrange for multiple visits with the dog so that you and your family are sure you want to commit to keeping the dog.
After the adoption process is complete, you will receive a starter pack that includes a dog handbook; dogs trust car sticker, a pet plan leaflet, microchipping information, and several days of dog food.
Each dog from Dog Trust has had a full health check, is up to date on vaccinations/treatments, has been neutered/spayed, and has been microchipped. There is no information about the cost of adopting a dog on the website, so contact the rescue for more details.
DogTrust Details:
3. Borders Pet Rescue
Since 1988 Borders Pet Rescue has provided safe refuge to abandoned dogs who needed to be rehomed. A registered Scottish charity, Borders Pet Rescue operates on generous donations from donors.
Each year they rehome about 200 animals, including dogs, cats, and other furry animals. In addition, they provide essential health care, necessary veterinary care, and behavioral training.
Each dog that is put up for adoption will be:
Microchipped
Neutered/spayed
Come with free support for new pet owners
If you are interested in adopting a dog from the rescue, you will need to fill out an online application and be at least 18 years to apply.
You can look at the dogs available by viewing them on their website, but many different people may be interested in the same dog. You should also know that they will not rehome a dog in the same area where they were already living.
Moreover, the rescue requires the entire family to be on board for the adoption and available to come to the shelter to meet the animal. Before you can take the animal home, a home visit will be conducted to ensure the house is suitable for the animal.
You will need to visit the center twice to meet the dog before a home visit can be carried out. After the home check has been carried out, you can take the dog home.
Minimum fees for rehoming are £150, and for puppies under six months, it is £200.
Borders Pet Rescue Details:
4. Dumfries & Galloway Canine Rescue Centre
Dumfries & Galloway Canine Rescue Center is one of the most well-known small-dog rescues in Scotland. Located in Dumfries and Galloway, the rescue began its operations in 2003. Although it only allows locals to adopt its dogs, it saves dogs from England and Northern Ireland.
Moreover, the local council has contracted them to look after stray dogs while waiting for them to be returned to their owners. If the owners are not found, the rescue rehomes the dogs.
So far, they have found loving homes for 400 dogs. If you are inclined to adopt from the rescue, then you should know the following:
You can register by filling out an application and making an appointment to visit the center.
You will be matched with a dog based on the information you have filled out in your application.
A home check will be conducted to check your premises.
If your home meets expectations, you will be asked to come to the center, fill out paperwork, and pay the rescue fee of £175.
The rescue will check with new owners 48 hours after they've taken the dog home and then again between 10 to 14 days.
Moreover, all the dogs are microchipped, vaccinated, have flea/worm prevention, and, if old enough, will be neutered.
Dumfries & Galloway Canine Rescue Centre Details:
5. BARK
BARK stands for Berwick Animal Rescue Kennels. Located in Northumberland, it is an excellent choice if you live in this area. In addition to dogs, they also have cats and other animals for adoption.
To adopt, you must be a resident of Northumberland. You must also fill out a rehoming application form and email it to the address listed below. Ensure to include the dashes, or they will not receive the email.
BARK does not reserve or hold animals, and all applications that are not matched with the dog are discarded. There is no information about the cost of adopting a dog on their website, so contact them for more details.
BARK is the last rescue on our list of Cockapoo rescues in Scotland. If you are excited to adopt a Cockapoo, check out their website to see if any are available.
BARK Details:
How to Choose Cockapoo Rescues in Scotland
When looking for Cockapoo rescues in Scotland, you want to make sure that the charity you adopt from administers proper health treatment to the rescued dogs before they are rehomed. Many animals have long-term health issues, but if they are addressed early on, there is a high chance that they can continue with long and healthy lives.
Some basic health tests and a complete check-up should be performed before you take the dog home. You can contact a local vet to learn more about what kind of tests these should be.
All dogs should be neutered and treated for fleas and worms and microchipped before you bring them home. Some rescues also administer essential vaccinations before they send the dog to their forever home. Ask about the status of immunization prior to adoption.
Frequently Asked Questions
How long do Cockapoos live?
A healthy Cockapoo should live for 12 to 15 years.
Are Cockapoos very smart?
Cockapoos are intelligent dogs thanks to their Poodle and Cocker Spaniel lineage.
Do Cockapoos ever calm down?
While Cockapoos have a lot of energy throughout their lifetime, they will begin to slow down at two years old. They'll slow down even more in their final few years.
Conclusion for "Best Cockapoo Rescues in Scotland"
Scotland doesn't have a lot of rescues dedicated to the rehabilitation of the Cockapoo breed. However, it has many all-breed rescues that do a great job of providing a new loving home to all dog breeds, including Cockapoos.
The five rescues mentioned above are some of the best options for those looking to adopt a Cockapoo in Scotland. They all have an excellent reputation for caring for their dogs, providing them with proper medical care, and matching them with loving families.
Adopting a Cockapoo from a rescue can be a great way to give a dog a second chance at a happy life while providing a loving companion for yourself or your family. It's essential to research the rescues, visit them, ask questions, and make sure the rescue's philosophy aligns with yours. Remember that adopting a Cockapoo is a big responsibility and should be well thought out.
For more guides similar to this list of Cockapoo rescues in Scotland, check out:
Before you adopt a Cockapoo from a rescue shelter in Scotland, learn more by watching "Cockapoo Dog Breed – Top 10 Facts" down below:
Garrett loves animals and is a huge advocate for all Doodle dog breeds. He owns his own Goldendoodle named Kona. In addition, he volunteers at the Humane Society of Silicon Valley, where he fosters dogs and helps animals. Garrett enjoys writing about Doodles and believes that dogs can teach humans more about how to live than humans can teach a dog.
Why Trust We Love Doodles?
At We Love Doodles, we're a team of writers, veterinarians, and puppy trainers that love dogs. Our team of qualified experts researches and provides reliable information on a wide range of dog topics. Our reviews are based on customer feedback, hands-on testing, and in-depth analysis. We are fully transparent and honest to our community of dog owners and future owners.