Here's what you need to know if you're searching for Poodle rescues in New Jersey. New Jersey families looking for a Poodle puppy have access to dozens of reputable breeders. But if you're one of these families, why not consider adopting a puppy from a New Jersey Poodle rescue?
The dogs housed by these shelters are typically abandoned by owners who could no longer care for them, though sometimes puppies have been abused or neglected. Adoption is an affordable way to add a beloved pet to your home, and you'll be giving a dog a second chance at a happy life.
Rescue dogs are often trained, too, so your puppy will easily transition into your home. We've put together a list of the top Poodle rescues in New Jersey so you can begin your search for your new furry friend. When possible, visit the shelter and meet your dog so you can be certain they were well cared for while waiting for you.
Before you scroll down this list of Poodle rescues in New Jersey, you can check out these other rescue shelter recommendations from our team at We Love Doodles: Best Pitbull Rescues in New Jersey and Best Boxer Rescues in New Jersey.
Find a Poodle Rescue Shelter Near Me in New Jersey
Our team at We Love Doodles did our best to find you a rescue shelter in New Jersey so that you could find a compatible Poodle companion.
Poodle Product Recommendations: Best Brushes For a Poodle and Best Scissors For a Poodle.
1. Oodles of Doodles Rescue Collective
Oodles of Doodles Rescue Collective is based in New Jersey, but they serve the entire northeastern United States. This is a non-profit, 501(c)3 organization committed to rescuing Poodles and doodle breeds from high-kill shelters, neglectful situations, and homelessness.
If you would like to adopt a dog through this organization, first search for a puppy that's local to your New Jersey home. This is important, as a home visit is required before you'll be permitted to adopt. You'll need to submit a paper application, and a phone interview is also required. The team at Oodles of Doodles wants to ensure that puppies are going to great homes.
The adoption fee may vary based on the dog's characteristics. You can inquire about the adoption cost once you find a puppy you love. Oodles of Doodles is volunteer-run, so foster families are in demand. Both the foster and adoption applications are available on the Oodles of Doodles website.
Oodles of Doodles Rescue Collective Details
2. Pound Animal Welfare Society
The next New Jersey Poodle rescue on our list is the Pound Animal Welfare Society (PAWS). This shelter is in Montclair, New Jersey, just outside New York City. The shelter was founded over 45 years ago, and they've facilitated the adoption of hundreds of stray and homeless dogs and cats.
To adopt from this New Jersey shelter, you'll need to fill out an application; you'll be required to provide veterinarian and personal references. Once your application is reviewed, a team member will contact you to schedule a home visit. Upon approval, you'll sign the adoption agreement, pay your adoption fee (this varies with the dog), and bring your new puppy home.
Your dog will have been checked by a vet, as well as spayed or neutered, vaccinated, and dewormed. This treatment is sometimes done while dogs are in foster care; if you're interested in becoming a foster family for a dog, let the Pound Animal Welfare Society know.
Pound Animal Welfare Society Details
3. Beacon Animal Rescue
Beacon Animal Rescue is an Ocean City shelter specializing in rescuing Poodles and other dog breeds and cats. They've been operating for almost 20 years and they're a non-profit 501(c)3 organization. Donations to this shelter are tax-deductible, so consider supporting the group if possible.
You can view available dogs on the Beacon Animal Rescue website – puppies and seniors are often available in addition to adult dogs. Once you find a puppy you love, fill out the application and wait for a reply. The shelter will get back to you within a few days and will guide you through the rest of the adoption process.
You can expect to pay $425 for adult dogs through Beacon or $475 if you've selected a puppy. This adoption fee covers the cost of health care, spaying or neutering, and microchipping. Foster opportunities are available for those who aren't quite yet ready to make a lifetime commitment to a dog.
Beacon Animal Rescue Details
4. Homeward Bound Pet Adoption Center
Homeward Bound Pet Adoption Center is our list's next New Jersey Poodle rescue. The shelter is in Blackwood, just outside Philadelphia in the western part of the state. They're a registered non-profit and are committed to keeping a no-kill policy. At present, they boast a 96 percent save rate.
Poodles and other dogs are available for adoption and foster care; let the kennel team know which opportunity interests you. You'll need to apply in either case, and once you're approved you can expect to pay between $50 and $325 to adopt your dog. Adoption fees vary based on the puppy's breed, age, and health.
Your dog will be spayed or neutered and microchipped when it's time to go home with you. In addition, they will be nose-to-tail vet-checked, and any known health conditions will be addressed. If you have existing pets at home, be sure to check out the Homeward Bound Pet Adoption Clinic, which offers vet services at reduced prices.
Homeward Bound Pet Adoption Center Details
5. Amazing Mutts Puppy Rescue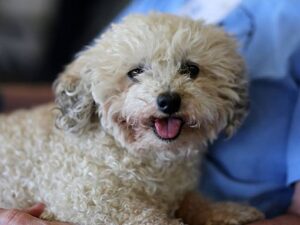 Amazing Mutts Puppy Rescue doesn't specialize in Poodles, but they often see the breed come through their doors. This is a Cream Ridge, New Jersey shelter that has existed since 2014 and is a registered non-profit. The shelter relies heavily on donations and foster families, so check out ways you can support the group.
If you're ready to adopt a dog, you'll need to fill out an application first. The Amazing Mutts team wants to hear about your household, pet experience, and physical residence. Once you're approved to adopt a puppy, you'll have 24 hours to choose the dog you want. The adoption fee is between $495 and $535 for adults.
Puppies cost $575 to adopt. Your dog will be spayed or neutered while in the care of the shelter. They will also be vaccinated and dewormed, and health issues will be addressed. Amazing Mutts Puppy Rescue offers foster opportunities if you're not sure you're ready to adopt a dog at this time.
Amazing Mutts Puppy Rescue Details
6. Shake a Paw Rescue and Adoption Center
Next on our list of the top New Jersey Poodle rescues is Shake a Paw. This group has two shelter locations; one is in Union, and the other is in Green Brook. They are registered in NJ as a non-profit and rely on volunteers and donations to stay in operation. You will find an adoption application on the Shake a Paw website.
Fill that out and submit it before requesting to adopt a dog. The adoption fee ranges greatly from animal to animal – you may pay as little as $99 or as much as $1,199 for your pet. All dogs are thoroughly checked out by a veterinarian and will be up to date with vaccinations and wormers when you pick them up. Dogs are microchipped and are spayed or neutered unless they're too young for the procedure.
If this is the case, you'll pay a $50 refundable deposit, which is returned to you when you show proof that your dog was altered. While you're searching for the perfect Poodle, be sure to check out the shelter's shop. Your purchase of a t-shirt or ball cap supports the organization's efforts to rescue homeless animals in New Jersey.
Shake a Paw Rescue and Adoption Center Details
7. Match Dog Rescue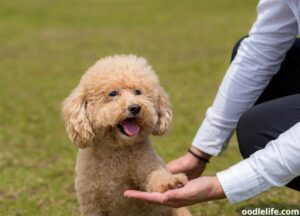 Match Dog Rescue is based in southern New Jersey, but they're a volunteer and foster-run organization. All financial support comes from donations and the adoption fees you pay when you bring home one of the puppies hosted by this group.
Adoption and foster opportunities are available through this group. If you're ready to adopt, you'll need to fill out an application. Choose a dog you love, then select "adopt." The shelter team wants to know about your household, pet experience, and what you're looking for in a puppy.
Adoption fees range from $350 to $750 depending upon the dog's age and other characteristics. This includes spaying or neutering, microchipping, and all appropriate veterinary care for your dog. Your adoption fee is partially tax-deductible; speak with your tax adviser for more information.
Match Dog Rescue Details
8. EASEL Animal Rescue League
Last on our list of the top Poodle rescues is EASEL Animal Rescue League. This non-profit is based in Mercer County and features adoptable dogs and cats. You'll need to apply to find a new friend through this shelter. You can find a dog you love first, or you may submit a "blanket" application, then choose your puppy. Once approved, you'll schedule a meet and greet with your dog.
Bring all household members with you to meet your new dog. This includes any dogs that currently reside in your home. The adoption fee will range from $250 to $400; this depends upon the age and breed of the dog you choose. The fee covers expenses incurred while your dog was in foster care – spaying and neutering, veterinary care, and daily expenses are included.
EASEL Animal Rescue League Details
Frequently Asked Questions
New to shelters and pet adoption? No problem! If you have questions, they're likely addressed in the most frequently asked questions by our readers.
Are Poodles a good choice for beginners?
If you've never owned a dog before, you may be anxious about whether the pup you choose is a good fit for you. Thinking about adopting from one of these Poodle rescues? Great! Poodles actually make a wonderful choice for first-time pet owners. They're intelligent, making them easy to train. They're friendly – or at the very least, tolerant – of humans, so even families with kids will find the Poodle to be a good addition.
Better yet, when you adopt from a shelter there's a solid chance your pup will already be trained! This is ideal for those of you who don't wish to deal with crate training or obedience classes.
How hard is it to care for a Poodle?
The biggest consideration you'll need to make before you adopt a Poodle is whether you have time to devote to your pet. As mentioned, your Poodle will likely already have some training, so you won't need to worry about potty training your dog or teaching her her manners. However, many shelter dogs have checkered pasts, to say the least. They may need a little extra TLC to integrate well into your home.
Grooming is another consideration. Your Poodle's curly hair will need regular grooming, and whether you give your Poodle or doodle a haircut or bring her to a pro, "maintenance" is essential. Mats and tangles will need to be taken care of, and your pup will need regular tooth brushing, nail trims, and more.
Finally, Poodles don't love to be left alone. They're very friendly pups, so if you're away from home all day, consider speaking with a shelter volunteer about whether a Poodle is right for you.
How much exercise will my Poodle need?
Poodles are very active dogs! Barring any health condition, you'll likely find your dog needing about an hour of exercise each day. It's important to note that just running up and down the hall in your apartment does not count! Dedicated exercise like a walk outdoors or even a swim in the lake is critical to your pup's health.
If you have an active lifestyle, it'll be easy to give your dog the activity he needs – just bring him along with you on your jog or hike! If you have a more sedentary lifestyle, you'll need to make an effort to exercise your dog. Should you find yourself unwilling or unable to do this, a Poodle may not be a good choice for you.
What is a Poodle's lifespan?
If you're adopting from a shelter, you'll need to learn about your pup's health history. In most cases, you can expect your Poodle to live between 12 and 15 years! This is, of course, in the absence of medical issues.
There are very few health conditions that commonly affect the Poodle. Several that do include bloat, thyroid disease, Addison's disease, and hip dysplasia. Talk to your vet about steps you can take to prevent these disorders and what to look for to detect them early. This early detection may help prolong your pup's life!
Conclusion For The "Best Poodle Rescues in New Jersey"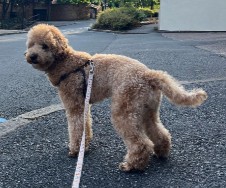 New Jersey families looking to add a Poodle to the household have many options in the Garden State. Of course, you could purchase a new puppy from a breeder. Alternatively, however, you could save the life of a shelter puppy waiting for you to provide a forever home.
When possible, visit your puppy before bringing them home to ensure your dog is coming from a clean and safe environment. Dogs in shelters often have a history of neglect, abandonment, or worse. Adopting from a Poodle rescue can change the life of a deserving animal that needs a second chance.
For more guides similar to this list of Poodle rescues in New Jersey, you can check out these other rescue shelter recommendations from our team at We Love Doodles:
Before you adopt a Poodle companion from a rescue shelter in New Jersey, you can learn more about this dog breed by watching "12 Things Only Poodle Dog Owners Understand"down below: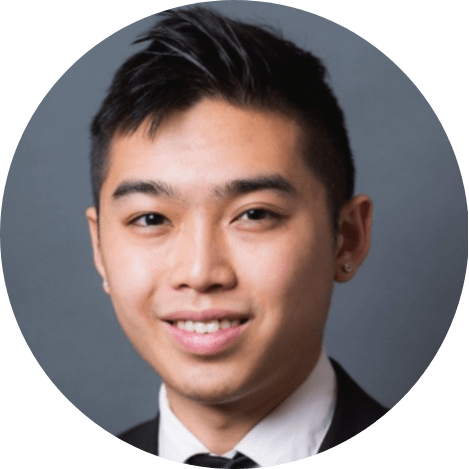 Andy is a full-time animal rescuer and owner of a toy doodle. When he's not saving dogs, Andy is one of our core writers and editors. He has been writing about dogs for over a decade. Andy joined our team because he believes that words are powerful tools that can change a dog's life for the better.
Why Trust We Love Doodles?
At We Love Doodles, we're a team of writers, veterinarians, and puppy trainers that love dogs. Our team of qualified experts researches and provides reliable information on a wide range of dog topics. Our reviews are based on customer feedback, hands-on testing, and in-depth analysis. We are fully transparent and honest to our community of dog owners and future owners.