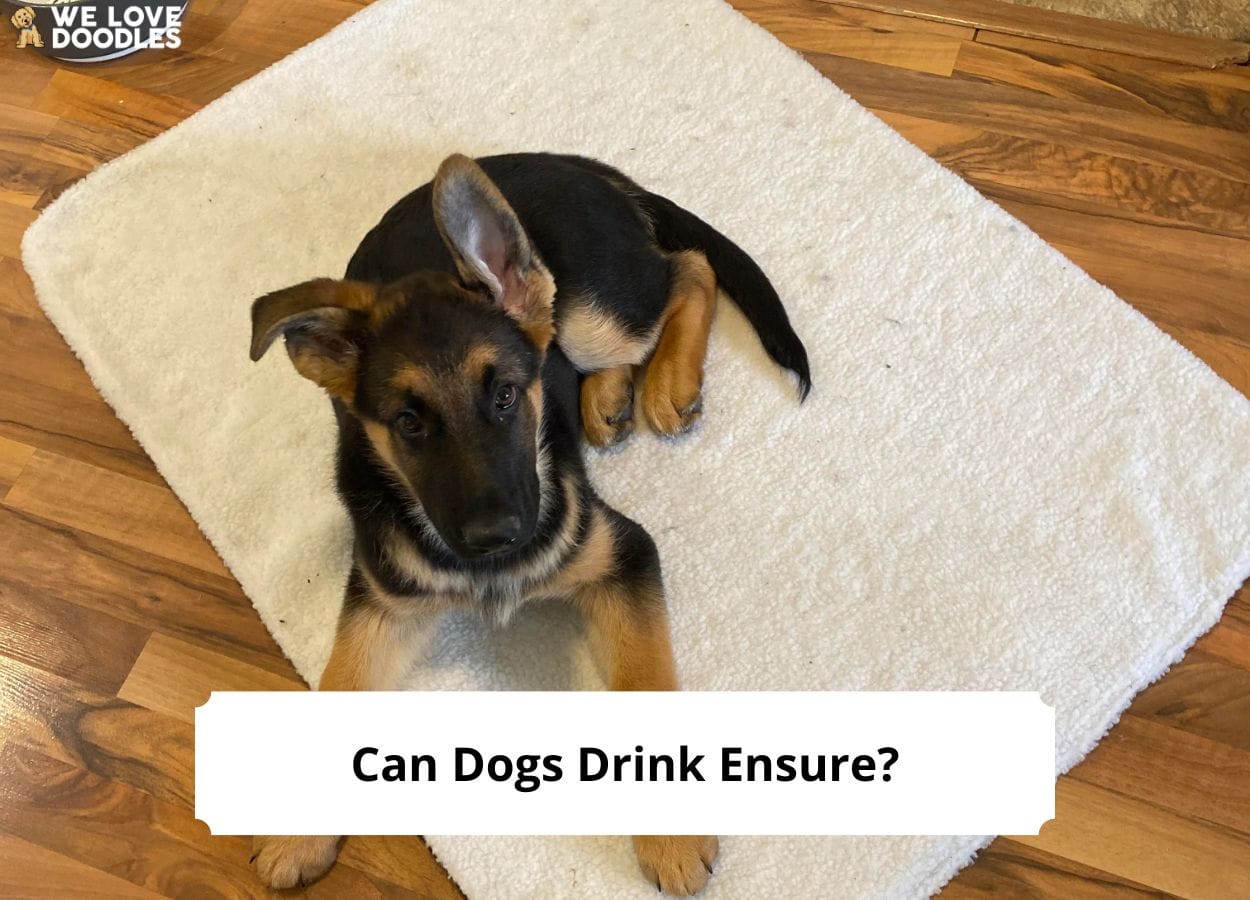 Did you know Ensure may be used as an additional meal to encourage good hydration, weight growth, and nutrition? But can dogs drink Ensure? Dogs can indeed consume Ensure. Although the supplement was originally developed for humans, it is safe for dogs when used responsibly and in modest doses.
The chocolate flavor needs to be avoided, though, as chocolate is poisonous to dogs. Additionally, dog owners should know that since Ensure is not a part of the typical canine diet, some sensitive dogs may experience specific negative effects.
We'll discuss Ensure for dogs in this article. Before getting into the specifics of Ensure's health advantages, we shall first explain the product.
Before you read a more in-depth answer to this question, "Can Dogs Drink Ensure," check out: Can Dogs Drink Distilled Water? (2023) and Can Dogs Have Almond Milk to Drink? (2023).
What Is Ensure?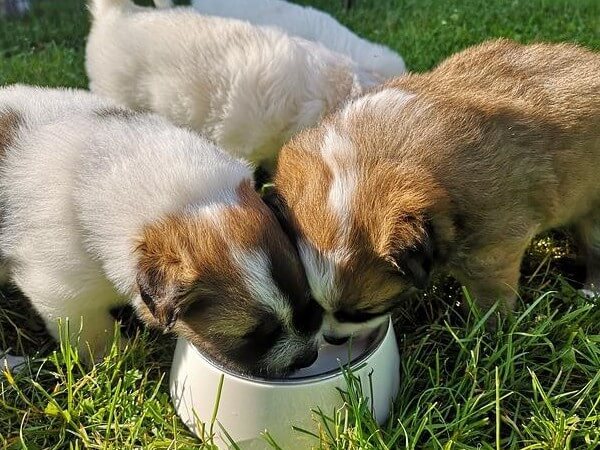 Ensure is a dietary supplement designed to meet the nutritional requirements of humans. The word "supplement" is stressed, indicating that Ensure is not a meal substitute but rather a complement to an otherwise full and healthy diet.
We will go through each of the components to describe them in more detail:
Core ingredients
Vitamins and Minerals
Supporting ingredients
Core Ingredients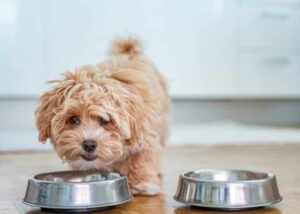 High-grade soy and milk proteins make up the majority of Ensure. Nine essential amino acids are obtained from these proteins: histidine, leucine, isoleucine, methionine, lysine, threonine, valine, phenylalanine, and tryptophan.
Vitamins and Minerals
Minerals and vitamins are essential for all bodily functions and activities, supporting healthy growth and development.
The vitamins and minerals in Ensure include thiamine, riboflavin, niacinamide, vitamin B12, folic acid, biotin, choline chloride, pyridoxine, vitamin E, vitamin C, vitamin D3, vitamin K, salt, potassium chloride, chromium chloride, ferrous sulfate, potassium iodide, and sodium molybdate.
It also contains calcium carbonate, magnesium phosphate, and sodium phosphate.
Supporting Ingredients
The supporting elements' job is to keep the shake well-mixed, pleasant, and silky.
Supporting elements include stabilizers, balancing enzymes (sodium citrate, potassium citrate, and potassium hydroxide), and taste components (liquid sucralose, acesulfame potassium, natural and artificial flavors, cellulose gum, soy lecithin, monoglycerides, cellulose gel, and carrageenan).
Is Ensure Safe for Dogs?
Except for the chocolate flavor, Ensure contains no outright harmful substances for dogs. That does not always imply that the supplement is always appropriate, though.
Ensure can help dogs when it is used sensibly and in conjunction with otherwise full and adequate meals.
Let's examine those advantages in more detail.
Rich in Vital Nutrients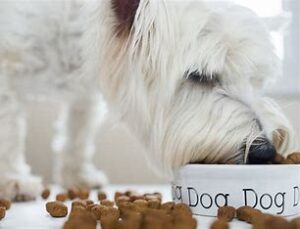 As mentioned above, Ensure is full of nutrients that promote good health. This is especially beneficial for dogs who favor junk food and do not consume enough nutritious foods.
Supports Weight Gain in Skinny Dogs
Ensure encourages weight gain due to its special mix of components. This is advantageous for underweight dogs. Even if it sounds strange, gaining weight might be more difficult than losing it.
Suitable for Debilitated Dogs
For dogs who are weak or recovering from an illness, Ensure is a practical meal supplement. Additionally, it is convenient to feed — all you have to do is hand-feed your dog using a syringe.
Why Is Ensure Harmful to Dogs?
Ensure can be harmful to dogs, especially if taken improperly, excessively, or as the only source of nourishment. This is because Ensure was not created with dogs in mind.
Here are a few reasons why Ensure may not be good for dogs.
Digestive Problems
As with many meals that are not part of a dog's normal diet, Ensure may be extremely harsh on a dog's delicate stomach and result in digestive problems. Indicators of digestive distress include nausea, vomiting, stomach discomfort, loss of appetite, fatigue, and dehydration.
Overeating
When given liquid food, dogs often consume too much. Large dogs are particularly vulnerable to the dangers of overeating, which can result in stomach dilation and, in more extreme circumstances, torsion or volvulus.
Lactose Intolerance
Since Ensure contains milk, you probably know that dogs shouldn't consume it. Even though there isn't enough lactose in a single serving of Ensure to upset the stomach, the danger is still there.
Too Much Sugar
There is a lot of sugar in Ensure, and dogs don't require it. Sugar can be a rapid source of energy for dogs with a lot of activity. However, it can lead to obesity and raise the risk of diabetes in sedentary dogs.
High in Calories
Ensure is calorie-dense, which is advantageous if gaining weight is the aim. But, giving high-calorie meals to a dog who is already overweight might be harmful. Obesity is a global epidemic, even for dogs.
Although not a sickness in and of itself, it predisposes dogs to a variety of illnesses while aggravating others. If your dog is overweight, you should focus on weight loss rather than introducing more high-calorie meals.
Soy Protein Isolate
Ensure includes soy protein isolate. A twofold threat is posed by soy protein. So first of all, soy is frequently a GMO component, and prolonged consumption of such foods can be harmful to both humans and dogs.
Secondly, dogs frequently develop allergies to soy. Food allergies in dogs are still a concern, even if they are less prevalent than in humans.
High Glycemic Index
One component of Ensure is corn maltodextrin, which contains a high glycemic index. It leads to sudden blood sugar spikes. This chemical has also been related to a risk of diabetes and insulin resistance. While a normal dog might not have an issue with this, diabetic dogs should stay away from the beverage.
When Should You Consider Giving Your Dog Ensure?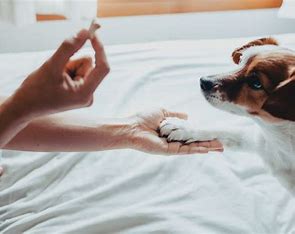 The health nutrition supplement Ensure provides 10 important vitamins and minerals and has roughly 20 calories per eight ounces.
For example, Ensure has the vitamins listed below:
B vitamins that help with energy consumption and cell function include folate, vitamin B12, biotin, thiamin, riboflavin, and calcium pantothenate.
Vitamin A supports the wellness of the skin, bones, teeth, and eyes.
Vitamin K promotes healthy blood coagulation and aids in stimulating protein synthesis.
Vitamins C and E function as antioxidants to support a robust immune function and combat free radicals.
Vitamin D3 will keep your dog's bones healthy and strong.
Additionally, Ensure contains the following minerals, which support important cellular processes:
Zinc sulfate
Manganese sulfate
Salt
Copper sulfate
Potassium chloride
It is frequently given to dogs who are healing from some surgical treatment or sickness as a meal substitute or supplement. When feeding your dog anything that wasn't made just for dogs, it's a good idea to check in with your veterinarian.
An underweight dog's food can be supplemented with Ensure to increase calories. When used sparingly, Ensure can allow underweight dogs to put on weight while also ensuring that their meal has the right proportions of vitamins and minerals.
You might also try high-calorie dog food, which is made specifically to provide your dog with that additional bit of heft if your dog can consume solid foods.
Does Ensure Work for Sick Dogs?
If their furry buddies are ill, dog parents should prefer not to give their pets Ensure. You should give your dog food such as plain chicken and white rice, bone broth, delectable wet food, or sweet potatoes if she is not doing well.
If she loses her appetite due to being sick, you may add a few drops of the safest Ensure available. It will assist in giving the meal some flavor, which will entice and urge your sick dog to eat once again.
When ill dogs feel unwell, they often stop drinking water. Dehydration and several other health problems might come next. Fortunately, there are many alternatives to water for hydration, including coconut water, fruit juices, and vegetable juices, to mention a few.
If you haven't checked with your dog's veterinarian and confirmed that your canine companion can consume a reasonable amount of Ensure, stop putting it in a sick dog's meal.
Frequently Asked Questions
What can I give my dog for dehydration before water?
To help hydrate your dog, you can give them bone broth, coconut water, or certain fruit juices.
Can dogs drink nutrition drinks?
Generally speaking, avoid giving your dogs nutrition drink products that weren't made for pets. In moderation, these drinks can be okay, but they shouldn't be a regular part of your dog's diet.
Conclusion for "Can Dogs Drink Ensure"
The dietary supplement Ensure helps individuals on low-calorie diets obtain all the nutrients they require. So, while Ensure has many advantages for humans, can dogs drink Ensure? The answer depends on your dog's circumstances.
Generally, it is a good idea to fulfill their nutritional requirements through other means. The most crucial factor to consider while giving Ensure your dog is whether the food can be digested.
If you find this guide, "Can Dogs Drink Ensure," helpful, check out: 
Learn more by watching "🐶🧊Can DOGS DRINK Anything Besides WATER?" down below:
Garrett loves animals and is a huge advocate for all Doodle dog breeds. He owns his own Goldendoodle named Kona. In addition, he volunteers at the Humane Society of Silicon Valley, where he fosters dogs and helps animals. Garrett enjoys writing about Doodles and believes that dogs can teach humans more about how to live than humans can teach a dog.
Why Trust We Love Doodles?
At We Love Doodles, we're a team of writers, veterinarians, and puppy trainers that love dogs. Our team of qualified experts researches and provides reliable information on a wide range of dog topics. Our reviews are based on customer feedback, hands-on testing, and in-depth analysis. We are fully transparent and honest to our community of dog owners and future owners.