When it comes to Bernedoodles, you want to find the right breeders to ensure that your puppy is healthy and happy. The last thing you want to do is accidentally support a puppy mill or purchase a dog with poor health or quality of life.
So what can you do? You spend weeks and weeks researching Bernedoodle puppies in Missouri and find yourself on a long puppy wait list. It stresses you out and finds yourself having sleepless nights wondering about your new puppy.
Well, wonder no more! We are here with the list of the best Bernedoodle breeders in Missouri. Keep reading to find the most reputable and best breeders in your local area and find your new Bernedoodle puppy today!
Other articles you might like: Goldendoodle Breeders in Missouri and Cockapoo Breeders in Missouri
Kicking off our list today is PuppySpot. The website is packed full of stunning Bernedoodle puppies for sale today – all waiting to come home with you! Currently, there are over 100 Bernedoodle puppies listed, all ranging in age and size. We bought one of our doodle puppies from PuppySpot and loved the experience. We didn't have to wait 6+ month for a Bernedoodle puppy and we didn't have screen breeders.
There are even some champion bloodlines available for sale! You can filter your search, too, allowing you to search for the age, gender, and color that you want. While you sit back and enjoy the pictures, PuppySpot does all the vetting for you!
All potential Bernedoodle breeders are screened in partnership with the USDA and American Humane to meet PuppySpot's high standards. Any breeder not meeting PuppySpot's standards is removed from the site after a formal investigation; this is a no-mess operation! There's a health guarantee on all Bernedoodle puppies and a nose-to-tail health check to ensure your puppy arrives healthy and happy! This whole process is even supported by the American Kennel Club (AKC), which is one of the largest dog organizations.
There's no puppy mill promise on PuppySpot's website so that you can rest easy. If the exact Bernedoodle puppy you want isn't located in Missouri, then you simply pop in your desired travel method, and they do the rest! There are also lots of outstanding reviews you can read to put your mind at ease. It's an ideal website for first-time dog owners to use as they arrange all the dog's travel and do the hard work for you.
If you are after an easy ride and the guarantee of a puppy from a reputable seller, give PuppySpot a try today!
Bernedoodle Puppy Information:
Range of generations, including those from Champion Bloodlines
A mixture of sizes and colors is available
Bernedoodle Breeder Details: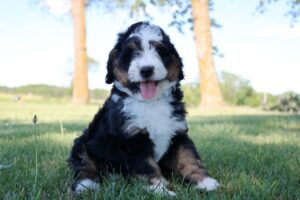 Up next is the fantastic HC Bernedoodles! Located down in Trenton, Jason and Shayna have sixteen years of breeding experience and are considered the best Bernedoodle breeders in the nation! They put their breeding dog's and puppies' needs above their own and work tirelessly to deliver healthy and happy Bernedoodles to families!
You can view all their breeding dogs on the website, where they have photographs and all relevant medical information listed. You can see that the dogs are clear of genetic conditions and whether they are still breeding or not. It's perfect for those that wish to conduct research and learn as much as possible about dogs.
F1 and F1B Bernedoodles are used in breeding, and Bernese Mountain Dogs and Poodles are used to create F1 Bernedoodles. You can view all certificates of their medical testing online, too, for peace of mind.
Currently, F1 Standard Bernedoodle puppies are on sale. You can view the information about them now and contact them for more information; Jason and Shayna are only too happy to help!
They are transparent about the testing all adults undergo; you can read about the test and view each dog's results on their website. You are kept in the dark about nothing with HC Bernedoodles!
The site is packed full of fantastic reviews, raving about not only the puppy but the service they received too! You can also view the entire application process so that you don't have any questions. It's worth noting that these puppies do not come microchipped. This is because HC Bernedoodles found that some families did not want this or preferred to do it themselves. We recommend that you microchip your puppy as soon as you can!
Other than that, these Bernedoodle puppies in Missouri come with their registration, vaccinated, and a health certificate from their vet. Put your faith in this transparent breeder, and you are sure to get a wonderful Bernedoodle!
Bernedoodles Puppy Information:
Mni, tiny, and standard Bernedoodles
Bred from F1 and F1B Bernedoodles
Bernedoodle Breeder Details:
For those after an F1 Standard Bernedoodle puppy, Missouri Bernedoodles are the ones for you! They put these dogs and puppies above all else to provide them with a healthy and loving home before they fly the nest.
A Christian family operates Missouri Bernedoodles outside of Maryville in Missouri. The puppies are bred on a small acreage with three Bernese Mountain Dogs and one Standard Poodle. The dogs are all kept in the home and raised there in a loving environment.
There's an application form that needs to be filled out when you inquire, with the website's questions clearly stated. Missouri Bernedoodles state that the puppies are not shipped but will travel up to 80 miles to meet you or deliver your puppy, perfect for those based in Missouri!
Your Bernedoodle puppy in Missouri comes with their eight-week vaccinations, dewclaws removed, a worming schedule, a vet-certified health certificate, a 1-year genetic health guarantee, a folder full of information, and a shot and worming record keeper.
Everything you need for your puppy! You also get a blanket with the puppy's mom and siblings' scent, a bag of food, chews, and a dog leash! There isn't any information on the website about health screening or testing that the dogs undergo, but you can contact them directly to find out.
The rave reviews and testimonials suggest that Missouri Bernedoodles are a reputable breeder of F1 Bernedoodles. Why not check them out today?
Bernedoodle Puppy Information:
F1 Standard Bernedoodles available
Tri-color puppies available
Bernedoodle Breeder Details:
For those near Springfield, Missouri, Bernedoodles of the Ozarks are a fantastic breeder! Specializing in F1, F1B, and reverse F1B Bernedoodles, these puppies will make fantastic additions to your home. Reservations are already open for the summer and autumn puppies, so be sure to get in quick!
These reputable breeders are run by Ruth, a woman who is passionate about breeding and animals. Not only is she incredibly transparent about her breeding, but she has a network of guardian homes that allows her dogs to be happy pets as well as breeders. It allows the dogs to be happy and healthy, making their puppies happy and healthy too!
All dogs are tested and undergo genetic screening with their results posted online for full transparency. There is also a complete breakdown of the adoption process so that you know exactly what to expect.
You can view the entire breeding program, too; there's no information hidden when it comes to Bernedoodles of the Ozarks! They are also an approved Good Dog breeder, so you know you can put your faith in them.
If you love transparency and hypoallergenic pups, then look no further than Bernedoodles of the Ozarks! They even ship your puppy to you if you live far away. This is definitely one of the best Bernedoodle breeders in Missouri if you're looking for backcrossed puppies.
Bernedoodle Puppy Information:
Reverse F1B Bernedoodles available
F1 and F1B puppies are planned for later this year.
Bernedoodle Breeder Details:
Completing our list today is Midwest Bernedoodles. Based in St Louis, Missouri, the breeders have a range of F1 Bernedoodles and multi-generational Bernedoodles to choose from. Currently, there aren't any Bernedoodles for sale until the fall breeding season, but trust us, they are worth the wait!
Midwest Bernedoodles select the best dogs with a calm temperament and run health checks to ensure they are suitable for use as breeding stock. They work hard to ensure that the puppies are properly trained, socialized, and have the right care and nutrition.
All breeding stocks are tested for OFA hips and elbows and other genetic diseases; you can ask for proof of this before making your purchase. The puppies receive the best care possible and work tirelessly to match them with the right family.
Families are screened before placement, and trainers even test the puppy's temperament. You will be provided with all the information that you need to make your informed decision.
If you crave transparency and want a Bernedoodle that has been loved and truly cared for before they arrive at your home, then Midwest Bernedoodles are the ones for you!
Bernedoodle Puppy Information:
Multi-generational Bernedoodles and F1 Bernedoodles available
Range of sizes and colors available
Bernedoodle Breeder Details:
How to Choose a Bernedoodle Breeder in Missouri?
Choosing a Bernedoodle breeder in Missouri can be challenging, especially with so many puppy mills and backyard breeders saturating the market; they can often mask the genuine breeders.
Thankfully, you can trust any of the breeders included in our list today and be sure that you have an excellent breeder. However, if you want to choose your own, use our two top tips to find a breeder!
1. Do your research
You will need to do extensive research to ensure that the Bernedoodle breeder is highly reputable. Check for signs that they could be a puppy mill and that the puppies and dogs are well cared for. Look out for any recommendations, reviews, and health certificates, and testing runs.
It's also worth looking for breeders that are members of committees or have been recognized for their breeding. You can use sites to search for these, too, if you wish. Ensuring that you have conducted thorough research beforehand is the best way to find a reputable breeder in Missouri.
2. Speak to the breeder
Before making your decision, speak to the Bernedoodle breeder directly. Ask as many questions as you need to ensure they are the right fit for you. Any reputable breeder will be more than happy to answer all of your questions.
Ask for photographs of your dog's parents to better see what your Bernedoodle puppy will look like. It's also worth asking for medical records and health records from the parents, which can help rule out any genetic conditions your puppy might have.
Conclusion for Bernedoodle Breeders in Missouri
And just like that, we have reached the end of our breeder guide today! As you can see, there are some fantastic options when it comes to selecting your Bernedoodle in Missouri. Remember to conduct your research thoroughly and contact the breeder beforehand to ensure that you are receiving the puppy of your dreams.
You can rest easy knowing that all breeders included today are not puppy mills, and you can use any of our breeders to find a Bernedoodle that is sure to meet your needs!
Other articles you will like:
Garrett loves animals and is a huge advocate for all Doodle dog breeds. He owns his own Goldendoodle named Kona. In addition, he volunteers at the Humane Society of Silicon Valley, where he fosters dogs and helps animals. Garrett enjoys writing about Doodles and believes that dogs can teach humans more about how to live than humans can teach a dog.
Why Trust We Love Doodles?
At We Love Doodles, we're a team of writers, veterinarians, and puppy trainers that love dogs. Our team of qualified experts researches and provides reliable information on a wide range of dog topics. Our reviews are based on customer feedback, hands-on testing, and in-depth analysis. We are fully transparent and honest to our community of dog owners and future owners.