The Snickerdoodle dog breed is becoming an increasingly popular pet every day, but not many people know a lot about this breed. So, naturally, anybody interested in adopting this breed would want to know more about what it's like.
The Snickerdoodle dog breed is created by breeding Poodles and Schnauzers. They are also known as Schnoodles or Teddy Bear Dogs. Snickerdoodles can be summed up as adorable balls of energy. They come in a variety of sizes and colors. They have the most lively and sociable attitude while also retaining their protectiveness.
Read below to find out more about the Snickerdoodle dog breed.
Before scrolling down this guide, "Snickerdoodle Dog Breed Guide," check out: Cavapoochon Dog Breed Guide and Whoodle Dog Breed Guide.
Snickerdoodle Dog Overview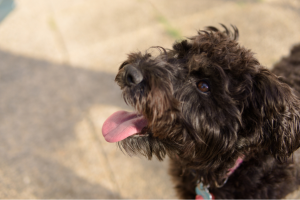 Schnoodles, also known as Snickerdoodles, are a mixed breed of dog that inherits genetic characteristics from both the Poodle and the Schnauzer. There are a lot of people who really like this particular mixed dog breed.
It is claimed that they have the physical appearance and elegance of Poodles, in addition to attributes of Schnauzers such as their protectiveness. Be careful not to mistake protectiveness for aggression. Snickerdoodles are fantastic pets for families since they are so devoted and loving.
It is recommended that you begin socializing them with children while they are still puppies, just like you would with any other breed of dog. This will help them feel more at ease when they are around children later in life.
Dogs of the Snickerdoodle breed are known for their high levels of vigor and hyperactivity, and as a result, they need to engage in a sufficient amount of daily physical activity.
There is a wide variety of coat colors that can be found in Snickerdoodle canines, including black, gray, and silver. There are also other color patterns that may be found on their fur, such as black and white, parti-color, and tan and black.
Curly hair is a common trait among these animals, and maintaining the health and happiness of your pet necessitates regular grooming sessions.
Even though they are generally healthy dogs, neglecting to look after your Schnoodle may result in certain grave medical issues.
Keeping this in mind, you must make sure that you consult with a nearby groomer and ensure that you are providing your dog with the proper care that he or she requires in terms of grooming and his or her physical well-being.
Snickerdoodle dogs are hypoallergenic, similar to the majority of other Poodle crossbreeds.
Dogs that are hypoallergenic often do not shed at all or just shed a very small amount. Because of this, individuals who are allergic to dogs have a significantly reduced risk of having an allergic reaction to such dogs.
Despite this, there have been reports of individuals claiming that Snickerdoodle dogs are the cause of their allergic reactions. If you suffer from dog allergies, you should keep this information in mind whenever you think about getting a Snickerdoodle as a pet.
Snickerdoodles can use whimpering or the "shake" dog trick—where the dog holds out its paw—to signal to their owner that they require attention.
Snickerdoodle Size
Snickerdoodle dogs are often on the smaller side. Poodles, on the other hand, can be found in a number of different sizes, including toy, miniature, standard, and even large. As a result, the breeds of its parents will determine the size of your Snickerdoodle puppy.
The Toy Snickerdoodle is a hybrid dog that was created by breeding Toy Poodles and Miniature Schnauzers. The weight range for Toy Snickerdoodle dogs is anywhere from 4 to 10 pounds. When they have finished growing, their height may range anywhere from 10 to 14 inches.
The size difference between the Toy Snickerdoodle dog and the Miniature Snickerdoodle dog is only marginal. The Miniature Schnauzer and the Miniature Poodle are the two breeds of dogs that come together to create the Miniature Snickerdoodle.
When fully mature, Miniature Snickerdoodle dogs often reach a height of 14 to 15 inches and a weight that ranges from 10 to 20 pounds.
The Standard Schnauzer and the Standard Poodle are the two parent breeds that were used in the creation of the standard Snickerdoodle dog. A full-grown standard Snickerdoodle can reach a height of 15–19 inches and a weight of 35–60 pounds.
Last but not least, there's the Large Snickerdoodle, the largest known variety of the Snickerdoodle dog. Large Snickerdoodle dogs are the result of crossing a Standard Poodle with a Giant Schnauzer. The average adult large Snickerdoodle weighs between 40 and 85 pounds and stands 15 to 27 inches tall.
There is also a variant of the Snickerdoodle known as the Giant Schnoodle, which is more difficult to find. This variety is created by mixing a Standard Poodle with a Giant Schnauzer. Giant Schnoodles can reach a height of 28 inches and a weight of 50–110 pounds.
Snickerdoodle Medical Problems
Snickerdoodle dogs, on the whole, seem to have relatively long and healthy lives. However, Snickerdoodle dogs often suffer from ear infections because of the excessive fur that grows in their ears. Common health issues in the parent breeds should be considered as well.
Schnauzers often suffer from chronic conditions, including pancreatitis and diabetes. If you want your dog to be healthy and happy, a healthy diet and regular visits to the vet are a must.
Poodles are prone to developing a variety of health conditions, including progressive retinal atrophy, epilepsy, thyroid disorders, and collapsed tracheas.
While the physical health of a Snickerdoodle dog is rarely an issue, you should be aware of some potential mental health issues.
Separation anxiety brought on by being alone is something that affects a wide variety of animals and is extremely prevalent. When we have to leave our furry buddies, they become really depressed.
Some individuals set up cameras inside their houses to keep tabs on their pets while they're away. Most people come home to find that their pet has been waiting patiently by the door all day.
This is something that happens rather frequently in the case of certain pets. Destructive habits like teeth grinding and excessive barking are common results of mental health issues like these.
You should think about getting a dog sitter if you need to be away from home for extended periods of time to ensure the well-being of your pet.
All Snickerdoodle owners should keep these things in mind. Taking your dog to the vet on a regular basis is crucial to ensuring their health.
Snickerdoodle Diet
Your Snickerdoodle should eat between three-quarters and a full cup of premium dry dog food every day. The amount of food to feed your Snickerdoodle will depend on their size.
A smaller puppy will eat less than a larger dog of the same age and size. If it is possible for you, you should think about giving your Snickerdoodle some raw dog food as part of a balanced diet that is high in both health and nutrition. The majority of dogs prefer raw dog food over traditional kibble.
If you got your Snickerdoodle from a rescue group or a breeder, you should inquire about the type of food they were fed. When selecting any food for your dog, it is essential to do research and read reviews beforehand.
You shouldn't be scared to experiment with your dog's diet and introduce him to new foods. However, if your Snickerdoodle begins to exhibit any symptoms of gastrointestinal health-related difficulties, it is important to see a vet.
Snickerdoodle Training
It's common knowledge that the Snickerdoodle dog breed is among the smartest dog breeds. If you are patient and consistent with your Snickerdoodle's training, it will learn new tricks quickly. Snickerdoodles are typically food-motivated canines.
Snickerdoodles are highly receptive to positive reinforcement during training, and one of the best ways to do it is to offer treats. Researchers have found that dogs respond better to positive reinforcement compared to punishment.
If you want the best results when training your new Snickerdoodle, make sure you never show any signs of anger or frustration. You should never hit or speak to your Snickerdoodle in a way that makes him or her feel threatened or anxious.
Consider hiring a professional dog trainer if you're having trouble teaching your Snickerdoodle fundamental behaviors on your own. Dog trainers are experts in the behavior of dogs, so working with one would be beneficial for you and your Snickerdoodle.
Personality
Schnoodles are wonderful pets because they are sociable, bright, active, and devoted. They get along well with both kids and animals. They have the potential to be barkers, so early training to curb this behavior is essential.
They're devoted to their families and always up for a good time. Snickerdoodles are becoming increasingly popular as pet dogs due to their friendly demeanor and adorable appearance.
Snickerdoodle Activities
Because of its high energy and enthusiasm, the Snickerdoodle dog breed is well-suited to a wide range of energetic pursuits.
They have a lot of energy and can play for extended intervals without tiring. You can train him to do tricks, and he'll enjoy going on hikes and sports like flyball, agility, and disc dog, where he'll excel.
Many Snickerdoodle Dog owners, unable to afford professional sports training, instead engage their pets in recreational activities like 'fetch' and park races.
Take him swimming in the summertime for a fun and beneficial way to beat the heat. If you want to participate with your dog in such activities, you should be able to find some time in your schedule for him.
In addition, after engaging in any activity with your dog, you should monitor his reaction to determine which activities he enjoys and which ones are too taxing on his energy levels.
We're confident that you'll find a kindred spirit in your Snickerdoodle, so long as he gets the physical and mental stimulation he needs.
Snickerdoodle Cost
The price of a Snickerdoodle is typically higher than that of other breeds of dog. If you're looking to buy a Snickerdoodle from a breeder, expect to spend between $2,000 and $3,000.
If you're looking to rescue a Snickerdoodle, though, you may expect to pay significantly less—anywhere from $300 to $500, depending on the rescue group.
Be sure to factor in the total cost of caring for a Snickerdoodle into your budget before making a purchase. This includes everything from purchasing dog food and dog treats to getting your Snickerdoodle spayed or neutered and paying for their medical care.
Depending on the veterinary hospital you choose, the cost to spay or neuter your Snickerdoodle can range from $45 to $400. In case your Snickerdoodle ever gets loose or lost, microchipping him or her is a must. The average cost of a microchip is between $30 and $45.
Toys for your Snickerdoodle should be part of your financial plan as well. Because of their great energy and lively nature, Snickerdoodle dogs often become bored. If you don't give them appropriate chew toys and playtime, they may resort to inappropriate means of satisfying their urge to chew.
Always have tasty snacks and chew toys available for your Snickerdoodle to help prevent destructive chewing and other behavioral problems.
Is the Snickerdoodle Right For Me?
The Snickerdoodle dog breed makes wonderful pets. Snickerdoodles are playful and like the spotlight. Toy breeds like the Snickerdoodle are great with kids. If you would like an easygoing companion, the Snickerdoodle might not be the right breed for you.
If you are the type of person who is always up for a new challenge and full of energy, a Snickerdoodle would make a wonderful addition to your household.
However, Snickerdoodles are more than simply balls of energy; they are also exceptionally empathic, affectionate, and compassionate towards their families.
As is the case with most other breeds of dogs, Snickerdoodles possess a high level of innate intelligence and can detect when something is off.
They constantly want to help their owner during difficult times, whether those difficult times are emotional, stressful, or just after a difficult day. The Snickerdoodle is a wonderful breed for service and therapy dogs.
Keep in mind that getting a Snickerdoodle puppy, or any dog, is a commitment that will last at least ten to fifteen years.
Be sure you can handle the responsibility before adopting a pet. Having a dog as a pet is like having another child. Even though this dog will only be in your life for a limited time, that time is all that matters to it.
FAQs
What are the pros and cons of Schnoodle?
The pros of owning a Schnoodle are that they are loyal companions that are generally small and hypoallergenic as well as low-shedding. They are smart, love to play, and enjoy being a family pet.

The cons of owning a Schnoodle are that they require regular grooming, go through a lot of toys, and sometimes seem to have endless energy. Schnoodles may also bark a lot, especially when left alone for long periods of time. Like most dogs, they also need to be trained and socialized early to help them navigate new situations and be more even-tempered.
What is the temperament of a Snickerdoodle dog?
Snickerdoodle dogs are playful, smart, and loyal companions. Typically, they are friendly with other dogs and children when well-socialized, but they are known for being protective like their Schnauzer parent. From their Poodle parentage, they take intelligence, trainability, and playful nature. Snickerdoodles are energetic and require a lot of exercise. They are also known for being barkers, but training, entertainment, and affection should help with this.
Do Snickerdoodle dogs shed?
Snickerdoodle dogs shed a minimal amount, if at all. They are a hypoallergenic breed with a coat that is wavy-to-curly. Their coats require regular grooming to keep them healthy. Grooming them frequently will also reduce the already small amount that they do shed. How you choose to groom and trim their coat will depend on personal preference and which parent dog their coat takes after.
Conclusion

For "Snickerdoodle Dog Breed Guide"
Snickerdoodle dogs are usually small, energetic, affectionate dogs who enjoy spending time with their owners. The exact traits of each Snickerdoodle dog will vary and will heavily rely on the temperaments and conformation of their parent dogs.
The Snickerdoodle dog breed can be high maintenance because of grooming and exercise needs, but they make great family pets when socialized correctly.
It cannot be stressed enough how important it is to do your research before bringing a dog home. You need to make sure that the dog fits your lifestyle and household.
If you find this guide, "Snickerdoodle Dog Breed Guide," helpful, check out:
Learn more about this breed by watching "What is a Snickerdoodle Dog?" down below:
Garrett loves animals and is a huge advocate for all Doodle dog breeds. He owns his own Goldendoodle named Kona. In addition, he volunteers at the Humane Society of Silicon Valley, where he fosters dogs and helps animals. Garrett enjoys writing about Doodles and believes that dogs can teach humans more about how to live than humans can teach a dog.
Why Trust We Love Doodles?
At We Love Doodles, we're a team of writers, veterinarians, and puppy trainers that love dogs. Our team of qualified experts researches and provides reliable information on a wide range of dog topics. Our reviews are based on customer feedback, hands-on testing, and in-depth analysis. We are fully transparent and honest to our community of dog owners and future owners.