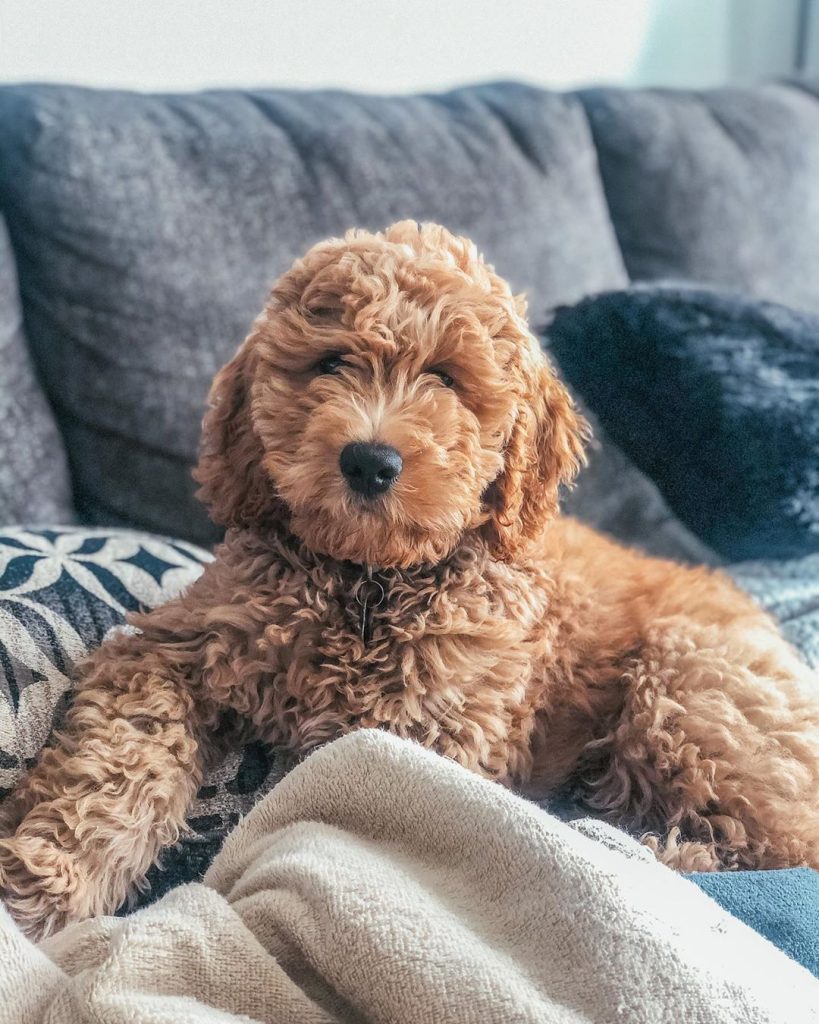 You snuggle them, love them, and take them to the dog beach! But how does what you feed your Goldendoodle affect your dog's well-being? Today our dogs are living longer lives, and we may be faced with geriatric maladies, thus the need for senior formulas with innovative nutraceuticals. On the other hand, you may be targeting allergies, weight management, needing higher energy levels with more focus for agility or training, or even in need of improved dental hygiene. Opting for a high-quality dog food diet with responsibly sourced natural ingredients and no cheap fillers or rendered meats only makes sense! So here's the take on the best nutritional formulas for your pooch to ensure longevity and optimal health.
That said, like humans, proper nutrition is an important and often ignored aspect of dog parenting, possibly more so now during the pandemic. Like people, Goldendoodles have unique needs, and we found the best nutritional dog food formulas for your Goldendoodle after hours of research. Yet, keep this in mind! There is no best diet since all dogs have different dietary needs, so it's always smart to find the best dog food to match each individual dog. It's also important to consult with your veterinarian for advice before changing your furry best friend's diet, especially if he's prone to health issues.
We will share our top 8 choices for the best dog food for Goldendoodles on the list below. We've reviewed over 100 different dog foods, and narrowed our list to 8. As you know by now, by analyzing the first 5 ingredients, you'll get to know more about the overall highest nutrient content with the first ingredient being the highest. Here's a closer look as to our top picks for this amazing designer breed. Welcome to Goldendoodle World!
The 3 Overall Best Dog Food for Goldendoodles
We all want to feed our Goldendoodles the most nutritious dog food, but there's a lot of guesswork that may go into choosing the diet that works best for your individual dog. Working together with your vet is a great way to start since you'll be able to take health issues, age, skin and coat health, and more into consideration. There are many different brands to choose from, and while I know which ones are great for my dogs, you should assess your Goldendoodle's activity level, age, breed, and any medical conditions that he or she may be prone to when selecting the best dog food. Below are our top 3 choices for the best dog food for your Goldendoodle.
How we chose the best dog food for Goldendoodles?
Because this breed has varying sizes, the feeding requirements will be different. That said, when you feed a high-quality dog food from a reputable brand, you're on the right track. Here's what to look for when choosing a high-quality dog food.
General ingredients that include whole meats, fruits, or vegetables in their top 5 ingredients are considered good foods. Those that also incorporate antioxidants like blueberries; cranberries, pomegranates, and pumpkin are also becoming popular. With that said, organic, natural, and preservative-free with no artificial ingredients, are also key to a well- balanced, and high-quality dog food.
Bonus ingredients
Flaxseed – Rich in soluble fiber when ground into a meal, this is one of the best sources of healthy omega-fatty acids available. This is one of the best plant sources of healthy omega-fatty fatty acids
Chelated minerals – When minerals have been chemically attached to a protein, which occurs during the chelation process, they become easier to digest.
Oatmeal – Oatmeal is a whole-grain product made from ground oats containing plenty of B-vitamins and dietary fiber.
Chicken fat – This is a high-quality ingredient that offers plenty of linoleic acids, which is an omega – 6 fatty acid, and is necessary for life.
Kelp – This nutritious sea vegetable is also rich in calcium and helps to maintain a shiny coat and healthy skin.
With options like bison, duck, venison, quail, wild boar, lamb, salmon, and turkey, this brand offers unique and unusual protein sources that are healthy for Goldendoodles. Taste of the Wild by Diamond Pet Food is an excellent choice for dogs with food sensitivities or allergies. This brand is available at pet stores or online.
The first five ingredients listed are salmon, ocean fishmeal, sweet potatoes, canola oil, and salmon meal, so your dog will be consuming enough omega-3 fatty acids, excellent ingredients for anxious or stressed out dogs. Ocean fish meal has a high protein concentrate, as does pea flour with a 25% protein rate. There's also chicory root that contains inulin for digestive health, and that also helps with weight and diabetes management in all dog breeds. However, it does contain canola oil, which some may consider an unhealthy fat. Peas and sweet potatoes offer highly digestible carbs and provide energy.
For dog lovers wishing to ensure the optimal digestive health of their Goldendoodles, Taste of the Wild uses guaranteed probiotics. This is a great product for dogs suffering from digestive health issues. With sweet potatoes, a good source of dietary fiber, as its third ingredient, this dog food formula is packed with antioxidants and offers a high source of vitamin E. Sweet potatoes contain many important nutrients and include vitamins A, B6 and C, calcium, folate, copper, thiamine, iron and potassium.
This is an incredibly popular dog food formula that is slightly cheaper than Taste of the Wild. For those of you who don't want to feed a grain-free formula, this formula contains no chicken or poultry by-products and has chicken listed as its first ingredient. It offers added glucosamine for joint health, as well as an optimal balance of Omega's 3, 6, and 9's to promote a shiny coat and healthy skin. With over 7,476 positive ratings, Blue Buffalo Life Protection Formula Natural for Adult Dogs also contains essential vitamins, chelated minerals, and all the necessary antioxidants for optimal immune system support.
Perfect for the traveling Goldendoodle, or when you're on a pet vacay! Another popular dog food formula that is dehydrated for easier digestion, and a grain-free formula as well. The Honest Kitchen offers cage-free turkey as its first ingredient with fewer carbs in every batch of food made to keep Goldendoodles at a healthy weight.
This formula works for both adult dogs and puppies and meets all FDA safety standards. It is an all-natural and human-grade dehydrated dog food. It adds that "all ingredients are guaranteed 100 percent Human Food Grade," and that it "has been the only pet food manufacturer in the U.S to have proved to the FDA that every ingredient it uses in its products are suitable for human consumption."
The formula contains no animal feed-grade ingredients and is made in an FDA-inspected facility. Plus, all their ingredients are gluten-free, and their foods contain the raw foods' natural color, flavors, and aromas, which shows that it still contains life. Offering dehydrated turkey, organic flaxseed, spinach, potato, organic coconut, eggs, cranberries, celery, and apples, with no GMO-ingredients, everything in this dog food product is made with human-grade ingredients!
Additionally, the Honest Kitchen does not contribute to plaque buildup, since it contains no sugars, salt, or added preservatives. It's lightweight and super easy to carry, and cost-effective to ship. What's more, this dog food formula is a no-brainer to prepare, and a breeze to take along when traveling with your Goldendoodle. With over 2,408 positive reviews, you cannot go wrong with this high-quality dehydrated dog food!
Using fresh, whole animal ingredients like free-run chicken and turkey, Orijen also adds fresh and raw animal ingredients like meat, organs, and cartilage. According to their website, all their ingredients are locally farmed in Kentucky, US., and this dog food formula works for all life stages. The ingredients include 85% quality animal ingredients, 15% veggies and fruit, and botanicals with no grain. It features whole prey ingredients in ratios that mirror the wilderness.
Orijen has proven to be very popular because all ingredients are locally sourced in Kentucky. This includes fruits and veggies, as well as all meat ingredients. This superb company has a long list of awards and adds that "their products feature "unmatched inclusions of fresh free-run poultry, whole nest-laid eggs, whole wild-caught fish and ranch-raised meats – farmed or fished in our region by people we know and trust, and delivered to our kitchens daily so they're brimming with goodness," via Orijen.
Ziwi's Peak New Zealand product line offers 6 air-dried dog foods. This premium brand has limited ingredients with over 96% using meat, organs, bones, seafood, and superfoods like liver, New Zealand green-lipped mussel, and tripe. Ziwi adds no rendered meats, animal meals, or cheap fillers. They also craft their recipes to mimic the whole prey diet of carnivores.
Using a gentle air-drying method that preserves the food without the use of fillers, all the while maximizing flavors for the fussiest eaters; Ziwi's alternative to raw formulas offers high amounts of meat and organs that are sustainably sourced from New Zealand's free-range farms. All the ingredients are manufactured in human-grade facilities, and all their recipes have a high level of slow-release metabolized energy, meaning you feed less, and your Goldendoodle will feel fuller and content for longer. Their air-dried products also have a high number of servings per pack offering real value in each bag of ZIWI Peak.
With over 3,200 positive reviews, this brand is not only affordable but is also made with limited ingredients to provide balanced nutrition for adult Goldendoodles. It can also be used for all life stages. What's great about this dog food formula is that has limited carb sources and contains no fillers, artificial flavors, colors, or preservatives. The formula is packed with all the essential vitamins and minerals and can be bought in either the grain inclusive or grain-free formula. The formulas have been developed by veterinarians and canine nutrition experts, and offers premium proteins with carbs like potato and duck formula. This brand also offers numerous formulas to meet the needs of most dogs.
Vegan Dog Food Options for your Goldendoodle
This is a good way to help dogs with sensitivities. When feeding a vegan dog food formula, you're removing animal products from your dog's diet. Many are skeptical about this diet, yet there's much to be said about the benefit of vegan dog food options. They do provide a balanced and high-quality diet via plant-based foods.
With veganism trending today, it's worth a try. The eco-friendly sustainable trend goes hand- in- hand with the natural cruelty-free products market. And most times these cruelty-free vegan and natural products are tremendous for pet parents too. Pet parents are becoming more aware of what goes into a product and how it's being tested. Additionally, the use of sustainable materials in manufacturing has become a top priority for many manufacturers.
Many companies have started using responsible global practices. V-Dog "reduces paw-lution like no other diet." According to V-Dog, the majority of a dog's carbon footprint comes from their food. A plant-based diet dramatically reduces greenhouse gases and the pollution of land, air & water. Since 2005, V-Dog has been on a mission to provide healthy, delicious food for dogs, made totally from plants. "As a team of vegans and animal lovers, everything we create has compassion for all animals in mind. We never use animal products, and of course, no factory farming," explains Lindsay Rubin, Manager of Operations via Fido Friendly.
Vegan dog food is especially formulated for dogs that have meat allergies or that have digestive issues. Halo is well-known for its allergy-friendly brand, and health-conscious stance in the pet industry. With no GMO's, corn, or wheat, this brand uses plant-based proteins from whole grains, green peas, and chickpeas. It is a U.S brand that sources locally, and that uses high-quality natural ingredients in all dog food formulas.
V-Dog is also a 100% plant-based dog food formulated by nutrition experts to meet all AAFCO requirements. This formula also has no wheat, corn, soy, dairy, factory-farmed products, by-products, or fillers. With leading allergens for dogs including chicken, beef, and dairy, V-Dog kibble may be good for dogs that have a lot of stomach problems, digestive issues, itchiness, hot spots, and even those that are prone to low-energy.
All the ingredients in their complete and balanced vegan kibble are not just nourishing for dogs, but also gentle on the earth's resources, better preserving our planet. V-Dog adds that "Our kibble has 24% protein, powered mainly by peas, which makes it not only great for all dogs but excellent for sensitive and allergy-prone pups. We like to keep it simple. If there's food my dog loves, that they will thrive on, and that requires no other animals to be killed, why would I not choose this option?"
According to V-Dog, all of their products are made with 100% plant-based ingredients, making them "better for pooch and planet "This means our ingredients use less water, land and other natural resources compared to animal products. With more than 80 million dogs in the US alone, a vegan dog, like a vegan human, leaves a much smaller paw print on our planet," via Fido Friendly.
AAFCO Regulations on Dog Food
The Food and Drug Administration (FDA), the U.S. Department of Agriculture, and the Individual State Department of Agriculture regulates all dog foods. That said, it's The Association of American Feed Controls (AAFCO) that provides guidelines for the manufacturing, selling, and labeling of pet foods to ensure pet safety. AAFCO also dictates the levels of nutrients that should be used for each life stage. So, we took a close look at the AAFCO's regulations in search of the best dog food for your Goldendoodle.
AAFCO model regulations and the federal feed laws stipulate that all pet food labels need to list all the ingredients in their formulas in descending order, according to the weight of each ingredient listed. So that makes it's easy to see where the most important sources of calories and proteins are coming from – the first five ingredients listed. The first ingredient is the one ingredient that is present in the highest amount.
Today, it's necessary to keep checking your dog food ingredients list to make sure that formulas have not changed. It's pet parents that need to understand that all dog foods are made to meet the minimum of one recognized life stage: growth and pregnancy, or adult maintenance. Pet parents need to know which life stage a pet food is marketed for. It may not be the same life stage for which the food actually meets the minimum requirements. If in doubt, it's best to consult with your veterinarian for nutritional advice.
The most important tips to keep in mind are the following:
The recommended guidelines on bags often contain more calories than dogs need. Unless your Goldendoodle is a very energetic working dog, feeding the lower end of the recommendation is advised.
Feed a complete and balanced food for the appropriate life stage of your Goldendoodle.
How to choose a dry dog food formula for your Goldendoodle?
We love our Goldendoodles, and always want the best for them. Avoiding obesity that is linked to numerous diseases is key, and can be done by opting for high-quality dog food and combining that with daily exercise. You'll need to determine your dog's actual weight by visiting your vet, and at the same time going for a health check to ensure no underlying conditions. Here's the scoop!
Feed a diet from a well-known, reputable company. Contact them with any questions of concern.
The labels on any diet should meet the levels established by the AAFCO Control Officials or feeding trials.
All dog food formulas should have the following statement "Animal Feeding tests using the AAFCO procedures substantiate that "Brand X" provides completed and balanced nutrition for growth (or maintenance.)
Feed pups puppy food and be sure to feed a large breed puppy formula.
Feeding a small dog diet to large breed puppies can cause large breed puppies to grow too quickly, and can lead to serious growth abnormalities and "growing pains."
There is no "best diet." Dogs are individuals. A diet that works for one dog may not be the best for another. Age, energy level, and individual medical concerns play a large role for each patient.
The recommended guidelines on bags often contain more calories than dogs need. Unless your dog is a very energetic, feeding the lower end of the recommendation works best. You can always add more later on.
Feed a complete and balanced food for the appropriate life stage of the Goldendoodle.
Nutritional requirements of the Goldendoodle
The best dog food formulas are made with the simplest and most nutritious ingredients. Look for high-quality ingredients such as whole meats, fruits, vegetables, and grains, and take heed of the different macronutrients like proteins, fats, and carbs.
You will need to provide your Goldendoodle with the most appropriate diet that is healthy and beneficial to his life stage so that you can help give your dog a long and healthy life. Also keep in mind that feeding healthy helps with focus and behavioral issues.
According to Animal Wellness, "Artificial ingredients are often highly antagonistic and can actually contribute to an animal's mental and emotional imbalance," adds Andi Brown, director of Halo and author of The Whole Pet Diet. "Some additives can be so detrimental that they can actually have the same effect on an animal as hallucinogenic drugs have on people. According to Best Friends Animal Society, the most common reason animals are put down by vets or turned into shelters is because of unruly behavior." Andi recommends adding minerals and vitamins, especially the full complex of B vitamins, to a dog's food to help with behavior problems."
Important features of dog food
One of the biggest trends today is grain-free formulas. You'll notice that many brands have been releasing grain-free versions of their original formulas. Today, it's important to take note of all the grain-free dog food updates by the FDA with the potential for grain-free diets to trigger canine dilated cardiomyopathy. (CDC) Here's what you need in high-quality dog food for your Goldendoodle:
Dog food formulas should contain no artificial flavors, colors, or preservatives such as propylene glycol.
Diets should include whole foods instead of processed foods.
They should also use real meat instead of meat meal. This is important.
Organ meats are also beneficial to dogs.
Look out for by-products such as organ meats, which are fine, but no non-meat parts.
There should be a good source of calcium in the dog food formula.
The formulas should contain vegetables for fiber and nutrients such as flavonoids.
Diets need to be tested using AAFCO feeding trials, or by formulation to meet AAFCO nutrient profiles
There must be specific quality control measures to assure consistency and quality of all ingredients used, as well as for the end product.
All dog food diets should be complete and balanced.
The dog food formulas should indicate what life stage it is intended for.
AAFCO provides nutrient profiles for all different life stages, all but for one, the senior geriatric dog.
All dog food formulas must meet the AAFCO profiles for all life stages and must meet the minimum nutrient levels for growth and adult maintenance in dogs.
A reputable and knowledgeable dog food company that has the highest quality control measures must make the dog food formula.
Dog food should not be made in China, nor should any of the ingredients originate from China.
Puppies should only eat a puppy food formula, and should always be fed a puppy formula.
Large breed pups like the Great Dane or German Shepherd need to be on a large breed puppy diet to ensure correct growth and no growth abnormalities.
Formulas should contain antioxidants, Omega 3's, healthy ingredients, and a balanced diet for the appropriate life stage.
Conclusion for the Best Dog Food for Goldendoodles
You may not realize that your Goldendoodle's physical wellbeing depends on what you feed him. Feeding your dog a high-quality and well-balanced dog food formula may help him or her overcome certain diseases, live a longer and happier life, and even prevent many behavioral problems that may be linked to improper nutrition.
While dehydrated dog food is an excellent option, canned and dry dog foods also provide high- quality nutrition. Goldendoodles also enjoy variety when it comes to what they eat. With the huge selection of high- quality dog foods available, make sure to try different varieties in the same way that we try new foods. And as always, consult with your veterinarian for expert dietary advice.
Other articles you might like:
Resources:
Garrett loves animals and is a huge advocate for all Doodle dog breeds. He owns his own Goldendoodle named Kona. In addition, he volunteers at the Humane Society of Silicon Valley, where he fosters dogs and helps animals. Garrett enjoys writing about Doodles and believes that dogs can teach humans more about how to live than humans can teach a dog.
Why Trust We Love Doodles?
At We Love Doodles, we're a team of writers, veterinarians, and puppy trainers that love dogs. Our team of qualified experts researches and provides reliable information on a wide range of dog topics. Our reviews are based on customer feedback, hands-on testing, and in-depth analysis. We are fully transparent and honest to our community of dog owners and future owners.