The Pugapoo dog breed mixes the lovable pug with the loyal and intelligent poodle. The result is a hybrid dog that makes an approachable, enthusiastic, and trainable best buddy!
A poodle-pug mix's traits can vary tremendously based on which parent's genes are dominant. However, some of the things that both breeds will pass on are the ability to be a great family pet, their intelligence, and their outgoing, lovable natures.
Keep reading to learn more about the wonderful Pugapoo dog breed!
Before scrolling down this guide, "Pugapoo Dog Breed Information and Pictures," check out these other dog-related articles from our team at We Love Doodles: Coydog: Dog Breed Information and Boodle Dog Breed Information.
Pugapoo Appearance and Traits
The Pugapoo is a hybrid dog breed, meaning it comes from breeding two pure breeds. Because of this, you never know exactly what your Pugapoo will look like or how it will behave. Still, some breeders will aim to include certain characteristics by strategically selecting their breeding dogs.
Unfortunately, a breeder can only control so much. This is important to keep in mind if you're dead set on a dog with certain characteristics. For example, if you must have a hypoallergenic dog, that's not always a guarantee with a hybrid breed.
The appearance of a Pugapoo is also difficult to predict. They can have anything from a short, straight Pug coat to a long, curly Poodle coat. Depending on the size of the parents, a Pugapoo can be nearly any color, have a tight corkscrew-shaped tail or one which hovers high, and even come in a range of weights, from 10 pounds to as much as 30!
Luckily, most breeders can give you an idea of what your Pugapoo will look like and how it will behave based on its parents.
Related: Chesador Dog Breed Information
Is a Pugapoo the Right Dog for Your Home?
Pugapoos make an excellent addition to any household! They get along well with children and love hanging out with their humans. Pugapoos often get along well with other dogs and cats, too. However, some can be barkers, so be mindful to gently curtail any signs of excessive barking.
Pugapoos are flexible to their owners' lifestyles and have low to moderate activity levels. If you're willing, and the dog is in good general health, these canines are athletic enough to take part in canine sports like agility, flyball, training, and rallies.
If you start socialization and training early and use positive reinforcement strategies like praise, playtime, and treats, you will be blessed with a beautiful furry friend!
Pugapoo Dog Breed Temperament and Personality
It's difficult to predict the Pugapoo dog breed's temperament and personality because it is a cross between two breeds. However, most Pugapoos tend to be outgoing, sociable, and loving. Typically, they get along with other cats and dogs.
To ensure your Pugapoo has a good temperament and attitude, it's best to socialize them from an early age. This will help foster a cheerful personality. Pups are incredibly open to new faces, places, sights, noises, and experiences until they are 16 weeks old, so this is the ideal age to begin training and socialization.
Many veterinarians advise limiting exposure to other dogs and crowded areas until puppy vaccinations, such as those for rabies, distemper, and parvovirus, have been finished. Until your puppy has received all its vaccinations, you can start training your him at home and socializing him with family and friends in place of official training.
Pugapoo Health Concerns
Just as all humans can carry certain diseases, all dogs, whether purebred, crossbred, or mixes, carry the potential to have genetic health issues. However, many experts believe hybrid dog breeds, like the Pugapoo, to be healthier than pure breeds thanks to their additional genetic variance.
Still, Pugapoos may be at risk to certain health concerns, most like the same ones that afflict Pugs and Poodles.
From their Pug parents, the Pugapoo dog breed may suffer from skin infections, eye injuries, and breathing diffficulties. Most of these health concerns are due to the Pug's flat face. If your Pugapoo has a more rounded snout, they may not experience these issues.
Other diseases that are frequent in both Poodles and Pugs, and me pass on to the Pugapoo, include thyroid disease, other hormonal disorders such as Addison's Disease and Cushing's Syndrome, skin problems, and liver disease.
Once you've welcomed a new puppy into your home, keep in mind that you can shield him from one of the most prevalent health issues: obesity. One of the simplest ways to increase the lifespan of a Pugapoo is to maintain a healthy weight.
Pugapoo Grooming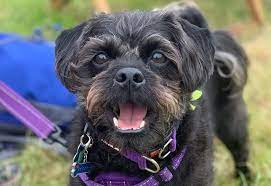 Depending on the type of coat it has, your Pugapoo will have different grooming requirements. Although the curled Poodle coat sheds very little, it requires frequent grooming, about every four to six weeks.
It's critical to maintain your dog's curly coat. Without routine clipping, it can quickly mat and tangle, resulting in excruciating skin problems at the root level. Although the short Pug-like coat sheds, it only requires daily brushing.
For general well-being, you should clip your Pugapoo's nails as necessary, typically once every week or two. Periodontal disease is very common in little dogs. For this reason, we also recommend cleaning your Pugapoo's mouth periodically with a dog-safe toothpaste.
Where to Find a Pugapoo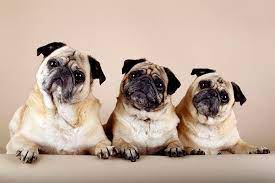 Avoid Pet Stores
You should avid purchasing a dog from a pet store if you can. Many pet stores source their dogs from puppy mills. This means you're more likely to get a sick, poorly socialized, and difficult-to-house-train dogs. If you are going to purchase from a pet store, try to confirm where the dog came from.
Responsible Breeders
Finding a reputable Pugapoo breeder is a better option than purchasing from a pet store. Choosing a responsible breeder is crucial to ensuring your dog is healthy, well-trained, and socialized. Look for a breeder that has extensive experience working with the Pugapoo dog breed. You should also visit the breeder before committing to a dog, ask about their breeding practices, and learn more about about the health of their parent dogs.
Ethical Standards
Before purchasing a Pugapoo, check out the Poodle Club of America's and the Pug Dog Club of America's codes of ethics to determine if the breeder or seller complies with them.
Consider a Rescue
The best place to find any dog is at a rescue. Dog rescues are filled with dogs of all breeds and ages that are looking for a loving home.
Pugapoo Dog Breed Genetic Testing
If you choose to buy your Pugapoo from a breeder, ensure the breeder tests their dogs for genetic health issues and has a thorough understanding of the hereditary disorders common to both the Pug and the Poodle.
Your puppy's breeder must be able to give you proof from the Orthopedic Foundation for Animals (OFA) that none of your puppy's parents has thyroid disease, Legg-Calve-Perthes syndrome, or luxating patellas. You should also ask for Canine Eye Registration Foundation (CERF) test results to ensure your dog is free from eye problems common to the Pug and Poodle.
If a breeder refuses to give you these health certification for any reason, you should move on to one that freely provides the information you're asking for.
Veterinary Care for Pugapoos
As soon as possible after adoption, take your Pugapoo to the vet. Be sure to do this if you have an adult or puppy, as it is essential to ensuring a health transition for your new furry friend. Your veterinarian will be able to identify any obvious difficulties and work with you to establish a preventive routine to help you steer clear of health problems, especially those typical to the Pug and Poodle breeds.
Frequently Asked Questions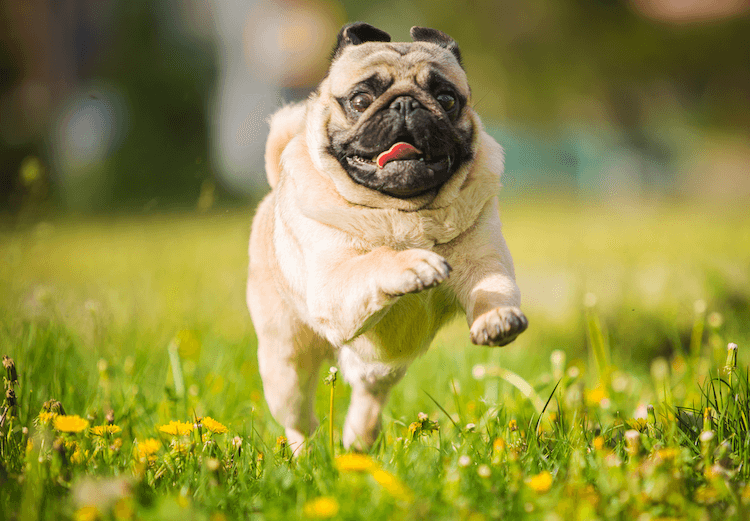 How Much Do Pugapoos Cost?
You can expect to spend anywhere from $100 to $800 on a Pugapoo. If the dog has a high-quality pedigree, you should be prepared to spend at least $600.
Is a Pugapoo Hypoallergenic?
Although Pugapoos do not shed much, there is no guarantee that they will be hypoallergenic. How much the Pugapoo sheds is based on which of the parent's coats it inherits.
Are Pug Mixes Healthier?
Pug mixes have better and easier breathing than purebred Pugs. They require less upkeep, are healthier, and cost less. Additionally, they have greater energy and can spend more time outside.
Pugapoo Dog Breed: Right For You?
The Pugaopo dog breed is an adorable and lovable pet that makes an excellent addition to any home! This mix of the Pug and Poodle is intelligent, silly, affectionate, and loyal. If you're ready to add a Pugapoo to your home, make sure you adopt from an ethical breeder or rescue one from your local animal shelter.
If you find this guide, "Pugapoo Dog Breed Information and Pictures" helpful, check out our other dog guides:
If you want to learn more about the Pugapoo, you can by watching "Pugapoo Dog Breed Information – The Middle of the Road Dog | Pugapoo Dogs 101" down below:
Garrett loves animals and is a huge advocate for all Doodle dog breeds. He owns his own Goldendoodle named Kona. In addition, he volunteers at the Humane Society of Silicon Valley, where he fosters dogs and helps animals. Garrett enjoys writing about Doodles and believes that dogs can teach humans more about how to live than humans can teach a dog.
Why Trust We Love Doodles?
At We Love Doodles, we're a team of writers, veterinarians, and puppy trainers that love dogs. Our team of qualified experts researches and provides reliable information on a wide range of dog topics. Our reviews are based on customer feedback, hands-on testing, and in-depth analysis. We are fully transparent and honest to our community of dog owners and future owners.