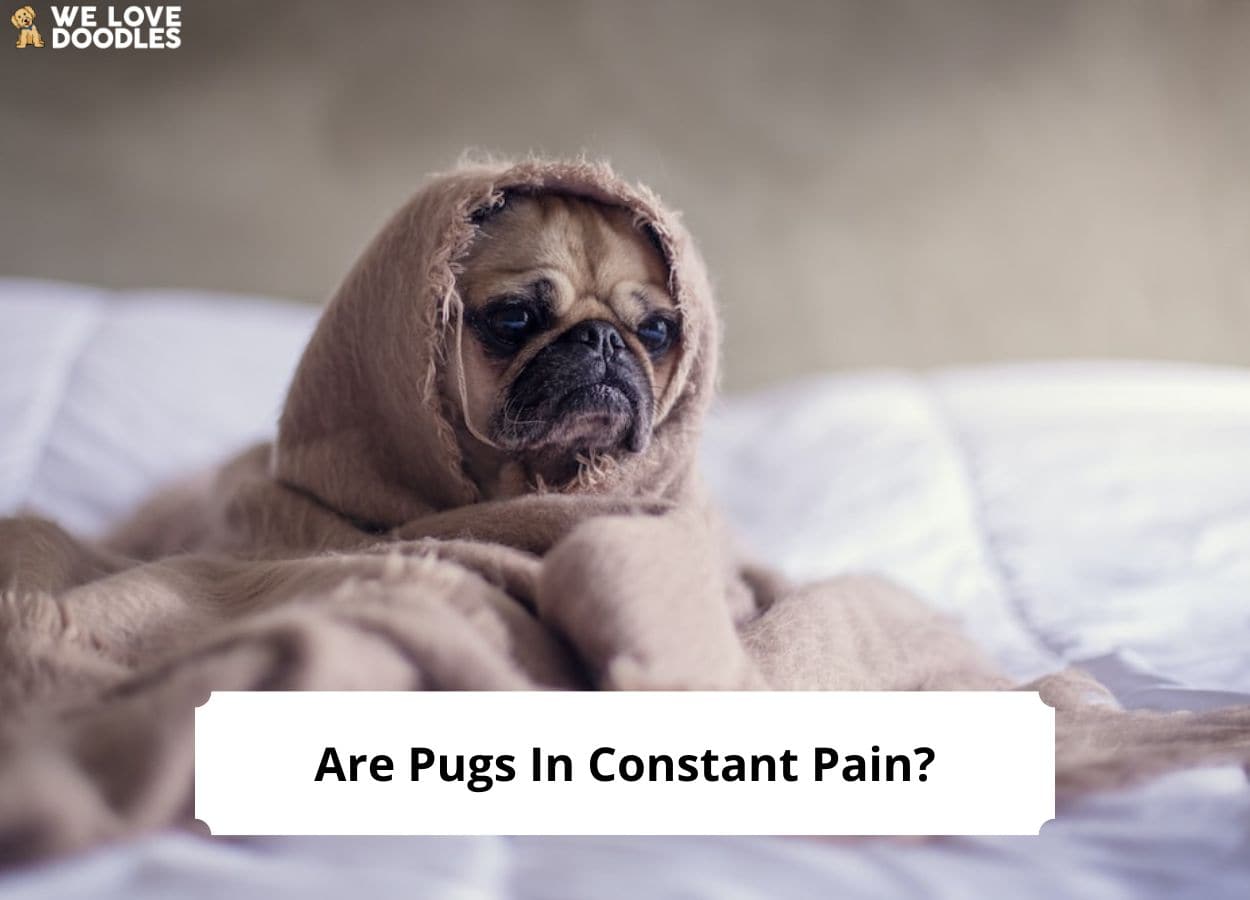 The Pug is one of the most well-liked dog breeds in the US. They are friendly and frequently referred to as one of the "silly" dog breeds. There are a few issues Pugs frequently develop, but do they experience constant pain?
Pugs are in pain due to their numerous health problems, which are the result of breeding for traits like a flattened snout. These medical conditions range from respiratory difficulties to skin ailments, bone and joint concerns, and more.
Before scrolling down this guide, "Are Pugs In Constant Pain," check out: Why Pugs Are the Worst? (2023) and 15 Dogs That Look Like Pugs (With Pictures)! (2023).
Why Are Pugs in Pain All the Time?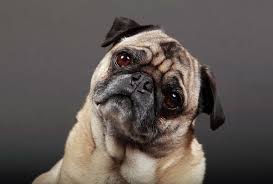 Pugs are in pain all the time because they have numerous health issues. These issues have been caused by irresponsible breeding over centuries. That is to say, the very features we love in our pugs are the ones causing them to be in agony. So much so, the British Veterinary Association has asked to stop the breeding of Pugs.
Of the many health conditions that pugs experience in their lifetime, the following are the most common:
1. Respiratory Problems
Pugs' pinched noses add to their attractiveness, but they can also cause brachycephalic syndrome, which causes respiratory problems and makes it difficult for the dog to cool off. Pugs have one of the loveliest looks among canines because of their unique morphology.
However, they may be more prone to developing Brachycephalic Airway Obstruction Syndrome (BOAS) due to their tiny noses, extended soft palate, and perhaps even narrow windpipes. The condition known as BAOS affects dogs with shorter skulls, such as Pugs, and is brought on by an overabundance of soft tissue in the airways.
All of these traits combine to cause a common problem: your dog could struggle to breathe in the amount of air that their bodies require. Even mild exertion might cause symptoms like your dog gasping for air and having trouble breathing.
It is critical to speak with your veterinarian if you experience these symptoms. Surgery may occasionally be necessary, but the effects of this ailment may be lessened by keeping your pug cool in hot weather, minimizing overexertion, giving your dog lots of fresh water, and maintaining a healthy weight.
Since your dog won't be able to fully cool off due to the limited airflow, this issue will often be greater during the summer.
2. Eye Issues
Sadly, if you have a Pug in the house, eye issues are something to watch out for. Because their eyes stick out, they are more likely to get serious eye conditions that can cause pain and irritation for a long time. Since their eyes are so big, Pugs are at a high risk of hurting their eyes by running into things.
Bumping into furniture and other surfaces, a colored eye discharge, watery eyes, colored spots on the eye, and any unusual features in or around the eye are all symptoms of a variety of conditions.
Watering eyes and a red cornea are signs of eye ulcers in pugs, so keep an eye out for these and call your veterinarian right away if you notice them. Additional eye issues Pugs might have include entropion, a congenital eye problem, dry eyes, infections, or anomalies of the eyes. Because immediate treatment is sometimes necessary, you must talk to your vet as soon as you notice any of the symptoms.
3. Skin Conditions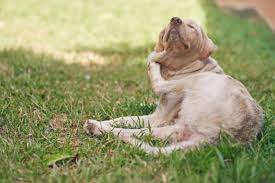 Pugs are susceptible to allergies, which result in irritated skin. Pugs are easily recognized due to their distinctive skin folds, but they are also prone to housing various germs and parasites, making them an ideal environment for the growth of bacterial skin illnesses.
A bacterial illness known as pyoderma causes pimples, little red lumps, and blood blisters as its external symptoms. In Pugs, it typically appears close to the lips, feet, and skin creases. Bacterial skin disease may be treated by your veterinarian using medicated shampoos or by changing your dog's diet. To keep your Pug in top shape, think about adding some supplements to your dog's regular diet.
4. Joint and Bone Issues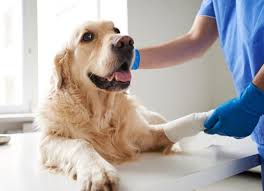 Pugs have small legs that support a strong body, and because of their distinctive musculoskeletal structure, they are more likely to experience bone and joint issues.
Patella Luxation
When the kneecap slips out of its groove, it causes patella luxation, which results in limping and often discomfort. Hopping, leaping, using only one leg, and having trouble getting up and down are indications that your Pug has this problem. Surgery may be necessary for severe cases.
While it can also develop as a result of an accident, this Pug health issue may be caused by a genetic abnormality. Fortunately, surgery typically makes it possible for your dog to live pain-free, but owners should continue to watch their Pugs to make sure their playtime or exercise isn't too demanding. To ease the strain on their joints, you should also control their weight.
Hip Dysplasia
Despite the fact that canine hip dysplasia often affects large dogs, Pugs, and other smaller dogs can also develop this issue and require medical attention. This occurs when the hip's ball and socket joint do not fit perfectly together due to improper hip development.
Most puppies between the ages of six and twelve months are diagnosed with this hereditary disease. All owners should be aware of the typical signs of hip dysplasia, which include limping, bunny hopping, or stiffness.
Pugs may also suffer from spinal issues, which put pressure on their spinal cord and cause discomfort and sometimes even the loss of rear limb function. Pugs like participating in family activities, but to help lower the chance of joint damage, it's better to steer clear of games that require your dog to leap from or onto high surfaces.
5. Convulsions
Pugs can occasionally experience seizures, and if this happens, it's crucial to speak with your veterinarian right away to identify the cause. The major sign of epilepsy, which is prevalent in Pugs, is seizures.
Epilepsy may be managed with medicines and regular veterinary visits. Dog owners are terrified of the phrase "encephalitis." A hereditary brain infection known as Pug Dog Encephalitis (PDE) often affects young to middle-aged Pugs.
Seizures are the primary indication of PDE, although other signs include sluggish, directionless behavior, and poor motor coordination in affected dogs. Medication can be used to manage seizures and lessen the accompanying inflammation after consulting with your veterinarian.
Due to their screw-tail, Pugs may also have spinal issues like hemivertebrae. Vertebrae with unusual shapes impose strain on the spinal cord, which can be painful.
Additionally, keep an eye out for incontinence issues and issues with their rear legs. X-rays will help the veterinarian identify the Pug's health issue, and based on the findings, they will advise either medication or surgery to fix the incorrect vertebrae.
6. Allergies
Pugs are known to have allergies. A mild allergy can easily develop into an infection, which can increase the health issues your pug already has. The good news is that dog allergies are very simple to cure.
7. Legg-Perthes Disease
This condition also impacts the hip bone in pugs. The bone may deteriorate because of a low blood supply, which can cause discomfort and limping. Legg-Perthes disease often manifests in young puppies and is treatable by surgical removal of the damaged bone.
It will be partially replaced by new tissue, creating a "false" hip joint. Fortunately, your dog will quickly recover after surgery and be back to their normal, pain-free self with a little rehabilitation.
How Do I Know if My Pug is in Pain?
Here are five typical symptoms that your dog may be experiencing discomfort:
1. Aggressive or Antisocial Behavior
Dogs may become hostile, try to avoid contact, or even stop rushing to welcome you at the entrance. It may be a sign that your dog is in pain if they withdraw or act in an especially antisocial manner. Any discernible alteration in behavior should raise suspicions.
2. Changes in Routine Habits
When a dog is in discomfort, they tend to sleep more because they may be attempting to recover or it may be challenging for them to walk and be active. Common symptoms include a lack of appetite and obvious variations in how much water they're consuming. Eating difficulties, especially with dry foods or tough chews, might be a sign of oral discomfort.
3. Being More Vocal
Pain-affected dogs frequently bark more loudly. If your dog is excessively yelping, growling, snarling, or even wailing, it may be a sign that something is wrong.
4. Excessive Grooming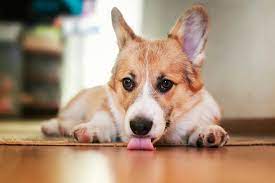 Your pet may be attempting to calm itself if they are continuously licking its paws. When a dog gets injured, one of its first instincts is to lick the wound and treat it. While cuts are more apparent, pain can also occasionally be internal.
5. Prolonged Panting or Irregular Breathing
It's normal to pant. A dog that hasn't been exercising but is panting profusely is a warning sign, though. Additionally, shallow breathing may make it uncomfortable to breathe in.
6. Mobility Issues
Two of the most apparent indications of pain in dogs are stiffness and limping, which are probably brought on by trauma, painful paws, or even arthritis. It's possible that your dog is hesitant to climb stairs or that he stands up unusually slowly. This may also start showing up as a decrease in interest in physical activity or even less regular activity.
7. Signs of Agitation
In dogs, restlessness is a sign of discomfort. There could be a problem if your dog is frequently pacing back and forth, having trouble getting comfortable, or sleeping much less.
8. Changes in Body and Posture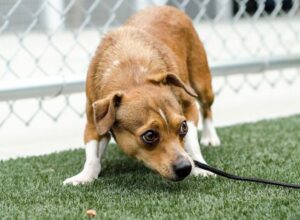 Some dogs adopt a stiff, hunched posture when in discomfort, while others adopt the "praying" position with their front legs on the floor and their bottom in the air. When they have stomach pain, dogs frequently assume the "praying" position because it enables them to stretch out.
Frequently Asked Questions
Is it cruel to own a Pug?
Some would argue that Pugs are no longer comparable to other dog breeds in terms of their health. It's important to work with your veterinarian to keep your Pug as comfortable as possible.
How long do Pugs live?
The life expectancy of a Pug is 13 to 15 years.
What is the most common cause of death in Pugs?
Pugs most often die due to neurological disorders or cancer.
Conclusion for "Are Pugs In Constant Pain"
Pugs have numerous health issues that predispose them to a lifetime of suffering. When adopting a Pug, it is important to keep these potential issues in mind and to make sure that the Pug is acquired from a responsible breeder.
If you find this guide, "Are Pugs In Constant Pain," helpful, check out these articles:
You learn more about Pugs by watching "Pug Pros and Cons (A Must Watch for New Potential Pug Owners)" from AnimalWised down below:
Garrett loves animals and is a huge advocate for all Doodle dog breeds. He owns his own Goldendoodle named Kona. In addition, he volunteers at the Humane Society of Silicon Valley, where he fosters dogs and helps animals. Garrett enjoys writing about Doodles and believes that dogs can teach humans more about how to live than humans can teach a dog.
Why Trust We Love Doodles?
At We Love Doodles, we're a team of writers, veterinarians, and puppy trainers that love dogs. Our team of qualified experts researches and provides reliable information on a wide range of dog topics. Our reviews are based on customer feedback, hands-on testing, and in-depth analysis. We are fully transparent and honest to our community of dog owners and future owners.