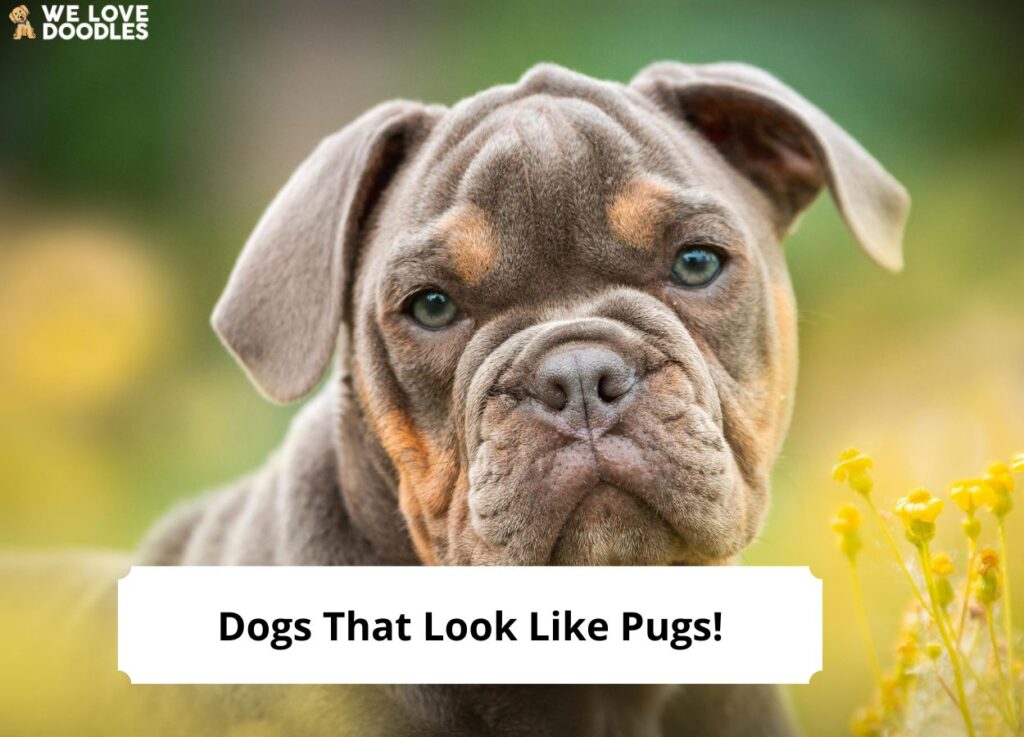 Today we are going to talk about dogs that look like Pugs. Pugs are an infamous breed of dog because of their unique appearance. They have big, round eyes, short, stunted noses, and adorable curly tails. Some people think that pugs look like they have been squished, which just adds to their charm.
However, some people and organizations claim that the breeding of pugs is unethical because they are bred in a way that makes them "cute" but contributes to labored breathing and eye infections.
But while pugs are undoubtedly unique, numerous other dogs resemble them in one way or another and may also be more aligned with your ethical preferences.
So without further ado, here are 15 dogs that look like pugs.
Before scrolling down this list of dogs that look like Pugs, you can check out these other guides: Dog Breeds That Look Like Ewoks and Dog Breeds That Look Like Polar Bears.
1. Boston Terrier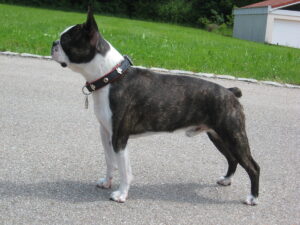 Boston Terriers got their name from where they originated — in Boston, Massachusetts. Boston Terriers have similarly stubby noses as pugs but not as stubby and have equally big, hyper-adorable eyes that make you want to squish their little faces. They are also known for being very friendly and good dogs for families with children.
Plus, if you'd appreciate a more energetic dog, then a Boston Terrier will be more in line with your wishes than a pug, which is usually a bit more easygoing or sluggish.
2. Miniature Shar-pei
Miniature Shar-pei dogs have a similar light brownish color or cream color as popular pugs, but they are more wrinkly, which makes them exceptionally endearing.
They have numerous skin folds that make them appear similar to pugs, and they are also a bit more muscular, so if you think pugs are too skinny, a Miniature Shar-pei may be a good alternative.
3.

Cavalier King Charles Spaniel
Cavalier King Charles Spaniels are among the most popular dogs in the United Kingdom and have been for centuries, deeply connected to the UK's royal history. They are also prevalent in the United States.
This breed's big, brown eyes and long, floppy ears make them look like pugs in some ways, and their coats can be in various colors, including black, tan, and ruby.
Cavalier King Charles Spaniels are bred for their temperament. These dogs are known to be very gentle, loving dogs that make great pets due to their loyalty, playfulness, love of the outdoors, and overall devotion.
Plus, they are just too charming to resist!
4. Affenpinscher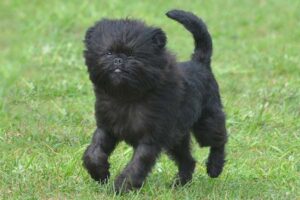 If you admire the squished, small face on a pug, you'll likely appreciate similar features on an Affenpinscher, a German and French breed.
Affenpinschers don't look like pugs in their body or coat but have cute faces and similarly cheeky dispositions.
They are also known to be very intelligent dogs that are easy to train and make sturdy reliable companion dogs. They don't need a lot of exercises, which is good news for those who live in apartments or small homes.
5. Shih Tzu
Shih Tzus are a popular breed of dogs because they are incredibly cute, look like little lions when their fur is short, and have seemingly hypoallergenic fur (although the evidence of fully hypoallergenic breeds remains inconsistent).
In any case, Shih Tzus can often have long, flowing coats that may be difficult to maintain if you are not used to dogs with longer hair. But if you can look past the coat management or love them just the same with consistent trims, you'll benefit from their loving nature.
They adore attention, so a family that loves little dogs is precisely where a Shih Tzu belongs.
6. French Bulldog
French Bulldogs are similar to pugs in many ways, but they have a certain "je ne sais quoi" that sets them apart, making them even more lovable to some people.
They have large, bat-like ears that sit high on their head and a smooth, short coat that comes in various colors. They are also very muscular dogs and have a similar body shape to pugs.
But the most glaring similarity is in their facial features. French Bulldogs have big, bold, glaring eyes that are hard to turn away from and short, squishy snouts that give them a permanently confused yet highly endearing appearance.
They make great companion dogs and are known to be very loving, affectionate, and devoted to their families. French Bulldogs also typically get along well with other dogs and animals, which makes them great additions to any home.
7. Small Brabant
The Small Brabant breed is often confused for a pug because of their small size, similar nose, and big, round eyes. However, they are a very rare breed and are not often seen in the United States.
They are, however, very popular dogs in their native Belgium, originally bred as gun dogs. Small Brabants are incredible pets for people looking for smart, confident dogs with relatively long life expectancies and lightweight bodies.
However, these dogs are known for being on the strong-willed side, so don't expect taking care of one to be easy! But it'll surely be worth it.
8. Pekingese
Pekingese dogs are one of the most Ancient breeds of dogs in existence, with a long and royal history. In fact, they were once only owned by China's Imperial family members.
Nowadays, however, they are popular dogs worldwide for their pug-like small size, big eyes, and lovable nature. Like many other breeds on this list, Pekingese dogs are known to be very devoted and loving dogs that make great companions.
Another way in which they are similar to dogs is that they tend to steer clear of too much exercise or hot weather because of their short noses. So, if you live in a hotter climate, this may not be your best dog breed.
9. Japanese Chin
You may be surprised to see Japanese Chin on this list because, from a distance, they look nothing like pugs. They have longer, stringier hair, thinner legs, and bodies shaped more like a rectangle than a ball.
But when you look at their faces, it's easy to see the similarities. They have big, bold eyes, short noses, and big heads in proportion to their bodies.
Japanese Chin is another type of royal dog, similar to the Pekingese and Cavalier King Charles Spaniel. But unlike those breeds, they tend to be a bit rowdier. However, they are still lovable and devoted.
Most likely, they get away with being rambunctious due to their charming, easy-to-forgive faces!
10. Chihuahua
Chihuahuas are the smallest dog breed. So if you're obsessed with pugs due to their adorable, miniature size, then a Chihuahua may be the perfect dog for you.
They have big, round eyes, pointy ears, smooth snouts, and a lot of character. Chihuahuas are known for being fiercely loyal to their owners, and they make great companion dogs.
They are, however, one of the more high-maintenance dogs on this list. They require a lot of socialization as puppies, or they can become aggressive, especially if they believe they are protecting their owners. And because of their small size, Chihuahuas are also more prone to injury.
So if you're considering getting a Chihuahua, be sure to do your research first!
11. Pomeranian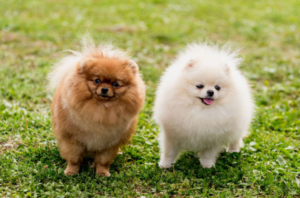 A Pomeranian doesn't have as squished of a face as a pug — which many people feel is an excellent factor — but still has a similar compact size and charming demeanor.
Suppose the appeal of getting a pug has a unique-looking dog. In that case, a Pomeranian may be your next best bet — especially one with a particularly riveting eye color like blue, cream, green, or even orange.
Additionally, they are related to sled dogs from the Arctic but sport a more miniature size.
Sure enough, this dog will have no problem standing out from the crowd.
12. English Bulldog
Like the French Bulldog, the English Bulldog shares many pug-like qualities: a big head, a small body, a short snout, and round eyes. They are a big dog that looks like a pug.
There are, however, some key differences. For starters, English Bulldogs tend to be larger than French Bulldogs and Pugs. They also have longer legs, longer heads, and chubbier bodies.
And while they can be great dogs for city-dwellers, they require a bit more maintenance than other breeds. For example, they are a bit more prone to health problems and require special care regarding their diets and exercise.
Plus, unlike many dogs on this list, you wouldn't consider an English Bulldog even close to a lapdog!
They aren't the easiest to pick up, so an English Bulldog might not be the best choice if a small size is essential to you.
13. Dogue de Bordeaux
Another larger dog that looks like a Pug only in terms of its face and color is the Dogue de Bordeaux.
They are large and in charge, weighing up to 140 pounds and carrying loads of muscle mass.
But regardless of their massive bodies, they also tend to have very sweet dispositions that make them a well-rounded choice suitable for families, couples, or individuals.
If you want a strong and mighty dog with an endearing and lovable face, then a Dogue de Bordeaux should be high on your list!
14. Staffordshire Bull Terrier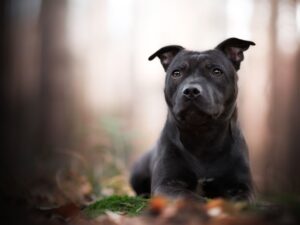 When people talk about a dog being a man's best friend, the Staffordshire Bull Terrier is often the breed that comes to mind. They are strong, loyal dogs that have been used as working dogs for centuries.
A Staffordshire Bull Terrier's build is similar to that of a Pit Bull, but they are smaller in size and have a pug-like face complete with "puppy dog" eyes and a shorter snout.
Staffordshire Bull Terriers make great dogs for active people because of their impressive athleticism and love of the outdoors.
15. Tibetan Spaniel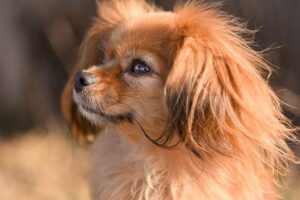 Last but not least is the Tibetan Spaniel, a fluffy, ancient breed with a silky coat but a Pug-like face and charm.
People tend to appreciate Pugs for being great apartment dogs, but if you're looking for an alternative, Tibetan Spaniels are another excellent option.
They don't need a lot of exercises and are very content to lounge around the house all day — although they still have plenty of spunk when it's time to play.
Tibetan Spaniels are also known for being very affectionate, so they are some of the best dogs that look like pugs for people who love to cozy up with their pups.
Conclusion

For "Dogs That Look Like Pugs"
Although Pugs have a unique and distinct appearance, there are several dogs that look like Pugs in various ways.
Some dogs have similar squished-up faces, while others have small round bodies, and others still have a similar energy level and personality.
If you love Pugs or have considered getting or breeding one but wanted to know what some viable alternative options might be, we hope this article helped you out!
Remember, there are lots of dogs that look like Pugs — it's just a matter of finding the right fit for your location, lifestyle, budget, family-dynamic, and overall preferences.
For more guides similar to this list of dog breeders that look like Pugs, you can check out:
You can learn more about what dogs look like celebrities by watching "Animals That Exactly Look Like Celebrities And Famous People" down below:
Garrett loves animals and is a huge advocate for all Doodle dog breeds. He owns his own Goldendoodle named Kona. In addition, he volunteers at the Humane Society of Silicon Valley, where he fosters dogs and helps animals. Garrett enjoys writing about Doodles and believes that dogs can teach humans more about how to live than humans can teach a dog.
Why Trust We Love Doodles?
At We Love Doodles, we're a team of writers, veterinarians, and puppy trainers that love dogs. Our team of qualified experts researches and provides reliable information on a wide range of dog topics. Our reviews are based on customer feedback, hands-on testing, and in-depth analysis. We are fully transparent and honest to our community of dog owners and future owners.