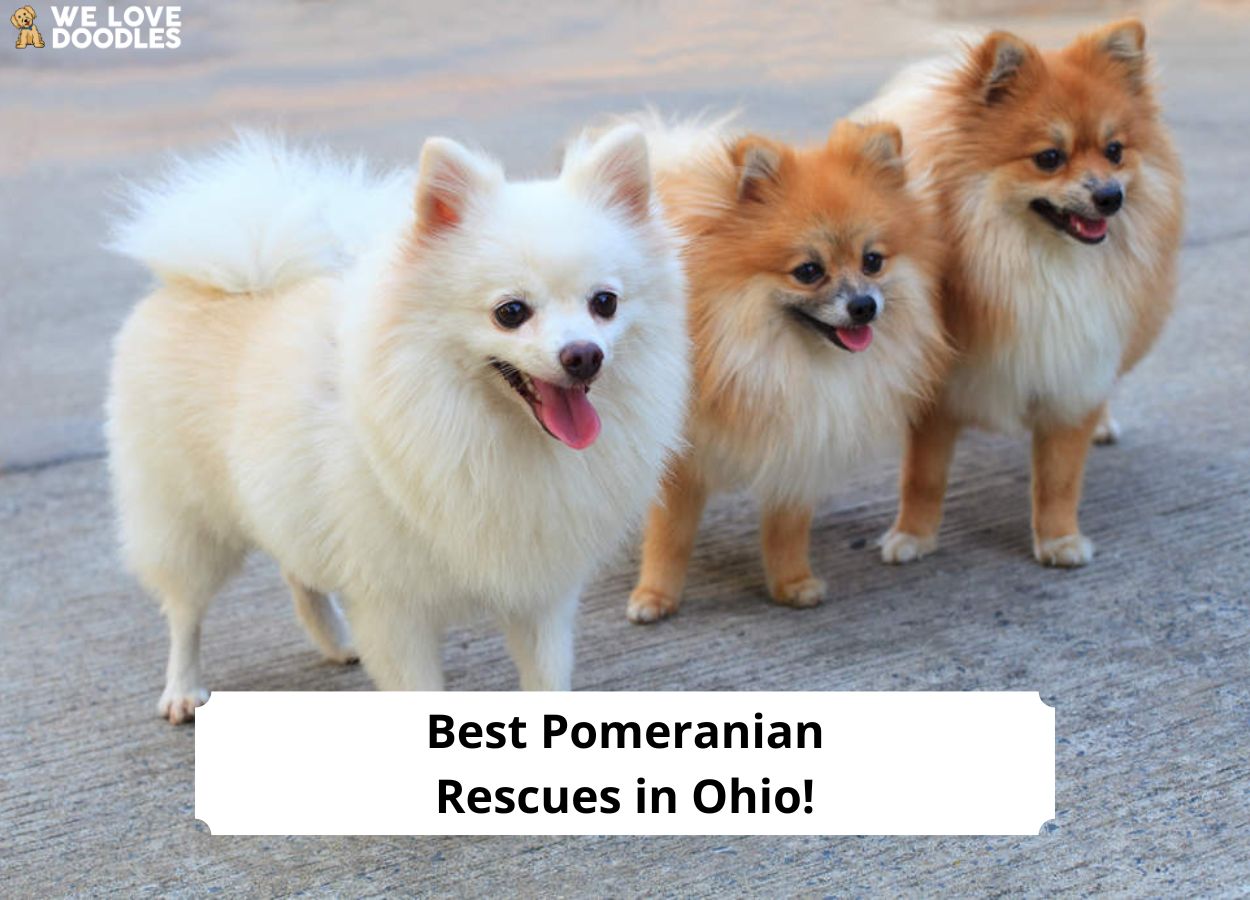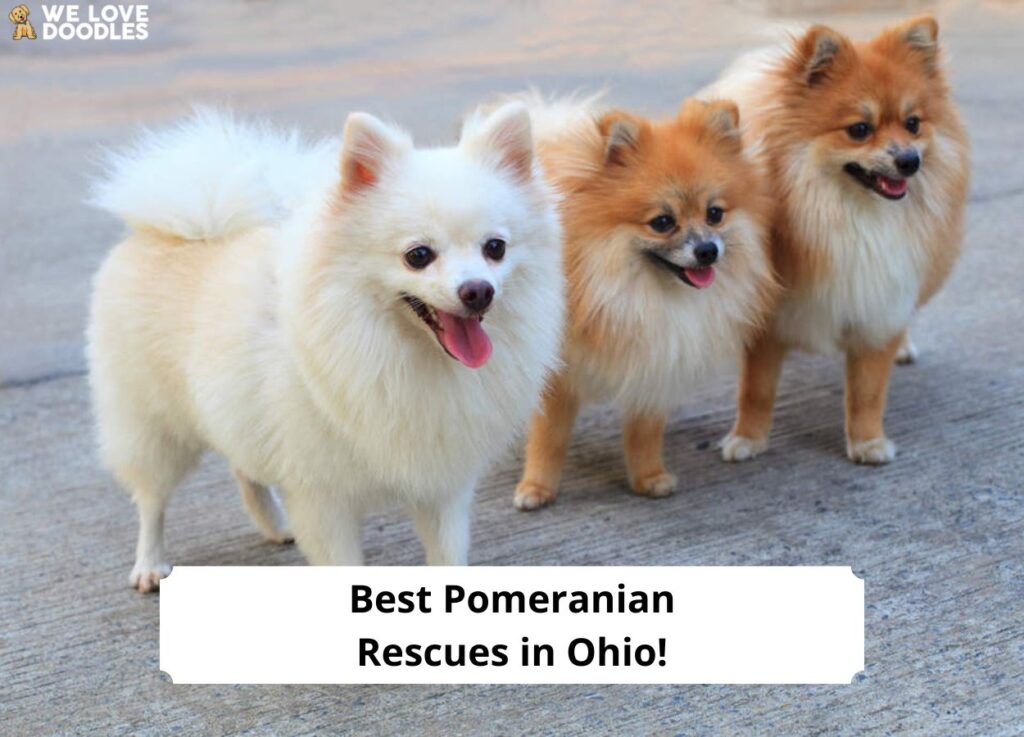 When looking for a Pomeranian rescue in Ohio, keep in mind that most dog rescues in Ohio are not specific to the Pomeranian breed. The most important thing, however, is that they are dedicated to the well-being of these fluffy companions. These rescues provide an array of services, such as food, grooming, and spaying/neutering, to ensure the animals can live healthy and happy lives.
Additionally, rescues help with adoption services so these loving dogs can find their forever homes. These organizations give dogs the care they need and provide resources for families who are looking for a furry addition.
Additionally, this blog post includes research to help you find a dog rescue organization near you. One of them may have the perfect fur baby for you. This article should bring confidence that you are making the best decision in finding a Pomeranian rescue.
Before reading this list of Pomeranian rescues in Ohio, check out these dog-related articles from our team at We Love Doodles: Best Small Dog Rescues in Michigan and Best Chihuahua Rescues in Ohio.
1. Pawsitive Hearts
Pawsitive Hearts is a 501c3 non-profit organization that rescues dogs in danger of euthanasia. This Zanesville, Ohio, organization has been rescuing animals for over four years and has saved almost 300 animals so far. In addition, they provide foster services to help care for the animals until they can find their forever homes.
The mission of Pawsitive Hearts is to nurture compassion for animals through rescue services, community education, and pet therapy services to local organizations. They also have a special community called Project Paws, where people can subscribe and commit to helping the organization.
Pawsitive Hearts also offers pet therapy services to local organizations in order to bring comfort and joy to those who need it most. By providing these services, they are able to spread awareness about animal welfare. This expereince also creates meaningful connections between people and pets.
If you're looking for an amazing way to give back or just want to help out some furry friends, consider donating or volunteering. Learn more about their mission on their website or follow them on social media for updates on their current projects.
Pawsitive Hearts Details:
2. Joseph's Legacy
Joseph's Legacy is a non-profit animal rescue organization located in Middletown, Ohio. Founded in 2017, the organization strives to provide hope and respect for all animals. They are a foster-based rescue that works to educate the public about the reality of animal welfare and the lack of awareness.
The organization helps find homes for homeless animals and advocates for those that have been neglected or abused. They also work to promote compassion and understanding toward animals. The organization has a variety of policies in place to ensure that all animals are treated with respect and given the best possible care.
At Joseph's Legacy, they believe that every animal deserves a chance at a better life. They strive to provide the best possible care for their rescues and make sure they are placed in loving homes. The organization also works hard to raise awareness about animal welfare issues and encourages others to be more compassionate towards animals.
If you're looking for a way to make a difference in the lives of animals, consider donating your time or money to Joseph's Legacy. Your support will help them continue their mission of providing hope and respect for all animals.
Joseph's Legacy Details:
3. Sierra's Haven For New & Used Pets
Since 2006, Sierra's Haven for New & Used Pets in Portsmouth, Ohio, has been devoted to rescuing animals and finding them safe, loving homes. Located in the heart of Appalachia, this animal shelter is a beacon of hope for animals in need.
Sierra's Haven works with local veterinarians to provide spay/neuter services for cats and dogs, as well as Trap-Neuter-Return (TNR) programs for feral cats. They also offer pet adoption services and foster care programs. These programs are designed to help reduce the number of homeless animals in the area and ensure that every pet finds a loving home.
The staff at Sierra's Haven is passionate about its mission to make the world a better place. They strive to create an environment where all animals are respected and cared for with compassion and kindness. They believe that every animal deserves a chance at a happy life, and they work hard to fulfill their mission.
At Sierra's Haven, they understand that adopting an animal is not only a big commitment but also an important decision. That's why they take the time to get to know each potential adopter so they can match them with the perfect pet for their lifestyle and needs.
If you're looking to rescue a Pomeranian in Ohio or just want to help out your local shelter, Sierra's Haven is always looking for volunteers who can donate their time or resources.
Sierra's Haven For New & Used Pets Details:
4. Multiple Breed Rescue
Multiple Breed Rescue in Grafton, Ohio, is a registered non-profit 501(c) 3 organization that has been rescuing animals in need since 2006. This incredible organization has saved over 2,000 dogs and 200 other animals from shelters and puppy mills.
They are dedicated to educating the public on pet overpopulation and the humane treatment of animals in Ohio. They also take in dogs from kill shelters who may not have had a chance otherwise.
One of the many amazing stories from Multiple Breed Rescue is about Zeke, an 8-year-old German Shepherd/Lab mix who was dropped off at a shelter by his prior owners claiming he was a stray. Fortunately, Multiple Breed Rescue was able to take him in and give him the love and care he deserved.
At Multiple Breed Rescue, all adopters must fill out an application before being approved. The process is designed to ensure that each animal finds the perfect home for them where they will be loved and cared for properly.
The organization also has a photo album of current adoptable pets on its website, which showcases some of its rescued animals that are looking for homes. It's a great way to learn more about the different breeds they have available and find your perfect match.
If you're looking for a Pomeranian in Ohio or just want to help out this amazing cause, consider donating or volunteering with Multiple Breed Rescue.
Multiple Breed Rescue Details:
5. Maumee Valley Save-A-Pet
Maumee Valley Save-A-Pet passionately advocates for the welfare of companion animals. They believe that all animans should all have a committed and loving home. Located in Toledo, Ohio, this non-profit organization strives to provide permanent homes where pets can thrive.
This organization works to rescue stray and abandoned animals, provide care in foster homes until a permanent home can be found, and promote responsible pet ownership. Maumee Valley Save-A-Pet hosts an annual rummage and book sale located at the old Media Play store on Monroe Street near Target. They also have an active presence on social media, where they post updates about their adoptable animals and upcoming events.
Maumee Valley Save-A-Pet is teaming up with the Toledo Humane Society to provide loving homes for hundreds of dogs, kittens, cats, puppies, and even pocket animals that are desperately seeking their forever homes.
If you're looking for a new pet or would like to support this great cause, visit Maumee Valley Save-A-Pet's website or social media pages to learn more about what they do and how you can get involved.
Maumee Valley Save-A-Pet Details:
6. Columbus Humane
Columbus Humane in Hilliard, Ohio, has been advancing animal welfare since 1883. With over 8000 animals and thousands of people helped annually, Columbus Humane is dedicated to finding adoptable animals their forever homes. For the sheer volume of animals that come through, it would be a great place to rescue a Pomeranian in Ohio.
At Columbus Humane, you can find cats, dogs, rabbits, and pocket pets available for adoption. They also have a team of humane agents who investigate animal cruelty cases and provide resources to help prevent it from happening in the future. Additionally, they offer a STEPS volunteer program which provides training and support for volunteers interested in helping at the shelter.
Columbus Humane is an excellent resource to search for a Pomeranian to add to your family or to help out with animal welfare efforts in the area. Follow them on social media for updates on adoptable animals and events.
Columbus Humane is committed to making sure that all companion animals are safe, loved, and have permanent homes. It's a fantastic organization that makes a real difference in the lives of animals throughout Central Ohio. Visit their website to learn more about their mission.
Columbus Humane Details:
FAQs
Can you adopt a Pomeranian?
You can adopt a Pomeranian from a rescue or shelter. Start by looking at local dog rescues to see if there are any Pomeranians currently available. Also look for Pomeraniean-specific rescues and small dog rescues.
What do you need in order to adopt a dog in Ohio?
Each dog rescue organization will have different requirements for dog adoption. Review their websites or call in advance to each organization you're considering.

Some shelters requrie an application in advance, which is typically a questionnaire about what kind of dog you want and how you plan to care for it. Others require fenced in yards, room in your home for your new dog, references, and more.
How much does it cost to adopt a dog in Ohio?
Dog adoption in Ohio costs at least $200-$300, but often costs more. Some more expensive dog adoptions can cost $600. These costs typically cover at least vaccinations, spay and neuter, and their needs while at the shelter.

Most rescues have a predetermined fee in the lower range. However, some take into account any surgeries or extensive healthcare costs that individual animals required. Contact the animal resuces in advance to discuss the cost and requirments of adopting animanls.
Conclusion For "Best Pomeranian Rescues in Ohio"
Thanks to the amazing organizations, dogs throughout Ohio are able to find help, health, and homes. If you're looking for a Pomeranian rescue in Ohio, review your nearby pet rescues regularly by following their social media and websites.
Adopting a Pomeranian from a pet rescue is an incredibly rewarding experience. When you find that sweet Pomeranian at a shelter that is right for you, it will be the best companions. Shelter dogs are so happy when they find their forever home and get a second chance at life.
For more guides similar to this list of Pomeranian rescues in Ohio, you can check out these other dog-related recommendations from our team:
Before you adopt a Pomeranian from a rescue in Ohio, learn more about this dog breed by watching the "8 Things You Must Never Do to Your Pomeranian" below:
Garrett loves animals and is a huge advocate for all Doodle dog breeds. He owns his own Goldendoodle named Kona. In addition, he volunteers at the Humane Society of Silicon Valley, where he fosters dogs and helps animals. Garrett enjoys writing about Doodles and believes that dogs can teach humans more about how to live than humans can teach a dog.
Why Trust We Love Doodles?
At We Love Doodles, we're a team of writers, veterinarians, and puppy trainers that love dogs. Our team of qualified experts researches and provides reliable information on a wide range of dog topics. Our reviews are based on customer feedback, hands-on testing, and in-depth analysis. We are fully transparent and honest to our community of dog owners and future owners.