Looking for the best Labrador breeders in the UK? We're here to help. Labrador puppies are a loyal, patient, and loving breed that comes in a variety of colors from black to yellow and chocolate. There are also typically two different types of Labradors – the show dog along with the working dog. Make sure that you've read up on both breeds and have an understanding of which breed you would like for your home.
If you live in the UK and would like to buy a Labrador puppy, it's crucial that you're purchasing your Labrador from a reputable breeder. Purchasing from a responsible breeder will not only ensure that your puppy is taken care of in its early weeks, but it will also mean that you're bringing home a puppy that's both happy and healthy.
You'll typically also get some tips from the breeder and in some instances, you might even get a puppy pack with everything you need to get started. Make sure that you avoid puppy mills as they tend to produce unhealthy dogs with undesirable temperaments. Ask every potential Labrador breeder in the UK for health warranties, health checks, and make sure that you see the puppies in person before putting down a deposit. With that being said, here are the 8 best Labrador breeders in the UK that we could find.
Other articles you would like: Malinois Breeders in the UK and Goldendoodle Breeders in the UK.
1. Crammondkirk Labradors UK
Crammondkirk Labradors pride themselves on breeding Labrador puppies in the UK that are healthy and have a good temperament. All Labradors hold clear eye certificates and are both hip and elbow scored. It is possible to reserve a puppy in advance by being added to the waiting list, and their website also showcases the various dogs that they have along with testimonials.
With Crammondkirk Labradors, they also provide a puppy checklist with all of the things that you will need for your new Labrador puppy. You will also be given a bag of food with your new puppy along with four weeks of free insurance with Petplan. Their website is incredibly comprehensive with plenty of information on the breed, their litters, puppy information and so much more.
Labrador Breeder Details
2. Lynsted Labs
A family-run business based in Kent, Lynsted Labs specializes in providing the best quality Labrador puppies. They breed numerous breeds of Labradors from those that are chocolate-colored to those yellow, black, and more. All of their Labradors run free around the gardens and they are also brought up in a family environment with children and other animals. Lynsted Labs also works with Kent K9 Training to help with reinforcing training and good behavior.
All of the Labradors are microchipped and they also have some information on their Stud Dog. If you would like a KC registered puppy, Lynsted Labs also has that option. They also accept credit and debit card payments and can be contacted via phone and email. With Lynsted Labs, their Labrador puppies for sale in the UK are also perfect companions for individuals that have ASD.
Labrador Breeder Details
3. Poolehall Labradors United Kingdom
Poolehall Labradors have over 20 years of experience in breeding Labradors and they were also one of the first accredited breeders. They hip score, eye test, and elbow test all of their Labrador Retriever puppies for sale in the UK, and have images of the puppies that they have bred over the years. With their Labradors, they also have gun dogs and guide dogs.
They do their best to breed dogs that have a good temperament, and you're free to head to where they are to meet the dogs. All of the puppies are well-socialized and are brought up in a family environment.
Labrador Breeder Details
4. Fenway Labradors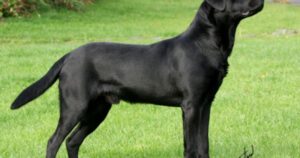 Fenway Labradors has been breeding Labradors for over 40 years and all of their Labradors undergo full health screening for hips, elbows, eyes along with DNA testing. They focus on producing healthy Labradors with wonderful temperaments and have a list of the dogs that they breed with on their website. If required, they also provide one-to-one gundog training sessions.
They take great effort in ensuring that their litter of puppies are happy and healthy, and Fenway Labradors has an excellent reputation both in the United Kingdom as well as abroad. Their Labrador puppies for are exported across the world and Fenway Labradors takes the greatest care and attention to ensure the highest possible standard of welfare for all puppy exports.
Labrador Breeder Details
5. Jimjoy Labradors
Jimjoy Labradors are established breeders of black, yellow, and chocolate Labrador Retriever puppies for over 50 years. All of their puppies are of superb quality and are free to roam around the property and even go swimming in a spring-fed pool. Their Lab puppies are introduced to other animals at an early age and are kept in impeccable conditions.
All of their breeds are carefully selected from specific bloodlines and their Labrador puppies in Shatterford, United Kingdom, also have a health check before they go to their new homes. After you have chosen your puppy, you will be given a copy of their booklet so that you can prepare any queries that you may have before visiting the puppy. Jimjoy Labradors has plenty of comments and testimonials from various owners that you are more than welcome to read through as well.
Labrador Breeder Details
6. Willowtimle Labradors UK
Willowtimle Labradors breeds Labradors of all colors from fox-red to white, black, and more. They strive to maintain excellent standards and welcome visits to view puppies. All of their Labrador puppies for sale in the UK leave with not only a puppy information pack but also puppy food, a certificate indicating that the puppy has been vet checked, and five weeks of free insurance.
The website has complete information on all of their dogs along with testimonials and everything you need to know about their recent and future litters. The cost of a Labrador Retriever puppy is 3,000 pounds including VAT and they come from fully health tested parents. What's unique about Willowtimle Labradors is that they welcome all puppies that have been bred by them if you plan on going on holiday.
Labrador Breeder Details
7. Tregearvean Labradors United Kingdom
At Tregearvean Labradors, they are committed to ethical breeding and ensuring that the puppies that they breed live full and complete lives. They are also committed to improving the genetics of their Labrador line and use both selective breedings along with up-to-date DNA testing regimes.
They have testimonials on their website along with information pertaining to their current litters and are Assured Kennel Club breeders of Labradors. If you have an inquiry, don't hesitate to get in touch via their website as they respond to every question. They also provide a good amount of information about the breed. They predominantly breed chocolate Labrador puppies in the UK if that is what you're looking for.
Labrador Breeder Details
8. Glasybont Gundogs UK
At Glasybont Gundogs, they are one of the UK's leading Labrador specialists and have multiple generations of breeding lines. They also use the latest genetic testing and vet services and train based on traditional techniques. They have comprehensive information on all of their dogs on their website, and also provide information on their upcoming litters.
If you are new to Glasybont Gundogs, there are comprehensive videos available on their website to provide you with more information on what they do. They also have a blog on gundog nutrition, which is incredibly helpful. Glasbont Gundogs is a five-star licensed breeder by Herefordshire council and they have a 300-acre site to provide their dogs with the highest level of enrichment from exercise, to health, training, and more.
Labrador Breeder Details
Conclusion for Labrador Breeders In The UK
There are plenty of reputable Labrador breeders available in the UK – no matter the color that you're looking for.
When selecting your breeder, you'll want to make sure that you have the option to view both parents, have a good look at their home environment, and always ensure that they have the necessary paperwork. Breeders should also be interested in knowing your home environment and the lifestyle that you lead.
Responsible breeders will also work very closely with their dogs and will have a good understanding of the personality and temperament of each of their dogs. They should also have high-quality dog food, supplies, and equipment on-site.
With puppies becoming more and more popular, it's crucial to avoid puppy mills – places that breed puppies quickly and not in the best conditions and select a responsible breeder. This will ensure that you've got a healthy and happy puppy, and will also allow you to contact the breeder in case you run into any issues.
Other articles you would like:
Garrett loves animals and is a huge advocate for all Doodle dog breeds. He owns his own Goldendoodle named Kona. In addition, he volunteers at the Humane Society of Silicon Valley, where he fosters dogs and helps animals. Garrett enjoys writing about Doodles and believes that dogs can teach humans more about how to live than humans can teach a dog.
Why Trust We Love Doodles?
At We Love Doodles, we're a team of writers, veterinarians, and puppy trainers that love dogs. Our team of qualified experts researches and provides reliable information on a wide range of dog topics. Our reviews are based on customer feedback, hands-on testing, and in-depth analysis. We are fully transparent and honest to our community of dog owners and future owners.