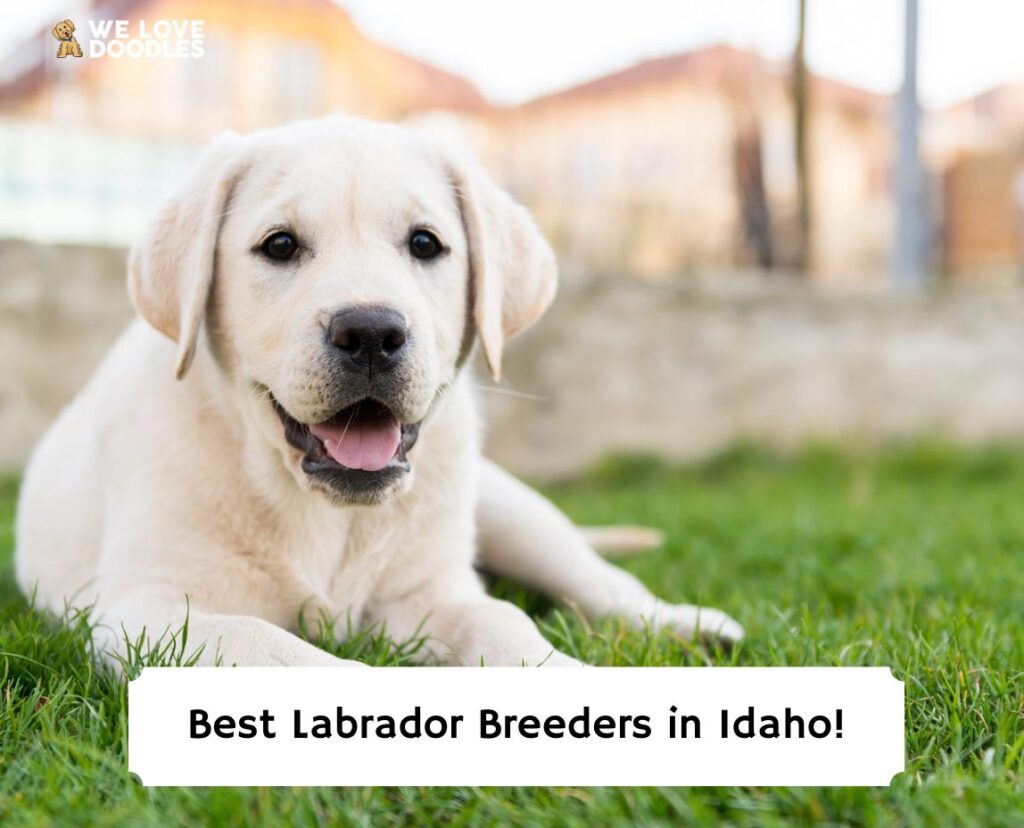 You've come to the right place if you're looking for breeders with Labrador puppies in Idaho. Floppy-eared, cheeky-faced, all packaged in an "I-love-the-whole-world" personality. It is no wonder the Labrador Retriever is the undisputed number 1 breed in the United States, firmly entrenched in the top spot since 1991.
They are known for their loyalty, intelligence, and friendly personality. Labs were originally bred in Newfoundland, Canada, to help anglers with their work. Today, they are popular family pets and working dogs.
Before scrolling down this list of breeders with Labrador puppies in Idaho for sale, you can check out these other recommendations from our team at We Love Doodles: Best Dog Breeders in Idaho and Best Poodle Breeders in Idaho.
Best Labrador Breeders in Idaho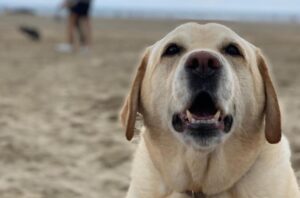 These friendly canines are the most popular breed for a reason – Labrador Retrievers are impossible to dislike. Friendly, affectionate, and not prone to aggressive tendencies, Labrador Retrievers would sooner hug a burglar than bark a warning. However, like many media to large dog breeds, Labs come with various genetically predisposed diseases such as obesity and bloat.
While a well-bred Lab can be a stable, healthy dog, a badly bred Labrador Retriever can come with many health problems that can lead to loads of vet bills and potential heartache down the road. If you are looking for a breeder of the hugely popular Labrador Retriever in Idaho, we've done the hard work for you and are happy to bring you some of our favorites.
Labrador Product Recommendations: Best Dog Football Toys and Shock Collars For a Biting Puppy.
1. PuppySpot's Labrador For Idaho
First on the list of the best Labrador breeders in Idaho is PuppySpot. This organization partners with carefully screened breeders to bring you the best puppies in the nation. When you buy a puppy from PuppySpot, you can rest assured that you'll get a happy, healthy canine companion.
They have placed more than 200,000 puppies in their forever homes and have 11,000 5-star reviews from happy Labrador pet owners. Each Labrador puppy listed on the PuppySpot website undergoes a Vet Health Check. During this health check, a licensed, third-party veterinarian examines the puppy's eyes, ears, nose, mouth, digestive tract, musculoskeletal structure, skin, and coat to ensure they don't have any infectious illnesses or hereditary diseases.
PuppySpot also requires breeders to keep their puppies updated on all vaccinations and dewormings and offers a 10-year health guarantee against any genetic disorders. Each puppy sold through PuppySpot comes with a copy of their Vet Health Check results, a certificate of good health, vaccinations and dewormings, AKC limited registration papers, AKC Reunite papers, entrance to all AKC events, and a 10-year health guarantee against genetic illnesses.
PuppySpot understands getting your new Labrador puppy home safely is a top priority for all pet owners. To help alleviate the stress of bringing your Labrador puppy home, this organization provides transportation through its private services to most locations across the country. They have many options, including pick-up at their headquarters, meeting at the airport, or even dropping off at your door.
PuppySpot Details
2. Spirit Labradors
Are you looking for Lab puppies for sale near Idaho Falls? Spirit Labradors are located in Rexburg, Idaho, a mere 30-minute drive from Idaho Falls. Spirit frequently has AKC-registered Labrador Retriever litters in attractive colors such as yellow and chocolate.
All of the Labrador puppies have been declawed and kept up to date on their vaccination schedules. They're bred and raised with great care and have grown up to be amazing assistance dogs, family members, and excellent hunters, thanks to their year-round training.
All Spirit Labrador puppies come with an elbow, hip, and eye warranties, covering any genetic defect that precludes the animal from being certified by the Orthopedic Foundation for Animals (OFA). They also protect the puppies from EIC (Exercise-Induced Collapse) and CNM.
Spirit Labradors Details
3. North Idaho Antler Dogs
North Idaho Antler Dogs specializes in antler hunting canines that have been properly trained. Their Labs undergo broad nose and eye training programs to ensure their adaptability and family friendliness. Chocolate, black, white, fox red, and yellow Labs are among the AKC-registered puppies raised under strict guidelines and ample socialization.
The bloodlines have been employed in shed antler hunting, rescue and search, hunt and field trials, shed antler hunting, agility, dock jumping, therapy and obedience, detection, diving, and other applications. Contact North Idaho Antler Dogs immediately if you're looking for the working Lab puppies North Idaho offers.
North Idaho Antler Dogs Details
4. Kennel Up Idaho
Lab puppies galore at Kennel Up Idaho. They take pleasure in providing English Lab breeds that are hard to come by elsewhere. Because they are loved and cared for from birth, these Labs have amiable personalities and pleasant temperaments.
Kennel Up Idaho is a tiny hobby kennel that does not cut corners regarding the quality of its adored litter. They are champion lineage canines with the potential to become therapy and service dogs with proper training. Limited registration includes copies of the OFA-hip certification and one-year written health assurance against genetic abnormalities.
Kennel Up Idaho Details
5. Moon Creek Labradors
This is a 10-acre working family farm located at the foot of Soldier Mountain in Camas Prairie, where their attractive and healthy puppies enjoy hunting and playing. The breeding approaches of Moon Creek Labradors provide proven bloodlines with even temperament, perfect and aesthetically pleasing colors, good health, unique bone structure, and suitable coats, all of which match the AKC Labrador Retriever breed standard.
Moon Creek Labradors offer yellow, chocolate, and black Labrador puppies from champion pedigrees, all of them are born and socialized in the family home from day one.
Moon Creek Labradors Details
6. Idaho AKC Labs
Idaho AKC Labs is one of the most well-known of Idaho's many Labrador breeders. They're a tiny, family-run enterprise that specializes in raising Labrador Retrievers with exceptional hunting abilities. All puppies are AKC-certified and come with a diverse range of talents, allowing you to train and shape them into easy-going home companions and excellent service dogs.
Idaho AKC Labs Details
7. Top Gun Retrievers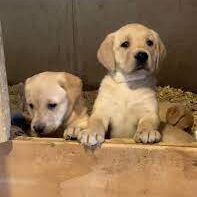 Top Gun Retrievers search for canines with the best pedigrees in the country, ensuring that these four-legged pals will excel in hunting and perform in any environment. They also run their Labrador Retrievers in hunt tests, earning titles to demonstrate that they are still carrying on the great all-around genetics of the ancestry from which they come.
All of their puppies have OFA (Orthopedic Foundation for Animals) certified hips, elbows, and OFA-certified eyes. They have been evaluated and cleared for inheritable diseases common in labs, such as EIC (Exercise Induced Collapse) and CNM (Canine Nephropathy) (Centronuclear Myopathy).
Top Gun Retrievers Details
8. Desert Creek Labs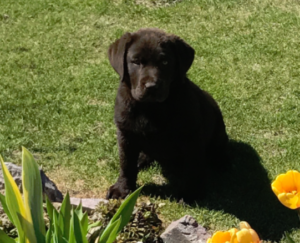 Desert Creek Labs is a family-run business that produces high-quality English Labradors for therapy dogs, hunting dogs, companions, and all-around family members. Desert Creek Labs' mission is to give the ideal family-friendly puppy to dog owners from all walks of life, including families with young children, individuals, and inexperienced dog owners.
Desert Creek Labs raises and breeds top-notch English Labradors with superb genetics, personalities, and temperament. With a limited number of puppies available, all their canines are from champion lines and come with a health guarantee. They are also very active on Instagram with adorable pictures of their puppies. You can check out their website for more details.
Desert Creek Labs Details
9. Copperwood Kennels
Last on the list of the best breeders with Labrador puppies in Idaho for sale is "Copperwood Kennels." AKC hunt tests and Bird Dog and Gun Dog training are the focus of this family-owned business. If you are looking for a working dog to do what they do best, Retriever, Copperwood is committed to breeding dogs with strong working drives, helping each puppy reach its full potential.
Because they feel that one-on-one time is critical in each dog's development and success, Copperwood Kennels have limited room. Copperwood Kennels' primary purpose is to match prospective dog owners with their appropriate puppy, helping its customers to help them achieve their puppy-related goals.
Copperwood Kennels Details
Potential Health Problems of Labrador Retrievers
Labrador retrievers are one of the most popular breeds of dogs worldwide, and for a good reason. They are friendly, outgoing, and intelligent dogs that make great family pets. However, like all breeds of dogs, Labradors can suffer from various health problems.
Dysplasia
One of the most common health problems seen in labradors is hip dysplasia. This is a condition where the hip joint does not form correctly and can cause pain and lameness. Hip dysplasia is thought to be genetic, so getting your dog from a reputable breeder who has health tested and OFA-cleared their dogs for this condition is important.
Closely related is elbow dysplasia. This is similar to hip dysplasia but affects the elbow joint instead. Elbow dysplasia can also cause pain and lameness and is thought to be genetic.
Obesity and Bloat
Labradors are also prone to obesity, so it is important to ensure they get plenty of exercises and are fed a healthy diet. Obesity can lead to several other health problems, such as joint problems, diabetes, and respiratory difficulties. Also, like any deep-chested dogs, Labs are prone to bloat, especially if they are hungry little gobblers that eat too fast.
Bloat, also known as gastric dilation-volvulus (GDV), is a potentially serious condition that can be fatal if left unchecked. If your Lab is a gobbler, use a slow feeder to increase the time taken per meal.
Eye Problems
Some Labs are prone to progressive retinal atrophy, a condition that leads to the slow degradation of the retina in the eye. It can start with night blindness, progress to limited vision, and finally to total blindness.
Conclusion For "Labrador Puppies in Idaho For Sale"
Loyal, affectionate, and generous – what's there not to like about Labrador Retrievers? If you are thinking of getting a Lab, good for you. We hope this list gives you a nice starting point in your hunt for your new best friend.
For more guides similar to this list of breeders with Labrador puppies in Idaho for sale, you can check out:
If you enjoyed this guide for breeders with Labrador puppies in Idaho for sale, you might want to take a look at the "10 Things Only Labrador Dog Owners Understand" video down below:
Garrett loves animals and is a huge advocate for all Doodle dog breeds. He owns his own Goldendoodle named Kona. In addition, he volunteers at the Humane Society of Silicon Valley, where he fosters dogs and helps animals. Garrett enjoys writing about Doodles and believes that dogs can teach humans more about how to live than humans can teach a dog.
Why Trust We Love Doodles?
At We Love Doodles, we're a team of writers, veterinarians, and puppy trainers that love dogs. Our team of qualified experts researches and provides reliable information on a wide range of dog topics. Our reviews are based on customer feedback, hands-on testing, and in-depth analysis. We are fully transparent and honest to our community of dog owners and future owners.