Are you searching for dog breeders in Idaho? If you live in Idaho and are thinking about adopting a new puppy into your family, you've come to the right place. Adopting a dog is a fun and exciting time, but it can also be confusing and overwhelming.
There are so many different breeders to choose from that sometimes it's challenging to know where to start looking. Luckily for Idaho residents, your state is home to some of the very best dog breeders around, so once you manage to narrow down your options you'll surely end up with the precious puppy you've always dreamed of.
Before scrolling down this list of dog breeders in Idaho, you can check out these recommendations from our team at We Love Doodles: Best Poodle Breeders in Idaho and Best German Shepherd Breeders in Idaho.
Puppies For Sale in Idaho
In this guide, we will cover the very best dog breeders in Idaho so that your search for the perfect breeder will be as easy as it can be. We spent a long time carefully researching all of the breeders in Idaho to find our very favorites. We only included breeders on this list known for their exceptional breeding practices and who have a long list of happy customers.
In addition to the list of breeders and their contact info, we also included some useful information about how you can select the best breeder. These tips will allow you to determine whether a breeder is good or bad and will help you figure out which breeders you should avoid.
Dog Product Recommendations: Best Cheap Shock Collars For Dogs and Best Dog Football Toys.
1. PuppySpot's Puppies For Idaho
Getting a new puppy in Idaho is never a simple task, as you have to be aware of multiple factors that can affect your new canine friend. For example, the health and safety of a puppy are affected directly by the environment it is raised in. Moreover, the safety system for your new puppy is also crucial.
Luckily, PuppySpot ensures safety by offering the best puppy delivery system in the United States. They have been in the business for the last 20 years and have vast experience getting the healthiest puppies from the best breeders. In addition, with a data-driven approach to partnering with breeders, they weed out spammers more effectively than anyone else.
Their detailed screening process is one of its kind, involving interviews, criminal background checks, review of veterinary history, operational history, etc. With all these checks in place for entering the PuppySpot system, it is ensured that breeders don't lose their way and keep complying with the strict standards.
Hence, breeders have to pass this screening process every year so that only the best ones stay in the system. PuppySpot's highly qualified and independent Scientific Advisory Board is behind this screening process, making it modern and effective.
They take the well-being of puppies seriously, spending thousands of dollars every year to ensure breeders meet their rigorous standards.,Their well-qualified Breeder Development Team works hard to hire the most authentic breeders and keep scammers away. Those who don't comply with the regulations are terminated immediately with a proactive approach.
PuppySpot requires all breeders to have a USDA-accredited veterinarian and an effective Program of Veterinary Care (PVC). Moreover, all breeders must have a set working and vaccination schedule so that puppies stay safe and healthy. Breeders should follow the schedule developed by the American Animal Hospital Association (AAHA) for puppies
PuppySpot Details
2. Teton Malamutes —Alaskan Malamutes
Teton Malamutes is a lovely Alaskan Malamute breeder located in Menan, Idaho. This breeder is family-owned and operated, and each puppy is loved and cared for like a true family member. This breeder works hard to breed for specific qualities like health, temperament, and breed conformation.
Teton Malamutes have been around for many years now, but it truly started when the breeder was a child and encountered their very first Alaskan Malamute. They were immediately inspired to share their passion for the breed with the rest of the world, and they've been breeding beautiful Malamutes ever since. This breeder has a lot of great resources on its website to help prospective buyers learn all about caring for an Alaskan Malamute of their own.
A few breed-specific details are pretty important, so if you're interested in adopting an Alaskan Malamute, be sure to check out the whole website. On the site, you can also get to know the dogs that this breeder uses for breeding each litter and info on getting on the waitlist for a puppy from one of the upcoming litters.
Teton Malamutes Details
3. Spirit Labradors — Labrador Retrievers
Spirit Labradors are known far and wide as East Idaho's Premier Labrador Retriever breeder and kennel, and they have certainly earned that title. This breeder is an American Kennel Club certified Breeder of Merit, and they specialize in black and chocolate Labrador Retriever puppies. They've even recently begun breeding Labradoodles with a newly acquired Standard Poodle.
The dogs that grow up at Spirit Labradors are certainly lucky indeed. Trout fisheries of the highest caliber surround the property, and there are nearby havens for waterfowl that the dogs love to explore. There are even plenty of fresh bodies of water nearby for the dogs to go swimming. This breeder prides itself on being a small kennel that only produces two to three litters of puppies every year.
By limiting the number of puppies, they breed, they can give every dog the undivided attention and care they deserve. This helps the dogs grow to be well-adjusted, calm, and incredibly loving animals in adulthood. Instead of striving to produce a specific color of Labrador like chocolate, black, or yellow, they prefer to focus on breeding for character traits and other qualities that truly define the Labrador breed.
The dogs they breed all demonstrate incredible determination, drive, and heart. In addition to breeding for these qualities, they also try to produce Labradors that are excellent hunters and retrievers. Their website has a lot of really useful information and some beautiful pictures of their dogs in action. Check out their list of available puppies and find out how to get on the waitlist.
Spirit Labradors Details
4. Mountain Rose Bordoodles — Bordoodles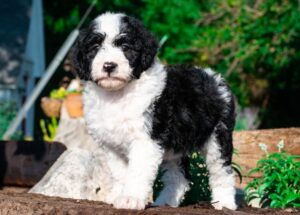 If you've never heard of a Bordoodle before— don't worry. You're not alone. These dogs, a hybrid cross between a Border Collie and Standard Poodle, are relatively new to the scene. That being said, these dogs are adorable and are wonderful companions for any individual or family.
As it turns out, the Standard Poodle and the Border Collie are two of the world's smartest dogs, and the Bordoodle certainly got all of those brains! The breed itself has a reputation for being incredibly intelligent, but this breeder, in particular, is known for breeding the smartest and healthiest Bordoodles in the whole world.
This breeder is incredibly passionate about breeding these excellent dogs. They love that Bordoodles is known for many great qualities, including their affectionate natures, kind hearts, playful spirits, and keen minds. The breeder even claims that Bordoodles are some of the easiest dogs on earth to train… "bar none!" That's a pretty lofty claim, but we certainly believe it.
Bordoodles are excellent family companions and wonderful service dogs, thanks to their easily trained natures. This breeder is owned by a loving couple passionate about raising beautiful dogs. The couple has 22 grandchildren, so their puppies get plenty of time with kids and are very well socialized when they are ready to go home with their new families. Head to their website today to read their fascinating story and check out their adoptable puppies.
Mountain Rose Bordoodles Details
5. Idaho Jacobson Kennel — Beagles and Vizslas
Last on the list of the best dog breeders in Idaho is "Idaho Jacobson Kennel." This family-owned and operated kennel is nestled in the countryside of Twin Falls County, Idaho, where the beautiful Beagles and Vizslas raised by this breeder run and play all day to their hearts' content.
This breeder specializes in both Beagles and Vizslas. They are incredibly passionate about their work and their ability to help pair you with the perfect dog for your unique personality. From birth, the dogs at Idaho Jacobson Kennel are exposed to lots of love and attention to make sure that they are well socialized and well adjusted when they come to your home.
The dogs spend a lot of time roaming around the country, where they can become acclimated to all sorts of environmental stimuli and get used to many different environments. Additionally, these dogs spend time around farm animals and livestock, which helps get them used to all different animals. The breeder, owned by the Jacobson family, is very passionate about both breeds of dogs. The breeder has four children that spend a lot of time playing with the puppies.
Their breeding journey began when they fell in love with the first dog the couple purchased together, which happened to be an adorable Beagle. According to their website, it didn't take them long to adopt another Beagle and begin breeding Beagle puppies of their very own. Their website is pretty awesome and is full of great information. Be sure to browse through the pages while looking into their adoptable puppies.
Idaho Jacobson Kennel Details
How to Choose a Dog Breeder in Idaho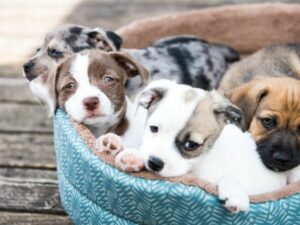 It's very important when deciding to purchase a puppy from a breeder to remember that you should only commit to adopting from a breeder if you know they are reputable and trustworthy. Other places like backyard breeders and puppy mills (and even pet stores) may try to entice you with lower prices than a breeder, but these places should be avoided.
Backyard breeders, puppy mills, and pet stores are all known for their mistreatment of animals and even downright abuse. They typically prioritize making money over the health and well-being of their dogs, and as a result, many unsuspecting families have accidentally purchased a very sick dog. In contrast, good breeders are very concerned with the health and well-being of their dogs. They often perform extensive health tests to ensure their dogs are genetically free of any health problems.
Ask the Breeder Questions
Asking questions is one of the best ways to determine whether a breeder is good and trustworthy or bad and should be avoided. Most great breeders are very knowledgeable and are more than happy to answer any questions you may have.
Good questions to ask your dog breeder:
Do your puppies come with health guarantees?
How many litters of puppies do you typically produce in a year?
Can I meet both of my puppy's parents?
How long have you been breeding dogs? Where did you learn?
Is there a clear protocol regarding what to do if the puppy has genetic health problems in the future?
How do you raise your puppies?
There are so many helpful questions you can ask a breeder you are considering adopting from, and these are just a few of them. Use these questions as a strong starting point for the questions you ask your breeder, but don't feel confined to these questions alone.
Instead, ask questions as they arise, and remember that there is no stupid question. Getting in the habit of asking many questions when you're considering making a big financial investment (like buying a purebred puppy) is a good thing to do. Doing so can help protect you and your money down the line.
Take a Tour of the Facility
Taking a tour of a breeder's facility is a great way to determine if the breeder is trustworthy. Many breeders will talk about how great their breeding practices are, but seeing it with your own eyes can go a lot further than hearing the words. While touring a breeding facility, check that the facility seems clean and organized.
The dogs should also seem healthy, well cared for, and happy/comfortable around the breeder. If the facility seems unsanitary and overwhelming, you may want to consider a different breeder. Similarly, it can be a bad sign if the dogs and puppies seem afraid of the breeder or uncomfortable around them.
Related: Ways to Find a Hypoallergenic Dog Rescue.
Conclusion For The "Best Dog Breeders in Idaho"
Finding the perfect breeder for you and your family can certainly be a daunting prospect— especially when you look at all of the options. Sometimes it's difficult to know whether a breeder is trustworthy, but luckily with this list, we took all the guesswork out of the process for you.
Each breeder included on this list is of the highest quality and prioritizes the health and well-being of their dogs. You can be confident that if you choose to buy a puppy from one of these breeders, your new dog will be happy and healthy.
If you decide to use a breeder that isn't listed here, use our helpful tips and tricks to figure out if your breeder is trustworthy and can be trusted. Be sure to do your research and ask the breeder many questions before you agree to adopt a dog from them.
For more guides similar to this list of dog breeders in Idaho, you can check out:
Before you bring home a puppy from a breeder in Idaho, you can learn more about raising a dog by watching "Tips and Tricks to Raising a Well-Mannered Puppy" down below: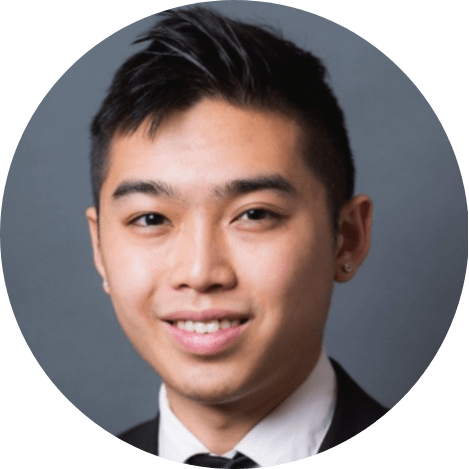 Andy is a full-time animal rescuer and owner of a toy doodle. When he's not saving dogs, Andy is one of our core writers and editors. He has been writing about dogs for over a decade. Andy joined our team because he believes that words are powerful tools that can change a dog's life for the better.
Why Trust We Love Doodles?
At We Love Doodles, we're a team of writers, veterinarians, and puppy trainers that love dogs. Our team of qualified experts researches and provides reliable information on a wide range of dog topics. Our reviews are based on customer feedback, hands-on testing, and in-depth analysis. We are fully transparent and honest to our community of dog owners and future owners.