If you're wondering about Labradoodle coat changes, then this guide has everything you need to know. Labradoodles are one of the most popular dog breeds in the world. A cross between a Labrador Retriever and a Poodle, an owner can have the best of both worlds. Intelligent, playful, and loyal, the Labradoodle becomes an instant friend and splendid companion. One of the biggest questions, however, what if Labradoodle coat changes? When deciding which Labradoodle to make a member of the family, keep in mind that their coat might change over time.
Labradoodle coats experience changes with age, such as between puppyhood and adulthood, and well into their senior years. Not only is the texture affected, but so is the color. Sometimes, a Labradoodle's coat will get darker or lighter, depending on their genetics. The guide below will provide all the information concerning a Labradoodle's coat. Learning about their coat is as significant as the grooming process.
Before scrolling down this guide about Labradoodle coat changes, then these articles might help you: Silver Labradoodle Coat Guide and Red Labradoodle Coat Guide.
Labradoodle Coat Types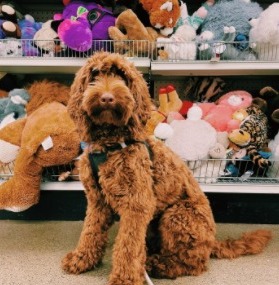 Labradoodles have different coat styles and colors, which change over time. The cost of a Labradoodle can sometimes depend on its color. A Labradoodles genetic line will determine the type of coat and its color, but that's not always something known until adulthood. Prior litters might point toward the type of coat a Labradoodle is likely to have, but there are general guidelines for what to expect.
Types of Coats
Depending on the generational mix, Labradoodles have three distinctly different coat types. An F1 Labradoodle is the first-generation puppy of a Labrador Retriever and Poodle. The F1B generation is a Labradoodle and a Poodle mix. Each of the coats will vary in feel and look, and specific grooming requirements.
1. Hair or Straight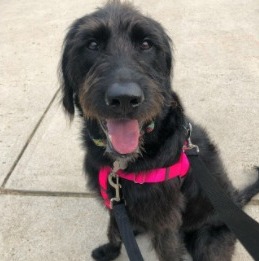 Not a common type of coat for a Labradoodle, but it's one that resembles the texture of hair rather than fur. Labradoodles born with this coat don't resemble their counterparts in the least, and often look scruffy. On top of that, this hair is not noticeable until they turn a minimum of 12 weeks old. Straight-coated Labradoodles will have straight fur around their muzzles. They will also have a teddy bear-like appearance in general. Of course, since this type of fur resembles hair, it's more prone to shedding, which isn't always desirable.
2. Fleece
Labradoodles with a fleece coat are the most common, and it's the easiest to maintain. Low shedding, this soft coat only requires a brush once a week to make it looks pristine. Kemp, or coarse, hair is found around the eyes of Labradoodles with a fleece coat. The rest of a fleece-coated Labradoodle ranges from slightly wavy to curly. This is one of the most desired coats, especially for someone with allergies. Their coat is less prone to shedding or triggering an allergic reaction. Often referred to as shaggy, this fleece coat is the typical look for a Labradoodle.
3. Wool or Curly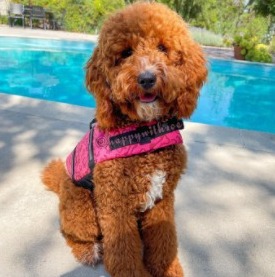 Often referred to as just curly, a wool-coated Labradoodle is the second most common Labradoodle. Though how tight the curls actually are solely depends on the puppy's genetics, they are more likely to resemble their Poodle parent. The F1B generation of Labradoodle is more likely to have this coat, which is a good question for the breeder. One reason they're so popular is how easy they are to maintain. Most owners will have the fur-trimmed short, requiring only a weekly brushing. They're also more allergy-friendly and considered hypoallergenic.
Related: Do Mini Labradoodles Shed a Lot?
Labradoodle Colors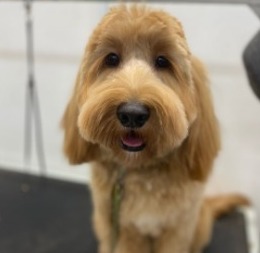 A Labradoodles color can range drastically, depending on their genetic and immediate parents. With a color to suit any potential owner, the important piece of information to remember is that it can change.
Some Labradoodle colors available are:
Black
Golden and Apricot
Cream
Chalk White
Chocolate
Parchment
Red
Parti, Abstract, and Phantom
Shedding Their Puppy Coat
A Labradoodle does not get to keep the coat they're born with into adulthood. Unfortunately, this soft and inviting coat will begin to change somewhere between 6 and 12 months, though the number is not a fast rule. Some pups will lose their coats sooner and some later than others, but it is something to expect. When the coat is going through its transition, as the owner, you will notice quite a bit more shedding than normal. Even in pups that have curlier fur, shedding is unavoidable during this time.
The best way to get through the time of shedding is to brush your Labradoodle as much as possible, helping the fur come off and prevent matting.  Once the process is complete, the puppy, closer to adulthood, will sport a coat of different colors and textures. Of course, the type of coat the puppy was born with won't change to another type of coat–straight won't suddenly become curly. There will be changes in the texture, so slightly curly might get curlier, and the color will change.
Related: Do Labradoodles Shed?
Labradoodle Coat Color Changes Over Time
Once a puppy grows into its adulthood coat, it's unlikely to change its type of texture. The color, however, is something that is still subjected to change as the puppy grows into adulthood and then becomes a senior. Some of the changes will depend on the original coat color.
Black: Labradoodles born with black hair should retain the black color most of their lives. There is a possibility during different life transitions that the black might change more to silver or blue color. A dog's coat can start changing to silver undertones within the first couple of years of its life and can vary in hue. Blue, on the other hand, is noticeable at birth since their skin will hold a slight blue color which the coat shows off later in life.
Golden and Apricot: The apricot coat color is prone to either darkening or lightening with age. The color itself will remain the same, but its intensity will either diminish or get more significant. For a Labradoodle with a golden color, it's more likely the color will fade the older they are.
Cream and White: Whether this breed is a cream or a white Labradoodle, they are likely to remain that way their entire life. These two colors, since they are already so pale, usually do not change. As they grow, your white or cream-colored Labradoodle will remain the same.
Chocolate and Parchment: Chocolate Labradoodles are often mistaken for black when they're born because the color is so deep. Over time, that darker hue will begin to fade and turn into varying shades of brown. A parchment-colored Labradoodle is one that appears chocolate or brown at birth, but that color also fades. With enough years, it will turn to a more milk chocolate color, or even develop a subtle lavender color that can appear smoky.
Red: Red is a very rare color to see on a Labradoodle. Unfortunately, as beautiful as it appears, it fades over time. Most of the time it will fade to other shades of red, but there is no guarantee in the way it will look as the Labradoodle ages.
Parti or Abstract: This isn't a color, but rather a combination of colors. With Labradoodles who are considered Parti and have more than one color on their coat, these colors will change as they age. When the Labradoodle goes from a puppy to an adult, the biggest change will happen with the shedding that takes place at that time. Though the shades will change, partis are distinguishable at birth and will likely retain the same color even if the pattern changes.
Labradoodle Breeders: Best Mini Labradoodle Breeders in the United States.
Other Labradoodle Factors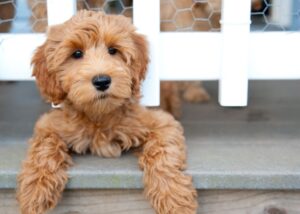 Though not always common, there are other factors because of time and genetics that will change the coat of a Labradoodle.
Clipping: A Labradoodle is considered as having a true color only when it's the same shade throughout the entire coat. Often, however, the shade changes throughout the places on the body and whether the color is near the skin or the tip. When a Labradoodle gets a cut, the coat can give an appearance of having a different color since the color at the tip has been clipped.
Climate: Labradoodles who love to play outside and live in sunny climates are also up against the elements. Spending a significant time outside will cause the sun to lighten the coat overall.
Interested in a Labradoodle companion? Check out our recommendations: Best Labradoodle Breeders on the East Coast and Best Labradoodle Rescues For Adoption.
Conclusion For "Labradoodle Coat Changes"
A Labradoodle will go through many changes in its life, ones of the most significant ones are to the coat's texture and color. Sometimes in the first year of the puppy's life, they will shed the coat they're born with as their adult coat grows in, usually with some changes. With age, time, and even the climate, a Labradoodles coat color will probably change. Some colors, such as cream or white, are lucky in that they don't fade over time, but most others do, giving the puppy a much different appearance later in life.
Even something as simple as getting the dog properly groomed may cause the fur to appear a slightly different color. Since Labradoodles go through these changes, choosing your newest companion when they're a puppy should never be made based on the coat they're born with. Instead, it's best to look at previous litters to see what types of coats offspring had. Coat and color are important to many owners, but it's also important to remember their loyalty and playfulness.
For more articles with mentions of the Labradoodle breed, check out:
To learn more about this topic, watch "Labradoodle Puppy Colors and Patterns" from Van Isle Doodles down below: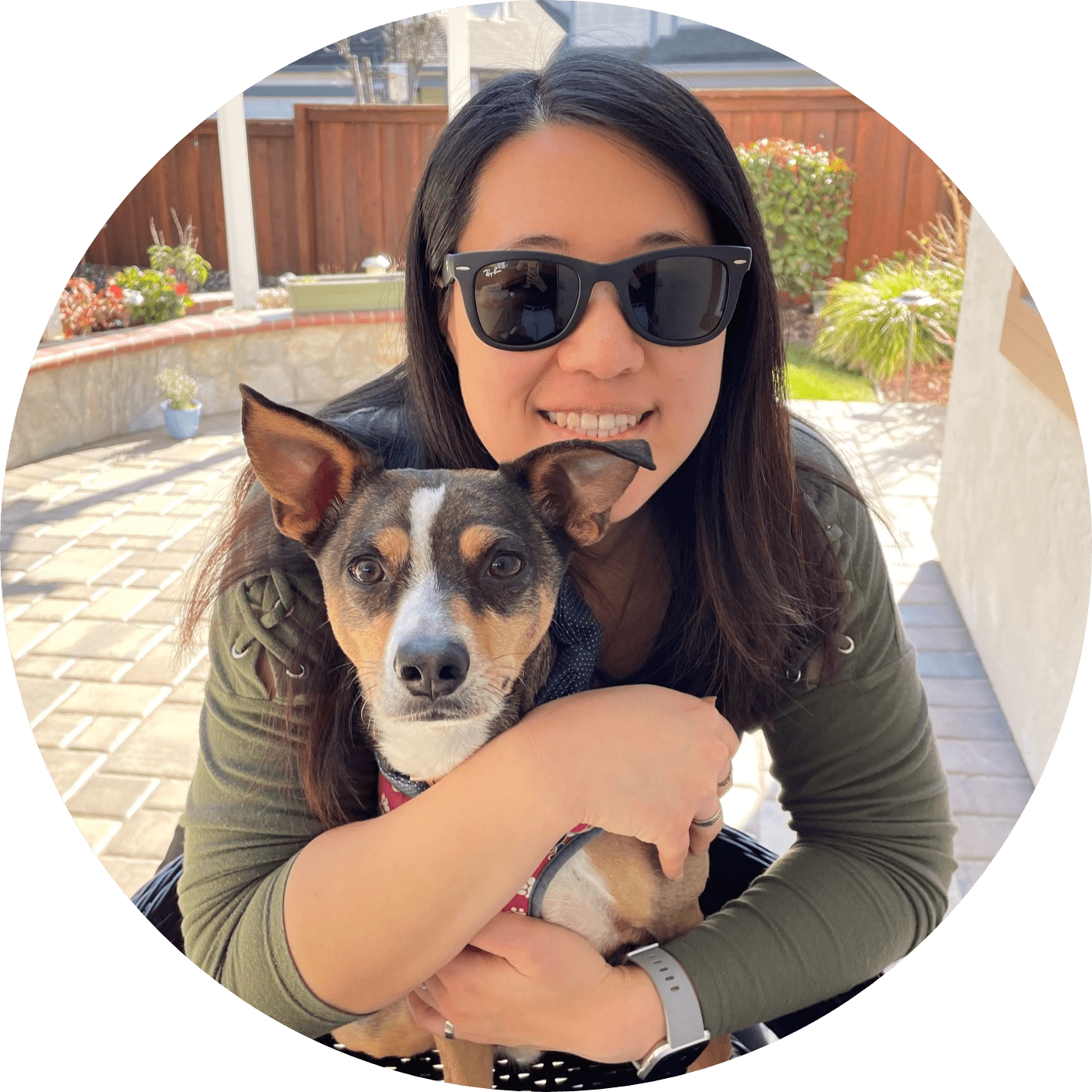 Dr. Sabrina Kong graduated from the Royal Veterinary College in England in 2016 and has been working at a small animal clinic in Northern California since then. She grew up in the Bay Area and got her bachelor's degree from Cal Poly San Luis Obispo. She also became a Certified Canine Rehabilitation Practitioner through a program at the University of Tennessee.
When she isn't in the clinic taking care of her four-legged patients, she enjoys traveling and trying new foods with her friends and her three-legged dog, Apollo. She adopted Apollo from her clinic when he was a puppy with numerous health issues. Dr. Kong truly cares about taking care of animals.