If you're searching for the best Irish Wolfhound rescues in the UK, you've come to the right place. Graceful, athletic, and simply giant teddy bears, Irish Wolfhounds are the tallest breed of dog and the largest sighthound.
These majestic dogs make excellent family pets with their bushy fur coats, scruffy faces, and regal bearing. But sadly, many are abandoned or neglected in the United Kingdom each year.
Before you scroll further down this list of Irish Wolfhound rescues in the UK, you can check out these other dog-related recommendations from our team at We Love Doodles: Best Border Collie Rescues in the United Kingdom and Best Pointer Rescues in the United Kingdom.
Find an Irish Wolfhound Rescue Shelter Near Me in the United Kingdom
Plenty of amazing rescue organizations are doing their part to help these deserving puppies find good homes. In this blog post, we'll highlight rescues offering these beautiful puppies a second chance at life. We hope that this list of Irish Wolfhound rescues in the UK will help you on your journey for a future companion.
Irish Wolfhound Product Recommendations: Best Dog Allergy Tests and Best Dehydrated Dog Foods.
1. Irish Wolfhound Rescue Trust
The Irish Wolfhound Rescue Trust was established over 50 years ago, in 1967, to help all the Irish Wolfhounds that needed new homes and the dogs that needed rescue. This organization makes sure these grand dogs find good, safe homes and look for the best places that will be able to fulfill each Wolfhound's needs and necessities, such as veterinary care, food, plenty of space to play, and ample opportunities for socialization.
Although this organization is based in England, they offer services to dogs and owners in Wales, Scotland, and Northern Ireland. Some Wolfhound owners cannot keep their Irish Wolfhounds, so a group of responsible breeders and breed enthusiasts wanted to help these owners. This trust aims to help these dogs find good homes where they can live long, comfortable lives.
The dogs that come into this trust are all evaluated thoroughly so that the new owners have all the necessary information to help the dog settle into their new home easily. Since this organization does not deal in Irish Wolfhounds, they do not charge for their services. They find loving homes for the hounds that come to their dogs. However, postage, telephone costs, and transportation expenses vary. This is why new owners are expected to make donations of at least 150 pounds.
Irish Wolfhound Rescue Trust Details
2. Practical Aid for Wolfhounds (PAWS)
Many dedicated Irish Wolfhound owners and lovers manage PAWS. The idea for this organization came to be when the number of physical and mental problems that owners with Wolfhounds faced became more apparent over the years. Many such problems would be easily addressed if only the owners had a little help from others.
It was often difficult for Wolfhound owners to find advice, support, or practical help because these dogs were a relatively uncommon breed. This organization offers physical, mental, and financial help to all the Wolfhound owners. The main objective is to help the dogs and their owners find an understanding and common ground.
With the help of donations, they can purchase and maintain equipment that each dog or its owner may need. They urge people to donate any item, such as stretchers, protective boots, and lifting straps if they have some, or they can even dedicate a piece of equipment to any dog in need.
The members all work on voluntary bases, and the organization is all self-funding and relies on donations to get by. By loaning equipment just as a ramp or lifting strap, they offer owners the relief of being made to carry these large dogs if they are ever injured or in pain.
Another service they provide is temporary or permanent re-housing of the dog if the owner must go somewhere or cannot care for the dog any longer. If you ever need help lifting or turning incapacitated hounds, you can always count on PAWS to help you out.
Most importantly, should you ever be in financial distress and feel like the health and welfare of your dog are being compromised, PAWS might be able to help you financially and emotionally. They can connect you with wolfhound owners that are going through or have gone through any rough time with their dogs as you have. Emotional support and experienced advice from dog owners who have experienced similar problems can be helpful.
Practical Aid for Wolfhounds Details
3. Rescue Me's Animal Rescue Network
Jeff Gold is the founder of Rescue Me's Animal Rescue Network, which helps all breeds of dogs, cats, and other animals find permanent homes anywhere in the world. This free service has the world's most up-to-date directory of all animal rescue organizations for all breeds of multiple animals.
About 785 Irish wolfhound dogs have been adopted on Rescue Me. If you can no longer care for your pet due to any circumstance, you can put it up for adoption, and it will find a good home. If you wish to adopt a pet, you can find hundreds of animals and various breeds and choose from them.
Rescue Me's Animal Rescue Network Details
4. The Irish Wolfhound Club
This club is the oldest Irish Wolfhound club in the world and was established in 1885 by Captain George Augustus Graham to promote the breeding of true-quality Wolfhound dogs. These breeders ensure that the breeds remain strong, fit, and up to the task they were originally meant to do, which was to hunt wolves.
But it is equally as important that their temperament remains steady and calm. so that they get along with people and are good household pets. While they are not a rescue group or organization, they have a network of Irish Wolfhound enthusiasts and can point you in the right direction if you want to adopt a Wolfhound in need.
The Irish Wolfhound Club Details
5. The Irish Wolfhound Club of Ireland
This club is affiliated with the Irish Kannel Club because of its foundation. It is a founding member of the Federation of Irish Wolfhound Clubs, where it holds the office of President. The club holds club membership shows every year in December. Again, this isn't a rescue group, but because of their vast network and affiliation with the Irish Kennel Club, they can suggest many groups and societies where you might be able to adopt a dog in need.
The Irish Wolfhound Club of Ireland Details
6. International Wildlife Coalition Trust (IWCT)
Last on the list of the best Irish Wolfhound rescues in the UK is International Wildlife Coalition Trust. International Wildlife Coalition Trust is a rescue group and rehabilitation center focused on rehoming Irish Wolfhounds to amazing families. They provide spay and neuter surgery to all dogs in their care, not just Irish Wolfhounds.
IWCT was founded in 1992 and has since been involved in fighting animal cruelty and working together to protect every animal they possibly can. No matter what the case, whether injured dogs, sick dogs, or even malnourished dogs, International Wildlife Coalition Trust is a home and veterinary clinic for all. You may donate to this cause regularly or even offer a one-time donation.
There's also the option of sponsoring an animal. Four pounds will feed one IWCT resident dog for a week, 18 pounds will provide 5in1 vaccine for 1 dog, 22 pounds will enable an IWCT vet to neuter 1 dog, and 250 pounds will cover the cost of rescue and rehabilitation and re-homing of 1 dog.
International Wildlife Coalition Trust Details
Conclusion For The "Best Irish Wolfhound Rescues in the United Kingdom"
Irish Wolfhounds are a majestic breed of dog and make wonderful companions. Their size alone can be intimidating, but they're very gentle and loyal dogs who love their owners dearly. If you're considering bringing an Irish Wolfhound into your home, it's important to learn how to care for this large dog breed properly.
Irish Wolfhounds have long coats that require regular brushing. It's best to brush them at least once or twice a week to keep their coat healthy and free of mats. They must also be bathed regularly to keep their coats clean and free of dirt and debris.
When bathing your Irish Wolfhound, use a gentler shampoo designed specifically for dogs, as human shampoos can dry out their skin. Irish Wolfhounds are active dogs and require regular exercise to stay healthy and happy. Depending on age and energy level, they should be taken on daily walks or jogs.
It's important not to over-exercise them; too much exercise can cause joint problems later in life. Additionally, due to the size of these dogs, it is best not to let them jump off excessive heights as this could cause injury. Like most breeds, Irish Wolfhounds need high-quality food that is rich in protein and low in carbs.
If you're feeding your puppy kibble, opt for one specifically formulated for large breeds like the Irish Wolfhound, as these formulas are designed with larger breeds' nutritional needs in mind. Feeding three meals per day for puppies under six months old; two meals per day after six months of age is fine. Hopefully, this list of Irish Wolfhound rescues in the UK helped.
For more guides similar to this list of Irish Wolfhound rescues in the UK, you can check out these other dog-related articles from our team:
Before you adopt an Irish Wolfhound companion from a rescue shelter in the United Kingdom, you can learn more about this dog breed by watching the "Irish Wolfhound: The Pros and Cons of Owning One" down below: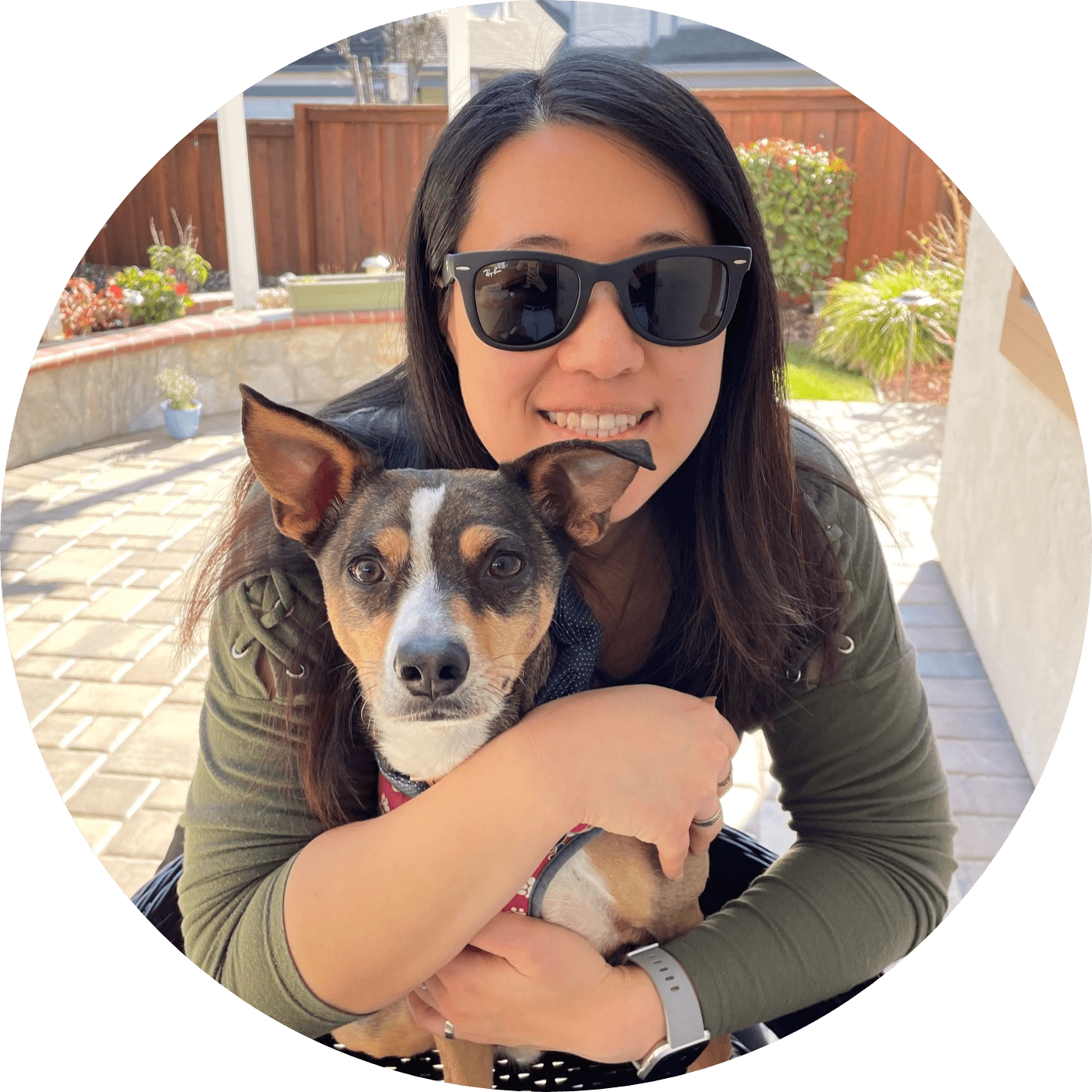 Dr. Sabrina Kong graduated from the Royal Veterinary College in England in 2016 and has been working at a small animal clinic in Northern California since then. She grew up in the Bay Area and got her bachelor's degree from Cal Poly San Luis Obispo. She also became a Certified Canine Rehabilitation Practitioner through a program at the University of Tennessee.
When she isn't in the clinic taking care of her four-legged patients, she enjoys traveling and trying new foods with her friends and her three-legged dog, Apollo. She adopted Apollo from her clinic when he was a puppy with numerous health issues. Dr. Kong truly cares about taking care of animals.