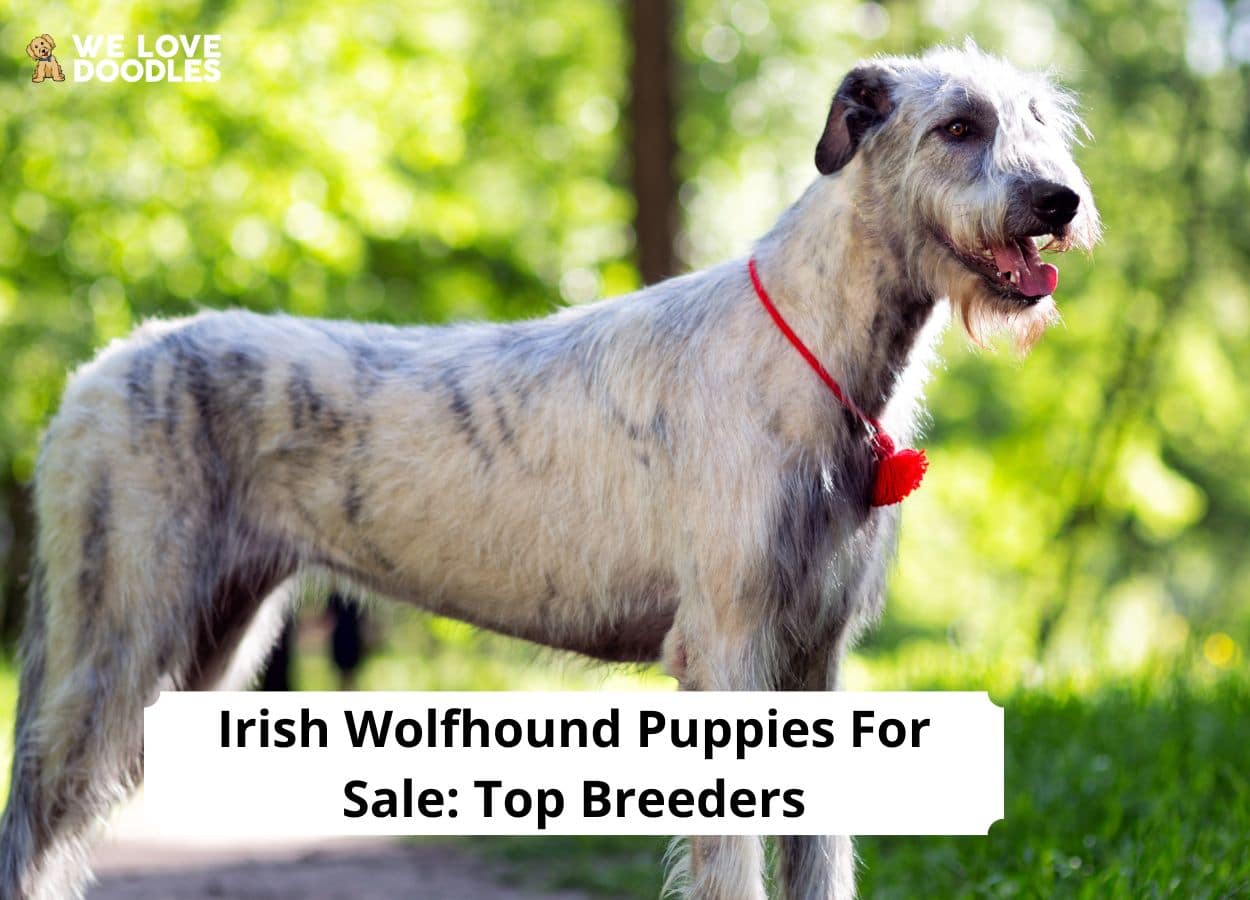 If you're searching for the best breeders with Irish Wolfhound puppies for sale in the United States, you've come to the right place. Buying and bringing a new puppy home is a unique and wonderful experience.
However, not every dog owner can attest to that, especially when looking for rare dog breeds like the Irish Wolfhound. The Irish Wolfhound is a highly sought-after dog breed by many families and individuals.
Originating from Ireland, this giant dog breed is one of the oldest breeds in the world. Wolfhounds were primarily bred to hunt and protect their human companions. Nevertheless, these gentle giants are increasingly becoming family pets and companions.
The Irish Wolfhound is indeed a breed to take a great interest in. If you are one of those dog enthusiasts going crazy about this breed, you have come to the right place. We have carefully selected and reviewed some of the best places to find quality and healthy Irish Wolfhound puppies for sale.
Before you scroll further down this list of breeders with Irish Wolfhound puppies for sale in the United States, you can check out these other dog-related recommendations from our team at We Love Doodles: Pocket Bully Puppies For Sale in the United States and Bully Puppies For Sale in the United States.
Irish Wolfhound Breeders in the United States
We listed breeders with a selective breeding system to ensure the best sires and dams are bred to produce healthy babies. However, we recommend you do your research about these breeders.
Call and ask them a series of questions about their breeding operation and ask them to see the puppies before making an initial deposit. Here are the top Irish Wolfhound breeders in the United States.
Irish Wolfhound Product Recommendations: Best Dehydrated Dog Food and Best Strongest Shock Collars For Dogs.
1. Midwest Irish Wolfhounds Ranch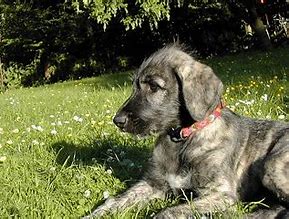 If you reside in or around Kansas, Midwest Irish Wolfhounds Ranch is one of the best places to buy a Wolfhound puppy. This family-owned breeding program raises only beautiful Irish Wolfhounds. They raise their puppies and dogs on their large rolling ranch in beautiful Kansas.
The family started this breeding program out of love for the breed. They are passionate about this dog breed and are dedicated to producing exceptional puppies. Midwest Irish Wolfhounds Ranch has produced multiple show champions, Lure Coursing LGRA & AFSA BOB Champions, Best of Breed, and more.
If you are looking for the perfect family pet or companion, you can rely on this breeder. Most of their orders are for family pets. However, you can also rely on them for the show, racing, or course dogs. The breeder also has many repeat families with two to three dogs in their homes.
The dogs from this breeder are known for conformation, longevity, size, and sweet temperaments. This family is always there for their dogs and customers throughout their lifetime. You can always contact them for assistance or guidance, even when your puppy grows into adulthood.
The ranch is located on top of Berry Hill in South East Kansas. If you cannot drive to the ranch to see the puppies, the breeder can deliver yours. However, the breeder always encourages potential owners to visit the ranch and meet the Irish Wolfhound puppies in person.
This family has more than 20 years of experience in this field. They have been a preservative breeder for more than two decades. Preserving the integrity of this dog breed has been their number one priority.
Midwest Irish Wolfhounds Ranch Details
2. Carry Kennels Irish Wolfhounds
Carroy Kennels Irish Wolfhounds also made it to our list of reputable Wolfhound breeders in the United States. We highly recommend this breeder if you are looking for a home-raised puppy with an excellent temperament. Temperament, health, and conformation are the three focus areas of this breeding program.
Carrot Kennels is a team of two Irish Wolfhound lovers – a veterinary technician and a veterinarian. The puppies and dogs greatly benefit from their profession, as they enjoy premium vet care and hospitality. Their love for this breed has done their research extensively about them.
They know and understand the Irish Wolfhound breed in and out. Carrot Kennels is also a proud member of the AKC breeders of merit and the Irish Wolfhound Club of America. This breeding team breeds according to the Code of Ethical Behavior for Breeders (IWCA).
They follow all industry standards and adhere to local, state, and federal regulations. To ensure every litter yields healthy and sound puppies, this team conducts a series of health tests for their breeding stock before the breeding program starts.
All the breeding dogs undergo hip and elbow checks, cardiologist examinations, and veterinary ophthalmologist examinations. Their series of health tests also extends to the Wolfhound puppies. The puppies are all tested for a liver shunt once they reach nine weeks of age.
In addition to testing for health, this breeder also considers temperament when pairing sires and dams. Only dogs that pass the breeding test are added to the breeding program. Carrot Kennels also puts a lot of effort into early socialization.
Socialization is essential in puppies, and the team dedicates a lot of time to ensure they are well-socialized before releasing them to their new families. They spend time socializing and playing with each puppy to ensure none is left out.
The various socialization activities the puppies undergo help make them trusted and loving companions that will adapt well to their new owners. They breed and raise their puppies as loyal companions and amazing show dogs.
This energetic and outgoing dog breed can fit in almost any home. Another advantage of buying your puppy from this breeder is that you will not raise your new pet alone. Carrot Kennels is always there to support all its customers, ensuring they get all the answers, support, and guidance they need to raise their puppies.
In addition to offering lifetime support, the team has excellent communication skills. They do not hold back vital information that can help make your puppy-raising journey easier. You can also consult the breeder to know more about the Irish Wolfhound before making your final verdict.
Carry Kennels Irish Wolfhounds Details
3. Ballyhara Irish Wolfhounds
The best dog breeders are often passionate about these wonderful creatures instead of doing it for the money. Ballyhara Irish Wolfhounds is a reputable breeding program owned and spearheaded by Lisa Dube Forman.
Breeding has been Lisa's lifelong passion, and she is finally making waves in this field with her healthy and beautiful Irish Wolfhound puppies. Lisa has been captivated by this dog breed since 1984 when she acquired her first.
Her relationship with this dog breed has been more than her adult life, as they practically grew together. Lisa said she had learned many things from her Wolfhounds, including forgiveness, patience, and stoicism.
These valuable, rare traits have taught her many life lessons, which is why she is 100 percent committed to her dogs. Lisa Dube is an approved American Kennel Club dog show judge for 20 Hound breeds.
She is currently working on getting AKC judging approval for all hounds in her Hound Group, and her long-term goal is to become a Hound Specialist. Ballyhara Irish Wolfhounds was not created out of the blue.
Lisa studied the breed in and out until she knew she was knowledgeable before she bred her first litter. Even after successfully breeding her first litter, she did not stop learning and acquiring more knowledge.
She knew that learning never stops, so she continued to study to improve her breeding program. She also has great mentors from whom she learned the secrets to choosing the best sires and dams for breeding.
When choosing her breeding stock, Lisa considers several factors like health, temperament, structure, shape, and power. In addition to selecting the best sires and dams for breeding, she ensures the dogs undergo a series of DNA and health tests to ensure they are perfectly healthy for the job.
Lisa breeds to preserve and improve this dog breed. However, she occasionally sells her puppies to qualified families. You can reach out to her to check for available puppies or know when the next Irish Wolfhound puppies for sale will be available. When you get a puppy from her, you will greatly benefit from her extensive knowledge about this breed. All her puppies are well-socialized and semi-trained.
Ballyhara Irish Wolfhounds Details
4. Westover Wolfhounds
Located in the heart of Nevada, Westover Wolfhounds boasts some of the best breeding practices in the United States. Westover does not only focus on breeding and raising Irish Wolfhounds but also on bringing this breed's lovers together.
They bring Irish Wolfhound lovers together by educating, informing, and teaching the public everything they need to know about this breed. Stephanie is the mastermind of this breeding program and has a lot of experience with Wolfhounds.
She has loved this dog breed since she was a child without knowing that she would one day make families happy by providing them with healthy and well-bred Irish Wolfhound puppies. Stephanie is highly knowledgeable about this breed because she dedicated much time to studying them.
The American Kennel Club recognizes Westover Wolfhounds, and all its dogs are AKC-registered. Westover is not just a business but a breeding program aimed at preserving the quality lineage of this dog breed.
Stephanie has consistently produced healthy puppies using only the best-breeding stocks and adhering to strict breeding standards. All her dogs are from quality lineage and excel in agility, conformation, obedience, and lure coursing.
She works with a dedicated team whose only goal is to preserve this dog breed and provide families with the healthiest and happiest Irish Wolfhound puppies possible. The team also puts a lot of emphasis on the dog's athletic predisposition.
The Westover team ensures that every puppy gets the ideal amount of daily physical activity. Socialization is another vital part of the breeding program, as they ensure each puppy is well-socialized and well-behaved before joining its new family.
All their puppies are bred at home and come with the following:
Health guarantees
Certified pedigrees
Veterinary records
Up-to-date on vaccinations
Another cool thing about this breeder is that they allow the puppies to stay with both dog parents until they are mature enough to leave. The team is also careful about who goes home with their puppies; they are only sold to responsible and loving families.
Westover Wolfhounds Details
5. Limerick Irish Wolfhounds
Limerick Irish Wolfhounds breeds and raises Irish Wolfhounds and Whippets. This breeding program was established about four decades ago, and they have developed high-quality breeding practices that help produce premium puppies. Limerick's exceptional breeding program gave them the upper hand in this field over the years.
They cared for each breeding dog to a mere detail, ensuring they were always in perfect shape and health. The Limerick team doesn't over-breed its female dogs; they allow them to rest for several months or even a year before breeding again.
This first-class treatment significantly contributed to their dog's physical and mental health. Healthy parents usually give birth to healthy babies – that is why the team pays a lot of attention to the sires and dams.
They are also very selective when choosing their breeding stock, as they want every litter to be perfect and better than the previous one. One of the common genetic defects of this breed is liver shunts.
The Limerick team ensures all its breeding stock undergoes thorough health and DNA checks before being added to the program. In addition, all the puppies in a litter are regularly vet-checked to ensure they are free from hereditary disorders. Their puppies leave for their new home as healthy as they can be and with a health guarantee.
Limerick Irish Wolfhounds Details
Conclusion For "Irish Wolfhound Puppies For Sale"
Despite being an extremely large dog, the Irish Wolfhound is a gentle giant that has won the hearts of many dog enthusiasts. Thanks to its attractive traits and playful nature, it is one of the best family companions and pets.
Whether you have had experience with other dogs or this is your first time owning a dog, you won't go wrong with the Irish Wolfhound as your new family pet and companion.
For more guides similar to this list of breeders with Irish Wolfhound puppies for sale in the United States, you can check out these other dog-related articles from our team:
Before you bring home an Irish Wolfhound companion from a breeder in the United States, you can learn more about this dog breed by watching "Irish Wolfhound: The Pros and Cons of Owning One" down below: