The world holds its fair share of tiny lap dogs and medium-sized canines that will inspire adoring looks from humans. Ultimately, dog lovers know that the personality of any dog makes them special and lovable.
But the dogs that make you do a double-take are the largest and most powerful breeds. The build of some dogs looks just like their horsey cousins on the animal family tree. Or, if they're only mid-sized in adulthood, they may have a coat that resembles a horse in color, spots, length, or pattern.
Though you can't (and shouldn't) ride most dogs, the beauty and size of some dogs make you wonder whether they're all canine or might be equines put into the wrong category. Some dog breeds have such elegance and poise they don't seem to carry the playfulness and personality of a dog. Of course, one thundering woof out of the extra-large breeds, and you'll know it's a dog.
So who makes the list of dogs that look like horses? Read on to find out! Whether it's a breed build, a coat feature, or a certain way of doing their hair, it's fun to learn what makes them look so similar.
Before scrolling down this list of dogs that look like Horses, you can check out these other guides: Dogs That Look Like Pitbulls and Dog Breeds That Look Like a Fox.
Dogs That Look Like Horses – Body Size and Shape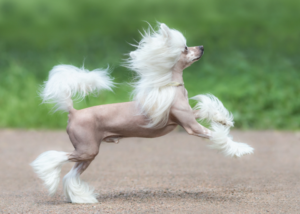 The easiest comparison from dogs to horses is size. The larger the dog, the easier it is to picture saddling them up to go for a ride. Many of these bulky canines outweigh their human counterparts and can rest their paws on a human's shoulder when standing. Some giant breeds even measure the same height as a small pony!
However, other factors such as grooming style and gait might contribute to a horse-dog look. We will tackle those later, as they're a special category of look vs. build.
Below are the dog breeds you might mistake for a horse at a distance.
1. Irish Wolfhound
As its name suggests, this gargantuan specimen hails from Ireland. Irish Wolfhounds helped farmers and hunters hunt or chase away wolves. To pursue an apex predator, you need an even bigger animal, so it's no surprise that the Irish Wolfhound gained as much height and strength as it did over the years.
Muscular but lean, this breed is a sighthound with keen instincts for hunting and the outdoors. The coat is shaggy and thin, and they have a long tail that curls slightly at the tip. Gentle and loyal, they love family pets and working dogs.
The Irish Wolfhound's massive height makes it perhaps the easiest dog to compare to a horse. It even takes long strides and gallops with a similar gait. Tall and graceful, without the clumsiness of other extra-large breeds, it has a dignified manner and is rather quiet.
2. Great Dane
The physical makeup of the King of Dogs is so equine it's almost unbelievable. A Great Dane has a long, broad muzzle that you can pet with an open hand as you would do to a pony. Their giant head transitions to a thick, muscular neck, and sloping shoulders that seem fit to carry around a human just as a horse does.
Like a Wolfhound, a Dane at top speed boasts an impressive gallop. They have clocked running at over 30 miles per hour! Also comparable is their height, which sometimes surpasses that of a Wolfhound. The Guinness Book of Records named a Dane called Zeus their champion in May 2022. He stands 3 feet and 5 inches tall.
3. Bull Terrier
Another dog with a horsey face shape is the Bull Terrier. Their Roman nose arcs outward from the top of the skull to their nose, meaning that the bridge is higher than the tip. They also boast a sleek coat and extremely compact build, with defined muscles resembling that of a workhorse.
The Bull Terrier is most famous for its status as the Target brand mascot, Bullseye. As pups, they are playful and silly, which carries into their mature years but combines with a drive to please their owners. They are obedient, brave, and steadfastly loyal.
Sometimes people confuse Bull Terriers for American Staffordshire Terriers or other breeds, but they are in a class all their own. Though unconventional-looking, these "eggheads" of the dog world make great pets and working companions. Just don't try to shoe them while on the job.
4. Cane Corso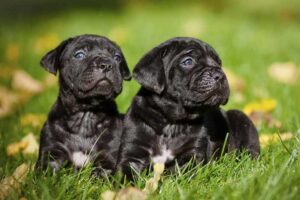 Beefy and brawny, no one beats the Cane Corso in terms of pure intimidation. This huge chunk of a dog has been a security feature of Italian households and royal palaces since the days of the Romans, and for a good reason. Its musculature alone makes it stand out–not just in the canine world but in the animal kingdom as a whole.
The boxy head, elongated back legs, and thick chest of a Cane Corso bring to mind a draft horse such as a Percheron. You can almost picture them pulling chariots or heralding the sights and sounds of an ancient war. Nowadays, most Cane Corsos are herding or hunting dogs when a sportsperson needs a bulky shape to handle cattle or wild game.
Other Cane Corsos keep guard over their property, defying anyone who dares trespass. Guard dog or house pet, you can't go wrong with one of these magnificent beasts around.
5. Greyhound
Another pup in the same family as the Irish Wolfhound, the Greyhound is equally sweet and strong. Their Egyptian origins lend them a refined and regal air. They are lanky and streamlined, making them horse twins from a distance. Greyhounds don't like to work longer than they have to, preferring a life of being loving companions to their humans.
Of course, the activity Greyhounds are best known for is their ability to sprint like a cheetah. Some would say their sprint resembles a Thoroughbred! Watching these dogs whiz by on a racetrack (or even around the backyard) might have you rubbing your eyes, wondering if you're watching a prized steed at the Kentucky Derby. However, many retired racing Greyhounds become pets who nap more than they run.
Dogs That Look Like Horses – Grooming
A dog's body shape is a primary factor in whether they resemble a horse. But there's also hair, ears, tail, and feet that play into the similarities. Go beyond that to give your pup a certain style at the groomers', and you almost can't tell the difference between the species!
Below are the dogs who look the most like horses due to their coats or hair.
6. Afghan Hound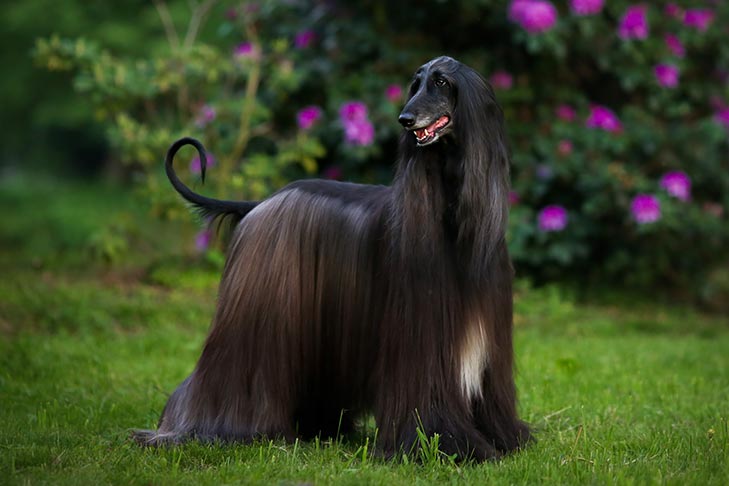 This dog requires no particular cut to bring out its horsey look. The Afghan Hound flaunts a long, flowing coat with an appearance of silk. The fine hair and elegant face give these dogs a gorgeous appeal, with a winning personality that almost seems as if they might know how pretty they are. Is it a mane and tail, or just a luscious doggie coat?
Royal courts prized these ancient dogs for their beauty and calm demeanor. You can see in your mind's eye the stately air of an Afghan Hound next to a Persian throne. A lithe body and pointed nose draw a look of admiration anywhere he trots. Bonus points if a slight breeze blows to let the wind catch all that luxurious hair.
7. Poodle
It's impossible to discuss dog grooming without bringing up the Poodle. These notorious queens of glam sport a curly, thick coat that lends itself to all kinds of fashionable looks. Depending on the cut, some Poodles look very much like horses when they're well-groomed.
Some classic coat styles include:
The Teddy Bear Cut: Leave the face hair longer for a poofy rounded appearance, and cut the rest of the hair as a uniform short coat. This look is fuzzy and so lovable.
The Continental or Lion Cut: Both styles require a shaved body except for a blowout on the head, tail, and ankles, giving the Poodle a hip Farrah Fawcett appearance, with fur around the ears resembling a horse's mane.
The Puppy Cut: Similar to the Teddy Bear without the face puff, this cut leaves about 1 to 2 inches of hair all over the body for a cute and cuddly appeal.
The German Cut: This one is particularly horsey, as it emphasizes the thick legs and face shape of the Poodle.
The Modern Cut: Another style that brings out the dog's "mane," this one also shows off the toes, looking like a set of hooves.
Of course, the large Standard Poodle is the one that gets the heaviest comparison to a horse. The mid-sized Miniature and the tiny Toy don't stand a chance!
8. Dalmatian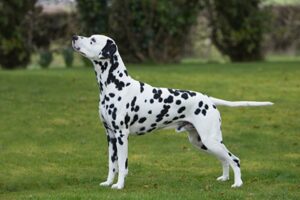 The stereotype of these perky little dogs is as firehouse workers. In the mid-to-late 19th century, Dalmatians would run in front of carriages to clear the path of safety personnel while rushing to the scene of a fire. As a result, Dalmatians and horses have an intertwined history already.
But this breed's build and appearance also resemble a horse. It has long, slim legs, an elegant muzzle shape, and an energetic trot–all mirroring that of a small pony.
Ultimately, the feature closest to a horse is its coat color. Black-and-white spots, the Dalmatian's signature fashion statement, looks just like the speckled pattern of an Appaloosa.
9. Chinese Crested Dog
Though a bit unconventional, we can't help but point out the Chinese Crested Dog as the final breed that resembles a horse. The Crested is tiny–growing only 11 to 13 inches–but the comparison to a horse is undeniable.
This African dog marvel stands out for its primary feature, lack of hair. However, that's only along the bulk of its body. The tail and lower legs leave some tufts, just as a specialty Poodle cut might have. These resemble the ankle "feathering" of large horses such as Friesians, who proudly trot around showing off their all-natural luxurious hair.
The main similarity between the Chinese Crested and horses, though, is the hair on their head. This dog truly does grow a mane, just as a lion or a mature horse might sport. Wisps draping around the ears and muzzle make you wonder if these tiny dogs don't have some pony blood.
Conclusion For "Dogs That Look Like Horses"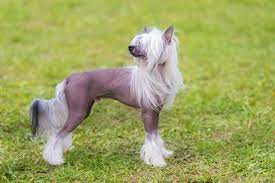 The relationship between dogs and horses has been a close one for millennia. Whether herding on the farm, performing military duties or acting as companion animals, they often work closely with each other. So while sharing similar lifestyles, it's no surprise that they would also take on each other's characteristics.
Some dogs are so massive that their size alone can mistake them for their equine counterparts. Others take on the coat patterns or grooming styles that contribute to the twin species look. Whatever the case, we appreciate both dogs and horses for the unique personalities they can offer and the dogs who enjoy fooling you with their strikingly horsey appearance.
For more guides similar to this list of dog breeds that look like Horses, you can check out:
You can learn more about what dogs look alike by watching "The Top 10 Look-Alike Dog Breeds" down below:
Garrett loves animals and is a huge advocate for all Doodle dog breeds. He owns his own Goldendoodle named Kona. In addition, he volunteers at the Humane Society of Silicon Valley, where he fosters dogs and helps animals. Garrett enjoys writing about Doodles and believes that dogs can teach humans more about how to live than humans can teach a dog.
Why Trust We Love Doodles?
At We Love Doodles, we're a team of writers, veterinarians, and puppy trainers that love dogs. Our team of qualified experts researches and provides reliable information on a wide range of dog topics. Our reviews are based on customer feedback, hands-on testing, and in-depth analysis. We are fully transparent and honest to our community of dog owners and future owners.