Groodles are Goldendoodles in Australian speak, and there are many Groodle breeders in Victoria. Groodles are a cross between a Poodle and a Golden Retriever. Introduced in the 1990s, Groodles have been gaining in popularity all over the world, and Australia is no exception.
Groodles are hearty, low-shedding, intelligent dogs that are loyal and family oriented. They're highly trainable and can be trained as working dogs, and excel in obedience training and agility. They are also wonderful therapy dogs.
Because they are a mixed breed, they don't qualify for show dogs, but that shouldn't deter anyone from considering an adorable Groodle puppy. Their adorable teddy bear faces are enough to melt anyone's heart.
In southern Australia, there are a handful of Groodle breeders both in Victoria and New South Wales. We've compiled a list of Groodle breeders for your information. While our list is small, we will be adding more Groodle breeders as we learn of them. Here is our list of the best Groodle breeders in Victoria and southern Australia.
Before scrolling down this list of Groodle breeders in Victoria, check out these other dog-related guides from our team at We Love Doodles: Best Labradoodle Breeders in Victoria and Best Poodle Breeders in Victoria.
1. Puppies Downunder
Puppies Downunder is a commercial breeder of "oodles" including F1 (first generation) Groodles and miniature Groodles. While this is definitely not a home breeder, neither are they a puppy mill.
They are a reputable family-run, ethical commercial breeder that is heavily regulated by the government regulations for dog breeders and the local council to maintain a high standard of care and health for their dogs.
A Groodle puppy from Puppies Downunder can cost $5,500 and if there are currently no puppies on their website, you can arrange to reserve a puppy from a future litter.
There is an "Expression of Interest" form on their website for you to fill out to begin the process of purchasing a Groodle puppy from this breeder. They also encourage potential buyers to meet the breeding pair and visit the puppy before bringing it home. If that's not possible, you can get video and picture updates from the breeder.
Puppies go home up to date on vaccinations, deworming, and are microchipped. This Groodle breeder also gives a health certification and health guarantee as well as free health insurance for your puppy.
Puppies Downunder will transport or ship their puppies at the buyer's expense. They offer breeder support to their customers for the life of the dog.
Puppies Downunder Details:
2. Amey's Puppies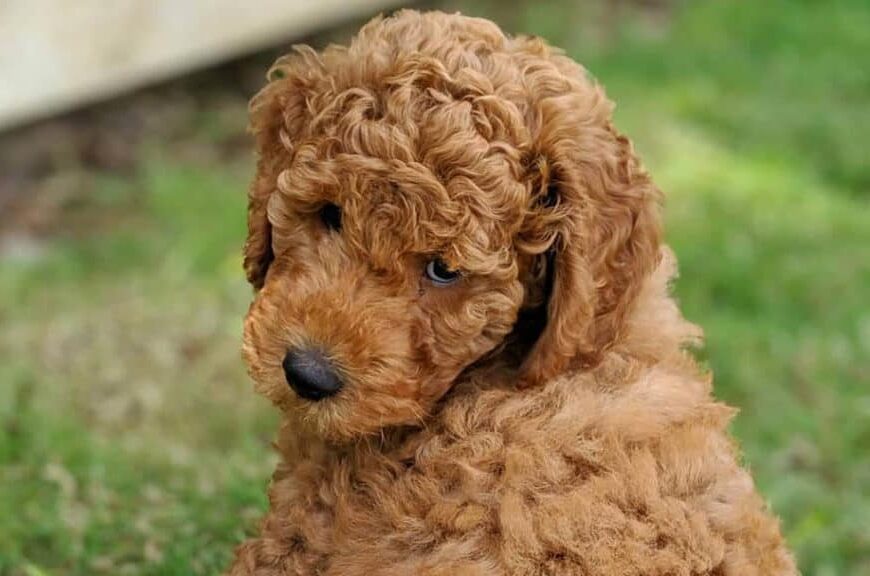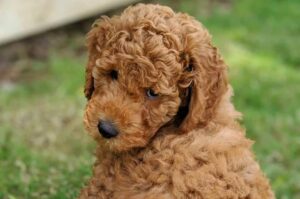 Amey's Puppies is a Victorian Minister approved domestic animal breeder in Melbourne, Victoria. They are breeders of "oodles" including F1 and F1b standard and miniature Groodles.
They are a part of the Victorian Breeders Group and a member of the AAPDB. While they are definitely not a small home breeder, they are not a puppy mill either. They socialize their puppies and guarantee their good health. They welcome regular audits by their local council and adhere to the highest standards for domestic animal breeders.
Amey's Puppies has a gallery of adorable Groodle puppies, some of which are available now at the rate of $3,000 apiece. They encourage you to visit the puppies by appointment. If the photos on the website are any indication, these puppies sell fast. If you want a Groodle in your life, this is a great place to start.
This Groodle breeder encourages potential buyers to fill out the form to join the waiting list to start the process of purchasing a Groodle puppy. Amey's Puppies gives a 3-year health guarantee against genetic defects with their puppies.
Groodle puppies go to their new homes with vaccinations, flea treatment, dewormed, and microchipped. This Groodle breeder will deliver at the buyer's expense.
Amey's Puppies Details:
3. Kruisen Kennels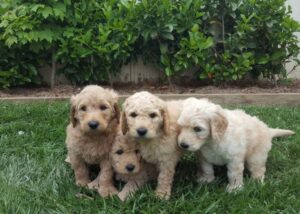 Kruisen Kennels in New South Wales is a family home breeder of "oodles" They feature F1 and F1b standard and miniature Groodles for sale among other poodle crosses. This Groodle breeder tests all their breeding animals and guarantees their puppies against genetic health defects.
They also offer continuing breeder support for the life of the dog and have reunions and meet-ups throughout the year inviting owners to get together with their Kruizen dogs.
They recommend that you get on their waiting list to reserve a Groodle puppy. This requires a $200 deposit. Once you're ready to choose your puppy another $1,000 payment is required. This breeder requests that you follow them on Instagram and Facebook for the latest updates on current litters and future planned breedings.
Puppies go home up to date on vaccinations and deworming. They will also be microchipped and go home with a health guarantee and a voucher for desexing. There are also additional "puppy pack" items for you to bring home with your Groodle puppy, and more available to buy from the breeder.
There are planned Groodle breedings coming up and puppies will be available soon so get that form filled out and get on the waiting list as soon as possible so that you, too, can bring home an adorable Groodle puppy from Kruisen Kennels.
Kruisen Kennels Details:
4. Rivergum Puppies
Rivergum Puppies is a family breeder of F1 ( first generation) and F1b (Groodle mom and Poodle dad) Groodles. Puppies from Rivergum are raised with family socialization in a farm environment.
This breeder was established 35 years ago and the most recent owners are benefiting from the previous owner's years of experience in breeding healthy, happy, good-quality dogs that will fit with your family and lifestyle. These Groodle breeders are committed to matching the exact right dog to the perfect home.
Rivergum puppies are handled from birth, and a deposit will get you on the "list of interest."
Once you are approved as a potential buyer you can put down a deposit to reserve a puppy. Puppy selections are made when the puppies are six weeks of age. The full price of an F1 Groodle puppy is $4,500.
The great thing about Rivergum Groodle Puppies is that the breeder will work with you to match your desire for the perfect puppy for you. Temperament, activity levels, and size are all factors taken into consideration when you're looking for that perfect Groodle.
This Groodle breeder will deliver or ship to capital airports at the buyer's expense. There is no information regarding how much of a deposit is required to reserve a pick in a litter.
Please contact the breeder via the website form or call to get details on future breedings and to learn just what is required to make one of these adorable Groodle puppies your new best friend.
Rivergum Puppies Details:
More Information on Finding a Reputable Breeder
Choosing a Groodle puppy is an important choice. You want a dog that is going to fit into your way of life and your family. If you are getting a puppy, you want to know that you are purchasing that puppy from ethical breeders, not pet stores or puppy mills.
Be diligent and on the lookout for scam artists that will take your money without any guarantees. Always meet the puppy before paying for it.
Ethical breeders in Australia are regulated by several agencies, as well as the local councils in the shire. Ideally, you want to do your homework. Look for references from previous buyers and testimonials on the website regarding the process of purchasing a puppy.
Ask for an opportunity to tour the breeder's facility and meet their most recent litters and breeding pairs.
You want a breeder who performs thorough genetic testing on their breeding pairs to rule out any and all genetic defects that the breeds are susceptible to. They will normally give buyers a genetic health guarantee against these defects for at least one or up to five years.
Look for breeders who are transparent about the health records of the breeding pair. Each puppy should go home having already had vaccinations, and deworming, and with plans to have the puppy desexed when it reaches the proper age.
Breeders that don't require their puppies to be spayed or neutered are to be questioned. Ethical breeders want to be sure that only quality bloodlines are allowed to reproduce.
You also want your breeder to socialize your puppy from birth until they come home. The more exposure your dog can get to people, children, other dogs, and cats, or other animals, the better. Puppies that have socialization and exposure gain confidence and have an easier time fitting in with their new home and family.
Consider puppy classes and basic obedience training for your new Groodle puppy. Most breeders have started your puppy with basic obedience training, crate training and have given your puppy a start on housebreaking as well.
In Australia, local councils do regular audits on domestic animal breeders. Look for the results of those audits, and contact breeder associations and breeders groups.
It's up to you to do your due diligence to find Groodle breeders in South Australia that operate ethically and are committed to providing their clients with the healthiest and most well-adjusted puppies.
FAQs
What is the temperament of a Groodle?
Groodles are even-tempered and adaptable dogs. Their tendency to go with the flow and love of company makes them popular family dogs. They are also easy to train with consistency, making them great for first-time dog owners. Groodles like to keep busy, but toys, training, and exercise will go along way toward keeping them occupied.
What is the difference between an F1 Groodle and an F2 Groodle?
An F1 Groodle is a direct mix of a purebred Poodle and a purebred Golden Retriever. An F2 Groodle is a mix between an F1 Groodle and another F1 Groodle. Strangely, the traits in F2 Groodle puppies are more unpredictable than F1 puppies, so most breeders stick to breeding F1 generations.
Do Groodles shed a lot?
Groodles are not entirely non-shedding, so they will shed some. Even Poodles shed a bit because no dog is truly 100% hypoallergenic. Shedding can vary from dog to dog but is overall more likely in the summer months. Regular grooming can help reduce the amount of day-to-day shedding.
Conclusion For "Best Groodle Breeders in Victoria"
There are many great Groodle Breeders in Victoria. Start with this list and if you don't find your Groodle on the first try, use the information in this article to guide your search.
A puppy is a big investment. Protect your investment by giving your dog proper training and socialization so that they can be solid canine citizens.
Take your Groodle puppy to regular veterinary visits and feed him high-quality nutritious and age-appropriate food so that he can grow and develop properly, and live a happy and healthy life as a valued member of your family.
For more guides similar to this list of Groodle breeders in Victoria, you can check out:
Before you bring home a Groodle from a breeder in Victoria, you can learn more about the breed by watching "12 Things Only Goldendoodle Dog Owners Understand" down below:
Garrett loves animals and is a huge advocate for all Doodle dog breeds. He owns his own Goldendoodle named Kona. In addition, he volunteers at the Humane Society of Silicon Valley, where he fosters dogs and helps animals. Garrett enjoys writing about Doodles and believes that dogs can teach humans more about how to live than humans can teach a dog.
Why Trust We Love Doodles?
At We Love Doodles, we're a team of writers, veterinarians, and puppy trainers that love dogs. Our team of qualified experts researches and provides reliable information on a wide range of dog topics. Our reviews are based on customer feedback, hands-on testing, and in-depth analysis. We are fully transparent and honest to our community of dog owners and future owners.