The Goldendoodle is a popular breed among pet owners and breeders alike. Aside from their luxurious color, calm temperament, and fluffy coats, Goldendoodles make wonderful pets. In Australia, they are typically called Groodles instead of Goldendoodles. Finding a Goldendoodle breeder in Australia that matches your preferences may prove to be a challenge, especially if you have a busy schedule.
Don't worry, this list will help you narrow down your search! Breeders on this list have been in the Doodle breeding business for many years and are regarded as the most reputable on the continent. You will definitely be pleased with your choice of Goldendoodle breeder regardless of which one you choose. Let's get started!
Before scrolling down this guide, check out these related topics: Which Goldendoodle Size? Mini, Medium, Standard! and Goldendoodle Generations (F1, F1B, F2, etc).
1. Groodles Australia
Groodles Australia has flourished into a wonderful community program that promotes the beautiful Goldendoodle while making significant donations to charities. Throughout the country, Groodles Australia has gathered a number of incredible guardian families who lovingly care for their puppies within their homes.
Their wonderful guardian families have fun while raising the most adorable puppies, backed by the high standard of care provided at their award-winning vet practice, Greater Springfield Veterinary. Samara Cannon and her team ensure the processes run smoothly and are delivered with love and care.
Dogs used for breeding at Groodles Australia are registered under Queensland's new breeder registration scheme, which was designed to stop backyard breeders and puppy farms.
Their commitment to breeding responsibly and adhering to strict ethical standards is admirable. Every litter is planned ahead and every puppy is matched with a good home. Mums are never bred at first heat and will always be fully developed adults before breeding ensuring you a healthy puppy.
Goldendoodle Puppy Information:
Groodles Australia Breeder Details:
Location: 3/2-4 Woodcrest Way, Springfield QLD 4300, Australia
Telephone: (07) 3447 6392
Website: https://groodles.org.au/
Email: groodles@gsvets.com.au
Instagram: @groodlesaustralia
2. Kruizen Kennels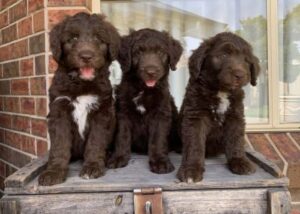 Located in the country of New South Wales in Orange, Kruizen Kennels is about three hours from Sydney. Kruizen Kennels is run by Stephanie along with Angie, who assists with the day-to-day running of the business.
In addition to managing Kruizen Kennels, Stephanie assists families in selecting the right puppy for their lifestyle.
Stephanie will have a series of conversations with you about your lifestyle and how you plan to provide a great life for your Goldendoodle. She then matches you with the right pooch for you.
Angie ensures the health of the breeding dogs by whelping litters and doing regular health checks. Additionally, she assists in the ongoing care of their puppy litters.
If you are not on the waitlist, you may miss out on a litter since puppies are not advertised until waitlist members have selected their puppies. So, visit their website as soon as possible and register!
Goldendoodle Puppy Information:
Kruizen Kennels Breeder Details:
Location: North Orange, Orange NSW 2800, Australia
Website: https://kruizenkennels.com.au/
Email: info@kruizenkennels.com.au
Instagram: @_kruizenkennels_
3. Salisbury Park Groodles
The team at Salisbury Park Groodles carefully plans each mating, selecting a sire and dam that will produce stunning offspring with personalities that will make them highly sought-after as family pets. You will love their dogs with their soft, wavy coats and teddy bear-like faces.
Puppies at Salisbury Park Groodles are raised in a dedicated Nursery. It is fitted with CCTV and is temperature-controlled. This allows them to keep tabs on mum and her pups without disturbing them. It is situated near the house in their five-acre garden. If needed, mum can take a relaxing break outside without being bothered by other animals. A deck on one side is perfect for puppies to play and nap on once they get their bearings. A puppy's paradise!
Should you choose one of their Goldendoodle's as your dog, they will offer you lifetime breeder support and assistance.
Goldendoodle Puppy Information:
Salisbury Park Groodles Breeder Details:
Location: Southern Highlands of NSW
4. Rubyleigh Designer Dogs
Rubyleigh Designer Dogs are small breeders that are passionate about breeding Goldendoodles.
Puppy-raising takes place in a loving, peaceful environment with plenty of room for running around. The Goldendoodle puppies are raised on a 1-acre pasture where they are free to run and play.
Rubyleigh always has a selection of puppies available, so you'll always find something to look forward to! One of the best things about this Goldendoodle breeder in Australia is that all the puppies are vet-checked before they are sold, ensuring they are healthy.
Goldendoodle Puppy Information:
Rubyleigh Designer Dogs Breeder Details:
5. Puppies Gold Coast
A registered breeder located in the Gold Coast Hinterland (one hour from Brisbane), Puppies Gold Coast is surrounded by beautiful mountains, hills, streams, and a variety of wildlife that keeps their puppies and dogs busy all day long!
Pets first and foremost, they give their dogs a lot of love, attention, and a great diet based on natural and premium sourced dry food. Sometimes supplemental stuff like eggs, chickpeas, and sardines for additional vitamins and minerals are provided.
Additionally, they are qualified energy healers and spend a lot of time giving their puppies holistic and energy therapy treatments, which they really enjoy! All their Goldendoodle puppies for sale in Australia receive all the attention and care they need since they are not a large breeding operation.
With their large acreage, they live a comfortable and safe life, socializing frequently with other dogs and humans. Your puppy will receive a terrific start in life with this lifestyle.
Goldendoodle Puppy Information:
Size: Standard and medium Goldendoodle Puppies
Puppies Gold Coast Breeder Details:
6. Puppies Downunder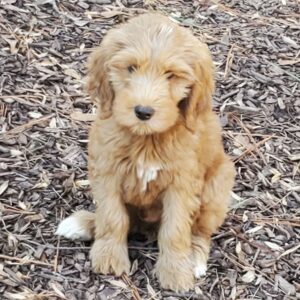 Puppies Downunder is a small family-run business that specializes in breeding Doodles. They have breeding experience dating back 45 years and consistently breed smart, calm, and healthy Goldendoodle puppies in Australia.
Charlie, the owner of Puppies Downunder, has been working with animals since 1975, and his puppies have won countless awards.
If you're looking for a puppy in Victoria, particularly in Maryvale and Melbourne, Puppies Downunder is hands down one of the best Goldendoodle breeders in Australia.
Goldendoodle Puppy Information:
Puppies Downunder Breeder Details:
Location: 340 Latrobe Road, Maryvale VIC  3840
Telephone: 0499912709
Website: https://puppiesdownunder.com/
Email: info@puppiesdownunder.com.au
Instagram: @puppiesdownunder
7. Elwood Groodles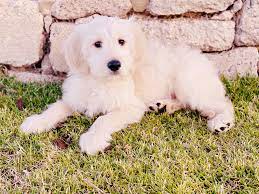 Located in the beautiful Yass Valley of New South Wales, Australia, Elwood Groodles is one of the top Goldendoodle Breeders in Australia. Their dogs are cherished members of the family and an integral part of their everyday lives. Swimming, retrieving, and relaxing in the sun are some of their favorite activities on warm sunny days.
Goldendoodle puppies at Elwood Gardens are of the best breed and health. They prioritize the wellbeing of their Goldendoodle puppies so that they make beautiful family pets. They are definitely one of the best Goldendoodle breeders in New South Wales, Australia.
Goldendoodle Puppy Information:
Size: Standard, medium, and miniature size Goldendoodle Puppies
Elwood Groodles Breeder Details:
Goldendoodle Puppies in Australia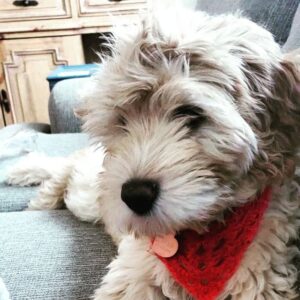 They're the perfect combination of good looks, wits, and playfulness. Goldendoodles, a designer breed, are mixed with Golden Retriever and Poodle. Hybrid dogs are known as "designer breeds" because they were bred to have the loveable characteristics of both of their parents.
Goldendoodles, like any dog or person living in Australia, can get hot quite easily. However, most Goldendoodles are infatuated with swimming, whether in a waterhole, at the beach, or in your backyard. So blow up the kiddie pool, and let your Goldendoodle keep cool, and have fun!
How to Choose a Goldendoodle Breeder in Australia?
1. Integrity
Honesty and transparency are qualities of a good breeder.  If you ask them any questions about their Goldendoodle pups, they should be able to answer them with knowledge and candor. Publicly vilifying or condemning others is not part of their character. You will be encouraged to get opinions from all sources, not just those they provide.
2. Health Warranty
Ideally, a warranty should be a pre-existing agreement between the breeder and yourself specifying exactly what is covered and what should be done in the event of a problem.  A fair settlement should already be agreed upon by both parties prior to things going wrong and emotions running high.
Where do you find a Goldendoodle breeder?
In Australia, there are a number of Goldendoodle breeders. With any one of the breeders on our list, you can't go wrong, but you can also do your own research and choose from a different breeder.
Pick a Goldendoodle breeder that has been inspected by a veterinarian. They should be registered with one of these associations: Responsible Pet Breeders Australia, Worldwide Australian Labradoodle Association, Australian Association of Pet Dog Breeders, or Victorian Domestic Animal Business.
Alternatively, double-check the puppy health checks are accurate to rule out unregistered breeders and puppy mills.
Conclusion for Goldendoodle Breeders in Australia
The following are the top seven Goldendoodle breeders in Australia. If you are looking for a Goldendoodle puppy in Australia, all the breeders listed here would be great choices!
You will also like:
Garrett loves animals and is a huge advocate for all Doodle dog breeds. He owns his own Goldendoodle named Kona. In addition, he volunteers at the Humane Society of Silicon Valley, where he fosters dogs and helps animals. Garrett enjoys writing about Doodles and believes that dogs can teach humans more about how to live than humans can teach a dog.
Why Trust We Love Doodles?
At We Love Doodles, we're a team of writers, veterinarians, and puppy trainers that love dogs. Our team of qualified experts researches and provides reliable information on a wide range of dog topics. Our reviews are based on customer feedback, hands-on testing, and in-depth analysis. We are fully transparent and honest to our community of dog owners and future owners.