There are several Groodle breeders in Melbourne, Australia, but choosing a breeder with experience in breeding and raising healthy dogs is essential.
The Groodle, or Goldendoodle, is a cross between Golden Retrievers and Poodles and inherits the best qualities of both its parents. It has become a popular dog breed because of its playful personality, hypoallergenic coat, and trainability.
People love to bring home a Groodle because they're gentle around children and good with people of an older age. They're also very friendly and get along well with other pets. They are easy to train, making an excellent family pet for novice owners.
Groodle puppies love to cuddle and show affection to their owners, and they form a close bond with each family member. However, their high intelligence and companionship qualities sometimes create separation anxiety if left alone for too long.
Choosing a breeder that provides puppies with early training and mental stimulation is necessary to avoid such behavioral issues. Let's have a look at some of these reputable breeders who have well-adjusted Groodle puppies for sale in Melbourne.
Before scrolling down this list of Groodle breeders in Melbourne, check out these other guides from our team at We Love Doodles: Best Golden Retriever Breeders in Melbourne and Best Dog Breeders in Melbourne.
1. Puppies Downunder
Puppies Downunder is a small family-based breeder in Victoria. They specialize in breeding Doodles and have more than 45 years of experience.
They aspire to breed for sweet and even temperament, excellent build, hypoallergenic qualities, and intelligence. Puppies Downunder follows the ethical breeding standards approved by the Victorian Minister for Agriculture, prioritizing the health and safety of their dogs above everything else.
The core values of this breeder ensure that all their dogs receive a quality lifestyle and a nurturing place to grow and live. They have dedicated their lives to working for the welfare of Groodles 24/7.
After thorough research, they select dogs from bloodlines with the best qualities for breeding. They ensure that their puppies are born with characteristics that make them suitable for big and small families, novice pet owners, seniors, and people looking for a therapy dog for PTSD, Autism, Diabetes, and other physical and mental health conditions.
Puppies Downunder is a commercial breeder, and they follow requirements like registering with the local council, restricting the number of dogs in their facility, allowing regular audits, educating their staff and volunteers, maintaining a diet and health plan for dogs, having a retirement plan ready for each dog and providing socialization, handling, enrichment and exercise to their puppies.
Since several dogs and puppies are at the facility, they have their own pens.
The price of each dog is $5500, excluding registration and delivery charges to Melbourne. The dogs will come with their initial two vaccinations, health checks from the vet, and a microchip.
They will be dewormed and neutered or spayed at 8 weeks of age. The breeder offers a 21-day health guarantee and a 3-year genetic guarantee for all their puppies, as well as 4 weeks of free pet insurance.
Moreover, you and your puppy will get a starter pack which includes a collar, lead, bowl, toy and favourite biscuits. The breeder provides lifetime support and guidance to all their clients.
Puppies Downunder Details:
2. Yarra Valley Groodles
Next on our list of Groodle breeders in Melbourne is Yarra Valley Groodles, located in Yarra Valley. This breeder is a vet nurse who has several years of experience dealing with different dog breeds and their unique needs.
The whole family is passionate about Groodles. The dogs live in this big, beautiful home with loving members, and they even share their beds with the dogs. The puppies at Yarra Valley are whelped in the lounge room and handled from an early age with love and care.
Puppies learn about family life by sharing the home with four kids of different ages, socializing with other dogs, and listening to everyday home noises. These puppies are loved dearly in this family, and the breeder conducts thorough research on each applicant to decide if the new home for these puppies is a good fit.
At YVG, they breed F1 and F1b generation Groodles to ensure top quality and health. The breeder guides interested clients on which type is best for them. The F1 puppies are direct offspring of breeding between a Poodle and a Golden Retriever.
At the same time, F1b puppies have a Groodle mum and a Poodle dad. Similarly, YVG has puppies with two different fur types, fleece coat, and wool coat. Most F1 puppies have fleece coats that need regular grooming and may shed at a time, while at the same time, wool coat puppies are more suited for families with members who have dog allergies.
Their Groodles are happy and fun-loving dogs with affectionate and friendly personalities. The energetic trait inherited from the Golden Retriever parent and the intelligence inherited from their Poodle parent makes them irresistible.
Yarra Valley Groodles post their puppies on social media. They regularly update it with new and adorable pictures of their dogs. It is also where they update their potential customers about new puppies. The price of each puppy is $5000, and to apply, you can email them through their website.
Yarra Valley Groodles Details:
3. Willow Pets
Since few breeders have Groodle puppies in Melbourne, Willow Pets offers free delivery to clients in Melbourne. This breeder has high-quality and healthy Groodle puppies that are a result of selective breeding. They monitor their puppies and assess them through a camera 24/7.
At Willow Pets, the breeders use the Victorian code of practice to conduct ethical breeding between healthy and sound dogs. They also receive audits to adhere to the laws of ethical breeding in Australia.
They breed first-generation standard Groodles, who come from a Golden Retriever mother and a Poodle father. Puppies are available in various sizes, and all of them are hypoallergenic. Their Groodles are active, energetic, and love to play, especially in the water.
Willow Pets breed for better temperament, excellent health and trainability to become good family pets and therapy dogs. The dogs and puppies receive daily exercise, regular grooming, and health checkups. They romp and run around on the 5-acre property in a small town, enjoying outdoor sunshine as much as their heart desires.
The breeder is registered with the Domestic Animal Business License. All the dogs here are DNA tested and adequately looked after. This breeder's most reliable trait is maintaining a smooth communication stream with their clients and offering them support and guidance throughout the process and after adoption.
When you receive the puppy, it will be well-handled and cuddly. The puppy will also receive early socialization with other pets and kids and an introduction to different sounds and textures that will help them adjust well.
The puppies cost around $6,000 – $6,500 and will come at 8 weeks of age microchipped, vaccinated and dewormed, with a puppy pack, documents, and health guarantee.
Willow Pets Details:
4. Salisbury Park Groodles
Our last reputable breeder with Groodle puppies near Melbourne is Salisbury Park Groodles, located a few hours' drive from the city. In addition, the breeder also provides transport using Ultimate Pet Logistics to deliver puppies to Melbourne.
Salisbury Park Groodles is a small-scale breeder located on 250 acres in the Southern Highlands of NSW. The breeders at Salisbury love their dogs and teach them to retrieve and swim when they're not relaxing, running, or playing in the sun.
They believe they have the most beautiful Australian Groodles to offer and strive to breed for high quality, even temperament, and soundness of mental and physical health.
Salisbury Park Groodles have been in the business for over a decade and prioritize the health and happiness of their dogs over everything. In their breeding programs, temperament is essential, and they carefully plan each litter.
The breeders aim to whelp and raise family pets with soft, non-shedding coats, and innocent faces. Their facility has a purpose-built nursery for the puppies, which is temperature-controlled and monitored by CCTV. Outside of the nursery, there is a deck in the sun for puppies to play and nap.
The puppies are well-socialized around children, pets, farm animals, and have exposure to the homely environment, including different noises and textures. The price of each puppy is $4000 or more.
It will include their initial vaccinations, microchip, worming, health check, puppy guide, and lifetime support from the breeder. To secure a puppy, visit their website and pay a deposit of $500. They will confirm the waiting list after announcing a new puppy litter.
Salisbury Park Groodles Details:
FAQs
How much does a Groodle cost in Melbourne?
When purchasing a Groodle puppy in Melbourne, expect to pay between $4,000-$6,500. While purchasing from a reputable breeder is expensive, the health of the puppy may be dependent on this. Good breeders do DNA testing and health checks on the parent dogs that ensure the puppies have the best genetics. This is one of the best ways to prevent breed-specific health issues in the long run.
Are Groodles good for first-time owners?
Groodles are typically intelligent dogs that enjoy the company of their owners and are eager to please. First-time dog owners who learn good training practices, get their dogs exercise and are ready to give their dog cuddles and attention will do great with a Groodle. A Groodle's exact temperament could lean toward that of a Golden Retriever or a Poodle, so ask about the parent dogs. Reputable breeders will be able to tell you about the parent dogs' temperaments and who the puppies are suited for. They may also offer guidance on how to best care for your dog.
What are the genetic issues with Groodles?
A few common genetic conditions of Groodles include skin disease, hip dysplasia, a cardiovascular condition called Subvalvular aortic stenosis (SAS), cataracts, and Addison's disease. Groodles are generally less prone to genetic conditions than purebred dogs because of the wider gene pool. However, both breeds have 3 common genetic conditions they are prone to: hip and elbow dysplasia, eye issues, and thyroid issues. Purchasing a puppy from a reputable breeder who does genetic testing will lessen the chance of your puppy being affected by these conditions.
Conclusion For "The Best Groodle Breeders in Melbourne"
Before making a purchase, it is essential to research Groodle breeders in Melbourne, Australia, thoroughly. While it is vital to compare prices when buying a new puppy, it is also necessary to consider the breeding practices of the breeder.
Ensure they are a member of a reputable club and adhere to the set breed standards. The health and pedigree of the puppy should also be considered. Finally, it can be helpful to read reviews and testimonials to ensure that you are choosing a trustworthy breeder.
Good luck finding your healthy and energetic Groodle puppy.
For more guides similar to this list of Groodle breeders in Melbourne, you can check out:
Before you bring home a Groodle from a breeder in Melbourne, you can learn more about the breed by watching "7 Reasons You SHOULD NOT Get a Goldendoodle" down below: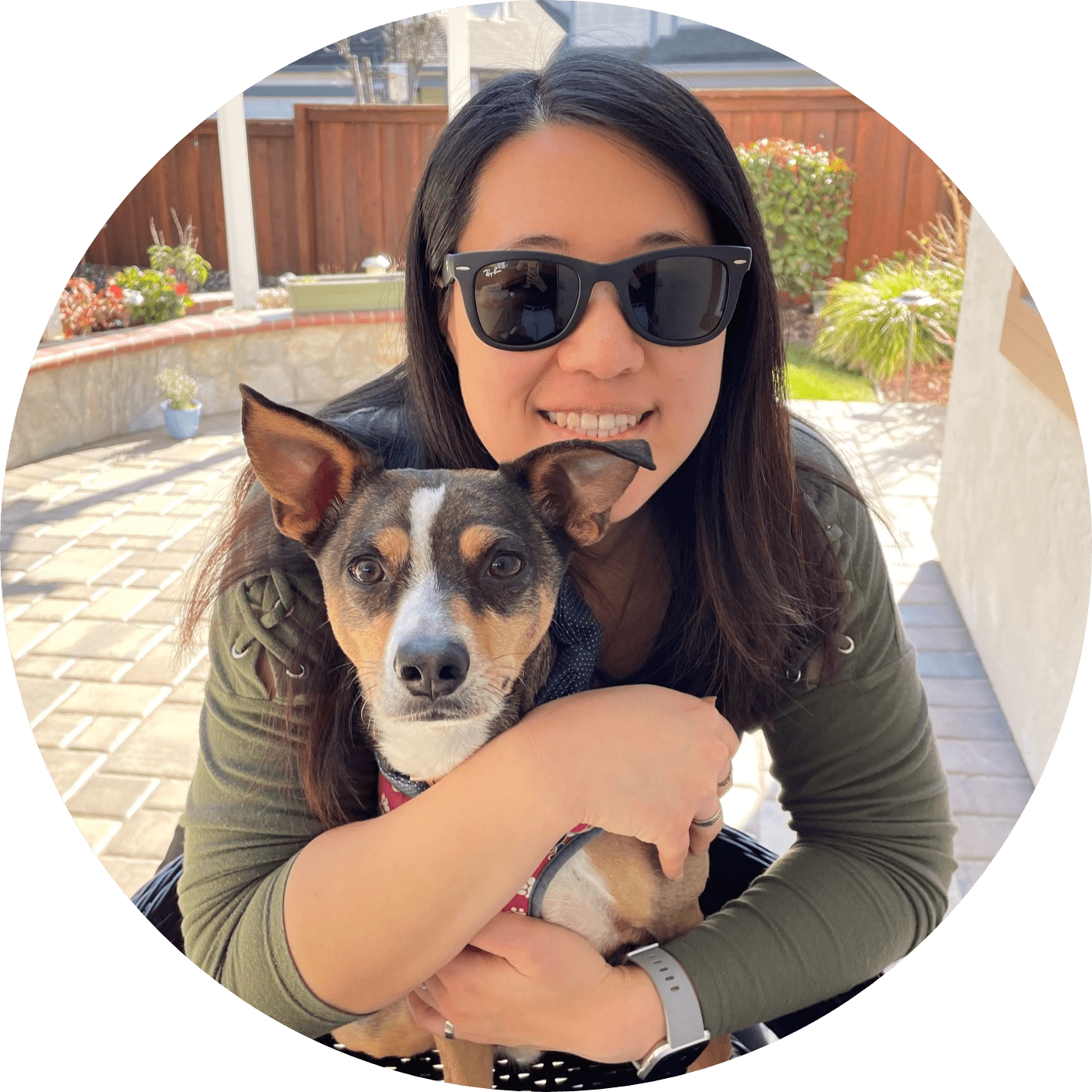 Dr. Sabrina Kong graduated from the Royal Veterinary College in England in 2016 and has been working at a small animal clinic in Northern California since then. She grew up in the Bay Area and got her bachelor's degree from Cal Poly San Luis Obispo. She also became a Certified Canine Rehabilitation Practitioner through a program at the University of Tennessee.
When she isn't in the clinic taking care of her four-legged patients, she enjoys traveling and trying new foods with her friends and her three-legged dog, Apollo. She adopted Apollo from her clinic when he was a puppy with numerous health issues. Dr. Kong truly cares about taking care of animals.