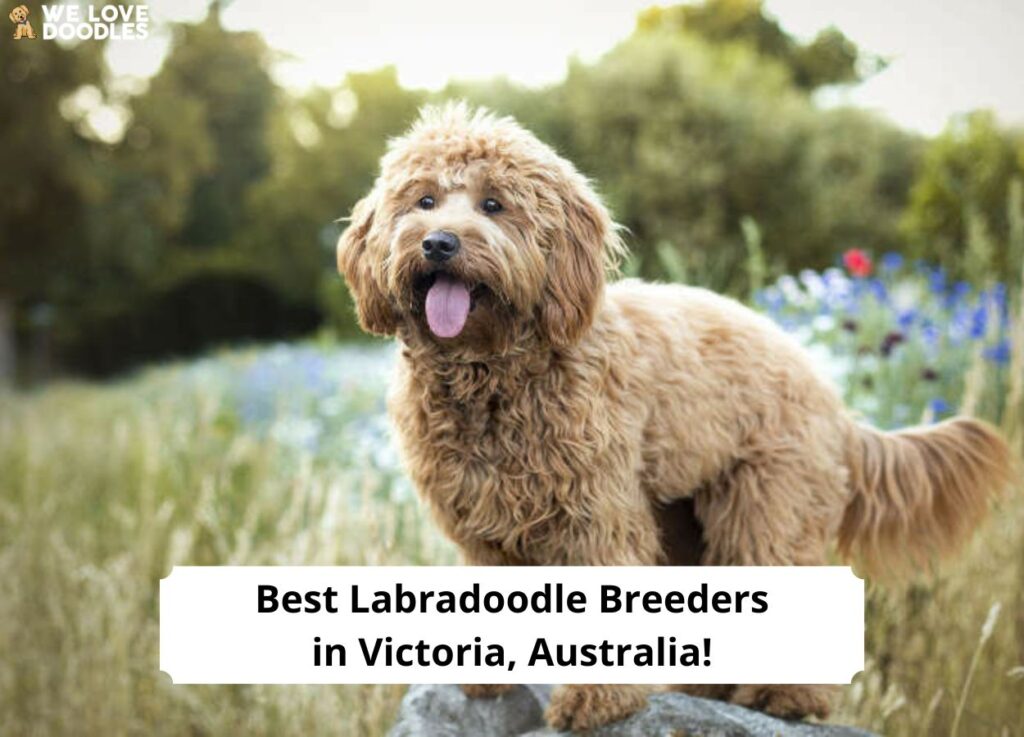 Are you looking for Labradoodle breeders in Victoria who greatly consider the health of their puppies when breeding? You have come to the right place. Health is one of the most important things to consider when adding a new puppy to your family.
You want to ensure the breeder you choose highly prioritizes their dog's health and does not cut corners. The best Labradoodle breeders always conduct DNA and health tests, regardless of the cost.
In addition, most of them offer health guarantees because they are confident in the health of their puppies. The Labradoodle is one of the most intelligent and friendliest breeds out there.
These wonderful dogs come in various colors and sizes. They also inherited many amazing traits from their parents — the Poodle and Labrador Retriever — such as non-shedding and hypoallergenic coats.
As hypoallergenic dogs, Labradoodles are great for people with mild allergies. On top of being great family pets, Doodles are loyal and highly protective of the people they love.
Here are some of the best Labradoodle breeders in Victoria, Australia, who provide healthy, well-socialized, and happy puppies.
The Four Best Labradoodle Breeders in Victoria
Before scrolling down this list of Labradoodle breeders in Victoria, Australia, check out these other breeders: 7 Best Labradoodle Breeders in Australia! (2023) and 3 Best Bernedoodle Breeders in Australia! (2023).
1. Burrinjuck Labradoodles
Quality and experience are the two top factors with this breeder. Burrinjuck Labradoodles is a small-scale breeder located in North East Victoria — less than three hours from Melbourne.
The loving family behind this breeding program treats all their Labradoodles as treasured members of their family. They share the responsibilities involved in training, socializing, and caring for the puppies as companions.
Burrinjuck is one of the few breeders who truly understands the importance of a puppy's first eight weeks, and they invest a lot into their well-being, health, and social development. They also know the importance of puppies interacting with people from an early age.
They devote many hours of quality interaction time with the puppies, helping to build their social and interactive skills. The quality time they spend with the puppies also helps build their confidence and trust.
Their Labradoodle puppies live in an optimal environment that helps with cognitive learning and mental stimulation. They have their own playground with interactive toys, obstacle courses, and equipment.
Burrinjuck are ethical breeders who strive for excellence in all aspects of their breeding program. They are also available to answer any questions about their breeding program, puppies, and dogs. You can book an appointment to visit their home.
In addition, these breeders support their customers through expert training options. They have an online store, Burrinjuck Boutique, where you can purchase a wide variety of puppy care items.
Burrinjuck Labradoodles Details:
2. Siena Labradoodles
A retired couple in Mornington Peninsula, Victoria, owns and manages Siena Labradoodles. Despite being retired, this couple has always been committed to dogs and sharing their love with all their Labradoodle friends and family.
They encourage prospective buyers to visit the home to see their dogs, where they are raised, and how well they are treated.
Visiting in person also gives you the opportunity to ask them questions about their operation and get all the answers you need to make your final decision. The family breeds and raises Medium and Miniature size Australian Labradoodles.
As dedicated breeders, they promote this lovely dog breed as the ideal family pet. Siena Labradoodles adopts ethical breeding practices to ensure they provide you with the best puppies possible. The family is also committed to developing confident, happy, and social puppies that will acclimate well to your home.
All their puppies are hand-raised in their home and are given both human and canine companionship from birth. Presented with various stimuli from day one, their puppies experience life both outdoors and indoors, along with all the amazing experiences that come with puppy exploration.
Siena Labradoodle is an accredited breeder and is in good standing with the Australian Labradoodle Association. The family adheres to the procedures, policies, and breeding ethics set by the ALA, so that the Labradoodle is seen as a sound breed for future generations to enjoy. As such, they are bound by a stringent code of ethics, which includes DNA and health testing of all their sires and dams before breeding.
The puppies are registered with the ALA and go home with the following:
Three-year health guarantee
Family pedigree
Complete vet check
Microchipping
Vaccination
Worming
Desexed
Puppy care notes
The crown it all, the family offers after-sales service and support to ensure you get all the assistance you need in your puppy-raising journey.
Siena Labradoodles Details:
Location: 61 Mountain View Rd, Mount Eliza VIC 3930, Australia
Website: Siena Labradoodles
3. Rocky Creek Vineyard Labradoodles
Rocky Creek Vineyard Labradoodles has the perfect environment for raising healthy, happy, and well-rounded Labradoodle puppies. They have a vineyard in Glenburn, Victoria. Half of the property is still virgin native bush, so there's lots of fresh air and space to roam freely.
Their Labradoodles run freely through the vineyard, swim in the dam, watch wildlife, and roll in the grass. Rocky Creek breeds on a "boutique" scale, providing families with beautiful, healthy, well-bred puppies all year round.
Another amazing thing about this family is that they maintain lasting relationships with all their Labradoodles. Regardless of where the puppies end up, they always keep in touch with the new families to ensure they get all the guidance they need to raise their pets happily and healthily.
Breeding responsibly is very important to this family. They believe that a dog is a man's best friend and that any dog they own will live like queens and kings. Rocky Creek Vineyard Labradoodles is a proud member of the ALA and abides by its rules, regulations, and code of ethics.
They carefully plan every litter to ensure the best possible results. Prior to breeding, all their sires and dams take tests for over 100 different health conditions, including DNA. Only dogs with exceptional health results and no genetic health issues join the breeding program.
All the puppies are thoroughly vet-checked to ensure they are 100 percent free from congenital defects. In addition, the puppies are vaccinated, dewormed, and protected against fleas and ticks before being released to their new families.
Their website is also well-equipped with useful information to help you provide the best care for your puppy, including tips on:
Feeding
Sleeping
Grooming
Training
Exercise
House training
Leaving your puppy home alone
Rocky Creek Vineyard Labradoodles Details:
4. Amalie Labradoodles
Amalie Labradoodles is an outstanding breeding program located in the Bellarine Peninsula region of Victoria. They specialize in breeding multigeneration, beautiful, healthy Australian Labradoodles with exceptional health and temperament attributes.
The breeding program is well-recognized and even accredited by the City of Greater Geelong. There are regular audits to ensure they adhere to the Victorian Code of Practice for ethical breeding and rearing of puppies.
With the independent assessment of their breeding facilities, records, and practice, rest assured you are dealing with a reputable breeder that will deliver on their promise. To avoid any potential issues with future generations, all of their dogs take DNA and health tests before breeding.
Amalie commits to providing lifetime support to you and your new family member — they want you to get the best from your companion. All their puppies are vet-checked and given the love, care, and attention they deserve.
The puppies enjoy daily dosages of attention and socialization. They do well to expose them to people, other pets, sights, sounds, and environments. The family ensures their puppies go home well-socialized, well-behaved, and semi-trained.
If you are looking for a good-tempered and healthy Labradoodle puppy, Amalie Labradoodles is one of the best places to get one.
Amalie Labradoodles Details:
Frequently Asked Questions
How much should you expect to pay for a Labradoodle?
When buying a healthy Labradoodle puppy from a reputable breeder, you can expect to pay anywhere from $1,500 to $3,000.
Are boy or girl Labradoodles better?
It's up to your personal preference! While some people generalize gender-based behaviors, it's always going to come down to an individual dog. Choose whichever puppy feels like the right fit.
What is the lifespan of a Labradoodle?
A healthy Labradoodle will live to be 10 to 15 years.
Conclusion for "Best Labradoodle Breeders in Victoria, Australia"
It is easy to get caught up in the excitement of seeing adorable puppies on your first visit to a breeder, but don't buy one right away. When you visit, ask to see the puppies' parents and siblings; this will give you a sense of the pet's behavioral and physical attributes.
Take a closer look at the parents to determine if they are in good health. You should also inquire about the health history and temperament of the dogs. Get all the necessary information about the dogs before making any financial commitment.
For more guides similar to this list of Labradoodle breeders in Victoria, Australia, you can check out:
Before you purchase a Labradoodle from a breeder in Victoria, Australia, you can learn more about the breed by watching "7 Reasons You SHOULD NOT Get a Labradoodle" down below:
Garrett loves animals and is a huge advocate for all Doodle dog breeds. He owns his own Goldendoodle named Kona. In addition, he volunteers at the Humane Society of Silicon Valley, where he fosters dogs and helps animals. Garrett enjoys writing about Doodles and believes that dogs can teach humans more about how to live than humans can teach a dog.
Why Trust We Love Doodles?
At We Love Doodles, we're a team of writers, veterinarians, and puppy trainers that love dogs. Our team of qualified experts researches and provides reliable information on a wide range of dog topics. Our reviews are based on customer feedback, hands-on testing, and in-depth analysis. We are fully transparent and honest to our community of dog owners and future owners.