If you're in Oregon and want a Cockapoo, it's best to get one from a breeder. However, sometimes this is hard to find since you want one that's reputable and easy to work with. There are offline and online breeders, and they're pretty easy to find.
Getting a Cockapoo from a reputable breeder is best since you'll know exactly what kind of dog you're getting, and also will know the health and pedigree of it. Additionally, if you plan to compete in the dog show world, there are many types of dog shows that welcome Cockapoos. Below we'll give you some of the best Cockapoo breeders in Oregon, including relevant information and any other important aspects.
Before scrolling down this guide, check out these articles: Best Cockapoo Dog Breed Guide! and Cavapoo Breeders in Oregon.
1. Starlos Cockapoos Oregon
This is a Cockapoo breeder that's located in Christmas Valley, Oregon. While they do not have a good website, they do have Cockapoo puppies for sale.
To get a hold of these Cockapoo breeders in Oregon, it's best to contact them via phone or go to their address, which is located in the breeder information.
Cockapoo Breeder information
2. Echo Hills Ranch
For those near the Washington and Oregon border, there is Echo Hills Ranch.
All of their Cockapoo puppies for sale are raised on a 7-acre fenced-in area to let the dogs run around, and they are properly socialized to ensure happiness in their new homes.
Every Cockapoo puppy they breed does have vaccinations when appropriate, gets their flea and heartworm treatments, deworming, and a microchip to guarantee that the puppies are nice and healthy.
They are located about 1.5 hours north of Spokane and do deliver to some parts of the Washington area. But if you can't find a breeder currently breeding puppies in Oregon, this is an option to choose.
Echo Hills Ranch does offer a lot of different options for their customers to choose, and you can be put on a waiting list for a specific type of dog, whether boy or girl, a certain color, and certain temperaments.
Nothing is set until 7 weeks when you choose a Cockapoo puppy, and you can also reserve coat colors as well.
They have four Cockapoos now with litters, so if you'd like to find out if it's right for you, don't hesitate to contact them! Every Cockapoo puppy is $2,000 plus a sales tax to hold a puppy. Additionally, it'll be a $600 non-refundable deposit.
Cockapoo Breeder information
3. Maranatha Cockapoos
This is a family-owned Cockapoo breeder that focuses solely on the health and temperament of their puppies.
They're located in Lake Stevens which is closeby to Oregon and the puppies and dogs that are all raised around families, exposed to different types of situations to properly socialize.
Every Cockapoo puppy from this breeder does get a full vet check, the vaccinations up to date, declawed, and dewormed. You also get a one-year guarantee of health from this breeder, guaranteeing that the puppy is free of congenital issues that are life-threatening. You do need to fill out an adoption application before you can pick out your Cockapoo. Once that's done, you then get a spot on the waiting list and a deposit is then paid to hold it.
Their Cockapoo puppies for sale range from $1600-1800, respectively.
Cockapoo Breeder information
3. Cloud 9 Cockapoos
Be on Cloud 9 with your Cockapoo with this breeder. They make sure everyone who adopts their puppy manages to get the perfect little canine companion. Additionally, they take pride in ensuring that the puppies are connected with their families and are bred to be well-tempered, loyal, intelligent, and also allergy-friendly, so if you have allergies this breeder makes sure to take that into consideration.
Every single Cockapoo puppy is health screened for hereditary conditions, and there are also OFA certifications done to ensure that no genetic conditions exist.  You'll be given all of the health information to make sure that you get exactly what you need.
Every puppy is then exposed to adults, animals, children, and different instances to help make them comfortable before they go on home with you.
Cloud 9 Cockapoos are a small breeder raising 2nd to 4th generation Cockapoos. They're a reputable breeder, so you'll get a quality Cockapoo puppy directly from them!
Cockapoo Breeder information
4. Devin's Doodles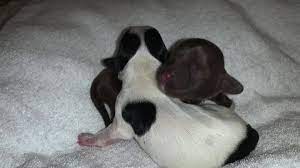 And finally, we have Devin's Doodles, which is a family-owned breeder that's in Vancouver, Washington. They specialize in a variety of different Cockapoos puppies of various colors and types. There is a sister kennel in California as well, so if you'd like to go there for one, it is also possible.
They do specialize in healthy, beautiful, and unique different kinds of Cockapoo puppies, and have been doing so for over two decades. They make sure that every puppy has the right kind of colorings and markings that the person who adopts them wants. Devin's Doodles do breed cream, red, black, apricot, and chocolate Cockapoos.
Devin's Doodles has unique combinations as well, and even come with parti and merle patterns.  They also do traditional patterns and colors too if you're looking for that.
Every single Cockapoo puppy does get the examinations to ensure that they are healthy when they get adopted, and they're current on vaccines, microchipped as well, and also will get wormed once before you take them home. They also come home with a bag of food and also a blanket that has the mother's scent on it as well.
They do not offer puppies for breeding, and they must be spayed or neutered at 7 months of age. Additionally, their Cockapoo puppies will go home at 8 weeks old.
A deposit is required either through Zelle, check, or cash, and it's $400 to reserve one. Unlike other Cockapoo breeders with one specific pricing, this one varies depending on the type of Cockapoos they have.
Cockapoo Breeder information
6. Valley Puppy Paws Oregon
Valley Puppy Paws won best breeders in Lebanon, Oregon, back in 2018. Additionally, this breeder is reputable and very easy to work with. However, they don't sell Cockapoos and only sell other hypoallergenic dogs including the Malshi (Maltese and Shih Tzu mix) and Maltipoo.
This breeder in Oregon started because they found out their grandchildren were allergic to dogs. Being an allergy-friendly breed means that they are great for those who deal with allergies on the daily, giving them a pet while also not causing problems.
Right now, they usually breed every Spring, with the rest of the time being retirement, but they do show available Cockapoo puppies for sale on their site. To reserve a dog, they do require a $300 deposit, and they are all properly socialized before bringing them home!
Cockapoo Breeder information
Conclusion for Cockapoo Breeders in Oregon
And there you have it, some of the best Cockapoo breeders in Oregon and the surrounding area. Looking for dog breeders in the Oregon area can be a challenge and it may take a bit. However, if you're willing to travel to another state, there are plenty of Cockapoo puppies for sale to choose from, and a lot of breeders to look at to help you find the perfect canine companion for your home too.
You will also like:
Garrett loves animals and is a huge advocate for all Doodle dog breeds. He owns his own Goldendoodle named Kona. In addition, he volunteers at the Humane Society of Silicon Valley, where he fosters dogs and helps animals. Garrett enjoys writing about Doodles and believes that dogs can teach humans more about how to live than humans can teach a dog.
Why Trust We Love Doodles?
At We Love Doodles, we're a team of writers, veterinarians, and puppy trainers that love dogs. Our team of qualified experts researches and provides reliable information on a wide range of dog topics. Our reviews are based on customer feedback, hands-on testing, and in-depth analysis. We are fully transparent and honest to our community of dog owners and future owners.