Are you searching for Yorkie puppies for sale in Ohio for under $500? You're not alone and have come to the right place. Yorkies are toy-size, compact terriers with exceptional traits and temperament. Besides its small size, many families and individuals love this breed because of its personality and beautiful multi-color coat.
If you want to add this wonderful dog breed to your family without leaving a hole in your pocket, we are here to help. We have highlighted the best places to find Yorkie puppies for sale in Ohio for under $500.
Before you scroll further down this guide, check out these other dog-related articles: Best Yorkie Rescues in the United States and Best Small Dog Rescues in the United States.
Where to Get Yorkie Puppies for Sale for under $500 in Ohio
There are many options for buying Yorkies in Ohio, but one of the best places to start is a rescue. Breed-specific rescues are more common than you might think, and there are even small dog rescues that you can search for.
Next, search the classifieds. Online pet classifieds are one of the best networking tools for finding Yorkie puppies, but there are still physical ads and places like Craigslist. Be cautious and use good judgment when answering a classified ad. Be mindful of staying away from puppy mills in your search.
1. Yorkie Rescue Organizations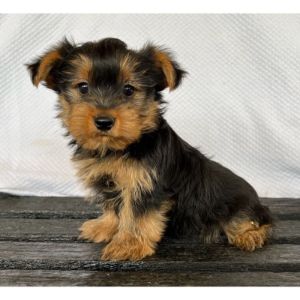 Check Yorkie rescue organizations in your county for affordable puppies. If you can't find a breed-specific rescue in your county, consider all-breed rescues, as they occasionally rescue Yorkies and place them in responsible homes. Here are a few Yorkie rescue organizations in Ohio to get a puppy for under $500.
Yorkies Rescue of America
Yorkies Rescue of America is a premier non-profit rescue organization established in 2011 to help this breed find acceptance and love. This rescue organization is based in California but has foster homes in other states, including Ohio.
Their goal is to help Yorkies in various situations and ensure they are placed in homes where they will be cared for and loved for the rest of their lives.
Since its inception, this organization has helped over 400 abandoned, mistreated, and neglected puppies and dogs. They also save pregnant and nursing dogs from shelters and care for the puppies until they are ready for adoption.
YRA's adoption process is simple, but they must determine if you are compatible with the puppy before releasing it.
Yorkies Rescue of America Details:
Little Yorkie Rescue
Little Yorkie Rescue is committed to rescuing, rehabilitating, and rehoming Yorkies. Their ultimate goal is to save these pets and find them responsible and caring homes where they will be loved and cherished for the rest of their lives.
Upon arrival, each rescued pet is examined by a licensed vet and tested for various health conditions associated with the breed.
One thing we love about this organization is that they ensure the pets are emotionally, physically, mentally, and behaviorally stable before placing them for adoption. You can also rely on them for continuous support after adopting one of their puppies or dogs.
Little Yorkie Rescue Details:
PAWS
PAWS is an all-breed dog rescue organization that helps needy Yorkies. They provide quality vet services for the pets in their care to ensure they are always healthy and safe.
Once rescued, the dogs are vet-checked and treated for all known health issues. Those with several health concerns are also treated and monitored closely until they fully recover.
The adoption process begins with filling out an online application form to determine if you meet their criteria. Next is a phone interview, and if you are compatible, a volunteer will contact you to arrange a "meet and greet" with the dogs.
PAWS Details:
Lake Humane Society and Adoption Center
Lake Humane Society and Adoption Center was established in 1937 to save puppies, dogs, and cats from high-kill shelters in New York. Even those with severe health issues requiring surgery are saved and cared for by this rescue organization. All necessary medical treatment is provided to ensure the Yorkies in their care are safe and healthy.
This rescue organization also takes adoption very seriously, so they pay close attention to their adoption process. Their adoption process includes filling out an online application form, a phone interview, and a home visit to ensure your home is safe, comfortable, and spacious enough for the puppy you want to adopt.
Lake Humane Society and Adoption Center Details:
2. Craigslist
Craigslist is the go-to platform for many people looking for affordable or free Yorkie puppies. It features puppy listings from individuals, rescue organizations, and breeders nationwide. You can find purebred and mixed-breed puppies on this platform at affordable rates.
Many pet owners use the platform to rehome their Yorkie puppies when they have an unexpected litter or want to rehome them for other reasons. Yorkies often bark a lot, and most new puppy owners don't like this trait so they are willing to give up their puppy.
Ensure you choose a seller in your county or state when looking for affordable Yorkies on this platform. Dealing with a vendor in your region will help save the cost of transportation or shipping the puppy.
Visit the seller and spend some time with the puppy to ensure compatibility. Looking for an affordable puppy does not mean you should settle for anything that comes your way. You should also be careful with people on this platform, as not every advertiser has a puppy for sale or adoption. However, it is a good option to find a Yorkshire Terrier puppy for under $500.
Craigslist Details:
3. Social Media
Social media platforms are now useful beyond chatting with family and friends and keeping up with the latest happenings.
You can get Yorkie puppies on social media platforms like Facebook, Instagram, and Twitter in various ways, one of which is creating and sharing a post. It's also a great place to ask people who own Yorkie puppies where they purchased them in Ohio.
Create an appealing post about the kind of Yorkie puppy you want. The post should contain information about gender, age range, location, and price. Ask your friends and family to share the post, and you might be lucky to receive an offer from someone who has exactly what you want.
Another way to get affordable puppies on social media is by finding and joining forums and groups. Pet groups are created to share experiences and information about animals. Members of some pet groups also share information about pet adoption and sales.
When you find a group, ask if they have puppies for sale within your budget. Ensure the seller is within your region so you can visit and see the puppy before purchasing.
Here are some groups that we love:
4. Marketplaces
Online marketplaces allow people to buy and sell almost anything without leaving the comfort of their homes. Pets of all breeds and sizes are also sold on online marketplaces. In fact, some marketplaces are solely dedicated to buying pets in Ohio.
Here are reputable marketplaces to find Yorkie puppies for sale in Ohio for under $500:
Greenfield Puppies
Greenfield Puppies is a 23-year-old online marketplace dedicated to selling pets only. Besides Yorkshire Terriers, this platform offers various puppy breeds and sizes. You can rely on it for small, medium, and large breed puppies. It allows users to search for puppies by breed, price range, and location.
Enter the "Search by Breed" section and look for Yorkies in Ohio. Browse the long list of available Yorkies and choose one that grabs your attention.
Click your desired Yorkie puppy to see more pictures and information about it. To avoid transportation and shipping costs, search for the puppy by state to find a seller within your region.
If you're looking for Yorkies from a breeder, this is as close as you will get to finding a puppy for $500. Some breeders will list their puppies for more than $500, so you'll have to sort through them.
Greenfield Puppies Details:
Petfinder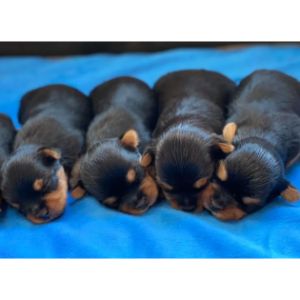 Petfinder is a pet marketplace for buying various pets, including puppies, dogs, horses, cats, etc. Users can search for puppies on the marketplace with multiple criteria, including price, breed, location, age, etc.
One amazing thing about this platform is that they post all their puppies with sufficient information to enable you to make an informed decision. The puppies are listed with details like their health status, traits, color, size, weight, friendliness, and more.
A quick search for "Yorkies" will yield hundreds of results to explore. Click on a puppy's photo to learn more about it. Petfinder also provides resources to help pet owners provide optimal care for their companions. You can learn about dog behavior, health and wellness, and training on the platform.
Petfinder Details:
Petco Foundation
Petco Foundation is a subsidiary of Petco – an online pet shop for purchasing pet supplies. The foundation focuses on animal welfare and aims to make a difference in the lives of needy pets. They help people find loving pets suitable for their lifestyle.
Enter your specific breed and location to search for your new dog. You can also use size, color, and price as criteria for finding puppies on the platform. Besides puppies, you can find birds, cats, reptiles, and other pets on Petco Foundation.
Petco Foundation Details:
PuppySpot
Most people on PuppySpot will list their Yorkie puppies for well over $500. However, PuppySpot is an easy-to-use online marketplace for buying puppies of various breeds and sizes.
The platform features many companions besides puppies and dogs, including cats, horses, and more. If you have the budget, this could be a reputable option to get your next puppy.
Search for Yorkie puppies in your region and filter the result by price, age, color, and size. One unique thing about PuppySpot is that they pay close attention to the well-being and health of their puppies.
All puppies are vaccinated, microchipped, and dewormed before being released to their new owners. Your Yorkie puppy will also come with a 10-year health guarantee to protect against congenital defects.
PuppySpot Details:
FAQs
What is the cheapest price for a Yorkie?
Yorkies typically cost between $800-$4000 from reputable breeders. The average cost is about $2,000 for a purebred Yorkshire Terrier puppy. However, they can cost up to $12,000 in some regions. To find the best Yorkie for you at the price range you are searching for, search through multiple pet classified websites and brochures in your area.

The cheapest place to buy a Yorkie is from a pet rescue. The average range of adopting a dog from rescues is $250-$500, depending on the rescue.
How long does a Yorkie live?
Healthy Yorkies have a lifespan of 13-15 years. These small dogs often live long lives and will be with you for many years even if you adopt an adult Yorkie instead of buying a puppy.
Are Yorkie puppies good pets?
Yorkies make good pets because they are small dogs who enjoy companionship. Both male and female Yorkies are sweet dogs that enjoy cuddling and playing.

Yorkies may not be suited for households with small children because of their size. They love to play but need to be with older children who can understand being gentle with them because of their size.

Other disadvantages to owning a Yorkie are that they bark a lot and are considered high maintenance because of grooming.
Conclusion For "Where Can You Find Yorkie Puppies for Sale in Ohio Under $500"
Yorkies are friendly, active, and affectionate dog breeds that make an excellent addition to any home. However, due to their popularity, it's difficult to find a Yorkie puppy for sale in Ohio for under $500.
Yorkies are fun companions with big personalities and a Yorkie puppy will be a lifelong companion. There's hope even when you're searching on a budget. From online classifieds to Yorkie rescue organizations, it's just a matter of time before you find the right one.
If you find this guide, "Where Can You Find Yorkie Puppies for Sale in Ohio Under $500," helpful, check out these other dog-related articles from our team:
Before you find a Yorkie puppy for sale in Ohio under $500, you can learn more about this dog breed by watching "10 Things You Must Never Do to Your Yorkshire Terrier" down below:
Garrett loves animals and is a huge advocate for all Doodle dog breeds. He owns his own Goldendoodle named Kona. In addition, he volunteers at the Humane Society of Silicon Valley, where he fosters dogs and helps animals. Garrett enjoys writing about Doodles and believes that dogs can teach humans more about how to live than humans can teach a dog.
Why Trust We Love Doodles?
At We Love Doodles, we're a team of writers, veterinarians, and puppy trainers that love dogs. Our team of qualified experts researches and provides reliable information on a wide range of dog topics. Our reviews are based on customer feedback, hands-on testing, and in-depth analysis. We are fully transparent and honest to our community of dog owners and future owners.