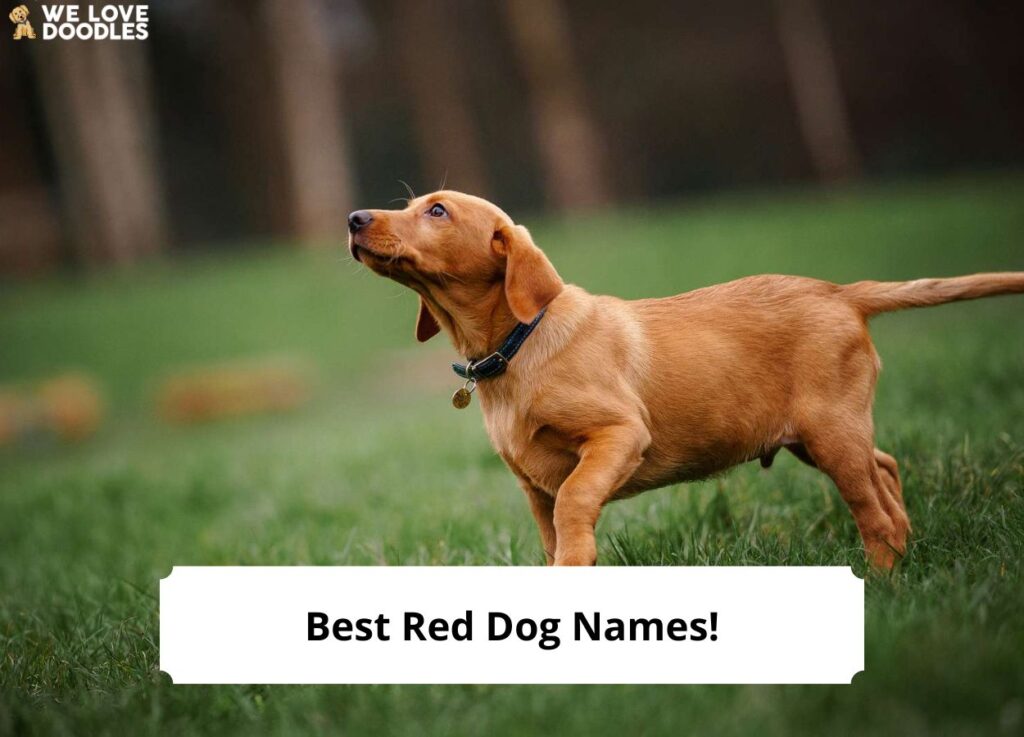 Let's talk about some of the best red dog names, along with the most popular red dog breeds.
On your regular walks, a red dog breed is guaranteed to attract people's attention. The color of a dog's coat can range from black to white and many shades in between, including a gorgeous reddish shade.
Additionally, the color red comes in a variety of shades, ranging from a shimmering golden tone with rich orange or chestnut accents to rusty or liver red. Numerous breeds of all sizes and categories, including toy and working dogs, may have this striking ginger hue.
Before scrolling down this list of the red dog names, check out these articles: 90 Best Punjabi Dog Names! (2023) and The Best 120+ Westie Dog Names! (2023).
Common Red Dog Breeds
Irish Setter
The Irish Setter is a distinguished hunting dog with a beautiful, smooth coat. These elegant and good-natured dogs are among those few breeds in which the American Kennel Club exclusively accepts some shades of solid red, including chestnut and mahogany.
The ears, tail, chest, stomach, and legs of a true purebred Irish Setter should all be covered with beautiful, gorgeous red featherings. It wasn't always this way, but today the breed is recognized by its solid red coat.
As recently as the 19th century, the Irish Setter had a reputation for having white markings. To attain the current all-red appearance, meticulous breeding has had to be done repeatedly. The Irish Setter can be the best option for you if you're in search of an athletic, lively, and incredibly affectionate friend.
Vizsla
The Vizsla is a hunting dog with a long history in Hungary. It was created to handle the hardships of spending long hours in the field; its exceptional agility would enable it to navigate through deep underbrush and collect wildlife from both land and water. It was a favorite of the Hungarian elite.
The single accepted criterion for the breed is its short, silky coat, which comes in an eye-catching, rusty golden hue. Other physical characteristics include a long horizontal tail, large hanging ears, and a reddish nose.
If the Vizsla's short coat isn't quite your style, there's also the Wirehaired Vizsla, a genetically similar breed with a longer wiry coat that is similarly golden rust in color.
Cocker Spaniel
Traditionally, the Cocker Spaniel was designed to be a small-sized hunting dog that didn't weigh more than 30 pounds. It is currently one of the most well-liked canine companions worldwide. The expressive face, endearing eyes, and lengthy coat of exquisite hair are hard to resist for most owners.
The American Cocker Spaniel and the English Cocker Spaniel are two very different breeds. The American variant typically looks more fashionable and has a smaller body size. The long and attractive coat has several colors — solid red, red and white, deeper tan and brown patterns — and stretches to the ground and hides its feet.
Irish Terrier
The versatile farm dog known as the Irish Terrier originated in the Emerald Isles. In the beginning, it was raised to hunt pests, protect the flock, and keep the family company. Its tiny stature and light weight do not adequately express its extraordinary bravery and daring. It genuinely enjoys embracing each new day.
Red, red wheaten, and simply wheaten are the three major hues for the thick and wiry double coat, which comprises a stiff topcoat and a softer undercoat (a light yellowish color). Of the three, red is unquestionably the most well-known and well-liked.
The legs and snout should also have light patterns. The body should be typically rectangular; the tail must be tall and upright, and the ears should be tiny and curled.
Redbone Coonhound
The Redbone Coonhound is a 45-to-70-pound American hunting dog breed that is powerful and muscly. This devoted, active, and ready-to-please breed is trained specifically for hunting wild boar, deer, bears, and other big game. The body is protected by the short, thick coat, which is only available in solid red or chestnut.
However, a small amount of white is permitted around the chest and paws. Large, drooping ears, a long, slender tail that is frequently carried high, thick padding on the paws, and webbed feet are further distinguishing physical traits.
This is among the world's most unique dog breeds. They make for wonderfully kind and good-natured pets, especially around youngsters, despite being fairly noisy and needing a lot of exercise and room.
Shiba Inu
The internet's ability to reach a global audience has helped the Shiba Inu, a hunting dog of Japanese descent, become well-known across the world. It is an antique breed that has been around since about 300 BC. It has a brazen and arrogant nature that occasionally leans toward obstinate and independent conduct.
Other colors are available for the thick double coat, which is made up of a hard and straight outer coat and a smooth, dense undercoat, such as black/tan and cream. That said, red and red sesame are the most popular.
Shiba is an oblique reference to the dog's reddish coat in the name itself. A fox-like face, an alert look, upright triangular ears, and a tail that curves over the back are other essential physical traits. The Shiba Inu can be ideal for you if you like confident, extroverted dogs.
Akita
The Akita is a huge dog breed with a 130-pound maximum weight limit that evolved in Japan's hilly north. Nowadays, it mostly acts as a companion animal rather than a working dog. A normal coat and a long coat are the two main kinds of coats.
Both varieties are available in a range of hues, including red and fawn, which are occasionally combined with a black overlay. Black and white is a conventional color combination. The Akita is a fantastic option for owners looking for a guarding, vigilant, and devoted breed, but its quiet nature may not suit everyone.
Dachshund
Dachshunds are well known for their long size, low profile, always-alert appearance, and bright, vivacious attitude, making them a celebrity in the dog universe. There are two distinct sizes and three main coat kinds for dachshunds, each with a variety of colors and patterns.
The term "icon" is sometimes misused, but the Dachshund, with his unusual long-backed form, small legs, and tremendous personality, is undoubtedly an iconic dog.
Dachshunds come in a variety of sizes, ranging from medium (between 16 and 32 pounds) to tiny (less than 11 pounds). They also come in three main coat types (silky, wirehaired, or longhaired). Dachshunds are capable of anything, even if they are not built for rigorous swims, big leaps, or long-range running.
They are perceptive, intelligent, and bark like big dogs, so they make great watchdogs. They were trained to hunt dangerous prey entirely on their own, so they may be a bit stubborn and brazen to the point of carelessness, but their endearing disposition and unusual look have won the hearts of countless dog lovers all over the globe.
Irish Terrier
The flaming red color and temperament of the Irish Terrier are well recognized. These courageous but adorable canines have somewhat different coat colors, ranging from golden to ginger red. The Irish Terrier has a striking appearance because of its distinctive beard. Regular brushing will maintain the coat's neatness and cleanliness.
This breed occasionally has to be hand-stripped at the groomer to encourage the growth of a robust and healthy new covering of hair. Since they appear to have no fear and are constantly prepared to go, this dog is a wonderful companion for the adventurous, energetic person.
Australian Shepherd
The Australian Shepherd is a mainstay of the rodeo scene and is closely associated with the cowboy way of life. The Australian Shepherd is a working dog of medium size with eyes that gaze deeply.
There are several coat varieties available for Australian Shepherds, especially merle. In every way, they are the model for hardworking and efficient stock herders.
Aussies have an uncontrollable need to herd anything, including dogs, children, and birds. Aussies may be too much of a dog for a sedentary pet owner because of their high work ethic. The Australian Shepherd's remarkable intelligence makes it possible for them to deceive a rookie owner who is not paying attention.
To summarize, this is not a pet for everyone. However, if you're in search of a smart, tenacious, and adaptable partner for business or sports, you might've found your perfect match.
Golden Retriever
The coat of a Golden Retriever can have a range of gold hues, some of which tip into rich mahogany hues that look red to the naked eye. Field-type Golden Retrievers especially have redder coats, a little slimmer build, and shorter hair. They have waterproof, double-layered coats that shed a lot. They go through bouts of much more shedding once or twice a year, needing extensive brushing.
Rhodesian Ridgeback
The Rhodesian Ridgeback is an exotic hunting dog with a red coat. The native ridged Khoikhoi dog was crossed with European breeds introduced by Dutch colonists —notably Greyhounds and different terriers — to create the Rhodesian Ridgeback, a distinctive product of southern Africa.
The influx of native Khoi blood provided the next generations with resistance to regional pests like the tsetse fly, in addition to an innate understanding of how to traverse their new African surroundings and outsmart their lethal predators.
The color of this athletic breed ranges from deep burnt red to bright golden wheat, and it has a black or brown snout. The ridge of fur along their spine that develops in the reverse direction is their distinctive marking, giving them the nickname "ridgeback." The amount of weekly brushing needed is low with hair this short.
Best Female Red Dog Names
Your female red dog must have a name that fits her personality in the best way possible. Check out this list of names for female red dogs:
Poppy
Autumn
Sundance
Berry
Blush
Rosy
Bloom
Carmine
Coral
Foxy
Henna
Peony
Terra
Sunset
Valentina
Tulip
Arizona
Spice
Blossom
Sorrell
Corsen
Fiona
Flannery
Suri
Felicity
Claire
Chelsea
Rosalie
Best Male Red Dog Names
Whether your male dog is an Irish Setter with flowing locks, an elegant Vizsla, or any other red beauty, one of the following names may be the one for him.
Clifford
Robin
Blaze
Phoenix
Leo
Rowan
Archie
Apollo
Finch
Fox
Harvest
Jasper
Laser
Reed
Rory
Sol
Vulcan
Clancy
Flynn
Garfield
Vincent
Keegan
Rohan
Rufus
Roone
Gogh
Derry
Frequently Asked Questions
Conclusion for "Best Red Dog Names"
Finding the perfect name for your new fur baby can be a challenging task — there are endless options. But after reading this list of the best red dog names, you should have a better idea.
For more guides similar to this list of red dog names, check out:
You can find more unique dog name ideas by watching "Top 100 Unique MALE Dog Names– Unusual Male Dog Names" down below:
Garrett loves animals and is a huge advocate for all Doodle dog breeds. He owns his own Goldendoodle named Kona. In addition, he volunteers at the Humane Society of Silicon Valley, where he fosters dogs and helps animals. Garrett enjoys writing about Doodles and believes that dogs can teach humans more about how to live than humans can teach a dog.
Why Trust We Love Doodles?
At We Love Doodles, we're a team of writers, veterinarians, and puppy trainers that love dogs. Our team of qualified experts researches and provides reliable information on a wide range of dog topics. Our reviews are based on customer feedback, hands-on testing, and in-depth analysis. We are fully transparent and honest to our community of dog owners and future owners.