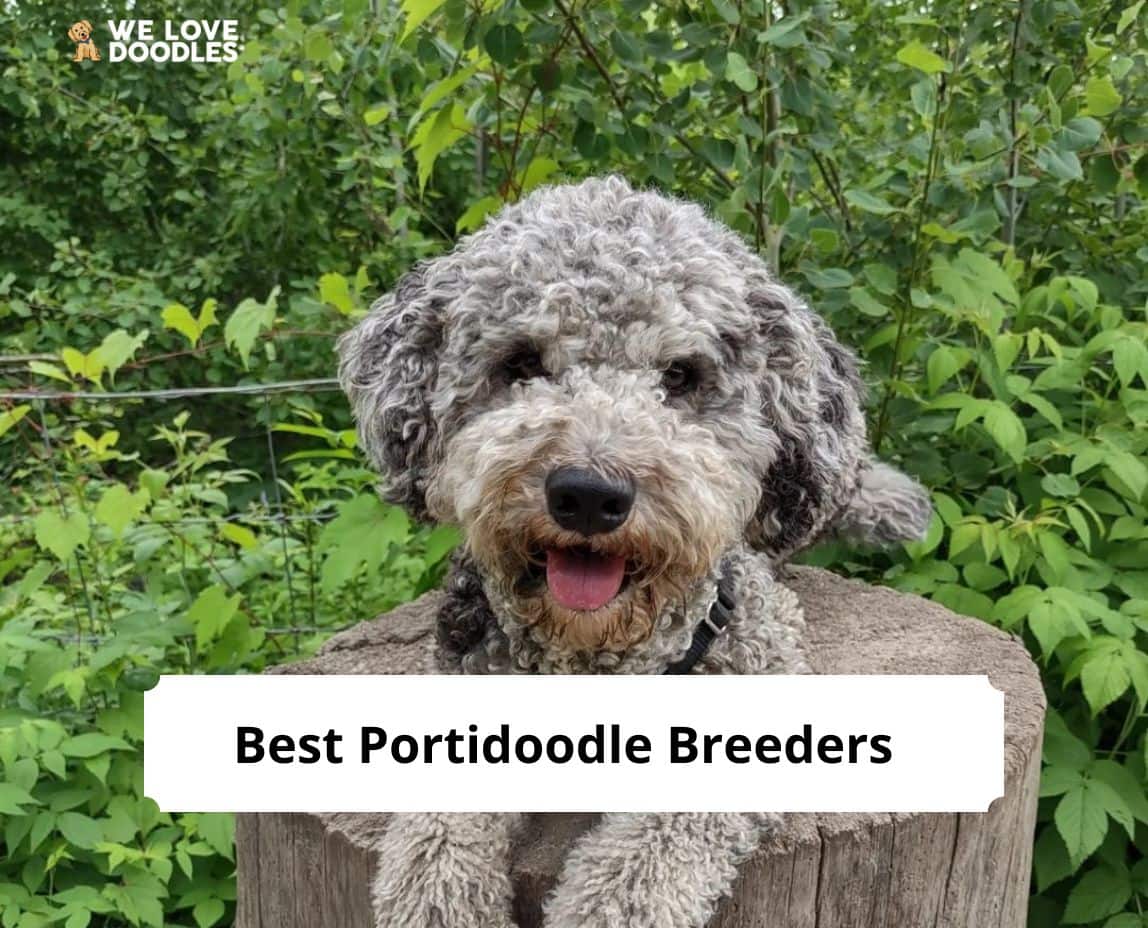 A Portidoodle, also called a Portipoo, is a cross between a Portuguese Water Dog and a Standard Poodle. There are "mini" versions of the designer breed available as well, but no matter the size of the dog, your Portidoodle is bred to be loyal and loving. These dogs love to play, especially in water, and will need moderate exercise daily.
Of course, it's important that you choose a Portidoodle breeder that will take care of your puppy in the best possible way before he or she goes home with you. For that reason, we've compiled a list of the top Portidoodle breeders in the United States. When possible, meet your breeder in person and visit your puppy before you adopt him or her into your family.
Premier Pups is a nationwide marketplace of small and designer dog breeds. Breeders from all over the United States are permitted to list available puppies with the company, meaning that your Portidoodle is just a few clicks away. There are hundreds of dogs listed at any given time, and the site is intuitive and user-friendly.
To find a puppy to adopt, simply type "Portidoodle" into the search bar. You'll be presented with all of the puppies that are waiting for new homes. Pictures and prices are listed on the results page, and if you click the picture you'll be given access to more information. You can view health records, parents' information and even videos of your pup at play.
Adopting a puppy from Premier Pups is also simple. Once you've decided on a dog, just click the link to either reserve your pup, buy him outright, or make an offer to the breeder. Delivery is available; enter your zip code to find out how much it will cost for this service.
Puppies come with a ten-year health guarantee. Your puppy will be current on his or her vaccinations and wormers. You won't be required to spay or neuter your dog, but Premier Pups does not guarantee dogs to be suitable for breeding.
Portidoodle Puppy Information:
Portidoodle Breeder Information:
CuddleDoo's is next on our list of the top Portidoodle breeders. It is a family-owned business based in Sugarcreek, Ohio, but like Premier Pups, they ship and deliver puppies all across the United States. This kennel specializes in Sheepadoodles and Portidoodles, and they've been in the breeding business for about five years.
While CuddleDoo's is relatively new to breeding, their puppies are guaranteed to be quality. Your dog will be raised in a climate-controlled facility and will be given plenty of love, attention, handling, and playtime. Puppies are well-socialized, and adoptive families say pups are friendly and affectionate.
To adopt a Portidoodle from CuddleDoo's, you'll need to place a deposit to be put on the waiting list. The team only has one Portuguese water dog, so litters are only produced once or twice each year. The total price of your Portidoodle puppy will be between $3,000 and $4,000, depending upon its color. Air shipment is available for an additional $550.
In addition to the CuddleDoo's website, you can view news and information about available Portidoodle puppies on the team's social media.
Portidoodle Puppy Information:
Portidoodles
Sheepadoodles
Portidoodle Breeder Information:
Location: Sugarcreek, Ohio
Telephone: 330-437-6177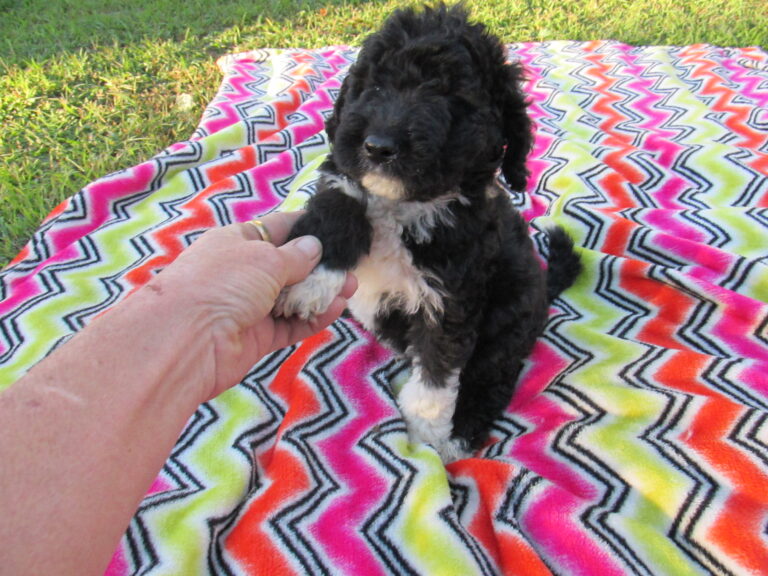 South Creek Puppies is a Missouri Portidoodle breeder. The West Plains kennel is a responsible breeder that takes time to care for your puppy's social and medical needs before he or she is permitted to go home with you. You can be assured that your dog will be socialized and healthy and a valued addition to your family.
To adopt a puppy, you'll need to first fill out an application and email it to the team. They will review information about your lifestyle, home, and other important details; this information will help the kennel team match you with a puppy and answer questions you may have about the breed.
Once you're approved, you may place a $400 deposit to be placed on the waiting list. When puppies are ready to go home, you'll pay the balance of the total cost. Speak with the kennel directly about the full price to adopt a Portidoodle.
Their Portidoodle puppies for sale can be flown to any location in the United States, and the buyer is responsible for the shipping cost. If you're within a reasonable driving distance, the South Creek Puppies team will arrange to meet you.
Portidoodle Puppy Information:
Portidoodle Breeder Information:
Location: West Plains, Missouri
Telephone: 417-204-2211
Email: southcreekpuppies@outlook.com
Gro-T Kennels is located in Utah and this kennel specializes in Portidoodles and AKC Portuguese water dogs. This breeder produces several litters each year, but it's still best to put your name on their waiting list as soon as you're able! Puppies sell quickly, as the breeder has a reputation for delivering friendly, social puppies.
To adopt a Portidoodle from Gro-T Kennels, you'll need to complete the kennel's questionnaire. You'll be asked about allergies, your family, your home, and more – your answers will help the Gro-T family match you with the perfect companion. A $500 deposit is required, and the full price to adopt a Portidoodle is $2,000.
Puppies are seen by a veterinarian and will be current on their shots and deworming treatments. You will need to speak with the Gro-T team directly about health guarantees as well as breeding rights.
Portidoodle Puppy Information:
Portidoodle Breeder Information: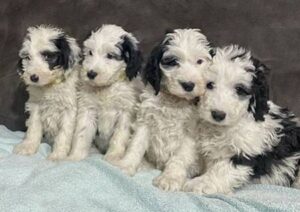 Sunrise Puppies is a family business that produces litters of a variety of small dogs. The team focuses on doodle breeds such as sheepadoodles, bernedoodles and goldendoodles; of course, they also produce quality portipoos as well.
Sunrise Puppies is an Ohio breeder, but they offer delivery and shipping to anywhere in the United States. The staff will also meet you if you're within a reasonable driving distance of central Ohio. The cost for shipment or delivery of your dog is added on to the total $2,000 you'll spend to purchase your portipoo.
Puppies come with a 30-day health guarantee, and there may be an additional warranty available against genetic conditions. It's recommended that you discuss breeding rights with the kennel, as well, as they may or may not be available depending upon the puppy.
You can view information about dams and sires on the Sunrise Puppies website, and the most up-to-date information about available pups is posted on the kennel's Instagram.
Portidoodle Puppy Information:
Portidoodles
Sheepadoodles
Portidoodle Breeder Information:
Location: Dundee, Ohio
Telephone: 330-390-5080
Email: 3099christopher@gmail.com
Happytail Puppies is a nationwide network of breeders of AKC-registered and designer breeds. Portidoodle breeders are often available through this marketplace, so be sure to check back frequently for new listed litters. Happytail facilitates shipping and delivery of puppies across the United States; contact the business for a quote.
To find your puppy on Happytail Puppies, you'll first search by breed. Puppies' pictures will be presented to you, and you can view pricing information. If you find a picture of a pup you love, click the photo to find more information about the dog's parents, its health records, and more. You can also apply for financing; the prices of dogs will vary depending on the breeder.
A ten-year health guarantee is provided with each dog, and your puppy will be current on all appropriate vaccinations and worming treatments. Breeding rights for your dog may be available, but this will be determined by the breeder. Be sure to communicate your preferences before purchasing a dog or placing a deposit for a puppy.
In addition to providing quality pups, Happytail Puppies also gives back to the community. A portion of profits will be donated to charitable organizations such as Make A Wish, as well as animal shelters local to the Guilford County, North Carolina business.
Portidoodle Puppy Information:
Portidoodle
Various other breeds
Portidoodle Breeder Information:
Location: Greensboro, North Carolina
Telephone: 855-762-4213
Email: info@happytailpuppies.com
The Top Portidoodle Breeders in the U.S.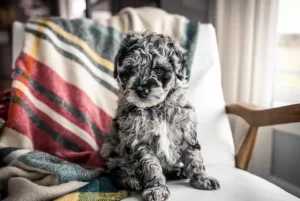 The Portidoodle is a stunning dog breed produced when a Portuguese water dog and a poodle are crossed. The dogs are relatively new in the United States; they've only been deliberately produced in recent decades. Unfortunately, puppy mills are taking advantage of the novelty of the dogs. It's important that you find responsible Portidoodle breeders.
This list of reputable breeders in the US is a good starting point in your search for a puppy. When it's possible, it's best to meet your breeder in person. You'll get a better feel for his or her style, and you can ensure that your puppy is coming from a healthy and safe environment.
Want to learn more about Portidoodle puppies? Check out the video below: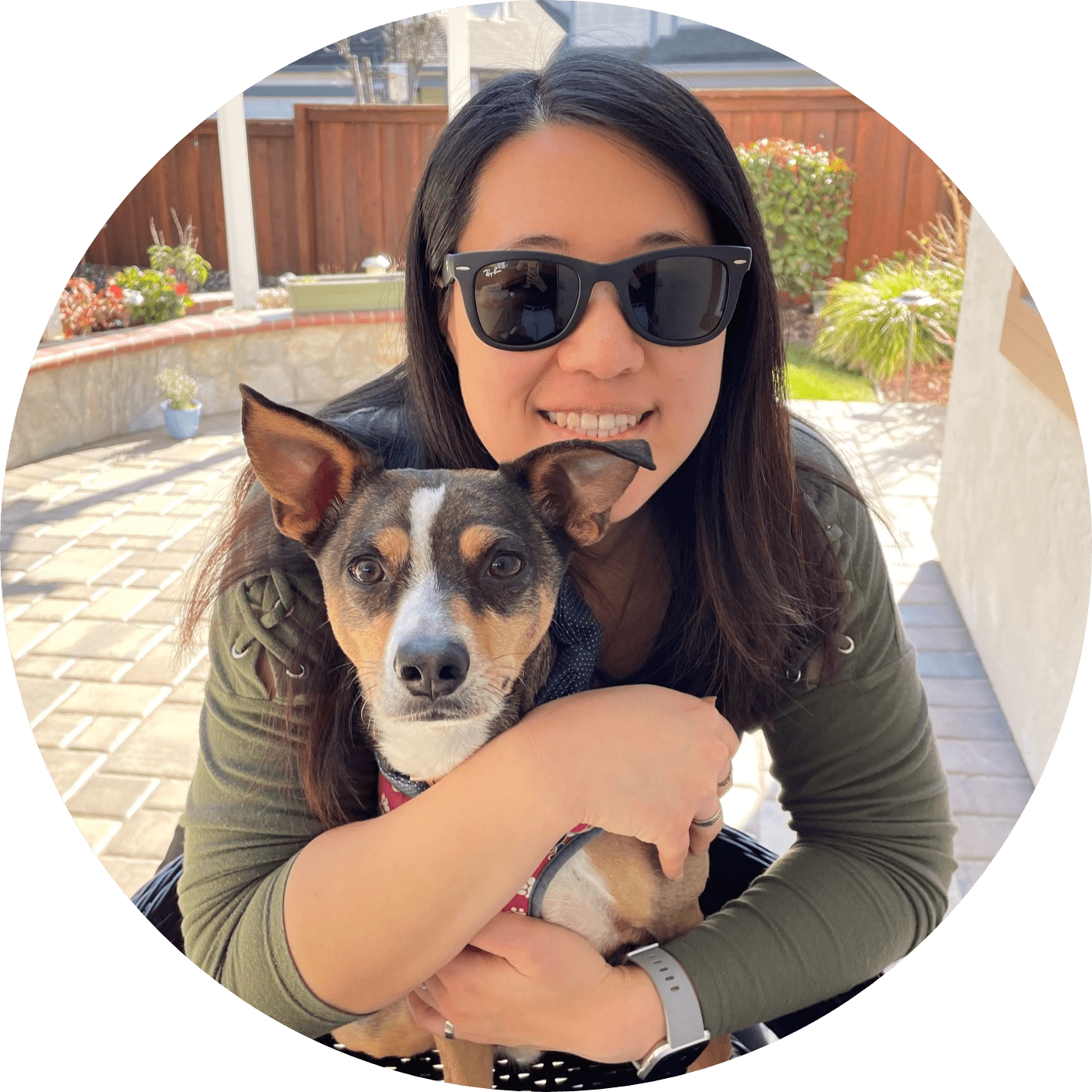 Dr. Sabrina Kong graduated from the Royal Veterinary College in England in 2016 and has been working at a small animal clinic in Northern California since then. She grew up in the Bay Area and got her bachelor's degree from Cal Poly San Luis Obispo. She also became a Certified Canine Rehabilitation Practitioner through a program at the University of Tennessee.
When she isn't in the clinic taking care of her four-legged patients, she enjoys traveling and trying new foods with her friends and her three-legged dog, Apollo. She adopted Apollo from her clinic when he was a puppy with numerous health issues. Dr. Kong truly cares about taking care of animals.