Octopi are fascinating creatures, able to learn how to manipulate their surroundings, solve puzzles quickly, and wiggle their way into even the tightest of spaces when they want to pull off a Houdini-level escape act.
There are 289 different species of the eight-armed magician, and each one has a fascinating body that allows them to pull off these magnificent feats. For example, their bodies are entirely boneless and squishy, apart from a sharp beak they use to crack open their favorite foods, including bivalves like mussels and clams.
The octopus also has three hearts– one that pumps blood throughout their body and two that send blood to their gills. When they swim, the heart that circulates blood in their body shuts itself off, which tires them out. That's why they're more likely to crawl along the sand than jettison their way throughout the ocean waters.
Other articles you would like: Polar Bear Names and Owl Names.
Cute Octopus Names
With their wiggly arms and bulbous heads, octopi are strangely cute creatures of the deep. One particularly charming species is the dumbo octopus, which has flapping fins on the sides of its head resembling elephant ears.
Because the dumbo octopus makes its home in the extremely high-pressure deep-sea waters, you can't keep them in a home aquarium. However, there are plenty of other darling tiny cephalopods who deserve a name that's just as cute as they are!
Before choosing a boy or girl name from our list, you'll need to determine the gender by observing the critter's tentacles. Female octopi have suckers along the entire length of all eight of their arms, while males only have seven. Their last arm only has suckers on half of it.
Cute Octopus Names for Girls
Zaylee- Arabic, "berry wood."
Harper- English, "harp player."
The- Greek, "gift of God."
Scarlet- English, "flaming red."
Dahlia- Latin, "dweller in the valley."
Hadley- Celtic, "heath near the wasteland."
Ellerie- English, "English tree island."
Fawn- French, "young deer."
Effie- Greek, "well-spoken."
Posie- English, "small flower"
Embry- English, "flat-topped hill."
Poppy- Latin, "red flower."
Charlotte- French, "free woman."
Cute Octopus Names for Boys
Axel- Scandinavian, "father of peace."
Nico- Italian, "people of victory."
Brody- Scottish, "broad island."
Rishi- Sanskrit, "sage."
Jasper- Persian, "bringer of treasure."
Arlo- Irish, "between two hills."
Vance- Irish, "one who lives near the marshland."
Sawyer- English, "woodcutter."
Jude- Latin, "praised."
Lincoln- English, "town by the pool."
Rhett- Dutch, "advise."
Cooper- English, "barrel maker."
Zakai- Hebrew, "pure."
Baby Octopus Names
Even the giant Pacific octopus starts as a 22-milligram hatchling, a fraction of their full adult size. These newborns are called fry or larvae. They look like impossibly miniature versions of their parents, complete with eight teeny tiny tentacles for catching microscopic plankton to feed on.
Give your new pet one of these baby octopus names to commemorate their tiny beginnings:
Squish
Dumbo
Small Fry
Pippy
Scooter
Jelly Bean
Peanut
Slinky
Pepper
Gumdrop
Tango
Checkers
Mochi
Noodle
Petal
Fig
Pebbles
Yoshi
Ginger
Bitsy
Matcha
Taffy
Famous Octopus Names
Given their fun personalities and fascinating life cycles, octopuses are the most exciting attractions at commercial aquariums. Scientists study them in captivity to provide us with more insight into how they live, mate, parent, and feed.
Of course, with such high intelligence, there are a few octopus subjects who have made quite the name for themselves in the scientific community. These famous octopus names are based on newsworthy octopodes who have prominent personalities.
Otto- Hailing from Germany, Otto learned how to short-circuit the lights above his tank by squirting water at them.
Paul- Aptly named the "psychic" octopus, Paul correctly predicted the winners of all rounds in the 2010 FIFA World Cup by choosing between two boxes filled with the team's flag and a morsel of mussels.
Inky- An escape artist from New Zealand who slid down a 50-meter drainpipe and swam back out to sea.
Squirt- An octopus from Dorset, England, made a name for himself after learning how to hold water in his body, then spray passing aquarium visitors.
Billye- A female giant Pacific octopus who figured out how to open child-proof jars to retrieve tasty snacks within.
Pop Culture Octopus Names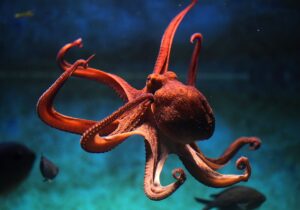 The infamous octopus has squeezed its way into pop culture, from video games to comic books. Naming your pet after your favorite fictional cephalopod– along with octopuses including cuttlefish, squids, and nautiluses– is a fun way to bring your favorite media into the real world.
We used all four types of cephalopods to develop a list of pop culture octopus names to help you choose a moniker for your aquarium acrobat.
Clobbopus– a fighting-type Pokemon resembling an octopus
Grapploct– a fighting-type Pokemon resembling an octopus, the evolution of Clobbopus
Octillery– a water-type Pokemon
Inkay– a dark/psychic-type Pokemon
Malamar–  a dark/psychic-type Pokemon, the evolution of Malamar
Doc Oct– Spiderman villain with eight robotic arms
Cthulhu– famous horror from the mind of H.P. Lovecraft
Oswald- a reference to a children's television show that produced episodes from 2001 to 2003
Lady Octopus– the female upgrade of Doctor Octopus from the Spiderman comic books
Topo– Aquaman's octopus sidekick in the DC comic books
Squidward Tentacles- the notoriously grouchy squid who lives next door to Spongebob Squarepants
Squillium Fancyson- wealthy and successful cousin of Squidward Tentacles
Nautilus- the name of the submarine in Jules Verne's 20,000 Leagues Under the Sea
Pearl- adorable pink dumbo octopus from the 2003 Disney-Pixar film Finding Nemo
Kraken- mythical giant squid or octopus thought to live off the coast of Norway, where it is fabled to pull ships into the briny deep
Ursula- the main antagonist of the 1989 Disney film The Little Mermaid
Sharktopus- shark/octopus hybrid from the 2010 SyFy original horror film series, which includes Sharktopus, Sharktopus vs. Pteracuda, and Sharktopus vs. Wolfwhale
Henry- purple octopus from the children's television show The Wiggles
Hank- a red giant Pacific octopus from the Disney-Pixar film Finding Dory
Professor Inkling- founder of the Octonauts, a group of talking animals who save marine animals from danger
Squiddly-Diddly- animated series featuring the titular character, a purple squid wearing a sailor hat with big dreams of becoming a musician
Squidbilly- Adult Swim television show featuring a family of crass, land-dwelling squids
Dr. Zoidberg- hapless doctor and sidekick to the main crew of the Planet Express in the animated show Futurama
Funny Names for Octopus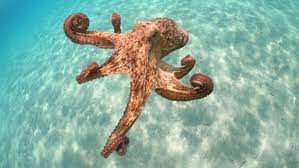 Octopuses are mischievous and naughty, especially if they aren't kept mentally stimulated. Owners can keep their pets occupied with live food, simple mazes, treat puzzles, and a variety of shelter features for the cephalopods to rearrange to their tastes.
They also love making bubbles and splashing around, so be prepared to clean up the resulting mess around your tank when your octopus decides to give their tentacles a workout.
For those who find that their pet octopus is a bit of a comedian, try out one of these funny names for octopus:
Droopy
Wiggles
Bubbles
Stretch
Rocktopus
Chef-alopod
Calamari
Quidditch
October
Sock-topus
Boneless
Marina
Sea-cil
Octopus Names Meaning "Eight"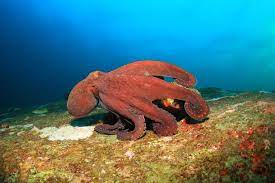 No list of good octopus names would be complete without options referencing their most iconic feature. To wrap up our list, check out these names that reference the number eight:
Octavius- Latin, "eighth."
Octavia- Latin, feminine version of Octavius
Ocho- Spanish for eight
Hachiro- Japanese, "eighth son."
Valo- Malagasy, "eight."
Otte- Danish, "eight."
Acht- German, "eight."
Theta- the eighth letter of the Greek alphabet
Awotwi- Akan, "eighth son."
August- Eighth month of the year
October- Eighth month of the year in the original Roman calendar
Vosem- Russian, "eight."
Zortzi- Basque, "eight."
Huit- French, "eight."
Can I Keep an Octopus as a Pet?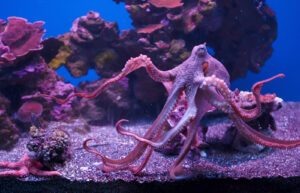 Cephalopods come in a vast range of sizes, from the teeny tiny Star-Sucker Pygmy that only weighs around gram to the imposing giant Pacific octopus, tipping the scales at up to 150 lbs. Some of the smallest species, such as the fan-favorite bimac, are popular additions to home aquariums.
While they are certainly not low-maintenance pets, they are entertaining and engaging. They also don't need specialized equipment to survive. Instead, the challenge comes from ensuring they have a large, secure tank that won't let them win their game of jailbreak.
If you are a soon-to-be owner of a brand new invertebrate buddy, choosing good octopus names is crucial. We've gathered up more than 100 different options for you to dub the latest addition to your aquarium.
Wrapping Up: Choosing a Name for Your Octopus
Suppose your aquarium is fortunate enough to be the home of a darling tiny eight-tentacled invertebrate. In that case, you want to choose good octopus names that will capture the unique personality of your aquatic amigo perfectly.
Before you settle on one, try out a few options! Unlike a puppy, octopi don't recognize their own names, so you can mix and match according to your mood.
No matter what moniker you choose to bestow upon your tentacled tenant, you're sure to enjoy being an octopus owner. Enjoy their antics, tricks, and elusive nature! Just be sure to keep plenty of fresh clams on hand to keep them occupied with snacks instead of their escape route.
Other articles you would like:
Garrett loves animals and is a huge advocate for all Doodle dog breeds. He owns his own Goldendoodle named Kona. In addition, he volunteers at the Humane Society of Silicon Valley, where he fosters dogs and helps animals. Garrett enjoys writing about Doodles and believes that dogs can teach humans more about how to live than humans can teach a dog.
Why Trust We Love Doodles?
At We Love Doodles, we're a team of writers, veterinarians, and puppy trainers that love dogs. Our team of qualified experts researches and provides reliable information on a wide range of dog topics. Our reviews are based on customer feedback, hands-on testing, and in-depth analysis. We are fully transparent and honest to our community of dog owners and future owners.