Polar bears are cute and furry creatures that live within the Arctic Circle. Something about the white fur, endearing face, and big paws has made people fall in love with the appearance of this type of bear throughout the years.
Although this bear is typically not seen by people in their daily life, unless you live in Alaska or around the Arctic Ocean, people are fascinated by this bear. With males weighing between 700 and 1,540 pounds and females weighing about half that size, these bears are huge animals that have to find their food, make a safe habitat for themselves, and raise a family in harsh conditions.
If you love polar bears, choose a name from this list. Whether you visit a polar heart in a zoo and you want to name it, you have a stuffed animal that you want to name, or you 'adopt' a polar bear, you can choose one of these famous polar bear names for your cute pet bear!
Other articles you would like: Dog Breeds That Look Like Polar Bears and Teddy Bear Dog Names.
Our top 50 Polar Bear Names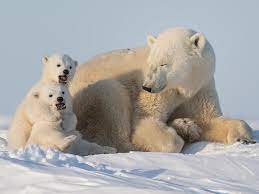 We have our favorite cute polar bear names for you! Check out this list of our top 50 good polar bear names and why we love them for a polar bear as a pet.
Skater – Just like animals skate along the ice, polar bears need to glide along the ice caps of the Arctic circle to get to and from their home.
Rider – What should I name my polar bear? Try Rider! This name is great for both male and female polar bears!
Teddy – if you love the idea of a quintessential cute and cuddly bear, Teddy is the perfect name to bring back that sense of child-like nostalgia.
Charlie – A cute and traditional name, Charlie is a name that rolls right off the tongue.
Fred – for those who love naming pets with 'human' names, Fred is a top choice for your polar bear.
Walter – Want something a little out of the ordinary? Try Walter! This is one of the best male polar bear names.
Jim – a short and easy-to-say nickname, Jim is an easy way to say your polar bear's name.
Sandi – Did you adopt a female polar bear? Sandi is a cute name that makes us think of the beach — but it is suitable for a winter animal!
Emma – What is one of the best female polar bear names? Emma! One of the most popular girl names heading into this new decade, Emma is a top name for a young polar bear.
Cameron – this is a regal and fun name that is perfect for your pet.
Caitlin – A catchy name for a young female polar bear.
Maggie – Do you love nickname-names? Maggie is the perfect shortening of Margaret, making your polar bear name less formal and more casual!
Chandler – No, not from Friends. But Chandler is an ideal name for a polar bear.
Amira – For those who want an exotic name, Amria is a Middle-Eastern name for your female polar bear.
Taylor – This androgynous game is ideal for both a male and female polar bear.
Kara – Kara is a short and catchy polar bear name for your female pet.
Ryan – Ryan is another name that can work well for both a female and male polar bear.
David – This name is an ideal choice for an older male polar bear!
Whitney – Whitney is a popular name for a female polar bear. Try this for one of the top white bear names!
Paul – Although it sounds formal, Paul is a cute name for a bear!
Alexis – Even though we think of Siri, Alexis can be an ideal name for a polar bear pet.
Peter – You can even shorten this name to Petey for a cute and catchy nickname!
Paisley – We love this unique name for a female polar bear.
Fluffy – If you love pet names and bear name ideas, Fluffy automatically is a cute and endearing option.
Aurora – This unique name is the ideal choice for an Alaskan or Arctic polar bear basking under the Northern Lights.
Petunia – No, not from Harry Potter – Petunia is a cute polar bear name for an older female polar bear.
Iceberg – Just like their surroundings and atmosphere, Iceberg is a cute name for polar bears who roam around the Arctic wilderness.
Patsy – This female name is a cute and unique choice!
Frost – Since they can thrive in very cold winter conditions, Frost is a suitable name for a male or female polar bear.
Sakurai – Want a unique name? Try Sakari!
Oslo – Like the Norwegian city, this worldly polar bear name is a cool choice.
Brinley – This name can be for either male or female polar bear
Crystal – Since snow can glow like crystals in the midday sun, Crystal seems like an apt name for a polar bear pet.
Snowy – Polar bears thrive in cold weather, which includes rolling around in the snow and walking through the tundra on a daily basis. Snowy is a cute adaptation of 'snow'!
Bailey – Bailey makes you think of a loyal and friendly dog – and the same can be said for a pet polar bear!
Max – Max can be for either a male or female polar bear.
Buddy – Do you love watching your polar bear? If so, buddy is the perfect name for your pal!
Duke – Duke is a unique and fun name for a male polar bear who seems like they are in charge of the pack.
Cody – Cody can be a great masculine name for a younger polar bear who is learning the ropes.
Daisy – We love Daisy as a name for a young female polar bear pet.
Sophie – Sophie is another cute nickname for a female polar bear pet.
Oscar – Oscar can be a fun name for a male polar bear who has a bit of a quirky side to him!
Cooper – Cooper is a youthful and exciting name for a young male polar bear.
Buster – Even though this may make you think of your dog when you were a child, buster is a cute male polar bear pet name.
Harley – We love this unique name for pets of all kinds — especially male polar bear pets!
Winston – No, not Winston Churchill. Winston is a good name for a male polar bear.
Lucky – If you feel 'lucky' to have a polar bear pet or adopt a polar bear, then Lucky is the ideal name for your new friend!
Murphy – Do you have Irish ancestors? Murphy is the perfect way to pay homage to your background!
Sam – A simple and short name, Sam can be used for either a male or female polar bear pet.
Ruby – This unique name is a fun choice for a female polar bear.
More Fun Polar Bear Pet Names!
Don't see any above names that you like for your new pet? Try some of these fun and unique polar bear pet names that can work well for male and female bears!
Rusty
Lady
Missy
Lilly
Mia
Madison
Shadow
Gizmo
Zeus
Jackson
Baxter
Bandit
Belle
Casey
Samantha
Holly
Lexy
Lulu
Milo
Rudy
Louie
Hunter
Casey
Rocco
Dakota
Honey
Dixie
Luna
Heidi
Sparky
Joey
Bruno
Beau
Dakota
Maximus
Boomer
Luke
Henry
Luna
Shelby
Jasmine
Brandy
Rocky
Bear
Tucker
Gucci
Chester
Atlas
Sarge
Maverick
Miles
Theo
Rambo
Blue
King
Samson
Chase
Bruno
Birdie
Goose
Lady
Lassie
Beethoven
Marley
Lola
Bandit
Acorn
Dibby
Doodle
Arrow
Bixby
Cinder
Ash
Happy
Ritz
Rain
Weather
Busy
Tails
Dozer
Kodiak
Dino
Chopper
Kane
Yeti
Sumo
Pip
Gadget
Puck
Roo
Blink
Rolo
Doodle
Axel
Oswald
Hector
Hutch
Irving
Kai
Jagger
Orion
Wren
Lars
Mars
Jobie
Banjo
Yates
Ryder
Briar
Alta
Beebee
Midge
Breeze
Lottie
Fern
Flora
Kit
Priya
Sheena
Conclusion for Polar Bear Names
Polar bears are majestic and regal animals. They live in the Arctic world and have to fend for themselves- catching their food, building their own homes, and creating relationships with other bears in the area. They are essential to Arctic life, helping with the ecosystem and maintaining homeostasis in the world.
If you are lucky enough to have a polar bear as a pet — whether that be adopting a polar bear, living in a wintry climate with a polar bear pet, or working in a zoo or conservation facility — you need to choose the perfect name that resembles the polar bear's personality, gender, and age.
You can look up famous people and see if you want to animate your polar bear after someone who has inspired you in their life. They can be an explorer, scientist, athlete, or inspirational leader. Whatever the choice, gathering inspiration from your real-life can help you find the ideal name for your polar bear pet.
Or, maybe you want to choose a name with personal significance. This can be someone in your life, whether it be a family or a friend who has helped you get to where you are today. Choosing a name is a personal deal, and should be taken seriously when it comes to naming your polar bear pet.
If you do not have anyone in your life to name your polar bear pet after, you can use our list of unique and interesting polar bear pet names that are lesser-known in the animal world!
You can gain inspiration from this list to find the ideal name that works for your polar bear pet. Some names are traditional and used in the past, whereas others are more quirky and unique. Choosing your polar bear pet name all has to do with your personal preference and the personality of your polar bear pet!
Other articles you would like:
Garrett loves animals and is a huge advocate for all Doodle dog breeds. He owns his own Goldendoodle named Kona. In addition, he volunteers at the Humane Society of Silicon Valley, where he fosters dogs and helps animals. Garrett enjoys writing about Doodles and believes that dogs can teach humans more about how to live than humans can teach a dog.
Why Trust We Love Doodles?
At We Love Doodles, we're a team of writers, veterinarians, and puppy trainers that love dogs. Our team of qualified experts researches and provides reliable information on a wide range of dog topics. Our reviews are based on customer feedback, hands-on testing, and in-depth analysis. We are fully transparent and honest to our community of dog owners and future owners.