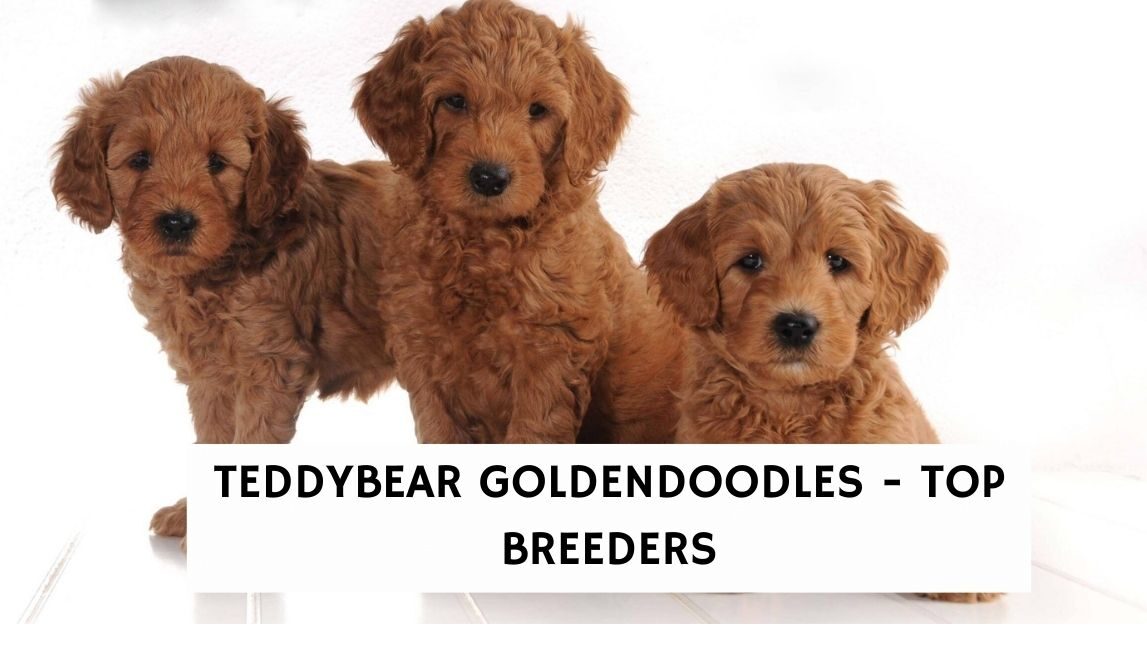 The Goldendoodle is a designer dog breed that has become one of the most popular crosses since the 1990s. A Goldendoodle is a cross between a Poodle, (Standard, Moyen, or Miniature) and a Golden Retriever. If successful, the result is a mix that truly has the best of both breeds. Goldendoodles have a reputation for being great family dogs for active families, loving and loyal companions, and to top all of that off, Goldendoodles are light shedders, hearty and playful. These dogs have a reputation for being of sweet temperament, intelligent, trainable, and irresistible. Just one look at those curly teddy bear faces and how can you help falling in love?
The Teddy Bear Goldendoodle is an outcropping of the original Goldendoodle designer dog that was created and came to popularity in the 1990s.  The "Teddy Bear" or "English" Goldendoodle is a cross between a Poodle and an English Creme Golden Retriever. Goldendoodles come in small standard, large standard, and miniature sizes so there's a Goldendoodle for everyone. They are energetic and playful dogs, so purchasing a Goldendoodle requires a commitment to walking, playtime, obedience training, and, since Goldendoodles are so loving, they also require a lot of snuggle time as well.
Since Teddy Bear Goldendoodles are in high demand, we've compiled a list of the top breeders of English Goldendoodle puppies in the United States. We don't give space to puppy mills and are only bringing you home and farm breeders of the prized Teddy Bear Goldendoodles. Here are our top 6 Teddy Bear Goldendoodle breeders in the United States.
Before scrolling down this list, check out these recommendations: Best Teddy Bear Goldendoodle Guide!
1. Power Goldendoodles

Power Goldendoodles is the original breeder of mini Teddy Bear English Goldendoodle puppies.  They take great pride in making good matches of quality dogs with families. The application process is lengthy and potential buyers are not allowed to make a deposit or reserve a puppy before the breeder interviews them and reviews their application. We have personally vetted the owner, April Powers, and absolutely love her breeding practices.
Power Goldendoodles doesn't allow home visits at their residence in Boise, Idaho, but they encourage Facetime and live video visits. This is for both their own and the puppies' protection and safety. They only sell their dogs to owners in the United States and they do allow pick-ups. They will also ship to an airport near you with one of their flight nannies securing your puppy to you. Please subscribe to the mailing list on the website so that you can be informed of all the goings-on at Power Goldendoodles. This is the best way for you to get in line to purchase one of their adorable miniature Teddy Bear Goldendoodles.
Teddy Bear Goldendoodle Breeder Information:
Teddy Bear Goldendoodle Puppy Information:
Puppies are chosen when nearly grown
Miniature Goldendoodles top out at about 30 pounds
2. Smeraglia's TeddyBear Goldendoodles
Smeralglia's Teddy Bear Goldendoodles is located in Alabama and are the originators of the Teddy Bear Goldendoodle. They are not a small home breeder, they are a larger scale breeding program with wonderful facilities and a passion for English Teddy Bear Goldendoodles.
Purchasing a puppy from Smeraglia's requires a completed application and a deposit to get you on the waitlist. You can find available dogs for sale on the website but if you have preferences for size, gender, coat quality, etc., you will need to get on the waiting list.
Smeraglia's provides tons of support for their clients, they have staff and trainers on-site and offer Doodle Prep classes for new owners. They also have a grooming staff on-site by appointment after your Teddy Bear Goldendoodle goes home.
Smeraglia's breeds small, medium, and standard size Teddy Bear Goldendoodles. Puppies can be reserved at 4 weeks of age and must be fully purchased before they go home. This breeder takes lots of pictures and videos of their dogs so you have a great opportunity to get to know them as they grow and develop. Begin the process of purchasing one of these adorable Teddy Bear Goldendoodles by submitting your application on the website.
Teddy Bear Goldendoodle Breeder Information:
Teddy Bear Goldendoodle Puppy Information
Puppies are conceived by Artificial Insemination
Traning is conducted in-house for new owners and puppies
3. Doodle Fancy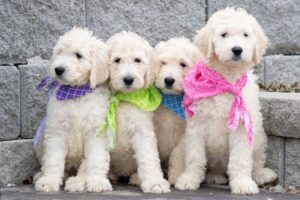 Doodle Fancy is a small home breeder of standard Teddy Bear Goldendoodles in Arkansas. They began with the English Creme Golden Retriever breed, but due to the shedding factor of that breed, decided to add a fancy Standard Poodle into the mix.
Now they produce English Teddy Bear Goldendoodles. They genetically test their parent dogs to ensure that your Teddy Bear Goldendoodle is the healthiest they can possibly produce. Their Teddybear Goldendoodle puppies go home from Doodle Fancy with age-appropriate vaccinations, de-worming, and a micro-chip and a head start on potty training. See the website for details and tips on keeping your Teddy Bear Goldendoodle healthy and happy.
You can contact Doodle Fancy via the contact form on the website, or by phone or text to get the process of purchasing one of these adorable Doodles started. Doodle Fancy has photos of available puppies on their website and Facebook. You're going to have a hard time looking away from the cuteness.
Teddy Bear Goldendoodle Breeder Information:
Teddy Bear Goldendoodle Puppy Information:
Puppies are F1 Standard English Goldendoodles
Puppies are delivered with a health certificate
4. Euro Goldendoodle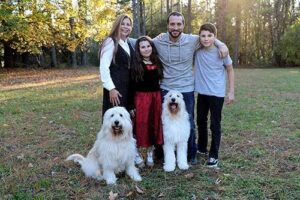 Euro Goldendoodles is located in Mount Holly, North Carolina, and is a premier breeder of English Creme Golden Retrievers and Teddy Bear Goldendoodles. Their dogs are widely known and have been featured on the Tonight Show with Jimmy Fallon in his "Pup Quiz"
The dogs from Euro Goldendoodle come in miniature, medium, and standard sizes, and go home trained to your specifications at up to 7 months of age with all age-appropriate veterinary care and vaccinations. The Euro Goldendoodle website contains lots of photos, grooming, and training videos and you can also find Euro Goldendoodles on Facebook.
Prices do go up with additional training. Euro Goldendoodles requires an application to be completed to begin the process of purchasing one of their premier English Teddy Bear Goldendoodles. You can contact Euro Goldendoodles via their website.
Teddy Bear Goldendoodle Breeder Information:
Teddy Bear Goldendoodle Puppy Information:
Puppies go home with training by request
Puppies begin training immediately
5. Appalachian Goldendoodles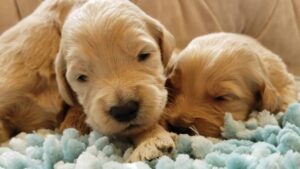 Located in Tennessee, Appalachian Goldendoodles breeds English Teddy Bear Goldendoodles (F1 and F1B) standard and miniature sizes. Fill out the contact form or contact the breeder via call, text or email to begin the process. Once the breeder approves you, you can make a deposit and will get on the waiting list to choose a puppy.
The breeder does allow home visits with 72-hour notice and appointment but prefers Facetime for interactions in the interest of safety and privacy. Puppies are chosen at 6 weeks of age. All puppies are home-raised in the breeder's home until they go to your home. This Teddybear Goldendoodle breeder does deliver out of state and has puppy nannies to fly your puppy to an airport near you.
Teddy Bear Goldendoodle Breeder Information:
Teddy Bear Goldendoodle Puppy Information:
Pups are chosen at 6 weeks of age
Pups go home with microchips and 3-year health guarantee
6. Platinum Goldendoodles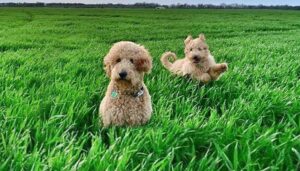 Platinum Goldendoodles breeds Teddy Bear English Goldendoodles in both F1 and F1B, standard and miniature sizes. You can contact the breeder for pricing and information on deposits and reservations. The breeder is located in Arkansas, and they do ship for a fee.
The Teddybear Goldendoodle puppies for sale from Platinum Goldies go home with a 2-year health guarantee and all age-appropriate vaccinations and de-worming. There is no information on pricing or deposits on the website, so you need to contact the breeder. There are, however, photos of available and past puppies, so get ready. The cuteness is overwhelming on this website gallery.
Platinum Goldie's Goldendoodle puppies are all farm-raised and are exposed to children and other dogs to provide you with a well-adjusted family dog that will fit right into your home.
Teddy Bear Goldendoodle Breeder Information:
Teddy Bear Goldendoodle Puppy Information:
Miniature Teddy Bear Goldendoodles are about 30 pounds full-grown
Contact the breeder to start the application process
Conclusion for Teddybear Goldendoodle Puppies for Sale
In terms of health, Goldendoodles tend to be healthier than many purebred dogs due to "hybrid vigor", meaning that hybrid or mixed breed dogs are heartier and carry less of the health problems that purebred dogs are known for. This is due to breeders bringing in new bloodlines, versus the inbreeding that has taken place to refine the characteristics of the purebred bloodlines throughout the generations.
Teddy Bear doodles tend towards low or non-shedding coats, which breeders select for. This means that Teddy Bear Goldendoodles are a wonderful choice for families that have children prone to allergies. Their naturally curly coat is quite pretty and easy to maintain with regular bathing and brushing. Some owners opt for a "poodle cut" and regular grooming/clipping, but Teddy Bear Goldendoodles can be left with a natural coat if so desired. Teddy Bear Goldendoodles come in curly, shaggy, or loose-wavy coats. Some breeders allow you to choose your puppy based on that trait.
You will also like:
Garrett loves animals and is a huge advocate for all Doodle dog breeds. He owns his own Goldendoodle named Kona. In addition, he volunteers at the Humane Society of Silicon Valley, where he fosters dogs and helps animals. Garrett enjoys writing about Doodles and believes that dogs can teach humans more about how to live than humans can teach a dog.
Why Trust We Love Doodles?
At We Love Doodles, we're a team of writers, veterinarians, and puppy trainers that love dogs. Our team of qualified experts researches and provides reliable information on a wide range of dog topics. Our reviews are based on customer feedback, hands-on testing, and in-depth analysis. We are fully transparent and honest to our community of dog owners and future owners.