Having a torn ACL can prevent you from long-term goals in sports and require physical therapy. But can dogs tear their ACLs? The short answer is yes. And you may want to learn how to massage a dog with a torn ACL.
In dogs, torn ACLs are often treated with surgery, physical therapy, pain medication, and supportive care. If your dog has a torn ACL, you might be wondering what you can do to alleviate its pain.
Specifically, you might be wondering if you can massage your dog if they have a torn ACL, or if you can do it successfully without worsening their injury. The good news is that you can massage a dog with a torn ACL, but it must be done gently and with care.
Here's everything you need to know about your dog having a torn ACL and how to massage it.
Before you scroll down this guide, "How to Massage a Dog with a Torn ACL," you can check out these other guides from our team at We Love Doodles: How To Massage A Dog To Poop and How To Clean Dog Eye Boogers Safely.
What is a Torn ACL in Dogs?
In order to understand how to massage a dog with a torn ACL, we must first understand what an ACL injury is and what it looks like. These injuries are relatively common, and much like in humans, they require careful time and attention to fully heal. A cruciate ligament is one of the central ligaments in a dog's knee joint.
The anterior cruciate ligament (ACL) is one of the two cruciate ligaments found in dogs. Technically, in veterinary medicine, the ACL in dogs is known as the cranial cruciate ligament (CCL). When the ACL becomes injured, either as a result of injury or time, it is considered a torn ACL.
Causes of a Torn ACL in Dogs
A torn ACL in dogs can be caused by several factors. However, the two primary causes of a torn ACL in dogs are injury and age-related arthritis. Most commonly, a torn ACL can happen as a result of playing too hard, a misstep, or a fall.
This predominantly happens among young dogs with athletic capabilities. Generally, larger dogs are more prone to torn ACLs, but smaller dogs can develop them as well.
Another cause of a torn ACL is age-related arthritis. Over time, and especially as a dog grows older, is less active, and is overweight, the ACL will degenerate and eventually fail. Luckily, arthritis is fairly easy to spot.
Your veterinarian should be able to diagnose it right away. The key to preventing an age-related, arthritic torn ACL is by watching your dog's weight and keeping them active. Doing so can slow the degeneration of the ACL.
How is a Torn ACL Diagnosed?
A torn ACL is typically diagnosed through the onset of visible signs and symptoms. These may include:
Crying or screaming when using the affected leg
Reluctance to put weight on the affected leg
Struggling to get comfortable
Inflamed ligament
Reluctance to be touched near the affected area
As with most leg-related injuries, your dog will probably avoid putting weight on the affected leg altogether. Your veterinarian will likely perform a lameness examination.
They will try to get your dog to demonstrate a cranial or anterior drawer sign, which basically means they're trying to slide the knee forward to see if there's any visible injury in the knee joint.
In severe cases, your veterinarian may administer pain medication or a sedative prior to the examination, to avoid any potential pain and discomfort. Some veterinarians will order X-rays additionally or alone for a lameness examination.
Risk Factors for a Torn ACL
Since a torn ACL is a fairly common injury, it's important to familiarize yourself with risk factors as a dog owner. Risk factors can vary and are not exhaustive. However, just because your dog may meet the criteria for a torn ACL doesn't necessarily mean it'll develop one, and vice versa.
Here are some common risk factors for a torn ACL in dogs:
Activity level: If your dog is particularly active, then they have a higher risk of developing a torn ACL. Activities like fetch, frisbee, and agility courses all increase the likelihood of developing a torn ACL. Activities with lots of running and jumping can cause a torn ACL.
Previous injury: If your dog has had a previous injury in their leg, then it might be more prone to developing a torn ACL. Specifically, previous joint injuries. If your dog has had a previous injury to their leg, monitor their activity closely to avoid them re-injuring themselves.
There's an age-related component to torn ACLs in dogs. Specifically, younger, athletic, larger dogs and older, overweight dogs are neck and neck for the rank of the highest risk of developing a torn ACL.
Pre-existing medical conditions: If your dog has arthritis, or another condition affecting their joints and muscles, then they could be more prone to developing a torn ACL. If you're concerned about your dog's pre-existing medical history and the chance of a torn ACL, talk to your veterinarian.
If your dog is obese, then they have a higher risk of tearing their ACL due to degenerative, age-related arthritis. Keep your dog happy and healthy by regularly exercising them and feeding them a high-quality diet.
Treatments for a Torn ACL
Treating a torn ACL is no easy feat. In fact, it requires lots of dedication, supportive care, and attention. However, it is possible. Your veterinarian may recommend the following treatments for a torn ACL.
Surgery
While an operation isn't always necessary for a torn ACL, it is most often recommended. Without it, your dog would have to be on diligent bed rest for several weeks or months. Surgery doesn't always solve the problem, but it can speed up the healing process.
After surgery, your dog will need to rest for six to eight weeks while they recover. If your dog is young and particularly active, your veterinarian may recommend sedatives to keep them from using their leg too much.
Anti-Inflammatory Drugs
Anti-inflammatory drugs can help reduce swelling either in pre or post-operative care. Non-steroidal anti-inflammatory drugs, like Carprofen (Rimadyl) or Meloxicam (Metacam) might be prescribed.
They can help tremendously with pain management. A torn ACL can be painful, and in most cases, anti-inflammatory drugs are recommended. Do not attempt to give your dog medication without first consulting your veterinarian.
Ice Packs
When a dog has a torn ACL, they're going to experience swelling and discomfort. Ice packs and cold therapies can help drastically reduce inflammation. If it's easy to get your dog to comply with the sensation of the ice, then try an ice pack.
If it's difficult to get them to relax while you hold an ice pack on the affected area, try enticing them with a treat. Even 10 minutes of ice can help make a huge difference in the amount of swelling.
Limit Movement
Whether your dog did or did not get ACL surgery, they need to limit their movement, even if they're favoring the affected leg. It's essential that your dog gets rest to avoid worsening an existing injury.
Try to keep them well-rested and create a comfortable space for them to relax in. Limiting your dog's movement can make or break their recovery. Try to keep their activity limited to using the bathroom and getting up to eat or drink.
Massage
In addition to professional veterinary treatment, massage has many benefits when it comes to a torn ACL. While it's not recommended to thoroughly massage the affected area, massaging the surrounding muscles can prevent them from atrophying as your dog is on bed rest. Massage therapy is particularly effective when it comes to your dog's recovery.
How to Massage a Dog's Torn ACL
Now that we've established everything you need to know about torn ACLs in dogs, let's discuss how to massage a dog with a torn ACL. As previously mentioned, massage therapy can yield many benefits to your dog's recovery.
Help Them Warm Up Their Muscles
Gentle movement can help your dog warm up their muscles as they prepare for a massage. Be careful not to have them use their muscles too much, as physical activity isn't recommended.
Simple acts like getting up and walking across the room and stretching can help your dog warm up their muscles. Chances are, they will do this by themselves if allowed the chance. Give your dog a minute or two to warm up its muscles, then get them to relax on a soft yet firm surface, like a bed.
Massage Gently and Attentively
When massaging a dog with a torn ACL, whether they're in the pre or post-operative stage of their recovery, be sure to massage their muscles gently and attentively. Use gentle, circular motions with your fingertips.
Avoid direct contact with the affected area. Instead, focus on areas that may need more love, like joints, stretches of muscles, and paws. Without too much pressure, massage near the affected area with your fingertips. This can help keep the area flexible and mobile.
Don't Massage the ACL Directly
Again, don't massage the ACL directly. Doing so could exacerbate the injury or worsen it, whether they've had surgery or not. However, be sure to pay close attention to the muscles surrounding the ACL, as these can become tense.
If you're wondering how to properly massage the ACL, talk to your veterinarian. They'll be able to recommend proper ways to massage the area.
Consult With Your Veterinarian About Physical Therapy and Massage
Lastly, if you want to take therapeutic recovery to the next step, inquire about professional physical therapy and massage with your veterinarian. They should be able to make actionable recommendations about local practitioners in the area that can help get your dog back on track.
Frequently Asked Questions
Should I massage my dog's torn ACL?
Yes and no. Directly massaging your dog's torn ACL can worsen the existing injury, causing more pain and discomfort. Aim to massage the surrounding areas for the best result.
How do you comfort a dog with a torn ACL?
Medication, massage, and supportive care are key to comforting a dog with a torn ACL. These can help your dog get back on track to healing in no time. It's important to note that recovering from a torn ACL can take weeks or months, so patience is key to a full recovery.
Should I walk my dog with a torn ACL?
Do not walk your dog as they recover from a torn ACL. Instead, keep their activity limited to light walks throughout the house or in the backyard.
Can a dog recover from a torn ACL without surgery?
Whether a dog gets surgery or not, they will still have to spend weeks or months recovering. However, dogs can successfully recover from a torn ACL without surgery.
Is a torn ACL painful for a dog?
Much like in humans, a torn ACL is incredibly painful. Veterinarians may prescribe anti-inflammatory medication to combat the pain your dog may feel.
Conclusion for "How to Massage a Dog With a Torn ACL"
Do not directly massage your dog's torn ACL, as this can cause pain and discomfort. Additionally, massaging it directly may cause your dog to twitch from pain, which can worsen its injury.
Instead, massage the area around the injury. The recovery process will be slow whether your dog gets surgery or not, so try to be patient and make it as comfortable as possible.
If you find this guide, "How to Massage a Dog with a Torn ACL," helpful, check out:
Learn more by watching "Dog ACL repair without Surgery" down below: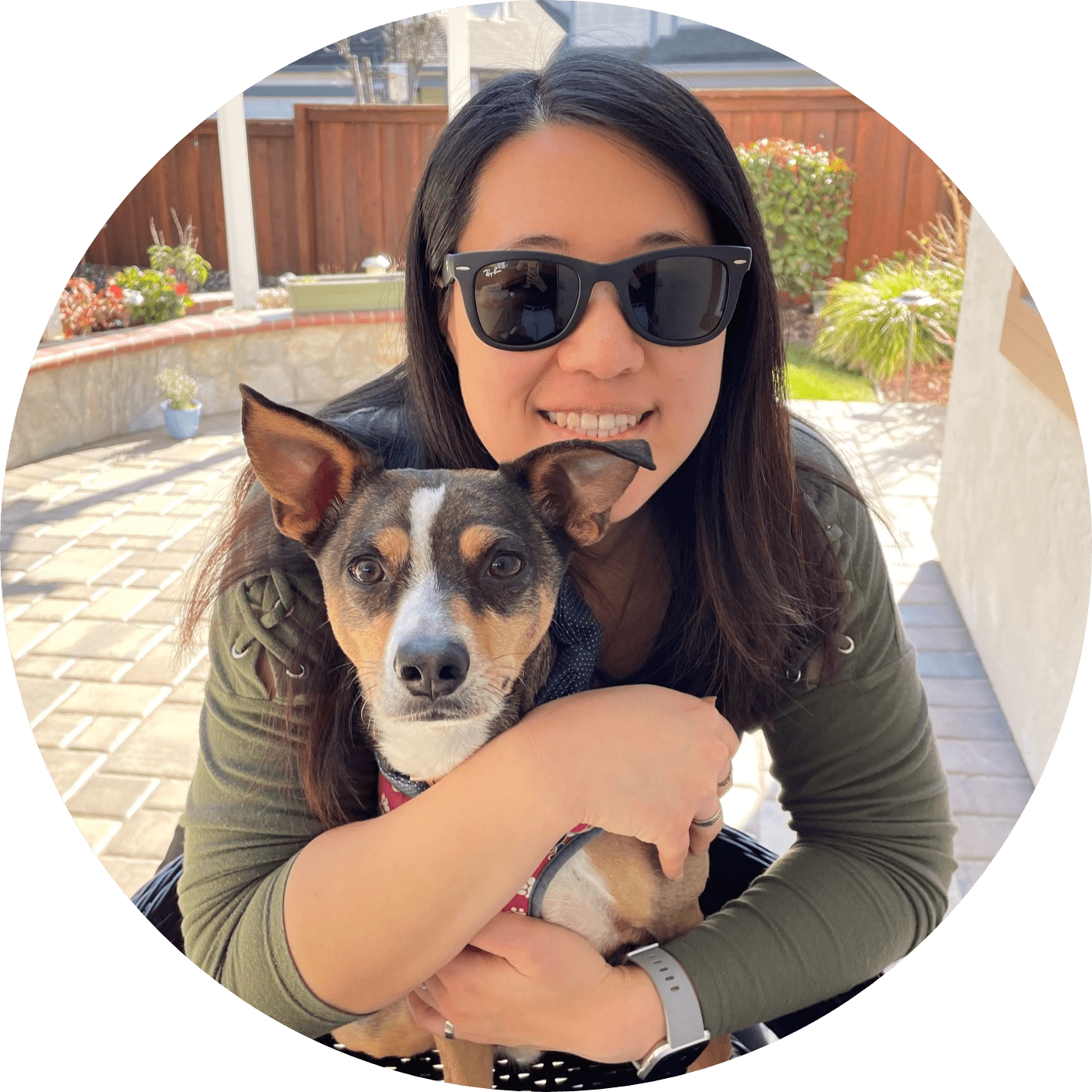 Dr. Sabrina Kong graduated from the Royal Veterinary College in England in 2016 and has been working at a small animal clinic in Northern California since then. She grew up in the Bay Area and got her bachelor's degree from Cal Poly San Luis Obispo. She also became a Certified Canine Rehabilitation Practitioner through a program at the University of Tennessee.
When she isn't in the clinic taking care of her four-legged patients, she enjoys traveling and trying new foods with her friends and her three-legged dog, Apollo. She adopted Apollo from her clinic when he was a puppy with numerous health issues. Dr. Kong truly cares about taking care of animals.