Are you looking for the top Maltipoo breeders in Toronto? If so, it's imperative to know what about this breed before getting a puppy. There are a few good reasons why you should consider adopting a Maltipoo. First and foremost, they are adorable dogs with fun personalities.
Secondly, they make great family dogs and are loyal to their owners. Additionally, Maltipoos are relatively low-maintenance pets, requiring little in the way of exercise or care.
They are considered one of the best dogs for people with allergies because they don't shed much. Moreover, Maltipoos are known to be quite intelligent and have a high level of energy.
Maltipoos make good pets for people who want a playful dog with no temperament issues. They are also suitable for families with children because they are usually very gentle and loving. They require attention and care, but they are generally easy to train.
Maltipoos are a hybrid breed, which means they have characteristics of two different breeds: the Maltese and the Poodle. So now that we have highlighted some significant Maltipoo traits let's move on to the list of the finest breeders offering Maltipoo puppies for sale in Toronto.
Before scrolling down this list of Maltipoo breeders in Toronto, check out: Do Maltipoos Bark a Lot? (2023) and When Is a Maltipoo Full-Grown? (2023).
1. Puppies R Forever Maltipoos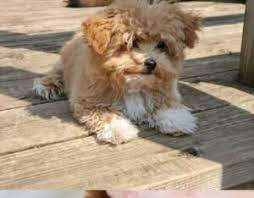 When they think of Maltipoos, people in Toronto think of Pups R Forever and their adorable teddy bear Maltipoo and Morkie puppies. Because this is a small business, puppies may not always be available at all times, even though their puppies are some of the cutest you'll ever see. This means there may be a longer wait than a typical breeder.
The breeders at Puppies R Forever Maltipoos only use the healthiest dogs as parents when breeding and ensure their pups are fully immunized before they go to their new homes.
Their Facebook page is continuously updated with newly available puppies. The pictures also provide additional information like age, parents' information, and vaccination details. They don't have a website but are active on Facebook.
To start the adoption process, send a message to the breeder on Facebook or reach out to them via email. Information about available puppies is available with each listing on Facebook.
Puppies R Forever Maltipoos Details:
2. Little Cups Maltipoos
Based in Richmond Hill, Ontario, Little Cups offers teacup-sized Poodles, Maltese, Maltipoos, and Pomeranians, with the Pomeranian being the shop's other specialty.
There's no need to take a leap of faith when adopting one of their puppies because you can see them in person. They also offer a one-year genetic health guarantee on their puppies and are available 24 hours a day, seven days a week, via text message.
Even if you've had your dog for a while and still have questions, don't hesitate to contact them. Their Maltese parents weigh around four to six pounds, while their Poodle parents weigh seven to 10 pounds.
Because of their rounded faces and short muzzles, they resemble teddy bears. Moreover, if your puppy dies within the first year, Little Cups will replace them with another puppy of the same breed and price.
Visit the website or call the breeder for more details.
Little Cups Maltipoos Details:
3. Willowbrook Kennel Maltipoos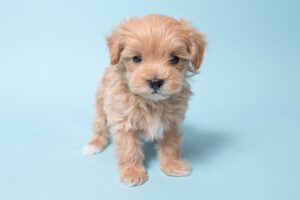 Willowbrook Kennel takes great satisfaction in providing veterinary-checked, fully vaccinated, and dewormed puppies. They've spent much time raising Maltipoo dogs, so they excel.
They are licensed by Waterloo Region and registered with Woolwich Township, so you may be certain that they will provide the personal customer assistance you need. Puppies from these breeders were cared for in a well-lit, clean kennel and regularly visited by veterinarians.
They provide a large selection of cute Maltipoo puppies for sale in Toronto. They also have Shih Tzus, Poodles, and various Doodles. Visit their site to learn more and view many adorable images of these white, cream, and apricot-colored puppies.
They strive to maintain reasonable living standards by strengthening and modernizing their infrastructure. Recent nursery upgrades have allowed them to offer a greater standard of life for the parent dogs and puppies.
Their welcoming home is like a second family to these adorable puppies. As a result, their puppies are amiable and simple to teach. They go above and beyond to guarantee the enjoyment and safety of their puppies.
To start the adoption process, fill out their application form and deposit the non-refundable reservation fee. Once your puppy is eight weeks old, the breeder will contact you to discuss more details.
Willowbrook Kennel Maltipoos Details:
4. Happy Dogz Retreat Maltipoos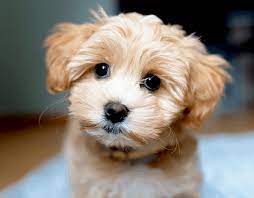 Puppies are nurtured and cared for in Happy Dogz Retreat's clean, safe, and professional kennel. Apart from a breeding operation, Happy Dogz Retreat is a daycare, dog therapy center, and an occasional rescue operation.
Their puppies come from healthy parents, and these reputable breeders have been breeding for over 20 years. They guarantee puppies are healthy from the moment they are born.
The breeders at Happy Dogz Retreat also take precautions to limit the number of times the pups' parents are bred. Their primary goal is to breed only the healthiest, most socialized, and ethically raised puppies possible.
Their puppies are naturally friendly and good with other animals and people because they are lavished with love and care from an early age. Happy Dogz Retreat's staff takes great pride in rehoming the dogs and ensuring that the customer has a good experience with their institute.
Get in touch with the breeder to get the adoption process started.
Happy Dogz Retreat Maltipoos Details:
5. Mini Pups Maltipoos
Mini Pups has been breeding and placing toy puppies of various breeds in loving homes since 2006. It is a group of five home-based breeders dedicated to providing the highest quality and healthiest puppies for sale.
Mini Pups has a long list of healthy pets to show their care and attention. The area's relative calm allows them to thrive and grow into healthy and well-adjusted dogs.
At Mini Pups, the breeders want the buyers to feel confident and reassured when adopting a puppy. That's why they offer a five-year genetic health guarantee, money-back guarantee, and viral guarantee for every breed of puppy they have for sale, including Yorkies, Malteses, Maltipoos, and Morkies.
The price of their puppies varies from $1,600 to $1,800, depending on the breed and litter. They require a $200 deposit along with an application.
Mini Pups Maltipoos Details:
6. Peppa Pups Maltipoos
The last on our list of well-known Maltipoo breeders in Toronto, Peppa Pups Maltipoos is more of a pet store than a breeder, so don't expect to find just Maltipoos. Peppa Pups is committed to providing healthy, ethically raised puppies.
They collaborate with trustworthy breeders committed to ending animal cruelty and have the necessary skills, expertise, ethics, and responsibility. Their kennels are flawless, providing a loving environment ideal for Maltipoo pup development.
Before living with you permanently, puppies are examined by a licensed veterinarian once a week. In addition, licensed veterinarians conduct thorough physical examinations on all Maltipoo puppies.
Every puppy in their health and training program receives a thorough physical examination, vaccinations, deworming, and microchipping. As a result, they treat the puppies as family members, hoping this will help them develop emotionally and intellectually.
Puppies have set feeding, cleaning, and bathing times, which allows them to learn to be disciplined and consistent. Peppa Pups has been connecting breeders to adopters for nearly 20 years and are well-versed in all the best practices for raising a healthy, happy puppy.
Fill out their online application to get the ball rolling.
Peppa Pups Maltipoos Details:
How to Find Maltipoo Breeders in Toronto
If you're looking for Maltipoo puppies in Toronto, your best bet is to search online. Many reputable breeders out there will be happy to meet your needs. When looking for a Maltipoo breeder, it's essential to consider some key factors.
Here are some tips:
Reputation: Look for a breeder with a good reputation. It's important to research the backgrounds of any Maltipoo breeders you are considering before meeting with them. Ensure the breeder has a positive reputation and that their dogs have been successfully bred and raised.
Ask questions and get references: Before you meet with a breeder, ask many questions about their dogs, breeding practices, and training methods. You should also request references from previous clients. This will help ensure you get a high-quality Maltipoo puppy from a reputable breeder.
Frequently Asked Questions
How much do Maltipoos usually cost?
As a popular toy breed, Maltipoos can be quite expensive, ranging anywhere from $400 to $3,000. Shelters and rescues will always be the most affordable option, while breeders will charge more.
Are Maltipoos high maintenance?
In terms of maintenance, the main thing to keep up with is grooming. You should aim to brush your Maltipoo at least two to three times per week and groom them every four to six weeks.
What is the life expectancy of a Maltipoo?
Generally speaking, Maltipoos can live anywhere from 12 to 15 years.
Conclusion for "The Best Maltipoo Breeders in Toronto"
Maltipoos are known for their playful and energetic personalities. Some reasons you may want to adopt a Maltipoo include their playful nature, excellent obedience training skills, and their tendency to be sensitive to your mood.
Finding a reputable Maltipoo breeder in Toronto can be difficult. These small dog breeds are often in high demand, so it's crucial to find a breeder who is experienced and knowledgeable about Maltipoos.
We have listed the most reputable breeders in and around Toronto so that you can contact them and adopt a new puppy for your home.
For guides similar to this list of Maltipoo breeders in Toronto, check out:
Before you bring home a Maltipoo puppy learn more by watching "Maltipoo Dog Breed Guide | Dogs 101 – Maltipoo" down below:
Garrett loves animals and is a huge advocate for all Doodle dog breeds. He owns his own Goldendoodle named Kona. In addition, he volunteers at the Humane Society of Silicon Valley, where he fosters dogs and helps animals. Garrett enjoys writing about Doodles and believes that dogs can teach humans more about how to live than humans can teach a dog.
Why Trust We Love Doodles?
At We Love Doodles, we're a team of writers, veterinarians, and puppy trainers that love dogs. Our team of qualified experts researches and provides reliable information on a wide range of dog topics. Our reviews are based on customer feedback, hands-on testing, and in-depth analysis. We are fully transparent and honest to our community of dog owners and future owners.