Are you searching for Morkie puppies for sale under $500? You're on the right track! This article lists the best places that can help you find an adorable and affordable Morkie.
The Morkie, sometimes called the "Morkshire Terrier," is a cross between the Yorkshire Terrier and the Maltese. Designer dog breeders began mixing Malteses and Yorkies in North America in the 1990s to create a friendly, low-shedding lapdog.
Morkies are small and super energetic designer dogs that have inherited the best qualities of their parents. These lovable dogs are the ideal apartment pets for urban residents and thrive brilliantly in small households or with single owners. But, like their parents, Morkies can be somewhat yappy — they crave attention and want to be around their loved ones at all times.
Since the Morkie is a hybrid breed, variations in size and appearance can be expected. However, like the Maltese and the Yorkshire Terrier, Morkies generally weigh about five to seven pounds and are around seven to nine inches tall.
Although designer dog breeds are relatively expensive, there are resources to help you find and adopt Morkie puppies under $500.
Before you scroll down this guide, check out: 9 Best Morkie Breeders in the United States! (2023) and Morkie Poo Information, Facts, Images! (2023).
1. Lancaster Puppies
You can find Morkie puppies under $500 at Lancaster Puppies. This platform doesn't sell or breed puppies but advertises them for sale in Ohio, Pennsylvania, New York, Indiana, and many other states.
Dog lovers can check out classified listings for puppies, contact the respective breeder, and purchase a Morkie puppy directly. This ensures that overhead costs are low, so the overall cost is naturally reduced.
Once you find a puppy, click its image for details, such as its health, temperament, and personality. The seller's address and contact info are also provided. After connecting, you can arrange a meet-and-greet, and once you're satisfied, you can work out arrangements and take your forever friend home.
As for the state of Pennsylvania, the Dog Purchaser Protection Act covers puppies if they develop some health issues. However, health regulations vary in other states; hence, all sellers advertising on Lancaster Puppies are expected to provide a health guarantee of about 30 days for all their puppies.
Moreover, all breeders must uphold their state health guarantee laws and own required licenses.
Last but not least, Lancaster Puppies ensure they advertise only puppies that are ethically bred and raised in compassionate environments to guarantee their health and happiness. If a seller seems to be operating a puppy mill or violates state regulations, they are investigated and banned from the platform.
So, Lancaster Puppies is a reliable platform to adopt Morkie puppies for under $500.
Lancaster Puppies Details:
2. Morkie Puppies Hub (MPH)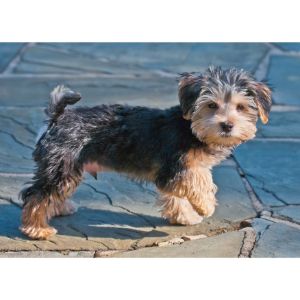 Next on our list is Morkie Puppies Hub (MPH), another platform dedicated to matching pets with the best adoptive owners and homes with specific dedication to dogs with special needs.
Morkie Puppies Hub matches more than 5,000 homes with happy, healthy, and well-tempered pets every year. Moreover, the home-based family business teaches the public about animal welfare in the US and Europe, especially about animals with illnesses, injuries, and disabilities.
MPH has proudly connected many US and European homes with adorable bundles of joy for many years. Overall, it specializes in luxury, purebred cats and kittens; however, they also feature other animals.
The organization works tirelessly to bring your chosen pet to you and get them accustomed to your home and family. MPH also advises its customers, especially novice pet owners, about all matters related to raising a healthy and happy pet.
MPH aims to make finding suitable animals as hassle-free as possible for their clients. This online platform is highly recommended because they pay special attention to their animals' physical well-being and mental capabilities and personalities.
Most importantly, MPH provides a one-year health guarantee for their animals.
Morkie Puppies Hub (MPH) Details:
3. Social Media Platforms
Facebook, Instagram, and Craigslist are good resources for connecting with sellers looking to give away their puppies at lower rates. Communities on these platforms are usually open for people to message and interact with sellers to obtain more information about an advertised or listed animal. Then, if everything seems genuine and reasonable, payment can be arranged.
For instance, the Facebook group Morkie Puppies for Sale provides potty-trained and vaccinated Morkies, shipping, and delivery services. You can leave a reply regarding puppies for sale, or you can send a private message for more detailed inquiries.
With Craigslist, you can search for Morkies specifically in your area. For instance, there are separate listings for Los Angeles, New York, etc. Then, click on the picture of a puppy within the price range and contact the seller for more information.
However, one thing to look out for when choosing these platforms is reliability. Some pages and advertisements might be scams set up by puppy mills or backyard breeders selling health-compromised puppies. So always ask questions and verify the information as much as possible before making a deal.
4. PuppySpot
Another well-known resource for finding happy and healthy Morkie puppies for sale under $500 from reputable breeders is PuppySpot. This huge community of dog lovers and animal rights activists is committed to connecting ethical breeders with compassionate and responsible families in pursuit of a healthy, forever canine companion.
In addition, PuppySpot promotes the best breeding standards and strives to offer a hassle-free experience for all clients on the portal: breeders, puppies, and prospective owners.
The platform divides animals into various categories so they can be easily found, such as pure breeds, designer breeds, active breeds, family dogs, and the best apartment dogs. PuppySpot also has a resource center for guiding its customers about different breeds, responsible pet ownership, grooming, training, and overall health care.
Since its inception, PuppySpot has placed more than 200,000 puppies in loving forever homes. Every breeder registered and advertising with them is personally and professionally screened.
In addition, PuppySpot encourages all puppy parents to register with the American Kennel Club Reunite and pledge to follow responsible breeding and pet ownership practices. This also guarantees that all their puppies qualify for companion registration on suitable registries.
PuppySpot Details:
5. Premier Pups
Our final pick for finding Morkie puppies for sale under $500 is Premier Pups. This amazing platform strives to stay true to its name and provides a premier puppy adoption service. If you're interested, you can visit the facility in central Ohio — their accommodating staff will ensure you feel welcome.
Premier Pups provides pure and designer breeds, ensuring that all the breeders registered on their website offer clients only happy, healthy, and well-tempered puppies. Representatives from the platform visit every breeder's facility to guarantee ethical practices and form long-lasting relationships.
Additionally, to safeguard the health and longevity of their puppies, Premier Pups provides a third-party veterinary consultation service and access to miscellaneous resources and tools for all prospective clients.
Premier Pups emphasizes touching and interacting with the puppies to ensure the animals are well-socialized and adapted. This helps create a loving and nurturing environment for the puppies to mentally and physically thrive and ultimately become ideal forever companions.
In addition, a comprehensive nose-to-tail inspection is conducted by a registered veterinarian and puppy care specialist before sending a puppy off with its adoptive parents. Premier Pups offers a remarkable industry-leading 10-year health guarantee for all its pups.
Some other services provided by Premier Pups include:
Pre-Screen Puppy Blood Evaluation to determine complete Chemistry profile for canine screening. The evaluation analyses organ functioning, focusing primarily on the liver and kidneys.
Airport Delivery to facilitate clients living outside of Ohio. Your puppy can be flown to you with a nanny on a commercial airline.
Premier Pups Details:
How to Choose Morkie Puppies for Sale Under $500
As you can see, many platforms advertise Morkie puppies for sale for under $500. However, knowing how to spot puppy mills and scams from genuine breeders requires knowledge of red flags, such as:
Lack of registration to a reputable club
Lack of or limited collaboration with other registered breeders and vets
No health guarantee or health testing of animals
Lack of training and grooming, primarily via established techniques such as ENS and Puppy Culture
No proper and/or frequent health assessments, such as vaccination, deworming, etc.
Lack of or limited participation in social events and no inclination to create awareness about the Morkie breed, ethical breeding practices, and responsible pet ownership
Frequently Asked Questions
Do Morkies bark a lot?
With their Maltese and especially Yorkshire Terrier lineage, Morkies are prone to barking.
Why do Morkies shake?
Similar to Yorkies, Morkies may shake when they are excited, afraid, or cold.
What is the longest a Morkie can live?
The life expectancy of a Morkie is 11 to 15 years, which is in line with Yorkshire Terriers and Maltese.
Conclusion for "Where Can You Find Morkie Puppies for Sale Under $500"
The Morkie is an energetic and loveable designer breed that is generally expensive. However, you can find affordable options within $500 on the platforms we've mentioned. Before you bring a puppy home, we strongly suggest you verify the seller's information and ensure you're not falling prey to a scam.
We wish you the best of luck in bringing a healthy and low-cost Morkie home!
If you find this guide, "Where Can You Find Morkie Puppies for Sale Under $500," helpful, check out:
Before you bring home a Morkie puppy, learn more by watching "10 Things Only Morkie Dog Owners Understand" down below:
Garrett loves animals and is a huge advocate for all Doodle dog breeds. He owns his own Goldendoodle named Kona. In addition, he volunteers at the Humane Society of Silicon Valley, where he fosters dogs and helps animals. Garrett enjoys writing about Doodles and believes that dogs can teach humans more about how to live than humans can teach a dog.
Why Trust We Love Doodles?
At We Love Doodles, we're a team of writers, veterinarians, and puppy trainers that love dogs. Our team of qualified experts researches and provides reliable information on a wide range of dog topics. Our reviews are based on customer feedback, hands-on testing, and in-depth analysis. We are fully transparent and honest to our community of dog owners and future owners.