This guide created by our team at We Love Doodles will teach you everything you need to know about the Maltipoo and Chihuahua mix dog breed. Suppose you're a big fan of designer dogs. In that case, you've no doubt heard of hybrids that have recently skyrocketed in popularity like the Goldendoodle (a mixture of Poodle with Golden Retriever), Shichi (Shih Tzu and Chihuahua), Chiweenie (Dachshund and Chihuahua), and Chorkie (a mixture of Chihuahua and the Yorkshire Terrier).
These adorable designer dogs are gaining attention because of their lovable personalities, family-oriented temperament, and hypoallergenic, non-shedding coats. One of the popular designer breeds is the Maltipoo and Chihuahua mix. The Maltipoo is already a designer dog breed that crosses the Maltese and a Toy or Miniature Poodle. First bred in the early 2000s, the Maltipoo is one of the most popular designer dogs.
The perfect blend of the pleasant, loving nature of the Maltese and the intelligence and trainability of the Poodle, the hybrid was bred to balance a Poodle's often high-strung nature with the laid-back personality of the Maltese. Add the aggressive personality of a Chihuahua to the mix, and you've got a Chi-Maltipoo. In this article, we'll look at this unique mix of companion dog, their history, appearances, training, cost, and potential health issues many of these dogs face.
Before scrolling down this Maltipoo and Chihuahua mix guide, you can check out these other Poodle mix dog breed guides from our team at We Love Doodles: Goldendoodle Dog Breed Guide and Double Doodle Dog Breed Guide.
History Of The Maltipoo-Chihuahua Mix
The Maltese, Poodle, and Chihuahua have been known breeds for hundreds of years, but only in the last few decades have breeders started to experiment with crossing several breeds to obtain perfect little companion dogs with hypoallergenic coats. To under the mix, we first need to understand the two parent breeds.
Related: Australian Shepherd Chihuahua Mix Dog Breed Guide and Rottweiler Chihuahua Mix Dog Breed Guide.
History Of The Maltipoo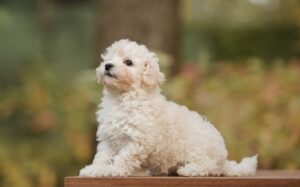 There have been a lot of theories about the possible ancestors of the Maltese. However, evidence suggests that the Maltese became popular on Malta, a small yet beautiful island in the Central Mediterranean Sea. With this, Malta Island is where the name "Maltese" was derived from.
Because of their small size, Maltese dogs are often considered trade dogs in the Greek and Roman Cultures. In addition, Maltese was considered royalty in England during the 1500s. It was believed that having a Maltese symbolizes stature and importance. And at that time, only wealthy people could afford this breed.
The Maltese dog breed is a type of Bichon dog and a close relative to the Bichon Frise, Havanese, and Bolognese. Their laid-back personality makes them a perfect complement to cross into a Poodle, an intelligent yet potentially nervous dog that can be prone to anxiety. The Poodle was once a waterfowl hunting and retrieving dog first bred by German hunters.
Their high intelligence and extreme trainability led to their popularity growing across Europe, finally making their way into French circuses. As performing dogs, they were bred down in size to make them easier to transport. Hence, Toy and Miniature Poodles were introduced. Today, the Maltipoo remains one of the most popular dog breeds. Affectionate, loving, and the ideal family pet, Maltipoos are beloved worldwide and suitable for most households.
History of Chihuahua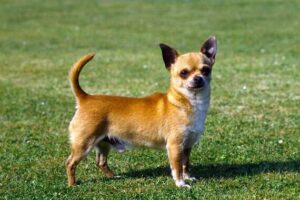 When you think Chihuahua, you think "ankle biter," but did you know that the Chihuahua is one of the breeds most likely to bite? It frequently ranks among the top five biting breeds, right up there with Pitbulls and Rottweilers! Chihuahuas are considered the smallest dog breed in the world and are named after the Mexican state of Chihuahua. These fearless dogs are derived from an ancient dog called the Techichi dog.
Unlike the modern-day Chihuahuas known for their loud and high-pitched barks, Techichi was silent dogs and not known for sounding any alarm. Sadly, there's not much information about the ancestors of Chihuahuas because Techichi dogs are now extinct, and whatever information we have is gathered from scientists that have learned what they need to know about them from old artifacts.
Related: What is a Brindle Chihuahua?
Maltipoo-Chihuahua Appearance
Who knows that combining the different genes of a Poodle, a Maltese, and a Chihuahua would result in these adorable mixes? The typical Maltipoo-Chihuahua mix is a miniature dog that weighs 5 to 8 pounds and measures 10 to 15 inches in height at the shoulder.
They can have short, medium, or long coats depending on which parent it takes after, and often they could be soft or coarse. The colors can also vary depending on the parent breed, but the most common ones are white, tan, and bi-colored.
Related: Maltipoo Colors with Pictures.
How Much Does A Maltipoo-Chihuahua Cost?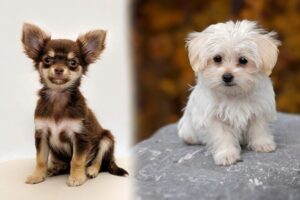 Before purchasing a puppy, ensure it is from a trusted and reputable breeder. The last thing you want is to purchase from a puppy mill and have your new pup laden with health and behavioral problems down the road.
The average price of Maltipoo-Chihuahua puppies ranges from $500 to $1,500. As this mix isn't yet a well-known and popular designer dog breed, they are still sold as mixes and hybrids. A Maltipoo, on the other hand, is a known designer dog breed and might cost upwards of $2,000.
Related: How Much Does a Maltipoo Cost and Long-Haired Deer Head Chihuahua Guide.
Where to Get a Maltipoo-Chihuahua Mix Dog Breed?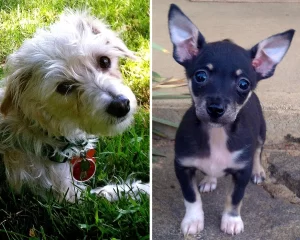 Before running off to a breeder, you might want to check rescues and shelters for any of these adorable mixes that might need a new home. Not only will you save a fortune in adoption fees, but you'll also get to rescue a dog.
Listed below are some of the adoption rescue centers located in the different parts of the United States which cater to different types of dog breeds, including potentially a Maltipoo-Chihuahua mix.
Maltese & More Rescue
Maltese Rescue California
Southern Comfort Maltese Rescue
Chihuahua Haven Rescue
Adopt a Chihuahua – AdoptAPet
Rescue Me Chihuahua Rescue
Related: Best Maltipoo Rescues For Adoption.
Maltipoo-Chihuahua Temperament
Just like the appearance, the temperament of this unique hybrid varies greatly depending on which parent they take after. Chihuahuas are often described as small but difficult because of their sassy, fearless personality, while the Maltipoo is known for its gentle, playful, and affectionate personality. These mixes tend to be playful yet alert and protective.
They might be yappy and barky and will warn you of intruders if they sense something amiss. They are loving, affectionate, and devoted to their families but can take some time to warm up to strangers. Because of their small size, they might not suit families with very young children unless you can take the time to educate your kids on how to play gently with smaller dogs.
Although sturdy dogs, Maltipoo-Chihuahua mixes are small enough to be hurt badly by a young child's rough play, and any dog can snap and bite in pain or fear. Always supervise your children around these dogs. These mixes make excellent companions and suit most households, even those with sedentary owners or seniors.
They have modest exercise needs and will do well with a 30-minute daily walk. Early and thorough socialization of the Maltipoo-Chihuahua mix is essential. Although the Maltese dog breed is generally calm and laid-back, the Poodle can be high-strung, and a Chihuahua can have many aggressive tendencies, especially if they feel threatened.
Related: How Smart Are Chihuahuas and Ways to Make Your Chihuahua Happy.
Maltipoo-Chihuahua Potential Health Problems
Like other dog breeds, this hybrid is prone to the health problems of the two parent breeds. In addition to ensuring you get your pup from a reputable breeder that screens for genetic conditions, you'll need to watch out for a few things.
Patellar Luxation
Patellar luxation is common in small breeds such as Chihuahuas, Pomeranians, and Yorkshire Terriers. A canine luxating patella happens when the patella, or your dog's kneecap, moves out of position. The femur bone of your dog supports the kneecap.
However, the canine luxating patella causes the kneecap to move out of place. Because of this, your dog may experience limping, pain, and eventual lameness. Luxation patellar is often genetic, but traumatic injuries such as tearing and overstretching your dog's joint may cause them to be more susceptible to the disease.
Symptoms include changes in their gait, reluctance to walk, stiffness, pain while getting up, and limping. If you suspect patella luxation, head to your vet. Early detection means your dog is more likely to recover quickly, but if left untreated, the condition can deteriorate into lameness.
Shaker Dog Syndrome
Shaker Dog Syndrome, also known as White Shaker Syndrome, is a hereditary nerve system condition that causes a dog's body to shake uncontrollably. This condition is often associated with small-breed white dogs such as the Maltese, West Highland White Terrier, and Poodle.
This condition affects dogs between six months and three years old. If left untreated, it usually gets worse quickly. Fortunately, unlike seizures, this illness does not cause discomfort or alter the affected dogs' attentiveness or consciousness.
Early signs of shaker dog syndrome include:
Non-stop tremors
Seizures
Lack of Coordination
Shivering
Paralysis
Uncontrolled rapid eye movements
If you suspect your dog is suffering from Shaker Dog Syndrome, it is important to visit your veterinarian for immediate action and diagnosis. Usually, Shaker Syndrome can be treated through medication like benzodiazepine or corticosteroids.
These steroids help in reducing the inflammatory response in the body. Tremors usually go away a week after the start of treatment. Your veterinarian might reduce the steroid dosage gradually until it is completely gone.
Patent Ductus Arteriosus (PDA) in Dogs
PDA is a medical condition known to be hereditary in several breeds such as Pomeranian, Miniature and Toy Poodles, Chihuahua, Maltese, and Yorkshire Terrier, wherein it is caused by the ductus arteriosus muscle's inability to contract, which results in a blood flow pathway and, eventually, left-side diseases or heart failure.
Common signs of Patent Ductus Arteriosus include:
Difficulty breathing
Loud heart murmur
Unusual pulse and heart rate
Reluctance and intolerance to physical activity
In the long run, congestive heart failure may result from irreversible damage to the heart muscle brought on by blood shunting through the PDA. The heart murmur will disappear when this happens, and the symptoms will become severe. Irregular heartbeats, cyanosis (blueness) of the foot pads on the back legs, the collapse of the back legs during exercise, and weakness or lethargy are some of the symptoms of severe PDA.
The main goal of the treatment for PDA is to close the blood flowing through the shunt. Your dog's best course of therapy will be decided by a veterinary cardiovascular surgeon, who will be recommended to you by your veterinarian. In some cases, surgery will be done as a treatment, and, despite requiring an entry into the chest cavity, it is seen to be a very straightforward procedure with low complication rates.
If the surgery has been successful, your dog should be able to lead a normal life. It is important to note that the earlier you start the treatment, the better. A PDA can grow weaker and more likely to rupture the longer you leave it, making correction more challenging. If the PDA is irreversible, your dog might need medication for the rest of its life.
Obesity
Like many other breeds, the Maltipoo-Chihuahua is prone to obesity, particularly if your dog leads a sedentary lifestyle with insufficient exercise and overeats junk food. Obesity is a serious problem in dogs that can lead to several health problems. Excess weight strains the dog's heart and lungs and can lead to joint problems and arthritis.
In addition, obese dogs are more likely to suffer from diabetes and other metabolic disorders. Obese dogs also have a reduced life expectancy and are more likely to experience general discomfort and fatigue. As a responsible pet owner, it is important to ensure that your dog maintains a healthy weight, which means feeding them a balanced diet and getting plenty of exercises.
Feed a top-quality brand of kibble meant specifically for small dogs as these little guys have different nutritional requirements from large breeds. In addition, a Maltipoo-Chihuahua mix has moderate exercise needs, but you'll still have to take your puppy out for a 30-minute way a day.
Conclusion For "Maltipoo and Chihuahua Mix Guide"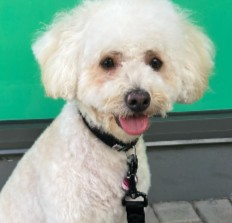 The Maltipoo is a loving, affectionate breed that will suit most types of owners. A Chihuahua needs more socialization and care taken in its training to be a model canine citizen. The unique Maltipoo-Chihuahua mix can be a loving, devoted companion for people that can take the time to socialize and train their puppy. Good luck!
For more dog mixes like the Poodle and Chihuahua mix dog breed, you can check out these guides from our team at We Love Doodles:
You can see the Maltipoo and Chihuahua mix dog breed live in action by watching "Maltipoo Chi Mix Puppies" from one of the YouTube videos we found down below: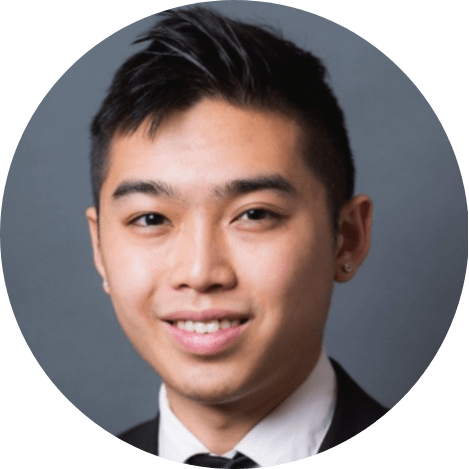 Andy is a full-time animal rescuer and owner of a toy doodle. When he's not saving dogs, Andy is one of our core writers and editors. He has been writing about dogs for over a decade. Andy joined our team because he believes that words are powerful tools that can change a dog's life for the better.
Why Trust We Love Doodles?
At We Love Doodles, we're a team of writers, veterinarians, and puppy trainers that love dogs. Our team of qualified experts researches and provides reliable information on a wide range of dog topics. Our reviews are based on customer feedback, hands-on testing, and in-depth analysis. We are fully transparent and honest to our community of dog owners and future owners.