Finding a Labradoodle breeder in Missouri can be challenging, can't it? There are lots to choose from, and with them all claiming to be the best, it's difficult to know who is a reputable seller and who is a puppy mill masquerading as a decent seller.
It leaves us unsure where to turn, worrying about what our new puppy will look like! Well, no more! We are here with a list of the best labradoodle breeders in Missouri to help you make your decision!
We have ranked them in order of reputation, size, and generation to help you select the best Labradoodle for you. Keep reading to find your new puppy today!
Other articles you might like: Bernedoodle Breeders in Missouri and Goldendoodle Breeders in Missouri.
Sitting at the top of our list today is PuppySpot Labradoodles. PuppySpot boasts short waiting times, with many Labradoodle puppies ready and waiting to find their forever homes. The age and size of the puppies vary, but with thousands of healthy puppies being sold from PuppySpot, you can put your faith in them!
You can expect to find F1, F1B, F2, and multi-generational Labradoodles on their site, all ranging in price, size, and color. You can read about the seller and ask as many questions as you want! There's also plenty of pictures to help you make your decision.
PuppySpot is an anti-puppy mill and ensures that none of the puppies for sale are from puppy mills. Each breeder is screened in partnership with American Humane and the USDA. There is also a nose-to-tail health check and health guarantee for Labradoodles too!
Your travel is all taken care of too, simply select the method that suits you, and PuppySpot will confirm all your travel plans a few days before your puppy is due to arrive.
You can search through puppies based on generation, color, and size, allowing you to choose the best Labradoodle for you. And with so many Labradoodles available now, why wait? Get your new puppy today!
Labradoodle Puppy Information:
Range of generations including F1 and F1B Labradoodles
Range of sizes and colors
Labradoodle Breeder Details:
Another fantastic choice is Archview Labradoodles! This company specializes in Australian Labradoodles, and their home page is packed full of adorable fluff balls just waiting for their new homes!
Just over the state border in St. Louis, Illinois, this family operation is worth traveling for! You can use their website to view all breeding dogs used and view their health and DNA testing results.
Any potential health conditions are listed, too, allowing you to understand these dogs on a genetic level. There aren't any nasty surprises when purchasing a Labraddole from Archive!
Retired veterinary professional Darah provides Labradoodles with the best care and attention. These dogs are properly socialized, and the family puts great emphasis on Labradoodles being used as therapy dogs for children, too, so you are sure to find a calm dog to suit your needs.
Their breeding mission is full of information, and it's clear that the dogs used are selected for their temperament and are cared for brilliantly. They screen families before placement to ensure the fit is right and offer you ongoing support to ensure your puppy adjusts to its new life well.
As members of the ALAA and AVIDOG, you can be sure they are of the utmost health and will be fantastic additions to your home.
If you don't mind traveling, these dogs are certainly worth it!
Labradoodle Puppy Information
Range of sizes and colors
Labradoodle Breeder Details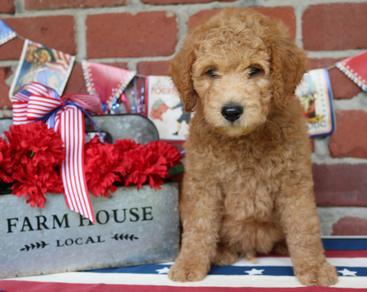 Located just outside of Kansas City, Pine Winds Labradoodles is dedicated to breeding kind and loyal Labradoodles that make fantastic therapy dogs! Debbie, who runs Pine Winds, is a retired teacher who breeds Labradoodles with registered therapy dogs.
She has three active female dogs and breeds these with males that she selects carefully. Temperament plays a key role here, as Debbie's goal is to continue a line of therapy dogs. The retired teacher runs a small operation, dedicating her time caring for the dogs and their puppies.
The website is packed full of pictures of the adorable Labradoodles, and she is a member of the ALLA; and the site features badges from Canine Good Citizen and pet partners so that you can put your faith in her!
Genetic screening is done in line with the Australian Labradoodle Association to ensure all breeding dogs are healthy. Only compliant Labradoodles are used for the best results, so you can be sure your puppy will be suitable for training as a therapy dog if you wish.
You get a two-year health guarantee, and your puppy comes already microchipped, on a worming schedule, has two vaccinations, all health documents, and is socialized with other dogs and local children from nearby farms!
There is also a contract you have to sign to neuter or spay your puppy by eight months of age to prevent bad breeding or the puppies entering puppy mills!
The Labradoodles bred seem to be multi-generational puppies, although this is not disclosed on the website. Pine Winds Labradoodles are a reputable breeder and ideal if you are looking for a calmer dog or therapy Labradoodle to complete your family.
Labradoodle Puppy Information:
Multi-generation Labradoodles
Range of sizes and colors
Labradoodle Breeder Details:
These Australian Labradoodles are multigenerational Doodles, descended from Australian Labradoodles rather than crossed with Labradors and Poodles. You can expect either a miniature or medium-sized puppy, although the sizes given to you are estimates only, as the breed parents aren't always the same size.
Members of the ALAA, RTBB (Raising the Breeder Bar), and winners of the good dog awards, you can put your trust in West Haven and know you are receiving a fantastic puppy. Based on a farm just outside of Brandon, these dogs have plenty of room to run and enjoy the fresh air.
As per the requirements of these organizations, your puppy will have had their first vaccinations and meet the health standards required. To reduce the risk of Parvo, early visits are not allowed while the puppies are still small.
There is a bit of a wait, as there are no current litters, but you can still apply ready and take a look at the fantastic dogs they use. The site is packed full of useful information for first-time owners, too, helping you prepare for your new arrival. This is a company that certainly goes the extra mile.
Labradoodle Puppy Information:
Labradoodle Breeder Details:
Completing our list today is St. Louis Australian Labradoodles, which specializes in Australian Labradoodles. Members of the ALAA and the Responsible Breeding Program, you can put your faith in this breeder! Becky breeds multi-generational Labradoodles, creating hypoallergenic puppies that will be a welcome addition to most homes.
She specializes in mini and medium-sized Australian Labradoodles, bred by her gorgeous dogs.
Details about the litter are available on-demand, with handy contact forms for you to fill in. extensive health testing is done on all breeding dogs, and it's clear from the site that these dogs are loved! There is even a guardian program where those living nearby can care for the breeding dogs, leaving for breeding and during their pregnancies.
When your puppy arrives, it comes microchipped, de-sexed, de-wormed, with puppy care instructions, registration with the ALLA, a sample of food, a stuffed toy with their mother's scent, health records, lifetime support, and a two-year health guarantee!
They try to meet your requests as best as possible and allow you to roll any deposits to the next litter if you aren't entirely happy. St Louis Australian Labradoodles are incredibly transparent and easy to deal with, allowing you to get your dream puppy with ease.
Labradoodle Puppy Information:
Multi-generational Labradoodles
Mini and medium-sized Australian Labradoodles
Labradoodle Breeder Details:
How to Choose a Labradoodle breeder in Missouri?
src="https://welovedoodles.com/wp-content/uploads/2021/08/labradoodle-puppies-missouri-300×300.jpg" alt="labradoodle puppies missouri" width="300″ height="300″ />When it comes to labradoodle breeders in Missouri, you have a few options to consider, and we bet you have been bombarded with ads lately offering adorable puppies for sale across the state.
But we have to be wary when purchasing a puppy, especially Labradoodles. They have become incredibly popular in the past few years, with everyone from celebrities to your Mom wanting one.
And with this popularity comes puppy mills, appalling conditions, and dodgy breeders, leaving you unsure where to turn. To help navigate these murky waters, use one of our recommended and reputable breeders.
Use these two tips too when searching to help get the right Labradoodle and breeder for you!
1. Do your research.
There are lots of Labradoodle breeders in Missouri, and picking just one can be challenging. Be sure to conduct in-depth research to ensure the puppy you buy is in good health and not from a puppy mill or backyard breeder.
Keep an eye out for breeders that are members of the ALAA (Australian Labradoodle Association of America). These breeders have their dogs health tested, provide health warranties, and register all litter produced. You can rest easy purchasing your puppy from one of these breeders.
2. Contact the breeder directly.
Any reputable Labradoodle breeder will be more than happy to answer your questions and put your minds at ease. They want you to have the right puppy and ensure that their puppy is going to a good home too!
Have a list of questions ready, and make sure you get the answers you need. Ask to see their facility where the Labradoodles are bred, and pictures of the parents too can be helpful.
They will allow you to see what your puppy will look like. It's worth asking what generation Labradoodle is being bred and any health conditions the parents might have too. The more you know, the more of an informed decision you can make!
Conclusion for Labradoodle Breeders in Missouri
And just like that, we have reached the end of our breeder guide today! As you can see, there are plenty of fantastic options when it comes to choosing a Labradoodle breeder in Missouri. If we had to have a favorite, though, it would be PuppySpot. They go above and beyond to ensure the puppy is the priority and that they are cared for and treated properly.
Remember to use our handy tips to find a breeder near you, and before long, you are sure to be bringing a fluffy bundle of joy into your home!
Other articles you would like:
Garrett loves animals and is a huge advocate for all Doodle dog breeds. He owns his own Goldendoodle named Kona. In addition, he volunteers at the Humane Society of Silicon Valley, where he fosters dogs and helps animals. Garrett enjoys writing about Doodles and believes that dogs can teach humans more about how to live than humans can teach a dog.
Why Trust We Love Doodles?
At We Love Doodles, we're a team of writers, veterinarians, and puppy trainers that love dogs. Our team of qualified experts researches and provides reliable information on a wide range of dog topics. Our reviews are based on customer feedback, hands-on testing, and in-depth analysis. We are fully transparent and honest to our community of dog owners and future owners.