The state of Georgia is full of southern pride – Labradoodle pride that is!  These six carefully selected Labradoodle breeders in Georgia are high reputable breeders that know how to raise well tempered and healthy puppies. 
If you're looking for Labradoodle puppies in Georgia, then we created the perfect list of breeders. We did our own independent research and collaborated with breeders from the Australian Labradoodle Association of America (ALAA). To be ALAA certified, you have to conduct genetic testing, temperament testing, and follow strict socialization procedures.  These Gold and Silver Paw Labradoodle breeders are raising puppies that exemplify the best of the breed and ensures you'll be getting a healthy Labradoodle puppy.
1. Rainbow Row Labradoodles GA
Kylie and Isabella are Labradoodles and produce puppies for this small southern Georgia breeding operation.  Extensively testing prospective dams, sires, and puppies for genetic abnormalities, they have been awarded ALAA Gold Paw breeder status. This means that they are one of the most reputable Labradoodle breeders in Georgia. 
With a priority on producing happy, healthy puppies for Georgians, they feed only the holistic diet of Life's Abundance puppy food which has no by-products, wheat, corn, or chemical preservatives.  This is just one of the many reasons they are able to provide a 2-year genetic health guarantee on their puppies.
Education at Rainbow Row begins pretty much on Day 1 of birth, and they've partnered with BAXTER & Bella's Online Training School where all of their pet parents save 25% on a lifetime of classes, modules, and tips from the experts. Since many puppy training classes are closed due to COVID, this is the perfect opportunity to train your dog at home.
With black, chocolate, white, and parti-colored Labradoodle puppies in California, you are bound to get an outstanding looking dog. The size of these Labradoodles ranges from miniature to medium.  New litters of mini and medium litters cost $2850 and you can pick them up in Southern Georgia near Albany.
Labradoodle Puppy Information:
Generation: Multigenerational Labradoodle puppies
Size: Miniature to Medium Labradoodle puppies
Labradoodle Breeder Information:
2. Classic City Labradoodles Georgia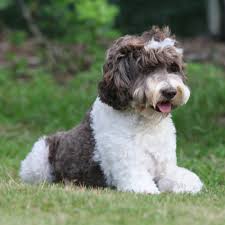 Danny White is the proud papa of 13 amazing Labradoodle breeding dogs.  They all live on his sprawling two-acre property in Athens, Georgia, where the doodles and their pups get all the exercise they could ever want. 
Classic City's primary emphasis is on health, conformation, and temperament, which is promoted by the socialization and doting attention the babies receive from his entire family. This will be some of the most socialized Labradoodle puppies in Georgia.
Danny's brood includes beautiful white, chocolate, and parti girls, many of whom are planning to be busy mamas within the next 4-6 months.  He's had so much demand for these litters, he's had to start a waitlist so don't delay.
Everyone who makes a deposit on one of these Labradoodles will be on the waitlist in the order they were received. At puppy selection time, normally 5-6 weeks of age, he will select the next lucky pet parent.  The investment for a lifetime of love with your Classic City puppy is just $2500 dollars.  Your puppy will come home in possession of a full veterinary exam and a 2-year health guarantee. In addition, each new Labradoodle parent receives a leash and collar, a blanket with mommy's scent, and dog food to ease the transition.
Labradoodle Puppy Information:
Generation: Multi-generational Labradoodle puppies
Size: Miniature to medium Labradoodle puppies
Labradoodle Breeder Information:
3. Cotton Creek Labradoodles in Georgia
Cotton Creek Labradoodles is a small home-based breeding program in a big city.  Located in the heart of Atlanta, Georgia, they make sure that their Labradoodle puppies have the opportunity to go for nature walks in the city's beautiful parks. This helps condition them to foliage and small creatures. 
These Labradoodle puppies in Georgia are treated with the same love as their human child counterparts, attending "Puppy Pre-K" from three-and-half weeks to graduation where they get to partake in socialization activities and play with stimulating toys. This helps prepare their Labradoodle puppies for the real world where they will be less stressed and anxious about noises. The early socialization makes them one of the more reputable Labradoodle breeders in Georgia.
With charming southern names like Grover and Harper, these miniature-to-medium Labradoodles are expected to be busy and Cotton Creek hopes to have available litters by late 2020 or early 2021. 
Their Labradoodle puppies in Georgia are expected to be miniature milk chocolate or milk chocolate and white parti with a medium thrown in here and there.  If you'd like to get on the waiting list for one of these little darlings, the deposit amount is $300 which will be applied to the total price of $3000. 
Labradoodle Puppy Information:
Generation: Multigenerational Labradoodle puppies
Size: Miniature Labradoodle puppies
Labradoodle Breeder Information:
4. Asher Farm Labradoodles
The Chadwick family: Mom, Dad, and two lovely girls run a small home-based breeding operation centered on a farm in the middle of Atlanta and Athens, Georgia. Their Labradoodles are considered family members, and as such, have pretty much taken over their home, sleeping in their beds, and going everywhere they go – even on vacations! 
The Chadwicks wouldn't have it any other way. They've been raising Labradoodle puppies in Georgia since 2016 and have the breed selection, health testing, and socialization experience that has earned them the Gold Paw Breeder designation that they've held since 2017. This means they are one of the most reputable Labradoodle breeders in Georgia.
With six dams and two sires in every imaginable combination – including one in a phantom and chocolate coloring, this group is sure to produce some stunning puppies. A Labradoodle puppy can be yours for $3000. 
Your baby will come home to you with full vaccinations-to-date, a 2-year health guarantee, and enough dog food and toys to get you started.  All current litters are reserved, and you only have to take a look at these little guys to see why! Contact the Chadwicks below to inquire about getting on their reservation list for the next one. 
Labradoodle Puppy Information:
Generation: Multi-generational Labradoodle puppies
Size: Miniature to Medium Labradoodle puppies
Labradoodle Breeder Information:
5. Sweet Bay Labradoodles GA
For owner Laura Diaz, the primary motivation to start her own Labradoodle breeding operation in Georgia was the comfort and support these intuitive animals can bring to those with mental and emotional conditions. 
The resident dam is Arya, a sweet auburn mini, and Snow, a beautiful snow-white colored Labradoodle. Two and three-years-old respectively, they each have normal hips, elbows, and eyes, and have tested negative for over 175 medical conditions. You can reasonably sure that these Labradoodle puppies in Georgia will be healthy.
Puppies are $2800 and come with age-appropriate vaccinations, a 2-year health guarantee, and a certificate of third-generation pedigree.  You will also get all of the starters, including a 4.5lb bag of dog food, dog collar, and leash. Lastly, you get a snuggle blanket with mama's scent to remember her by. 
If you're interested in adopting one of Arya or Snow's upcoming babies, contact Laura below.  She promises to reply within 48 hours!
Labradoodle Puppy Information:
Generation: Third Generation Pedigree Labradoodle puppies
Size: Medium, and Miniature Labradoodle puppies
Labradoodle Breeder Information:
6. Southern Charm Labradoodles Georgia
Carol Dean is a fan of Labradoodle diversity and offers Georgians an array of choices. She breeds both Australian and American Labradoodles from the smallest mini to the largest standard size.
She also encourages the adoption of her Labradoodle puppies to become service or therapy dogs due to their patient and loyal nature.  Even with these impressive characteristics, it is only the most special of the litter who is chosen for this important job, so Carol will have an expert trainer spend time with and assess the Labradoodle puppies. 
There are two litters currently on the books, including one recent litter that was born.  These Labradoodle puppies are apricot, caramel, red, and parti coat colors.  Labradoodles, Laynie and Benz, are expecting later in the year and the puppies will be an assortment of mini Labradoodles in caramel, red, apricot, and possibly part coloring.
Contact Carol for more info on purchasing your Labradoodle puppy! All puppies are $3000 and this Labradoodle breeder is located in Loganville, Georgia.
Labradoodle Puppy Information:
Labradoodle Breeder Information:
Conclusion for Labradoodle Breeders in Georgia
Labradoodles puppies in Georgia are exploding in popularity because of their easygoing temperaments and superior genetic features. Labradoodles are mostly nonshedding and hypoallergenic it's nice that you won't have to vacuum up dog hair every day. We hope that you enjoyed our list of the best Labradoodle breeders in Georgia.
Garrett loves animals and is a huge advocate for all Doodle dog breeds. He owns his own Goldendoodle named Kona. In addition, he volunteers at the Humane Society of Silicon Valley, where he fosters dogs and helps animals. Garrett enjoys writing about Doodles and believes that dogs can teach humans more about how to live than humans can teach a dog.
Why Trust We Love Doodles?
At We Love Doodles, we're a team of writers, veterinarians, and puppy trainers that love dogs. Our team of qualified experts researches and provides reliable information on a wide range of dog topics. Our reviews are based on customer feedback, hands-on testing, and in-depth analysis. We are fully transparent and honest to our community of dog owners and future owners.