If you're wondering how to keep Labradoodle from matting, here's what you need to know. Labradoodles have become a fan favorite when it comes to designer dog breeds. They started appearing in the 1950s and have grown in popularity due to their sweet temperaments and low-shedding coats.
While the Labradoodle tends to have an easygoing personality, its coat isn't as low-maintenance as other breeds. Its fur can quickly become tangled and eventually matted without regular and proper grooming. Matting doesn't just make the Labradoodle look unkempt.
It can also actually lead to health concerns. A matt-free Labradoodle isn't just a beautiful dog – it's also a sign of a happy and healthy dog. Read on for all you need to know to keep your Labradoodle from matting.
Before you scroll down this guide, "How to Keep Labradoodle From Matting," you can check out these other Labradoodle guides from our team at We Love Doodles: What Labradoodle Size is the Best and Australian Labradoodle vs. Labradoodle Dog Breed Comparison.
Description of Labradoodle's Coat
Labradoodles have three different kinds of coat names:
The wool coat has extremely curly hair and a coarse texture, similar to a Poodle's coat. This coat type is non-shedding and works well for people with dog allergies. The fleece coat has two varieties. One is curly fleece, and the other is a wavy fleece.
These fleece coats reflect what most people envision when they think of how a Labradoodle looks. They're not as curly as Poodle hair and not as flowing as Labradoodle hair. The curly fleece is slightly looser than the wool coat, and the wavy fleece doesn't have coils as tight as the curly fleece.
Both types of fleece coats are low-shedding and work well with allergy sufferers. Lastly, the hair coat is coarse and wavy. It usually doesn't grow to a long length, and Labradoodles with this coat tend to shed. Dogs with this coat are not a popular option for people with allergies.
How Mats Form on a Labradoodle
Mats are bits of loose fur that wrap around themselves, becoming a tightly wound clump that latches onto live fur. It's common to think that Labradoodles don't have this issue since they're marketed as no-shedding dogs. Labradoodles have an undercoat that does not shed easily, but that doesn't mean it never sheds, period.
So, while they may not shed as much as other dogs, they still have dead hair that will get caught in the undercoat. The best way to remove the dead hairs from the undercoat is to brush them out regularly.
How to Get Mats Out of a Labradoodle's Hair
Sometimes, even the most vigilant dog owners can find a mat on their Labradoodle. These dogs tend to be large, so it can be easy to miss a spot while grooming. Fortunately, there are several ways how to groom a matted Labradoodle. Before tackling a mat, make sure that it's an appropriate size and not too close to the skin.
Professionals, such as a groomer or veterinarian, should handle large mats. Since mats can hang very close to the skin, you can risk injuring your dog or causing severe pain if you try to detangle these mats on your own.
1. Brush Out Small Mats
2. Use a Dematting Rake
A dematting rake is a tool that you can use for small mats. A dematting rake has serrated steel blades that help break up hair as you comb through your dog's coat. Don't worry – it's a painless process for dogs with small mats.
The blades will cut through the dead hairs and rake them up without hurting the skin. Just be sure to take it slow and steady. Do not force a dematting rake through a stubborn mat.
If you aren't careful, it can be painful for your dog and may even cause cuts on the skin. If you're having difficulty maneuvering a rake through a mat, it's best to use a different method or ask the vet.
3. Use Detangling Spray
4. Book a Grooming Appointment
For large mats, it's best to schedule your Labradoodle's grooming appointment. While it may be more expensive, it will save you time and be the most painless option for your Labradoodle. A groomer has more specialized tools and supplies to break up mats, not to mention experience.
Remember that groomers will have to resort to shaving your Labradoodle's coat for severe cases of matting. You don't want to lose the charming coat that many people have fallen in love with, so it's best to practice regular grooming to prevent this from happening in the first place.
Related: How Long Does Dog Grooming Take and Will Groomers Take Dogs with Fleas?
Healthy Grooming Routine for a Labradoodle
Learning to keep a Labradoodle from matting saves you time and money, saving your dog stress. You don't have to buy additional de-matting products. You also don't have to schedule intensive grooming appointments at higher prices due to the extra work the groomer has to do to get rid of mats. Fortunately, grooming a Labradoodle is pretty easy and doesn't take up too much time as the average large dog breed.
All you need are two basic tools:
A slicker brush is an essential grooming tool for dogs with medium to long curly hair. It has short wires planted on a flat surface. These wires help pick up debris and dead hair, and they can also pick up some minor tangles and mats.
A fine-tooth comb is also helpful for Labradoodles because it can rake through their fine hairs to sort through smaller tangles. Depending on your Labradoodle's size and coat, you can expect to spend about 40-50 minutes a week on grooming.
It's best to groom your dog once or every other day. The first thing you want to do is brush your Labradoodle's entire body with a slicker brush. This will help them loosen up their coat and pick up most dead hair stuck in their undercoat.
Then, go over their coat with a fine-tooth comb to pick up any remaining strands of hair and detangle any clumps. Keep running the comb through your Labradoodle's coat until it doesn't get caught in any areas.
Another thing that will make brushing easier is buying the right shampoo. Since Labradoodles have wavy or curly hair, try to find a nourishing and moisturizing shampoo and conditioner set. These sets will keep your Labradoodle's coat feeling luxuriously soft and moisturized.
This will help your dog's coat stay free of tangles because dry and brittle hair is more likely to tangle. After brushing, you can use a conditioning spray on your Labradoodle to keep its coat moisturized between bath times.
Related: Common Labradoodle Health Issues.
Why Mats are Dangerous for a Labradoodle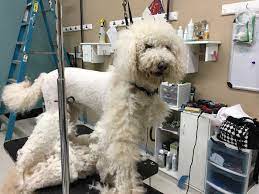 All Labradoodle coats are susceptible to matting because their hair is thin and curly or wavy. So, while grooming a Labradoodle is a fairly simple and straightforward process, the coat can quickly become overwhelmingly tangled and matted if you don't maintain a grooming schedule.
Mats don't just affect a dog's appearance. They can also negatively affect their skin and coat health. To begin with, mats feel extremely uncomfortable for dogs. When they grow too close to the dog's skin, they start to tug and pull on the skin.
This irritation can cause dogs to scratch at the matt and cause further tightening or inflammation. If the mat irritates the skin, these areas can develop painful and exposed lesions. These wounds are very susceptible to infection and can even lead to a maggot infestation.
In very severe cases, mats that are too close to the skin can also start to cut into the skin and cause further wounding. Mats are also ideal hiding places for fleas and ticks. They can burrow themselves beneath clumps of fur and can be more difficult to detect and hard to reach.
Therefore, it's much more challenging to treat a dog with mats. Lastly, mats are very unsanitary. Clumps of urine and feces can get stuck in mats. Other types of dust and debris can also get caught in mats, essentially defeating the purpose of having a low-shedding, hypoallergenic dog.
Conclusion For "How to Keep Labradoodle From Matting"
Labradoodles are beautiful dogs with luxurious coats. These coats don't take too much extra time and effort to maintain, and they're fairly easy to keep mat-free. However, if you notice a mat on your Labradoodle's coat, address it immediately because it can be painful and lead to more significant issues if left untreated. Your Labradoodle will thank you for it, and you'll have more happy days ahead with your furry friend.
If you find this guide, "How to Keep Labradoodle From Mattin," helpful, check out these other related guides from our team:
You can learn more about this topic by watching "Matted Labradoodle Full Groom – Total Shave Down Except For Ears" down below: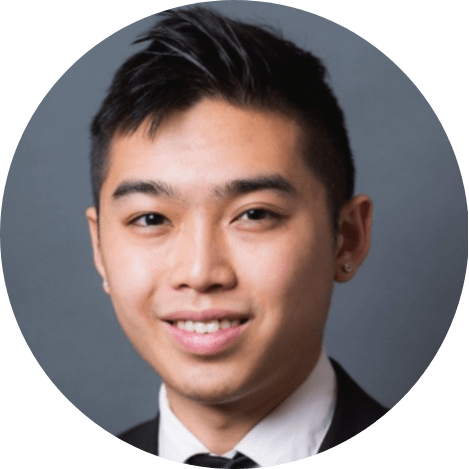 Andy is a full-time animal rescuer and owner of a toy doodle. When he's not saving dogs, Andy is one of our core writers and editors. He has been writing about dogs for over a decade. Andy joined our team because he believes that words are powerful tools that can change a dog's life for the better.
Why Trust We Love Doodles?
At We Love Doodles, we're a team of writers, veterinarians, and puppy trainers that love dogs. Our team of qualified experts researches and provides reliable information on a wide range of dog topics. Our reviews are based on customer feedback, hands-on testing, and in-depth analysis. We are fully transparent and honest to our community of dog owners and future owners.