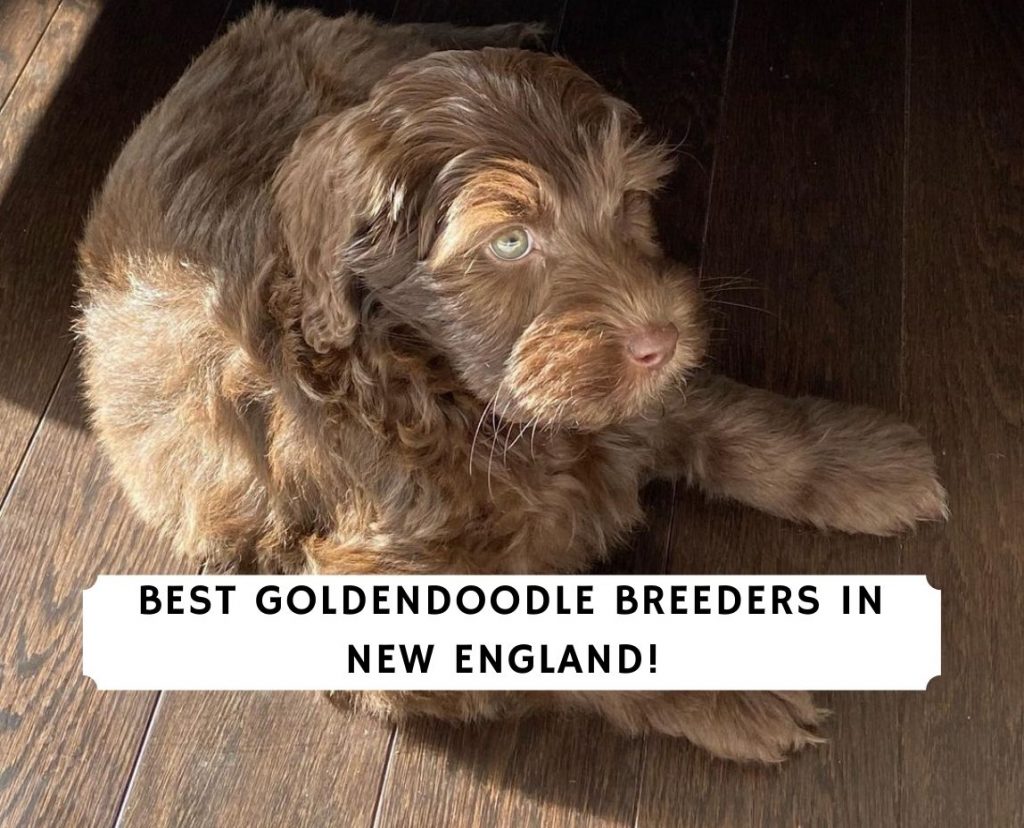 Goldendoodles are a hybrid dog breed that mixes the wonderful temperament of a Golden Retriever with the hypoallergenic aspects of a Poodle. These dogs have friendly and affectionate personalities, along with a high degree of intelligence. Goldendoodles are easy to train, making them great service dogs as well as amazing family companions. Goldendoodles puppies for sale in New England are becoming more and more popular.
If you live in New England and have decided that a Goldendoodle is the dog for you, then it is time to find a breeder. Below is a list of reputable Goldendoodle breeders in New England that are excited to help you add a puppy to your family! So have a look and get started on your Goldendoodle journey.
Other articles you would like: Best Puppy Food for a Goldendoodle and Best Crate for a Goldendoodle.
1. Doodle Dandy Goldendoodles
Doodle Dandy Goldendoodles is a breeder focused on the quality of all their puppies. They are located near the state line of Connecticut and Rhode Island. They believe that dogs shouldn't be kept in kennels, so they only breed a small number of litters a year so all the puppies can be comfortably kept in the family home.
The Goldendoodle puppies at Doodle Dandy are bred to be intelligent, even-tempered, and, most of all, healthy. Each parent dog is carefully selected based on genetic health screenings to ensure that puppies will be in the best health possible.
The Goldendoodles puppies' health is so important to the breeder that they offer a two-year health guarantee with every adoption to ensure that you are provided with a quality dog.
Every puppy at Doodle Dandy Goldendoodles is born and raised in the family home. They are handled daily by children and adults of varying ages. Once their Goldendoodles puppies are old enough, they can explore the fenced-in yard.
Their Goldendoodles puppies in New England are also started on house training, so continued training will be easier when you bring your puppy home. Early neurological stimulation is an additional practice conducted with each puppy to promote healthy growth from an extremely young age.
If you are interested in adopting an intelligent and well-behaved puppy from Doodle Dandy Goldendoodles, contact them today. With over 50 years of dog experience, these are professionals who are willing to help you every step of the way to getting your perfect pup.
Goldendoodle Breeder Information
2. So Lucky Farm Goldendoodles Maine
So Lucky isn't just the name of this Goldendoodle breeder – it is how you will feel when you get a precious little puppy from them. So Lucky Farm Goldendoodles, located in Maine, produces limited shedding Goldendoodle puppies that are allergy-friendly so they can fit in with any family!
The parent dogs at So Lucky Farm are all American Kennel Club (AKC) registered to ensure that they come from a healthy pedigree.  These dogs are carefully selected before breeding. This selection process includes thorough health testing for genetic diseases to ensure your puppy does not inherit health problems. These parent dogs are also selected based on their beautiful coats and wonderful temperament so you are guaranteed to get a friendly puppy.
You can view their available Goldendoodle puppies for sale in New England and planned litters on the So Lucky Farm website. Each planned litter is listed with the expected due date, as well as pictures and a description of temperament for each parent dog. If you are interested in one of these upcoming litters, you must make a deposit to be put on the waiting list.
Contact So Lucky Farm Goldendoodles today to welcome a precious new addition to your family.
Goldendoodle Breeder Information
3. Acadia Goldendoodles Maine
Another reputable Goldendoodle breeder located in Maine is Acadia Goldendoodles. At Acadia Goldendoodles, they take pride in being a responsible breeder of premium dogs. Their puppies are healthy and beautiful and exactly what people are looking for in a Goldendoodle.
At Acadia Goldendoodles, all dams and sires come from excellent bloodlines. These dogs are health tested to safeguard against genetic diseases that could be passed down to their puppies.
The health of each and every puppy is so important to Acadia Goldendoodles that they give you a two-year health guarantee when you adopt a puppy from them.
Acadia Goldendoodles has a unique way of matching each puppy to its perfect family. If you are interested in adopting one of these healthy and adorable puppies, you must sign up for the mailing list.
Once you are signed up, you will be sent an application to complete. This application will help the breeder get a sense of what you are looking for in a Goldendoodle puppy. Families are then matched with their perfect puppy based on specific characteristics that they are looking for.
Another great aspect of Acadia Goldendoodles is their dedication to a lifetime of support for you and your puppy. Whether you are a new Goldendoodle owner or have owned a Goldendoodle before, Acadia Goldendoodles is here to answer any and all questions regarding your new puppy. So, join the list today and get one step closer to bringing home your perfect match!
Goldendoodle Breeder Information
4. American Goldendoodle
Located in Sutton, Massachusetts, American Goldendoodle has been breeding dogs for over 30 years. If you are looking for a breeder with lots of experience and knowledge, American Goldendoodle is a great choice for you.
At American Goldendoodle, they take pride in hand-raising their puppies. They do not believe in housing the dogs in a separate kennel but allowing them to learn and explore in their country home.
Their Goldendoodle puppies in New England get the love and attention of a family pet before they are even sent to their forever families. This early contact with humans ensures that you receive a well-socialized and affectionate little pup.
Interested families are invited to book an appointment to meet the dogs and visit the facilities. They encourage visitors to bring their families so that everyone can be educated on training the potential new family dog.
American Goldendoodle isn't just available for you when you first receive your puppy. They want to provide you with a lifetime of support. Each puppy at American Goldendoodle comes with a written two-year health guarantee which offers a return policy.
If you opt for a return policy, you can ensure that American Goldendoodle will take your dog back into their care if you ever feel you cannot care for it anymore.
If you live in New England and want to adopt a Goldendoodle from an extremely experienced breeder then American Goldendoodle is a great choice for you!
Goldendoodle Breeder Information
How to Choose a Goldendoodle Breeder in New England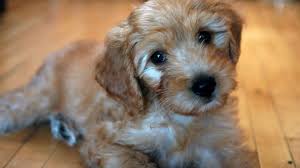 As you can see, there are many reputable Goldendoodle breeders in New England. You may feel overwhelmed by the many different options. There are some considerations you should make that will help you narrow down what Goldendoodle breeder to choose.
First, you should consider what size Goldendoodle you want. Depending on the parent Poodle size, Goldendoodles can range from very small to very large. If you know what size of dog you are looking for, you can choose a breeder that uses parent Poodles closest to the size you want.
Secondly, you need to consider what color Goldendoodle you would like to adopt. Despite what you may think, Goldendoodles are not always golden in color. Depending on the color of the parent Poodle used to breed, the puppies can come in various coat colors.
From red to cream to brown, you can get a Goldendoodle in whatever color you want. So, if you know what color you prefer, you can find a breeder with that color available.
Lastly, you should also consider the location of the breeder you choose. When getting a Goldendoodle puppy from a breeder, you need to understand whether they are willing to ship puppies or not. Because New England is such a large area, you should make sure to choose a breeder you are willing to travel to.
Sometimes if you do not pick up your new Goldendoodle puppy by a certain date, you can be charged for boarding, or sometimes breeders will even sell your pup to the next person on the waiting list. It is important to research these policies as they change from breeder to breeder. This will help you narrow down which breeder works best for your situation.
Conclusions for Goldendoodle Breeders in New England
If you have decided that a well-tempered, easily trainable, and affectionate dog is for you, then check out these Goldendoodle breeders in New England. Living in New England, you have many reputable options to help you with all your Goldendoodle needs. So, contact these breeders today and get started on welcoming home the newest addition to your family!
Remember to always do your own due diligence before you put down a deposit for a puppy. Ask any potential Goldendoodle breeder several questions about the parent dogs as well as their health. Best of luck finding your next puppy!
Check out these other articles:
Garrett loves animals and is a huge advocate for all Doodle dog breeds. He owns his own Goldendoodle named Kona. In addition, he volunteers at the Humane Society of Silicon Valley, where he fosters dogs and helps animals. Garrett enjoys writing about Doodles and believes that dogs can teach humans more about how to live than humans can teach a dog.
Why Trust We Love Doodles?
At We Love Doodles, we're a team of writers, veterinarians, and puppy trainers that love dogs. Our team of qualified experts researches and provides reliable information on a wide range of dog topics. Our reviews are based on customer feedback, hands-on testing, and in-depth analysis. We are fully transparent and honest to our community of dog owners and future owners.