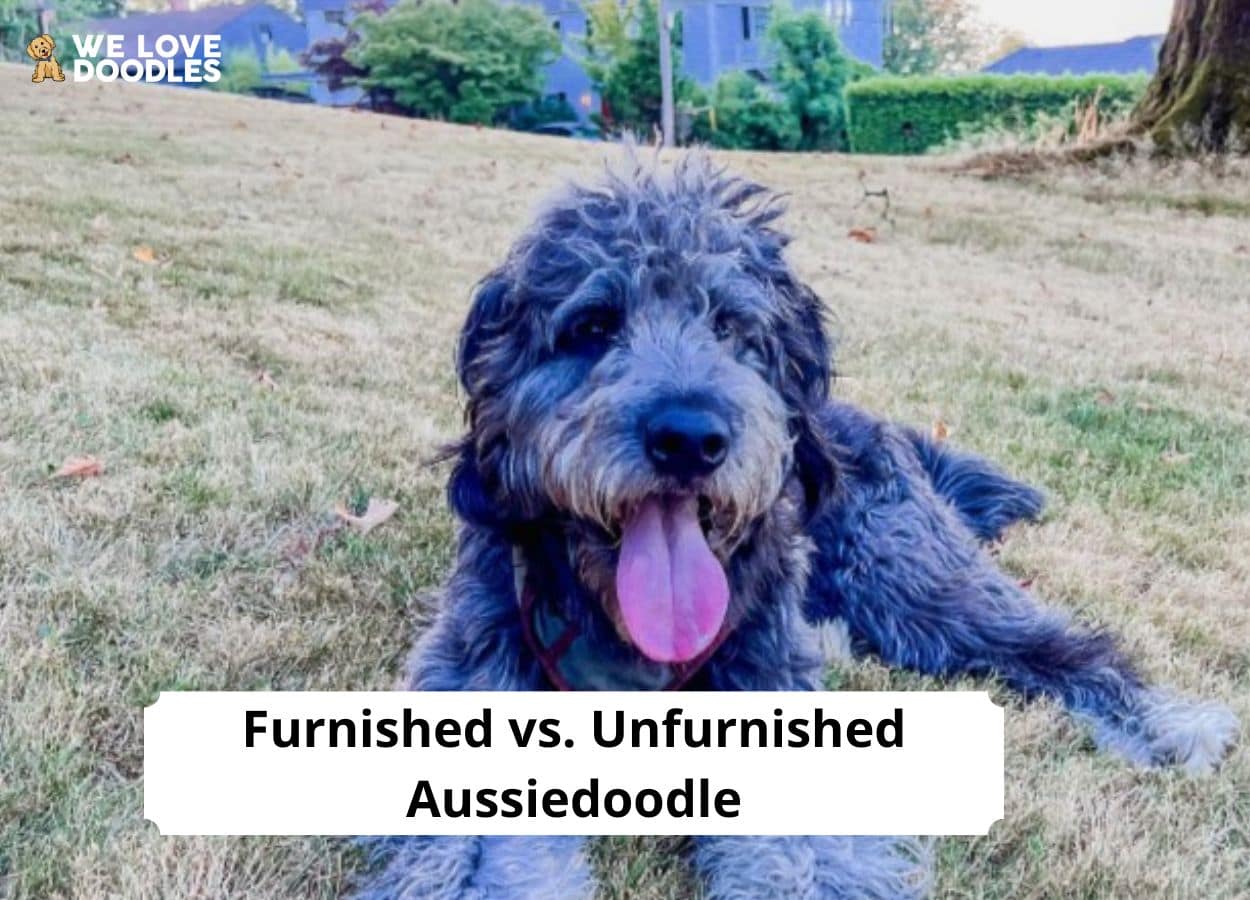 When comparing furnished vs. unfurnished Aussiedoodle dog breeds, what would be the difference between the two? Because Aussiedoodles are a mixed breed, there's a high degree of variability in their coats. The type of coat determines whether your Aussiedoodle is furnished or unfurnished.
You might wonder about the difference between a furnished and an unfurnished dog. The article breaks down what furnishing means, why it matters and how a furnished Aussiedoodle differs from an unfurnished one.
Before you scroll down this guide, "Furnished vs. Unfurnished Aussiedoodle," you can check out these other Aussiedoodle guides from our team at We Love Doodles: Aussiedoodle Puppies For Sale in the United States and Types of Aussiedoodle Colors.
Differences Between a Furnished vs. an Unfurnished Aussiedoodle
So, what is the difference between furnished and unfurnished Aussiedoodles? At its simplest, it comes down to the kind of coat your Aussiedoodle has. People started cross-breeding Poodles and Australian Shepherds while trying to mitigate the shedding of the Australian Shepherd.
But like many mixed-breed dogs, the results varied wildly. So, Aussiedoodle breeders adopted the language furnished vs. unfurnished to distinguish between the resultant puppies. Doodle breeders have used this language for years, making sense to them. But it can be a bit more complicated for the layperson.
Aussiedoodle Guides: Mini Aussiedoodle Information, Facts, and Images.
Language of Furnished vs. Unfurnished Aussiedoodles
When you are trying to discover what the difference is between furnished versus unfurnished Aussiedoodles, you quickly stumble into a morass of letters and numbers. Let's look at the most common terms you'll encounter. Breeders talk about their Aussiedoodles using terms like F1, F1B, or F2. To the uninitiated, this can quickly become overwhelming.
But it's possible to parse these alphanumeric combinations to find out more about the dog you are interested in. To start with, all Aussiedoodle mixes begin with the letter F. It stands for filial hybrid and tells you that the dog under examination is a mix of two distinct breeds. It's an elaborate way of saying that, unlike the puppy's parents, this puppy isn't purebred.
That explains the cryptic F, but what about the number? There's no elaborate linguistic terminology here. The numerical part of an Aussiedoodle's description refers to the generation. For instance, an F1 Aussiedoodle results from breeding a Poodle and an Australian Shepherd. At the same time, an F2 is a second-generation Aussiedoodle.
It has Poodle and Shepherd ancestors, but its parents are Aussiedoodles. But what about that second letter? What does the lowercase B stand for when added to this jumble of numbers and letters? It looks confusing on paper, but when discussing furnished vs. unfurnished Aussiedoodles, the B stands for "backcross."
That means the breeder reintroduced a Poodle or Australian Shepherd into the genetic mix. The most common variety of backcrossing, especially in Aussiedoodles classed F1b is with a Poodle. Breeders do this to try and get more hypoallergenic offspring. Now you can tell one Aussiedoodle mix from another. What does this have to do with furnished vs. unfurnished dogs?
Aussiedoodle Guides: Australian Labradoodle vs. Aussiedoodle and Aussiepoo vs. Aussiedoodle.
How Coat Types Affect Furnished and Unfurnished Dogs
Breaking down the nuances of Aussiedoodle classifications is a necessary step when discussing whether the dog in question is furnished or not because furnishing refers to the density of the coat. Furnished Aussiedoodles have more hair than their unfurnished contemporaries. This is most noticeable around the face.
You often hear people describe furnished Aussiedoodles as being "bearded." They may also have more hair around their feet, which is easy to spot at first glance. Aussiedoodles usually get their furnished coats from their Poodle parents. As purebred dogs go, you see more variation in Poodles than in other unmixed breeds, but a good rule of thumb is that Poodles present with an FF allele.
The science of this can get complicated, but in essence, it means that the gene that contributes to furnishing is what gives Poodles their famously hypoallergenic coat. But because Aussiedoodles are mixed dogs, the curly, hypoallergenic fur isn't guaranteed. When it comes to a furnished vs. unfurnished Aussiedoodle, a furnished dog presents with a coat that is either curly, wavy, or straight.
Curly Coat: Aussiedoodles with curly coats is furnished dogs. Their fur is most like their Poodle parent or ancestor. It's close-curled, woolly, and requires a high degree of grooming.
Wavy Coat: Aussiedoodles with wavy coats is likewise furnished. They have more hair than an Australian Shepherd, but it's more manageable than their curly-coated relatives. While they need less grooming than Poodles or curly-haired Aussiedoodles, their coat still needs significant care and management to mitigate mats.
Straight Coat: An Aussiedoodle with a straight coat has less furnishing than other Aussiedoodles, something we'll get to later. Their coat is similar to the wavy Aussiedoodle coat but with fewer waves. It needs less but not minimal grooming.
Unfurnished or Flat Coat: By contrast, an unfurnished Aussiedoodlstrongly resembles the Australian Shepherd, and its face and feet have demonstrably less hair. You sometimes hear unfurnished Aussiedoodle coats called flat coats because of the difference in the presentation when it comes to the fur. They don't have the bearded look of other Aussiedoodle coat types and require significantly less grooming. Most unfurnished Aussiedoodles can be groomed from home, making it possible to save on the expense of routine grooming bills.
Aussiedoodle Guides: Blue Merle Aussiedoodle Puppies in the United States and Miniature Aussiedoodle Adults.
Different Types of Aussiedoodle Furnishing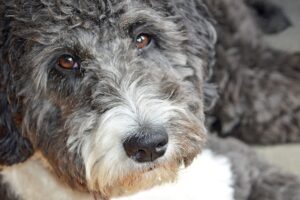 So, that's the answer to "Furnished versus unfurnished Aussiedoodle – What's the difference?" The answer gets a bit more complicated than that because furnishing can be as varied as your Aussiedoodle's coat type. Why would this be? Earlier, we talked about the allele behind furnishing. It's a dominant gene, so it often gets expressed. But how strong the furnishing is depends on the combination of genes your Aussiedoodle exhibits.
1. Strong Furnishing
Strong furnishing happens when the Aussiedoodle inherits a pair of alleles carrying the furnishing gene. In F1 Aussiedoodles, there's always at least one furnished allele because Poodles are by nature furnished dogs.
But because Poodles have a more heterozygous genotype than other dog breeds, there's no guarantee they will express strong furnishing. That's another reason you might breed a purebred dog back into an Aussiedoodle mix.
While there's nothing inherently wrong with the unfurnished coat, it's not one that Aussiedoodle owners are keen on, either. So, breeders go to elaborate lengths to reintroduce furnishing.
2. Weak Furnishing
Aussiedoodles with weak furnishing still furnished dogs. But they carry a copy of the unfurnished gene, sometimes called an incomplete coat. They pass that gene on to at least half their offspring.
Dogs with two copies of the allele for weak furnishing can only pass on this attribute. Paired with a dog who carries an Incomplete Coat, the result is a flat-coated, unfurnished Aussiedoodle.
Aussiedoodles with weak furnishing may lack classic characteristics of furnished dogs, like the bearded face and furred eyebrows but still display a curly or wavy coat across their body and legs. For that reason, it's common to reintroduce a purebred dog for breeding at this stage, especially if the breeder is hoping to produce the classic doodle-type coat.
3. Unfurnished Coat
Unfurnished Aussiedoodles sometimes have improper coats because they don't inherit the curly or wavy hair of other doodle types. Dogs develop improper coats if one or more parents carry or express weak furnishing or Improper Coat.
Despite these flat-coat dogs being easier to maintain, they are significantly less popular, and many breeders work on breeding these genes out of Aussiedoodle lines.
More Aussiedoodle Guides: Do Aussiedoodles Have Tails and When is an Aussiedoodle Full Grown?
Furnished vs. Unfurnished Aussiedoodles' Generations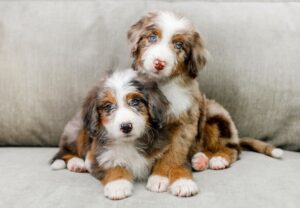 Hopefully, that answers the question of the difference between furnished and unfurnished Aussiedoodles. But after all that talk about Aussiedoodle generations and breeding, is one type of Aussiedoodle better than others? It depends on what you are looking for.
Because of the variability inherent in mixed dogs, predicting a puppy's hypoallergenic quality can be extremely challenging. And yet, that's one of the primary reasons people consider adopting doodles. With that in mind, the most reliably hypoallergenic Aussiedoodle is the F1BB.
That's a dog parented by an F1B parent and a purebred dog. If you are angling for a hypoallergenic outcome, the purebred parent is typically a Poodle. Because the proportion of Poodle in these dogs is higher than in other Aussiedoodles, they are more likely to be furnished and hypoallergenic.
F3 Aussiedoodles are also reliably hypoallergenic. Their coat varies but is usually wavy or curly. However, whereas there's still some hybrid vigor in F1BB dogs, there is almost none in F3 Aussiedoodles because their gene pool shrinks and strongly resembles the type of narrow lineage you see in purebred dogs.
More Aussiedoodle Guides: Best Aussiedoodle Names and How Long Do Aussiedoodles Live?
Conclusion For "Furnished vs. Unfurnished Aussiedoodle"
When it comes to a furnished vs. unfurnished Aussiedoodle, what's the difference? It's all in the genes. Furnishing doesn't make an Aussiedoodle more or less authentic breed-wise. But it does tell you what kind of coat you can expect on your adult doodle.
Furnished dogs have beards and furred feet. Some furnished dogs may miss those features but still possess the curly or wavy hair typical of a furnished Aussiedoodle. Unfurnished Aussiedoodles, on the other hand, have flat coats.
Tests can tell you ahead what kind of coat your dog will have, and if you are prone to allergies, it may be worth investing in tests. But furnished or unfurnished, Aussiedoodles are loveable, affectionate dogs that make excellent companions. And that's what's important.
If you find this guide, "Furnished vs. Unfurnished Aussiedoodle," informative, you can check out these other Aussiedoodle guides from our team at We Love Doodles:
You can learn whether your Aussiedoodle companion is furnished or unfurnished by watching "Is My Puppy Furnished or Unfurnished" down below: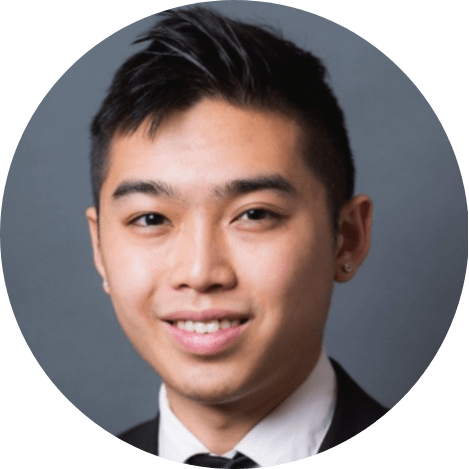 Andy is a full-time animal rescuer and owner of a toy doodle. When he's not saving dogs, Andy is one of our core writers and editors. He has been writing about dogs for over a decade. Andy joined our team because he believes that words are powerful tools that can change a dog's life for the better.
Why Trust We Love Doodles?
At We Love Doodles, we're a team of writers, veterinarians, and puppy trainers that love dogs. Our team of qualified experts researches and provides reliable information on a wide range of dog topics. Our reviews are based on customer feedback, hands-on testing, and in-depth analysis. We are fully transparent and honest to our community of dog owners and future owners.