If you're starting your journey with the best French Bulldog breeders in Illinois, then you're in luck. This guide will have everything you need to know. But, before we get to it, here's a brief introduction about the Frenchie. The French Bulldog, also called the frog dog, the clown dog, or the Frenchie, is a breed of domestic dog bred to be companion dogs. It's a small, muscular dog with a short, silky, and loose coat, usually colored brindle, fawn, cream, or pied (cream or white with patches).
Frenchies have large square-shaped heads and are known as a flat-faced breeds. Their facial skin folds into many wrinkles; they have bat-like ears, and most of them have dark eyes, though some are known to have blue or brown eyes. French Bulldogs are very friendly and playful, which is one of the reasons why they are very popular around the world. Many people believed that the French Bulldog originated in the 1800s when lace workers from Nottingham, England, started settling in Normandy, France.
They brought different breeds of dogs, including the Toy Bulldogs, with them. Those Toy Bulldogs began gaining popularity in France, and they were crossbred with some local breeds. The Frenchie is a cross between the Toy Bulldogs and local Ratters. They became popular among the rich and creatives, like writers and painters. Even though they originated in France, they have gotten a worldwide appeal since the 1800s. The French Bulldog is most commonly used as a companion dog and family pet.
They have great temperaments, they don't bark unnecessarily, and they are easy to train. They are hilarious and love to make people laugh, hence the nickname clown dog, and they are also popular in conformation and other non-sporting events. However, French Bulldogs are usually affected by health problems. They might suffer from obesity if they don't get regular exercise. Hype dysplasia and patella location are both relatively common. It's also hard for them to regulate their body temperature because of their single short coat combined with their compromised breathing system.
They are also vulnerable to allergies, which can be caused by food and or insect bites. A French Bulldog's average height is about 11 to 12 inches, while their average weight is about 20 to 28 pounds. Their lifespan is about 11 to 13 years. French Bulldogs usually require artificial insemination, and over 80% of their litter is delivered through cesarean section. Many male French Bulldogs are incapable of naturally breeding because they have very slim hips. The average litter size of the Frenchie is about three puppies.
Before scrolling down this list of French Bulldog breeders in Illinois, check out these other breeds: Best Yorkie Breeders in Illinois and Best English Bulldog Breeders in Illinois.
French Bulldog Puppies for Sale in Illinois
French Bulldogs are adorable and energetic dogs. They're cute, small, and will make every person's day. Aside from making people smile with its funny-looking appearance, the French Bulldog will grow to become loyal to its owners. Raising a French Bulldog will bring tons of laughter and happiness into your life. If you're ready to introduce a French Bulldog into your household, you can check out the top French Bulldog breeders below.
Dog Product Recommendations: Best Outdoor Dog Bed and Best Dog Food with Vitamins and Minerals.
1. PuppySpot's French Bulldogs for Illinois
First on the list of the best French Bulldog breeders in Illinois is PuppySpot. Whether you want your French Bulldog to be a specific size or color, you can utilize this platform to filter it out. In addition, while many users go on PuppySpot to find newborn puppies, you have the option to filter out a certain age. Once you selected your desired features, PuppySpot will display all of the available French Bulldog puppies for you. We placed PuppySpot on the top of this list of French Bulldog breeders in Illinois because of its efficiency. You can skip the line, avoid the waiting time, and instantly connect with the French Bulldog breeders.
PuppySpot Details
2. South Prairie Frenchies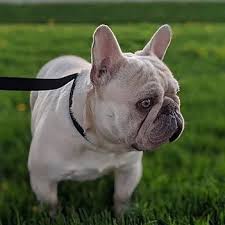 South Prairie is a family-owned and operated French Bulldog breeder. The main focus of this breeder is to breed healthy and happy French Bulldogs. They have environmentally controlled housing that has temperature adjustment capabilities and air quality filtration. They also have a lot of space for the puppies to play around in. Moreover, they socialize with people and other animals from a young age. The puppies get weekly tests from a licensed veterinarian, so you can rest assured that the puppies are in peak health. They feed their dogs only top-quality dog foods, supplements, and immune boosters.
South Prairie Frenchies Details
3. DreamCatcher Hill Puppies and Rescue
DreamCatcher Hill, another family-operated business, has been breeding and training some purebred puppy breeds, including the Frenchie, for over 30 years. Consequently, they have gained a reputation for breeding top-quality dogs. Located in Brighton, Illinois, they have a big farm, which means there is a lot of space for the puppies to play and exercise. They also offer rescued adult dogs with sad pasts. In addition, DreamCatcher Hill offers boarding and dog-sitting services for dogs who were adopted from them. They love their puppies, care for them, and have them live in their home, like family members. They abide by American Kennel Club (AKC) breeding standards.
DreamCatcher Hill Puppies and Rescue Details
4. Windy Acres Puppy Adoptions
Windy Acres has a large variety of dog breeds to choose from, including the Frenchie. They have a well-thought-out and planned breeding program that ensures that they produce only the best puppies for sale. When the parents get old, they make sure they are OFA certified and tested. They also try to register all their puppies.
They have a large compound, so their dogs get enough exercise. In addition, this family-owned operation provides a facility for raising puppies that are open to people with special needs and veterans. Many veterans adopt a dog from Windy Acres or help raise it until it is ready to be taken to its new home. They have also helped many veterans who have PTSD find puppy companions who help them deal with the disorder and positively change their lives.
Windy Acres Puppy Adoptions Details
5. Smithenry Bullies-N-More
This breeder deals with English and French Bulldogs, along with Cocker Spaniels. Smithenry strives to produce top-quality dogs with good health and fantastic temperaments and breeding dogs since 1994. They love breeding these puppies and treat them like family. Seeing the joy these puppies bring to other families makes the job worth it. The puppies socialize with family members from day one, go on daily walks, and play fetch. That makes them healthy and happy. A licensed veterinarian regularly checks the puppies, gives them their first shots, and deworms them before going to their new homes.
Smithenry Bullies-N-More Details
6. Ethical Frenchie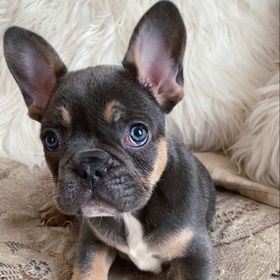 Last on the list of the best French Bulldog breeders in Illinois is "Ethical Frenchie." Located in Chicago, Ethical Frenchie is a reputable breeder of French Bulldogs. They focus on socialization, health, and temperaments because these are the three main factors that make a quality d. They also helo connect people to other quality Frenchie breeders across the country. They see their Frenchies as a part of their family and treat them with lots of love. The dogs receive high-quality nutrition and great care. Ethical Frenchie gives their health guarantee, and they are AKC registered.
Ethical Frenchie Details
What Makes a French Bulldog Special?
Temperament: French Bulldogs are generally lovely, playful, and well-tempered dogs. They are fun to have around as they are very friendly. They don't bark frequently, and they love to make people laugh. Frenchies are also good with children, which is why they are one of the most popular pet dogs in the United States.
Pet-friendly: Frenchies are also great with other pets. They will fit perfectly in a multi-pet household, and you don't have to worry about them constantly fighting with your cat or bird.
Trainability: Frenchies are straightforward to train. They listen to instructions and can be taught to perform both basic and advanced tasks. In addition, they are always eager to please their humans, so they learn tricks quickly.
Care: Since their coats are short and smooth, Frenchies don't shed an awful lot. Their coat should be brushed regularly. They have many folds on their face, which need to be cleaned regularly as well. If Frenchies are left alone for long hours for too long, they can develop separation anxiety.
Portable: French Bulldogs are pretty small in size, so they are easy to carry around with you. If you want a canine companion that is neither too tiny nor too large, you should get a Frenchie.
Activity: As French Bulldogs do not need many exercises, daily short brisk walks should suffice. They also help prevent them from becoming obese, as they are susceptible to obesity.
Loyalty: Frenchies are very loyal and brave dogs. Despite their size, they always protect and defend their owners when they are in danger.
More Ways for a Frenchie: Best French Bulldog Breeders in the United States and Best French Bulldog Rescues for Adoption.
Conclusion For The "Best French Bulldog Breeders in Illinois"
French Bulldogs are great to have as companions because that is what they were bred for. They are easy to train, friendly, and fun to be around. Each moment will be fun-filled if you have a Frenchie by your side. We wish you the best on your journey with your French Bulldog companion.
For more French Bulldog mentions from WeLoveDoodles, you can check out:
You can learn more about this breed by watching "French Bulldogs 101" from Fenrir Canine Show down below: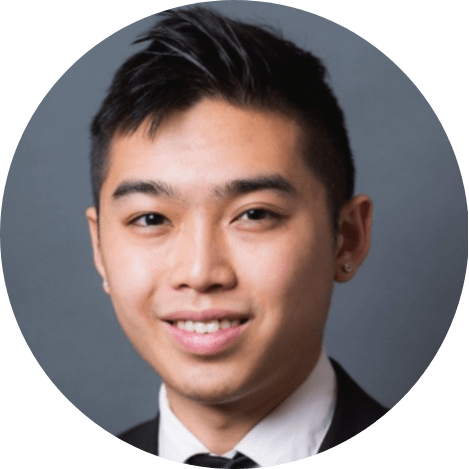 Andy is a full-time animal rescuer and owner of a toy doodle. When he's not saving dogs, Andy is one of our core writers and editors. He has been writing about dogs for over a decade. Andy joined our team because he believes that words are powerful tools that can change a dog's life for the better.
Why Trust We Love Doodles?
At We Love Doodles, we're a team of writers, veterinarians, and puppy trainers that love dogs. Our team of qualified experts researches and provides reliable information on a wide range of dog topics. Our reviews are based on customer feedback, hands-on testing, and in-depth analysis. We are fully transparent and honest to our community of dog owners and future owners.