If you want free puppies in Virginia, you've come to the right place. Constant entertainment, devoted companionship, unconditional love, and more are some things you will enjoy when you have a puppy at home. If you've had a dog before, you will know that life is better with these cute companions. Dogs make us feel less alone.
They offer emotional support, constant support, and unconditional love. It even gets better when you raise them as puppies, allowing for better bonding. However, many dog lovers have been denied this opportunity because of the high cost of puppies from breeders.
Buying a puppy from a breeder is not cheap, as it can save you thousands of dollars. Due to the high cost, many potential owners now adopt puppies and dogs from rescue organizations and shelters. In addition to saving costs, adopting a dog is an act of kindness, as rescued puppies and dogs deserve a second chance in life and a place to call home.
Another alternative that people explore is seeking free puppies. If you are looking for where to get free puppies in Virginia, we are here to help. This article provides some helpful tips on how to get/adopt puppies for free.
Before you scroll down this guide, "Where Can You Get Free Puppies in Virginia," you can check out these other dog-related recommendations from our team at We Love Doodles: Best Corgi Rescues in Virginia and Best Poodle Rescues in Virginia.
Find Free Puppies Near Me in Virginia
Free puppies are not easy to come by. However, you can find a free puppy in Virginia with patience and the right resources. Here are some effective ways to find healthy puppies for free in Virginia.
Dog Product Recommendations: Best Flea Collars For Dogs and Best Dehydrated Dog Food.
1. Go to Dog Shelters Around Virginia
There are hundreds of dog shelters scattered throughout the United States. Virginia has many dog shelters that accommodate thousands of puppies and dogs. Due to the high intake of dogs and puppies, shelters often euthanize those who don't get adopted after a certain period.
They adopt their puppies and dogs for a small fee. However, sometimes, they give the puppies away for free. You can visit any local dog shelter to ask for a free puppy. Even if the puppies are not free, you can still handle the adoption cost, as it is nothing compared to what breeders charge.
Since most shelters accept dogs regardless of their condition, you can get a puppy with health or behavioral issues. Hence, we recommend visiting the vet immediately after getting a free puppy from a shelter. Before taking it home, take the puppy for proper vet care and examination.
More Dog-Related Guides: Best Dachshund Rescues in Virginia and Best Beagle Rescues in Virginia.
2. Inquire at a Rescue Organization
Another productive way of getting a free puppy is to reach out to dog rescue organizations or groups in your area. You can check online for a list of reliable rescues near you and get their contact details and address. It is no news that dog rescue organizations often adopt their puppies and dogs for a price.
Puppies are even more expensive than seniors and adult dogs. Nevertheless, it is not impossible to get a free puppy from rescues. Sometimes, they give away puppies to responsible families or individuals they trust and believe can care for them.
Their ultimate goal is to ensure these pets get the best life possible, not to make a profit from adoption fees. The adoption fees cover the cost of medication, food, and other expenses. These organizations rely on donations and adoption fees to care for the rescued puppies and dogs.
Some rescues organize adoption events where they give away puppies for free. They organize these events to educate people about responsible dog ownership and the importance of adopting rather than buying from breeders. You can contact the rescues in your area for the date of their next free adoption events.
Here are some options to explore:
More Dog-Related Guides: Best French Bulldog Rescues in Virginia and Best Border Collie Rescues in Virginia.
 3. Local Breeders
A dog breeder might be the last option you will think about when looking for a free puppy. That is because breeders often charge high amounts for their puppies. Breeding and raising puppies is demanding and expensive, so it is understandable why buying puppies from breeders is expensive.
Notwithstanding, many people have gotten puppies from breeders without paying a dime. Yes, it is possible to get free puppies from breeders. Some breeders often give away puppies when they have been in their care for a certain period, and no one seems to be interested in them anymore.
Another instance where breeders give away puppies is when they are shutting down their breeding operation. There are many reasons a breeder could shut down its operation, but that is a topic for another day. When this happens, they often give out their puppies and dogs for a small fee or completely free. Hence, we recommend trying your luck at a local breeder near you.
More Dog-Related Guides: Havanese Puppies in Virginia For Sale and Best Australian Shepherd Breeders in Virginia.
4. Use Social Medias Like Instagram and Twitter
Social media platforms have been helpful in many aspects of life. In addition to helping us stay in touch with loved ones, these platforms help us learn and grow daily. Your search for a free puppy in Virginia will not be complete without leveraging the power of social media.
You can take advantage of the hashtag feature of social media platforms like Twitter and Instagram. Instagram is a raging platform that connects like-minded individuals easily. People use these platforms for marketing their products, seeking knowledge, and learning.
Fortunately, the pet community contributes significantly to this large online space. You can find hundreds of pet adoption groups on these platforms. You must search with hashtags like #freepuppies or #adoptpuppiesforfree on Instagram or Twitter and explore the various options.
If you cannot find any group or post that meets your needs, you can create a post with details of what you need. Before you begin your search, you should know the breed you want, so you should include that in the post. You can also use hashtags to expand the reach of your post.
More Dog-Related Guides: What is a Butter Dog Trend on TikTok?
5. Newspaper Ads
Do you know local newspapers can be a great source for finding free puppies in Virginia? They often contain information about people who want to rehome their puppies. If you are lucky, you can find a pet owner who wants to rehome their puppies close to you. The newspapers do not contain much information, so you must contact the owner and ask all the necessary questions about the puppy before accepting it.
More Dog-Related Guides: Best Puppies That Don't Grow Big.
Costs of Owning and Raising a Dog
Before looking for a free puppy, you want to ensure you can own up to raising one. These wonderful companions are not cheap to maintain, so you must ensure your seatbelt is fastened for the ride ahead.
Here are some of the channels your money will enter when raising a puppy:
1. Food and Treats For Your Puppy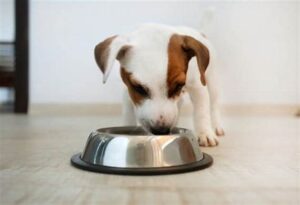 One of the most important things every pet owner should invest in is high-quality dog food. Your puppy needs food specially formulated for its breed, age, and size. Buying breed- and age-specific food is highly encouraged, as it would ensure your puppy gets all the nutrients, vitamins, and minerals it needs at that stage of life.
High-quality food would cost you between $20 to $60 per month, which is about $250 to $700 per year. The actual value depends on your dog's size and energy level. Special diets, such as veterinary therapeutic diets, are more expensive.
Healthy dog treats are also important; you need to include that in your budget. Treats serve many purposes; they can reward your puppy for good behavior, help clean their teeth, improve their breath, and more.
More Dog-Related Guides: Best Dog-Treat Dispensing Cameras and Best Puppy Dog Food For Corgis.
2. Getting a Dog Bed
Like humans, dogs also need a cozy place to chill and relax in their free time and at night. Your puppy deserves a comfortable bed; providing one would cost about $30 to $200 per year. The price of the bed is determined by size and quality. You will pay more for a quality bed for a large breed. It is important not to cut costs on your dog's bedding, as a high-quality, easy-to-clean, and durable bed would cost more but serve you for a very long time.
More Dog-Related Guides: Best Dog Beds For Diggers and Best Boho Dog Beds.
3. Toys
Toys are an essential item that should not miss in your puppy's supplies. Dog toys help with exercise and mental stimulation, so you should get a few interactive toys for your puppy.
How much you spend on toys depends on how much you are willing to sacrifice for this course. You can spend $20 to $100 on toys per year, depending on how your dog likes them. Some pet owners cannot resist cute toys, so they spend hundreds of dollars on toys yearly.
More Dog-Related Guides: Best Indestructible Dog Toys and Best Plush Dog Toys.
4. Your Puppy's Routine Vet Care
Routine vet care is one of the most important parts of keeping your puppy healthy. You should take your puppy to the vet for wellness checkups one or two times yearly; this can cost about $200 to $300 per year.
Dental cleaning should also be included (once a year); it can cost between $300 and $800. Your vet bills will be significantly higher if your puppy has health issues. Hence, it would be best if you did all possible to avoid going home with a sick puppy.
More Dog-Related Guides: Rare Dog Diseases Every Owner Shoul Know.
Conclusion For "Where Can You Get Free Puppies in Virginia"
Patience is one of the most important elements when looking for a free puppy. You need to be patient and explore options to find a healthy companion. You do not have to settle for anything that comes your way just because you are looking for a puppy. Be selective and only settle for the best (but do it politely).
If you find this guide, "Where Can You Get Free Puppies in Virginia," informative, check out these other dog-related articles from our team at We Love Doodles:
Before finding your free puppy in Virginia, you can learn more by watching "How to Get Free Puppies" down below: