If you are searching for a new puppy and would like to find the best dog breeders in Virginia, this useful list can be a great starting point.
Before scrolling down this list of dog breeders in Virginia, you can check out these other recommendations from our team at We Love Doodles: Best Cocker Spaniel Breeders in Virginia and Best Australian Shepherd Breeders in Virginia.
Dogs For Sale in Virginia
The breeders listed in this article are all ethical breeders who follow the highest standards to ensure customers leave with a beautiful and happy dog they will enjoy for life.
Dog Product Recommendations: Strongest Shock Collars For Dogs and Best Luxury Dog Bowls.
1. PuppySpot's Dogs For Virginia
Since you're searching for dog breeders in Virginia, we recommend checking out PuppySpot for various reasons. You can browse from wherever in Virginia for various dog breeds on PuppySpot's website. There are many breeders from all over the United States, so you can keep browsing until you find a compatible companion.
Keep in mind that all dog breeders on PuppySpot must go through a strict screening process, so you can rest assured knowing that your puppy will be safely shipped to your home in Virginia. Before continuing on your journey for a puppy for sale in Virginia, you should check out the link to PuppySpot's marketplace down below.
PuppySpot Details
2. Graystone Farms – Suffolk
Graystone Farms is a Suffolk breeder that specializes in German Shepherds. These puppies are happy and come from healthy bloodlines, ensuring you have a happy pet for a long time to come. If you want puppies who become lifelong friends, you need not look further than Graystone Farms.
All the puppies from Graystone Farms are socialized properly to ensure that they have an even temperament. You can get more information on their Facebook page while keeping up with the available puppies.
Graystone Farms German Shepherd Details
3. Gladiator Allegiance
Gladiator Allegiance is a registered and qualified law enforcement and military breeder. They breed European Dobermans and IPO German Shepherds, amongst other breeds. The main aim of this dog breeder is to train detection dogs for law enforcement and the United States military.
This breeder has a philosophy of creating strong and clever dogs. These breeds make great working dogs, but they also make wonderful family pets. Every puppy from Gladiator Allegiance is intelligent and devoted. As long as they are treated right, the dogs will love you fever.
Typically, well-bred working dogs aren't terrifying, and every dog from this breeder has great genetics. Unlike other breeders solely concerned about turning a profit, Gladiator Allegiance cares for their dogs. To this end, they spend countless hours socializing with their pups to ensure they are ready for their future homes.
Every adopted puppy has the necessary vaccinations, certificates, and vet appointments. These dogs are trained in all protected areas to ensure your family is kept safe and secure. Gladiator Allegiance concentrates on ensuring all their puppies go to appropriate homes.
This means prospective owners will need to come to see the pups before purchasing. They also have the right to refuse any potential purchases. This ensures that the comfort, well-being, and safety of the puppy in their new home are guaranteed.
Gladiator Allegiance Doberman Puppy Details
4. Hidden Mysteries Farm – White Post
Hidden Mysteries Farm is a breeder that specializes in American Kennel Club registered golden retrievers. However, they also have other puppies. You should note that they are a small breeder. However, they have more than 40 years of experience.
This experience enables them to provide you with the best puppies. The puppies from this breeder are well raised with great socialization. They are also inspected and approved by the AKC.
Hidden Mysteries Farm Golden Retrievers Details
5. Ostertag Kennel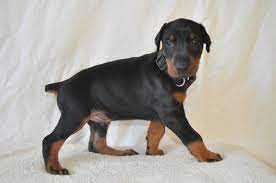 Ostertag Kennel has been in operation for over ten years, breeding and training Dobermans. This breeder is dedicated to upholding the Doberman's highest expectations and standards.
The facility is an 8-acre compound located on the outskirts of Richmond, Virginia. This means that the dogs have ample room to run around and play. Not only are the dogs raised inside their home, but they are also part of the family.
Ostertag Kennel Doberman Details
6. Joie De Vivre Doberman
Joie De Vivre Doberman, as its name highlights, is a Doberman breeder that concentrates on creating high-quality dogs. Dobermans have a great drive as they can transform from cuddly to aggressive in an instance. When it comes to love and devotion, the Doberman is unrivaled. All Dobermans are robust, energetic, powerful, dignified, and majestic.
This enables them to mix in with any setting. All Dobermans from this breeder are AKC registered, and they come with limited registration. The Dobermans from Joie De Vivre Doberman are very capable workers. They are well-trained, aristocratic, and ferocious family defenders.
Due to their outstanding intellect and genetic drive,  they require continuous training either as full-time guard dogs or sport dogs. All the puppies from this breeder come with lifelong training advice. These dogs can adapt to any environment you place them in so long as they are properly trained. They can be your most loyal friend.
Joie De Vivre Doberman Puppy Details
7. Windy Way Hill Puppies – Lebanon
Windy Way Hill Puppies is a breeder that specializes in Maltipoos. Maltipoos are a cross between the Maltese and Poodle breeds. One reason these dogs are extremely popular is that they are hypoallergenic. What this means is that they do not aggravate allergies. Windy Way Hill Puppies is a great breeder, ensuring that all the puppies are well socialized and are up to date on your shots.
Windy Way Hill Puppies Maltipoos Details
8. Gleneden Labradoodles – Berryville
Right from the beginning, Gleneden Labradoodles fully focuses on the health and socialization of their puppies. To this end, they follow emotional states of the art deworming and vaccination programs. The facility, known as Doodle House, is rated first-class due to its comfort, safety, and care.
It is air-conditioned, zone heated, ventilated, and professionally cleaned daily. The puppies at this breeder are not isolated; they are let into the office to play with people. The adult dogs also spend time playing in spacious paddocks during the day.
At night, they are moved into the comfortable and spacious kennel. There are 70 acres of land available at Gleneden for all dogs, puppies, and adults. This highlights that the puppies at Gleneden Labradoodles live a happy and comfortable life where they can play all day.
Gleneden Labradoodles Details
9. Virginia Poodles and Doodles – Louisa
Virginia Poodles and Doodles, as its name states, specializes in both Doodle and Poodle mixes, especially Goldendoodles. Every puppy from this breeder is American Kennel Club registered. You can be sure you are getting legitimate dogs.
These puppies come with 30 days of free insurance, but you also get a 5-year health guarantee. This guarantee ensures that every puppy from Virginia Poodles and Doodles is in great health. The puppies are also raised inside the home, ensuring that they are socialized properly.
Virginia Poodles and Doodles Details
10. Deadwood Dobermans
Deadwood Doberman is a dog breeding company capable of assisting all new dog owners. One great feature about this breeder is that retired and present military personnel are eligible for a 10% discount. Every puppy from this breeder can trace its lineage to champion bloodlines.
Each puppy is also registered with the American Kennel Club. Doberman is a great protection dog, but they also make wonderful family pets. They are not a puppy factory, and they do not breed or support the breeding of Z-factor (albino gene) Dobermans.
Deadwood Doberman Puppy Details
11. Valor Dobermans
Last on the list of the best dog breeders in Virginia is "Valor Dobermans." Valor Dobermans is a breeder that strives to offer families beautiful Doberman puppies. The European Doberman puppies bred here are known for their intelligence. When you purchase a puppy from Valor, you don't get a dog, and you get another family member.
This breeder can be found in Gloucester, Virginia, and New Bern, North Carolina, making them one of the best Doberman breeders in North Carolina. They have been in operation for over ten years.
Each puppy that heads out to a family from Valor Dobermans is strong, healthy, gorgeous, and clever. All the Dobermans at this breeder have test runs to ensure they are healthy and fit. Some of the tests are NSCU, Embark, and Vetgen. This information is shared with the Doberman Diversity Project to help DCM research.
Valor Doberman Details
Choosing a Dog Breeder From Virginia
Before you purchase a puppy, you will need to understand how to ascertain your dog breeder is legitimate. This can enable you to purchase a healthy dog that will bring you lots of satisfaction and happiness. Trying to ascertain the legitimacy of a breeder only takes 20 minutes. To this end, we will highlight the best method for checking the legitimacy of a breeder to ensure you get the best dog for you.
Related: Ways to Find Hypoallergenic Dog Rescues.
Ensure That The Kennels in Virginia Are Registered
Generally, a reputable dog breeder has to have a proper kennel registry. This enables you to ensure that your puppy has all the standards and documentation associated with that breed. In today's world, there are various kennel registries. The ones highlighted in this article are of the highest reputation. Nevertheless, there are also various lesser-known registries that you should be aware of.
Legitimate Kennel Registries in Virginia
If a dog breeder you are interested in is listed in the following kennel, you can be sure they are legitimate and a great option. Nevertheless, you must get the right references, check testimonials, and visit the facilities.
Conclusion For The "Best Dog Breeders in Virginia"
References are important in any business, especially since they prove a particular product or service's quality. When it comes to dog breeding, references are unavoidable. References help you qualify a breeder to know if you should consider them or find another breeder.
The most effective way to do this is to get references from actual owners that got their puppies from the breeder. Typically, it is better to know the actual referees in real life; however, this isn't always possible. For this reason, you can join local communities dedicated to your prospective breed.
This can be great as it lets you seamlessly ask members for their references about a particular breeder. The moment you get sufficient responses, you can speak with these individuals in private, on the phone, or via email to get all the information you need.
Just as with kennel registries, you need to ensure that your prospective dog breeder has all the valid licenses if appliable. For this reason, you have to ensure you verify the license by visiting the links below:
Licenses are essential because the verifying institutions need to ensure that the dog breeders always comply with the standards highlighted below:
The breeder has everything they need to prevent any spread of diseases
The dogs live in optimal and comfortable conditions
The facilities are designed to ensure adequate protection against emergencies such as fires
The dogs receive adequate water, assistance, bedding, and nutrition
The dogs have sufficient space to workout
The breeder has optimal transportation conditions for the dogs
There are many reasons why it is essential to have a breeder who owns a valid license. With such a license, you can ensure that the puppy you get from their facility is well trained, adjusted, and socialized to living with a family. You should have no problems finding the right breeder by following the steps highlighted above.
For more guides similar to this list of dog breeders in Virginia, you can check out:
Before you bring home a puppy from a breeder in Virginia, you can learn more about taking care of a dog by watching "Things to Know Before Getting a Puppy" down below: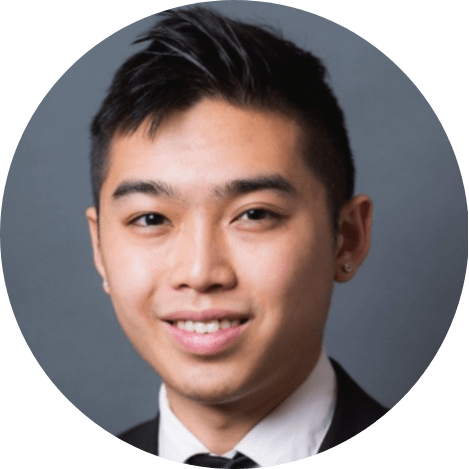 Andy is a full-time animal rescuer and owner of a toy doodle. When he's not saving dogs, Andy is one of our core writers and editors. He has been writing about dogs for over a decade. Andy joined our team because he believes that words are powerful tools that can change a dog's life for the better.
Why Trust We Love Doodles?
At We Love Doodles, we're a team of writers, veterinarians, and puppy trainers that love dogs. Our team of qualified experts researches and provides reliable information on a wide range of dog topics. Our reviews are based on customer feedback, hands-on testing, and in-depth analysis. We are fully transparent and honest to our community of dog owners and future owners.