Here's a question we have for you if you're searching for dog breeders in Washington. Are you thinking of getting a dog for your home? If so, you could be overwhelmed with the sheer number of breeds out there. Some of the most popular dog breeds include Golden Retrievers, Labradors, Beagles, German Shepherds, etc.
While getting your dog directly from a pet store might be tempting, there's no better place to get it than at a dog breeder. Dog breeders are incredibly familiar with the breed, but most are also more than happy to provide you with advice – especially if you haven't had a dog before.
Dog breeders also have a rigorous application process to ensure that the puppy will be well taken care of. In most instances, you will also be able to look at the environment your puppy is growing up in before you take your companion home.
Before scrolling down this list of dog breeders in Washington, check out these other recommendations from our team at We Love Doodles: Best Pug Breeders in Washington and Best Chihuahua Breeders in Washington.
Puppies For Sale in Washington
When you get a puppy from a dog breeder, you'll also get all of the documentation you need to ensure that your puppy is fully vaccinated and has the necessary vet checks. Some breeders will also provide you with a puppy pack with food, toys, and all of the information you need to get started.
Dog Product Recommendations: Best Beef Trachea For Dogs and Best Dog Soccer Balls.
1. PuppySpot's Dogs For Washington
Since you're searching for puppies for sale in Washington, we recommend checking out PuppySpot's platform. PuppySpot is a marketplace where you can browse for available puppies from the comfort of your home in Washington.
All puppy breeders must go through a strict screening process, so you can rest assured knowing that your companion will be safely shipped to your home in Washington. Before you continue searching for a puppy for sale in Washington, check out the link to PuppySpot's platform below.
PuppySpot Details
2. Pups By Taylor
Doodles are affectionate and gentle dogs that have grown in popularity. If you're looking to get a doodle, you can't go wrong with Pups By Taylor. Located in South Snohomish, Pups By Taylor has all their Doodles and available puppies on their website.
Most of their puppies range between $4,000 and $5,000, including taxes. If you're interested in getting a Doodle, you may fill out the application form on their contact page.
Pups By Taylor focuses on ensuring that the puppy complements the family and their way of life, taking temperament matches very seriously. Hence it could be a while before you're matched with a puppy that best suits your needs.
Pups By Taylor Details
3. Luckyrottweiler Kennels
If you've always wanted a Rottweiler, you would want to check out Luckyrottweiler Kennels. This loyal and affectionate breed is not just great family members, but they also make excellent guard dogs. They have all their dogs available on their websites and post puppy update pictures and available puppies.
If you're interested in getting more information, feel free to place your contact details, and you'll be contacted if they have something available. You can also follow Luckyrottweiler Kennels's Facebook and Instagram pages for more information and updates.
Luckyrottweiler Kennels Details
4. Johnson Point Labradors
Labradors are a fantastic breed that you absolutely can't go wrong with. They are excellent family dogs, but they also grow to be loyal breeds. Johnson Point Labradors focus on breeding labradors, and all of the puppies and dogs are raised on their 15-acre property.
All of their Labradors get ample exercise and get walks daily. All of their current dogs and upcoming litters are available on their website.
If you would like to adopt one of their labrador puppies, you place your name on the puppy master waiting list and provide a $100 non-refundable deposit. All puppies go to their new home with basic information, a guidance packet, vaccination, dewormings, a two-year health guarantee, and so much more.
Johnson Point Labradors Details
5. Seattle Goldendoodles Co.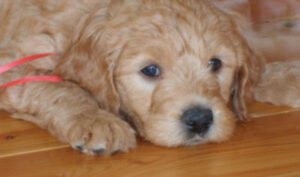 Goldendoodles are a lovely breed that mixes a Golden Retriever and a Poodle. At Seattle Goldendoodles, they focus on breeding the best quality Goldendoodles. The breeders focus on quality and temperament, and all of their puppies get daily exercise in their 1.3 acre home.
They also receive both crate and potty-training before heading to their new home. All the Goldendoodle puppies are fed with high-quality kibble and a high-calorie dietary supplement. Before going to their new home, they will receive the necessary shots.
If you would like to welcome a Goldendoodle to your home, you would need to pay a $415 deposit and submit a summary with answers to queries that they have on their website.
Seattle Goldendoodles Co. Details
Location: Seattle, WA
Website: Seattle Goldendoodles Co.
Phone number: (425) 373-6264
6. Barberry Brook Labradoodles
Another designer breed, Barberry Brook Labradoodles, specializes in breeding Labradoodles – a cross between a Labrador and a Poodle. This gentle and affectionate breed isn't just hypoallergenic, but it's also perfect for families. On the website, you'll see all of their available puppies and the dogs they have.
To reserve a puppy, you must send through a Puppy Adoption Application and a signed copy of the Health and Purchase Agreement. A $500 non-refundable deposit is also required, while the remaining $3,000 will be due when the puppies are seven weeks of age. If you need a puppy preparation course, they also offer an online puppy training program.
Barberry Brook Labradoodles Details
7. Wandering Acres Ranch
Wandering Acres Ranch specializes in breeding Australian Shepherds to have well-rounded family dogs. They have all of their puppies available on their website and the current dams and sires. Occasionally, Wandering Acres Ranch will also have an adult or older puppy.
All of their puppies are well socialized, and they are Washington State Licensed and Inspected by Kennel. If you would like more information on the application process, please send them an inquiry on their website. Alternatively, you can also follow their Facebook and Instagram for more information.
Wandering Acres Ranch Details
8. Von Waldberg Kennels
German Shepherds are an incredibly popular breed known for having excellent temperaments. They make great family dogs but are also excellent guard dogs. On the Von Waldberg Kennels website, the breeders have information on all of their puppies and the dogs they have.
If you're interested in bringing one of their puppies home, it's recommended that you reach out to them about 4-6 weeks before when you hope to take the puppy home so that they're able to answer all of your queries.
Von Waldberg Kennels also has a great community page and offers training. You'll also get four complimentary puppy classes when you purchase a puppy from this breeder.
Von Waldberg Kennels Details
9. Bowtie Pomsky
Pomskys are a breed that has gotten popular in recent years. It's a cross between a Pomeranian and a Husky, and they're exceptionally adorable and affectionate. You'll see all of their available Pomskies and their parents on their website.
If you're looking to apply, you need to fill out an online application that can also be done on their website. If you're new to a Pomsky, you can check out Bowtie Pomsky's University Training Center to learn more about the breed.
In terms of the cost, Pomsky puppies range from $3,000 to $5,000, depending on how high up the waiting list you are. You will be able to pick up the puppies or have them shipped to you eight weeks after they're born.
Bowtie Pomsky Details
10. Silver Moon Huskies
If you're a fan of huskies and want to take this lovely breed home, Silver Moon Huskies is a great breeder to get your puppy from. They not only offer phone and video chatting to new families but also deliver puppies within Washington State and all over the United States.
All of the puppies are AKC registered, and you'll get everything you need, from the necessary vaccinations to a bag of puppy chow dry food, a favorite toy, and more. Puppies require a deposit of $200 which will go toward the total price.
You can also look at available puppies on their website, along with the various dogs they currently have on their property. If you choose to get a husky, know that they require a good amount of upkeep – weekly brushing and exercising daily.
Silver Moon Huskies Details
11. Lab Dogs R Us
You can't go wrong with a labrador. They're such a fantastic breed that's great for families. At Lab Dogs R Us, you can get labs in three colors – black, yellow, and chocolate.
They've got all of the puppies available for sale on their website, and you can also look at the boys and girls that are a part of the breeding process.
Puppies come with full AKC registration and are micro-chipped, have current vaccinations, and do not have any genetic diseases that may be specific to Labradors. A $250 deposit is required to hold a puppy spot, and each labrador puppy costs $2,500 if you're looking for one with AKC full registration and breeding rights.
Lab Dogs R Us Details
12. Little Labradoodle
Another great breeder to get an adorable Labradoodle, Little Labradoodle, has all of their available puppies on their website and the parents and a puppy gallery. They specialize in mini Labradoodles and apply for a puppy. You need to fill in an application online, choose a waiting list, and pay the ownership fee before receiving your puppy.
Prices differ depending on your list, and they can cost anywhere between $3,000 to $4,000. They ship their puppies within the United States and to Vancouver if you're interested. All puppies also have a one-year guarantee against hip dysplasia or any hereditary disease.
Little Labradoodle Details
13. McOwen Kennel
Last on the list of the best dog breeders in Washington is "McOwen Kennel." Always wanted a Great Dane? You can get one at McOwen Kennel. These experienced breeders have been breeding for ten years, and all of the puppies are raised inside their homes.
All of their dogs have happy, healthy bloodlines, and you can take a look at their puppies that are currently available on their website. All puppies come with a 30-month health guarantee and a lifetime of breeder support. They'll also have the necessary vaccinations, health certificates, and a go-home goody bag.
If you're interested in a Great Dane puppy, you can email or call McOwen Great Dane. While a fantastic breed, do know that Great Danes can grow to weigh between 54 and 90kg for males and 45 to 59kg for females.
McOwen Kennel Details
Conclusion For The "Best Dog Breeders in Washington"
There are a plethora of fantastic breeders in Washington – it all depends on what breed you're looking for. After you've decided on the breed you'd like, make sure that you're reading through all of the breeder's information on their website.
Each breeder may have a slightly different application process, so it's important to familiarize yourself with the process. You should be receiving pictures of your puppy as it grows, and in some instances, breeders will even do video chat with you.
Upon taking your puppy home, you should get the necessary medical documentation, and your puppy should have all of its vaccines. Most breeders will also provide you with a puppy pack that has information on how to go about taking care of your puppy.
While puppies are a great addition to your home, make sure you're aware of the required responsibility. Puppies need a great deal of love and care, and it's important to understand what's required before beginning the application process.
For more guides similar to this list of dog breeders in Washington, you can check out:
Before you bring home a puppy from a breeder in Washington, you can learn more by watching "What's The Real Cost of Owning a Pet" down below: